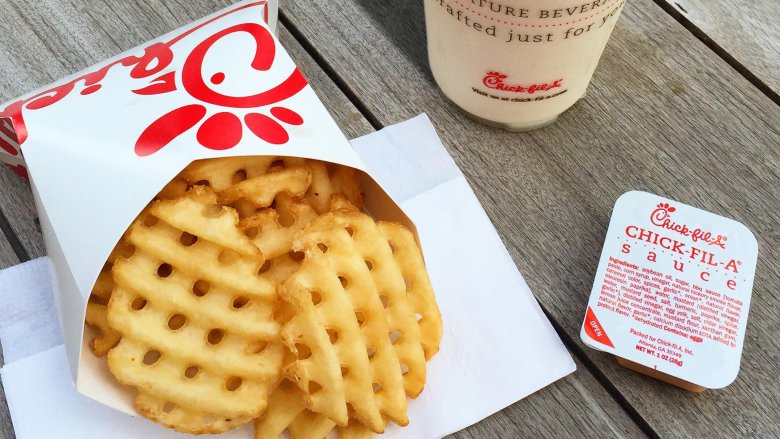 Chick-fil-A has a ton of fans, and those fans tend to love everything about the place. But the quick-service chicken restaurant is also hugely controversial.
The chicken chain was founded by S. Truett Cathy, and he built not on a foundation of concrete and stone, but on deeply religious beliefs. Those beliefs were so strong, says Business Insider, that they're likely one of the reasons Cathy said he never wanted the company to go public. After all, part of their missions statement says their purpose is "To glorify God by being a faithful steward of all that is entrusted to us," and that's not something that would easily stay put in a publicly-held company.
In spite of the ultra-conservative nature of the company — and because of very, very tasty chicken — MarketWatch reported that in 2018, Chick-fil-A was on the verge of becoming the third-largest fast food brand in the country. But, some have said, "Not so fast," and refused to let the chicken joint set up shop. Why? Let's take an in-depth look at just why some places just don't want Chick-fil-A on their doorstep.
Where have they been banned?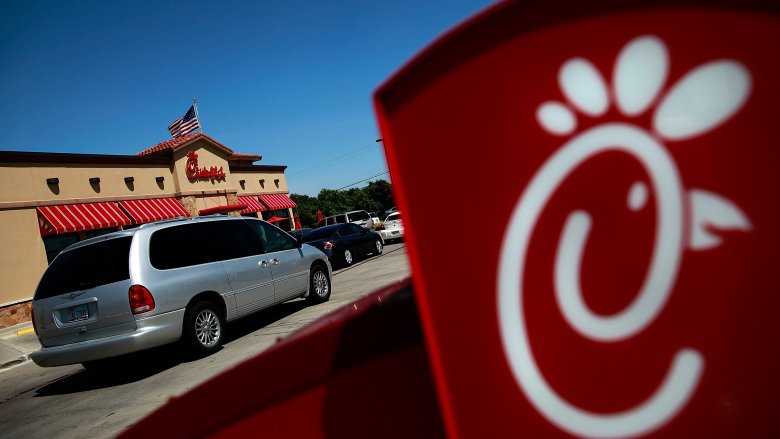 The San Antonio City Council made national headlines in March 2019 when they voted on what new restaurants would be coming to the San Antonio International Airport. NBC says that while they welcomed Boss Wood Fired Bagels and Coffee with open arms, they gave Chick-fil-A a very, very swift kick out the door.
Just two weeks later, strangely similar headlines were popping up again, as yet another city had said "No!" to a proposed Chick-fil-A. This time, it was Buffalo, New York who didn't want them opening in their Buffalo Niagara International Airport, and NBC reported that New York state lawmakers were proudly vocal about supporting the decision.
They're not the only ones taking a stand against Chick-fil-A, either. In March 2019, the dean of Rider University resigned after the college dropped Chick-fil-A from a list of potential new restaurants for the campus (via CNN).
And there are other protests and boycotts going on, too. When the Pittsburgh Marathon announced they were partnering with Chick-fil-A to sponsor the Pittsburgh Kids Marathon and the Kids of Steel program in 2016, TribLive reported the Pittsburgh Public School board voted unanimously to oppose the partnership. And also in 2016, when a high school in California considered selling Chick-fil-A as a fundraiser, it was firmly nixed by Football President Val Wyatt who said, in part (via Huffington Post): "I didn't want them on campus."
Existing locations have been protested and petitioned against
Even existing Chick-fil-A locations have felt pressure from their host cities and campuses.
In 2012, Elon University in North Carolina went to their food vendor and told them they needed to get Chick-fil-A off the campus and find another option for students, reported Huffington Post. And they weren't the first — Maryland's St. Mary's College had done the same thing the year before, and in 2016, Huffington Post reported that Georgia's Emory University first distanced themselves from the ultra-conservative beliefs of the chain, then finally removed the restaurant entirely.
Even college campuses in traditionally conservative states have seen protests and petitions to get Chick-fil-A off school grounds, says HuffPo. The Appalachian State University, the University of Southern Mississippi, the University of North Florida, and the University of South Alabama all have had student movements organized against Chick-fil-A, alongside more traditionally liberal schools like New York University.
And in other cases, some universities have removed Chick-fil-A a little more quietly. When Duke University started getting emails about the presence of the chicken chain, the associate vice president of housing appeased them by simply saying their contract was up at the end of the year anyway.