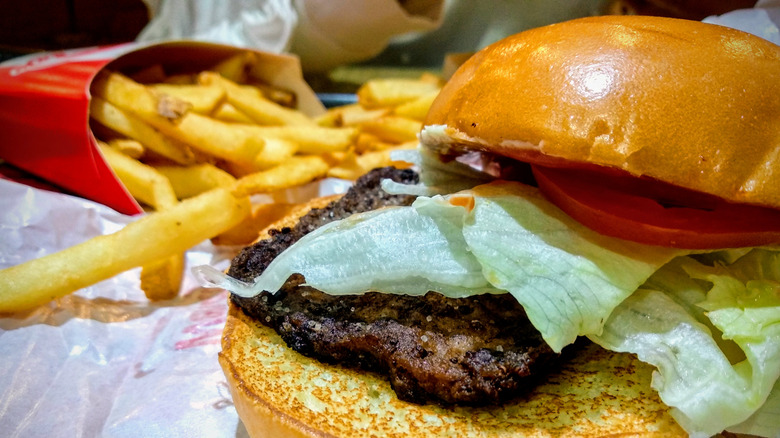 While the world around is confusing and ever-changing, fast food chain restaurants are one of the few constants we can count on. Sometimes, there is no better comfort than eating a Big Mac or a Crunchwrap Supreme in the solitude of your own car while parked in a McDonald's or Taco Bell parking lot. Have a bad day? Go get a Dairy Queen blizzard. In a new place and in need of something familiar? Get a bucket of old reliable Popeye's chicken. While fast food joints are something we have come to rely on, it doesn't mean our favorite establishments don't disappoint us here and there. Have you ever pulled up to a McDonald's and the ice cream machine is broken? Absolute heartbreak.
The end of the year is all about reflection, so we decided to look back at all of those items popular fast food restaurants took off of their menus. While 2021 brought the return of some old favorites (the McRib or potatoes at Taco Bell, for example), it also saw the departures of some old favorites (R.I.P. Arby's potato cakes). Check out the extensive list of items fast food restaurants removed from their menu this year, and start demanding which of your favorites you want to see return in 2022.
1. Dunkin' Donuts Beyond Breakfast Sandwiches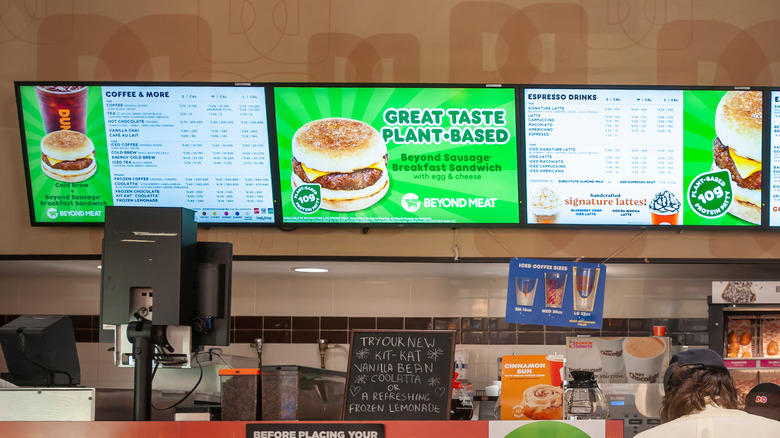 Unfortunately for any vegetarians who rely on getting their morning cup of coffee from Dunkin' Donuts on the regular, the breakfast chain said goodbye to its Beyond Breakfast Sandwich this year, according to a report from Business Insider. Dunkin claims the sandwich is still available at select locations, but its limited to just 10 states
The Beyond Breakfast Sandwich was a staple on its menu since 2019 and included the plant-based sausage patty, an egg, and a slice of cheese on an English muffin. It was a solid option for non-meat eaters in a sea of fast food menus full of meat. For now, though, vegetarians looking to stop through the Dunkin' drive-thru will have to stick to the sweeter menu items. That is unless you're one of the lucky people to live near one of those select locations that still have the patties in their kitchens.
2. Taco Bell Quesalupa
Taco Bell has mastered the art of taking a handful of staple ingredients and offering them on the menu in as many combinations as possible. And one of the company's favorite ways to do that is taking two already existing menu items and mashing them into a new creation. For example, we have the Quesalupa. It's crunchy, oozing with cheese and, unfortunately, now leaving the menu for the time being.
Thrillist reports that 2021 was the year the Quesalupa made its triumphant return, and then was unfortunately ripped off the menu way too soon. The Quesalupa first appeared as one of the Taco Bell menu offerings back in 2016, and it has been favorably talked about ever since. Thankfully, Taco Bell loves removing menu items and bringing them back for a limited time, so it's not a goodbye, it's more of a see you later to the indulgent Quesalupa.
3. Arby's Potato Cakes
Every fast food restaurant with a breakfast menu is obligated to serve hash browns. The side item is the only acceptable way to eat fried potatoes before lunchtime. McDonald's variety might be the most popular, but Arby's potato cakes have always been an underrated option. Or should we say, they were underrated.
The folks over at Arby's confirmed to The Takeout that potato cakes were taken off the menu in 2021. What a shame. Arby's might be known for its roast beef sandwiches, but they rock the potato game pretty hard — just take a bite of their curly fries and try to tell us differently. But now the meat-centric restaurant is down an option and while the potato cakes may be gone, they surely won't be forgotten. If you're particularly passionate about Arby's bringing back the item, there is a Change.org petition floating around the internet calling for Arby's to bring them back.
4. Chick fil-A bagel sandwiches
When it comes to the vast array of fast food breakfast menus, Chick-fil-A is pretty underrated. The mini chicken biscuits and breakfast sandwiches are a unique offering from other options on the market. But if you're someone who cannot go a morning without a good bagel, Chick-fil-A is no longer your place. The chain decided to eliminate bagels from the menu this year, streamlining their options to improve efficiency in a time of staffing shortages and supply issues, according to Insider.
While a chicken, egg, and cheese bagel sandwich might not sound like your typical option, it was actually a surprisingly good and filling way to start the day from Chick-fil-A. We would have said say don't knock it until you try it, but it looks like Chick-fil-A fans might have to wait a while for the chain to bring this option back. Sorry to rub it in.
5. Wendy's Pub Menu
Wendy's is basically the only option when a craving hits for fries dipped in a Frosty, or some always-delicious spicy chicken nuggets. Over the years, the chain has tried to keep things interesting by offering unique sandwich combinations, especially on their fresh, never frozen square patties. One surprisingly delicious option was their Pretzel Bacon Pub Cheeseburger, complete with beer cheese sauce, fried onions, and all the fixings. The burger was accompanied by a chicken sandwich version and some Bacon Pub Fries. But as of this fall, the unexpectedly tasty Pub menu is no more, according to Thrillist.
Wendy's discontinued the unique offerings from their menu, making it no longer impossible to enjoy one of their tasty burgers on a pretzel bun. Currently, on the menu, they are offering two unique burgers — the Big Bacon Cheddar Cheeseburger (with bacon jam and a cheddar bun) and the Bourbon Bacon Cheeseburger. It's an acceptable replacement for the Pub Burger for now, but we can still mourn the loss.
6. Chick-fil-A decaf coffee
Along with bagels, Chick-fil-A decided that decaf coffee is a no-go on its menu as of 2021, according to a report from Insider. Frankly, decaf coffee at any restaurant can't exactly be the most popular option, unless you're at a cafe or well-known coffee spot. Frankly, Chick-fil-A's coffee doesn't exactly have a rave reputation — not that it's bad, but it's not notable enough to mention. Are that many people really heading to Chick-fil-A just for the coffee, and of those, are there that many ordering decaf?
But for those looking for a warm cup of joe without all that caffeine, it looks like you'll have to go through another drive-thru as of 2022 because Chick-fil-A is all about full-caffeine coffee. It's not as big of a loss as some of the other menu items on this list, but it's a loss nonetheless that needs to be noted of.
7. Burger King Crispy Chicken Sandwiches
Foodies across the U.S. know by now that 2020 was the year of the fast food chicken sandwich wars. Popeyes kicked it off with their internet-breaking offering, and everyone followed suit. Even those chains that already had chicken sandwiches on the menu decided to revamp, add some spicy sauce, and announce to the world their entirely novel idea.
Unfortunately for Burger King purists, that included the loss of the classic Crisp Chicken Sandwich and its spicy variety back in February, via Chew Boom. They revamped it by adding the word "hand-breaded" in front of the title and slapped it on the menu, raving of its newness. While the differences are up for debate, it's an important change on the menu to recognize, particularly for those customers who preferred the original Burger King chicken sandwich. However, one would hope that the "new" option would be an improved version of the basic original.
8. Popeye's Cajun Rice
Now unlike decaf coffee and basic chicken sandwiches, Popeyes getting rid of Cajun Rice was an absolutely devastating blow to 2021 in our opinion. As confirmed by The Takeout, Popeyes decided to revamp its menu and take off the classic side dish. Mashed potatoes and mac and cheese get all the hype, but Popeyes Cajun Rice was an A+ option, especially when paired with the red beans. As pointed out by Cajun Rice lovers on Reddit, it could be a complete meal in itself as it was packed with so much flavor.
Thankfully, copycat recipes are out there, should you want to make the side item at home. But nothing beats going through the drive-thru and getting the deliciousness in a to-go cup within minutes. Cajun Rice is gone, but never forgotten, and hopefully, Popeyes decides to bring it back to us and put it back on the menu one day.
9. Arby's Loaded Italian Sandwich
Along with the loss of its beloved Potato Cakes, Arby's also decided to remove a few sandwich options from the menu, the most significant being the Loaded Italian Sandwich. This monster was loaded with deli meat, LTO, banana peppers, melty cheese, and more. The sandwich has now fallen victim to the Arby's chopping block along with a handful of other staples.
According to Brand Eating, the fast food chain was attempting to streamline its menu and remove unnecessary ingredients in its kitchens. The chain also saw the loss of the Pizza Slider and the Ham Slider, as pepperoni, salami, and ham were taken off the menu. So if you like Arby's but roast beef isn't up your alley, you'll have to find another already option on the menu that is without the Italian flair. Honestly, if you haven't tried the turkey gyro, it's a total underrated gem at Arby's.
10. Taco Bell Crispy Chicken Sandwich Taco
Speaking of chicken sandwich wars, Taco Bell decided that even though their entire concept is Mexican-inspired cuisine that they had to get in on the moment. This unusual taco was a bit of a weak attempt — it featured a fluffy shell, a crispy piece of chicken, and some chipotle sauce. Honestly, the Naked Chicken Chalupa was a better attempt as the taco shell was literally made out of a piece of chicken. Considering its basic-ness, Taco Bell removed the item from its menu this year (via Reddit).
It wasn't a total surprise when Taco Bell took off its Crispy Chicken Sandwich Taco because it was what it was — a gimmick. Unlike the Crunchwrap Supremes or Doritos Locos Tacos, it's not a menu staple that will be ordered for years to come. That's why it was likely a limited-time-only special — to hop on the chicken sandwich hype.
11. Chick-fil-A large milkshakes
In another effort to streamline its menu, Chick-fil-A made a one-size-fits-all for its frozen beverages, according to the company's website. As of this year, Chick-fil-A only serves its milkshakes, iced coffees and frosted beverages in a 16-oz cup. While we're not exactly losing any menu items, it does take away the option to enjoy a large milkshake and waffle fries when that kind of mood strikes, as Chick-fil-A milkshakes are surprisingly amazing. And as pointed out by some people on Reddit, sometimes when you want to indulge in a milkshake, it's go big or go home. Now, there's only one option and that takes the fun out of ordering one big shake for yourself.
Additionally, Chick-fil-A got rid of the option for large cups of Icedream cups and cones, which is also just a bummer. It seems like a change that could be temporary, or easy for customers to get used to, but it does sting a bit to lose the option.