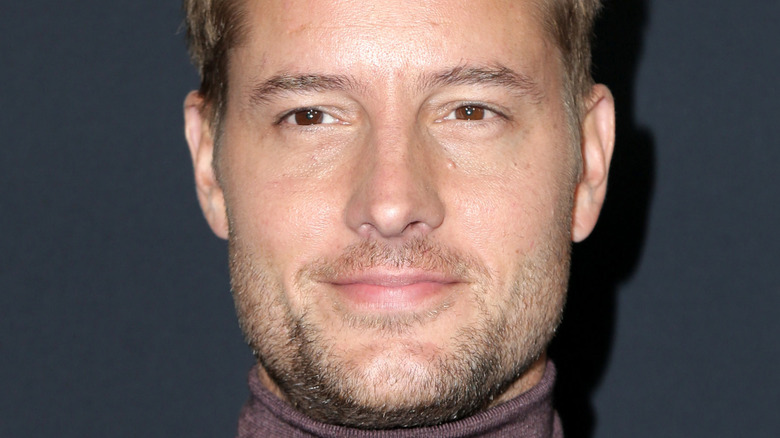 Unless you're a huge soaps fan (which, like, why wouldn't you be?), you probably got to know Justin Hartley as the kind of lost but extremely lovable Kevin Pearson on "This Is Us." This role, which Hartley took up in 2016, propelled him into immense fame, where before he was more like one of those people you recognize when you see them but can't quite place. Previous roles included stints on "Passions," "Smallville" and "Revenge."
But when Hartley isn't busy being a scripted television heartthrob, he spends lots of time cultivating his real-life romantic relationships. He is a pretty private guy, so we don't know much about any short relationships he might have had in the past (if any!), but when it comes to long-term partnerships, we have some pretty juicy intel for you. Keep reading if you're feeling curious as to which amazing women have taken Hartley off the market throughout the years, and what exactly happened between them.
Justin Hartley met Lindsay Korman on a set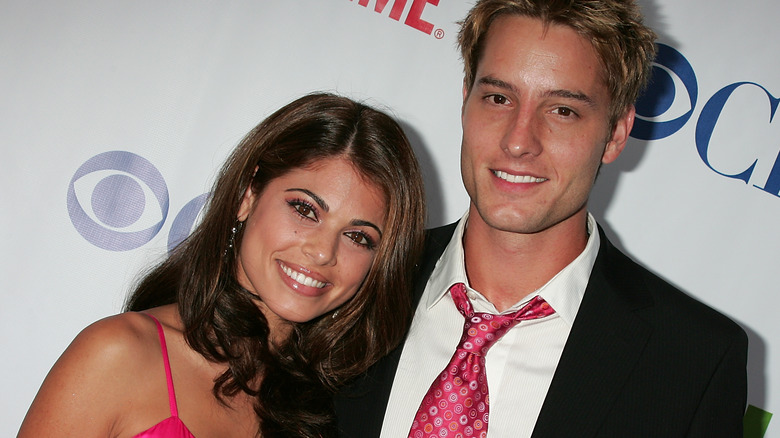 Justin Hartley and Lindsay Korman first met as co-stars on the soap opera "Passions" in the early 2000s, according to The Sun. On the show, Korman played one of the main characters, Theresa Lopez-Fitzgerald, while Hartley portrayed Fox Crane. The two had an on-screen romance, which ended with Theresa cheating on Fox, according to the show's Fandom page.
Clearly, the two actors' chemistry wasn't just for show, because they got engaged in November 2003, just six months after beginning their relationship. They were married from 2004 to 2012, at which point they unfortunately divorced, citing "irreconcilable differences" — but no cheating was involved, unlike with their on-screen counterparts.
While we don't know exactly what happened between the exes, Korman did say that the following was her best advice in a 2000 interview with Mimi Torchin: "Follow your instincts. Follow what you believe. Follow the inner self — not what everybody else tells you, not what you hear from anybody else, but what you feel in your heart, and then go for that." Maybe that's what she did when she and Hartley decided they were better apart than they were together, but we probably will never know for sure.
Justin Hartley has a kid with Lindsay Korman-Hartley
Justin Hartley and Lindsay Korman welcomed a daughter named Isabella while they were together. Since they went their separate ways in 2012, both of them have been really open about what it's like to coparent with each other — and it sounds like they must be doing something right. "Communication [is key]," Hartley explained to Us Weekly in 2019. "It's nothing new. Communication and an understanding of where everyone's coming from and realizing that it's hard. As much as you try to put yourself in other people's shoes, you're never fully going to be able to do it, but you should just make the effort."
As for Korman, she took to Instagram to share the deep respect she still has for Hartley in August 2020. "Today, I appreciate my ex-husband Justin for not only being exemplification of a solid man, but for being my dear friend and devoted father to our daughter. Simply put; for being family." And sometimes, being family means, as Hartley recounted Seth Meyers, trying not to choke on your gummy bears as your teenage daughter runs through red lights during a driving lesson. Oof, being a parent isn't easy every day.
Justin Hartley clicked with Chrishell Stause fast
When Justin Hartley and Chrishell Stause met, it was pretty much love at first sight for both of them. After they got married in 2017, Stause told People that their first date basically sealed the deal for her. "The next day I texted my friend: 'I found him,'" she said. Hartley agreed: "I drove her home and called the next day," he said. "We haven't been apart since. I knew right away [and] was like, 'Oh boy, here we go.'"
Hartley and Stause started dating in 2013, when they were introduced by a fellow cast member of Stause's from "Days of Our Lives." They got engaged in 2016, and were both super excited to continue living every day of their lives together. "Such a happy time. Thanks for all the well wishes guys! So sweet," Stause tweeted at the time. Hartley also felt extremely hopeful about the future before them: "At the risk of sounding cheesy, I look forward to sharing life experiences and growing old together," he told People. "Someday, we can talk about all the things we did together 30 years ago!" But unfortunately, things didn't quite work out that way.
Justin Hartley and Chrishell Stause split up
Although Justin Hartley and Chrishell Stause had a beautiful love story, it didn't end so well. In 2019, Hartley filed for divorce, citing "irreconcilable differences," per TMZ. That being said, Us Weekly notes that Hartley dedicated a sweet Instagram post to his then-wife two weeks after the date of separation he had listed in the divorce papers. In December of that year, a source told Us Weekly, "Justin had been having problems with the marriage for a while," but conceded that, "the divorce filing was a big surprise to everyone around Justin and Chrishell in terms of their friends."
As for Stause, she claimed on her show "Selling Sunset" that Hartley had "blindsided" her with the divorce filing. "I found out because he texted me that we were filed," she said, crying, to fellow cast member Mary Fitzgerald. "Forty-five minutes later, the world knew." Christine Quinn, who has had many differences with Stause on "Selling Sunset," claimed that the filing was not that much of a surprise for her and others. "We all just thought maybe they were having communication problems for a while," Quinn told Page Six. "We heard that they were in therapy, so obviously there were some issues going on with them." But the saga didn't end there: Stause staunchly denied Quinn's allegations. "Let me be VERY clear," she wrote on Twitter. "Anything from her is either a complete lie or total conjecture on her part." The only certainty is that the situation was pretty messy.
Justin Hartley and Sofia Pernas also met on a set
Justin Hartley and Sofia Pernas met while Hartley was still in a relationship with Chrishell Stause, on the set of soap opera "The Young and the Restless." The year was 2015. According to Us Weekly, Pernas was friendly with both Hartley and Stause until their split in 2019. Then, in May 2020, TMZ published a photo of the two of them kissing, with Pernas in the driver's seat of a car and Hartley leaning over her from outside the vehicle. Us Weekly confirmed the two were dating soon after that.
The couple went Instagram official by posting simultaneously on their respective accounts on New Year's Eve 2020. "Last minutes of 2020 here in LA. Bring on 2021! Happy New Year!" Hartley wrote alongside a black and white photo with his belle. "Sayonara 2020, it's been real. Happy New Year from our quarantine den to yours," Pernas wrote, adding a red heart emoji for good measure.
Justin Hartley and Sofia Pernas had a secret wedding
Justin Hartley and Sofia Pernas didn't waste any time taking their relationship to the next level. After just a year together, they had a secret wedding in May 2021, as confirmed by Us Weekly. On Pernas' birthday, July 31, 2021, Hartley dedicated a gushy Instagram post to her, writing, "Happy Birthday to my beautiful Sofia! This amazing woman makes me laugh out loud every single day. Here's to taking down oysters all over the world! I love you very much!"
In September 2021, the couple walked the Emmys red carpet together, and each posted a photo from the event with a sweet caption. "Had a blast with this beautiful man at the @televisionacad," Pernas wrote, while Hartley contributed, "Had a fun evening out with my bride."
As for how Chrishell Stause feels about all of this, a source close to her told E! News in May 2021 that she wasn't "entirely surprised by Justin getting married so quickly." The source added, "It's not shocking to her. Chrishell knows Justin falls fast and moves quickly." Apparently, Stause finally felt able to move on by that point. The future is bright for all three people involved.