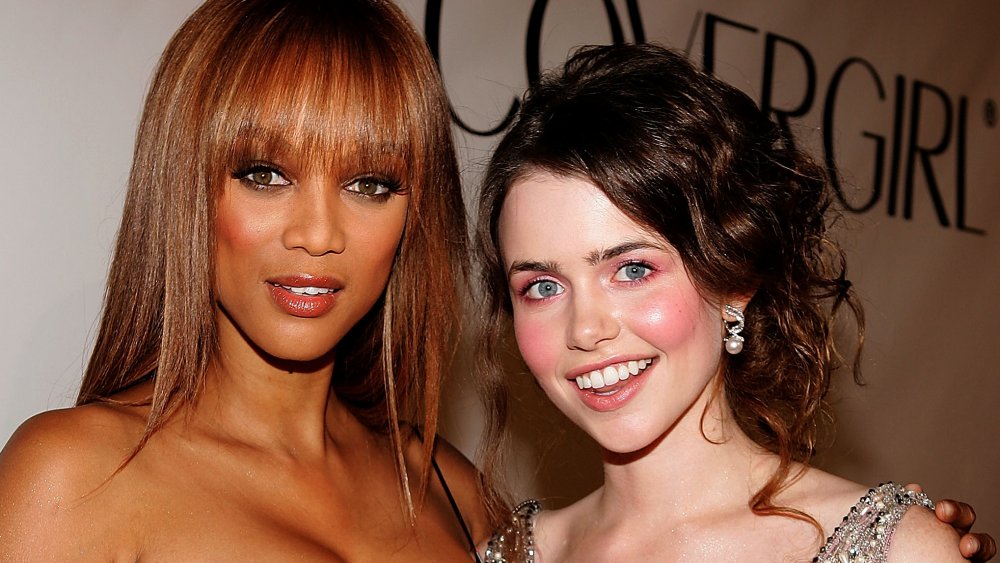 America's Next Top Model and its iconic host Tyra Banks have projected contestants into the fashion industry. With contestants ranging in age, ethnicity, and gender, Top Model hopefuls have dramatically evolved in front of audiences' eyes cycle after cycle and wowed the judges, and the show has propelled many of these eager fashion models toward successful careers on runways and in editorials. Others have used their platforms from the show for other television endeavors, though some have left the modeling industry all together — perhaps not too surprising a move considering the criticism facing the fashion world and the show itself.
So, have you ever wondered where some of the winners of Top Model like Whitney Thompson and Lisa D'Amato have ended up? Who has given up the spotlight after their reality television run for the simple life? These are America's Next Top Model winners who live normal lives now.
America's Next Top Model's Whitney Thompson went from the runway to the restaurant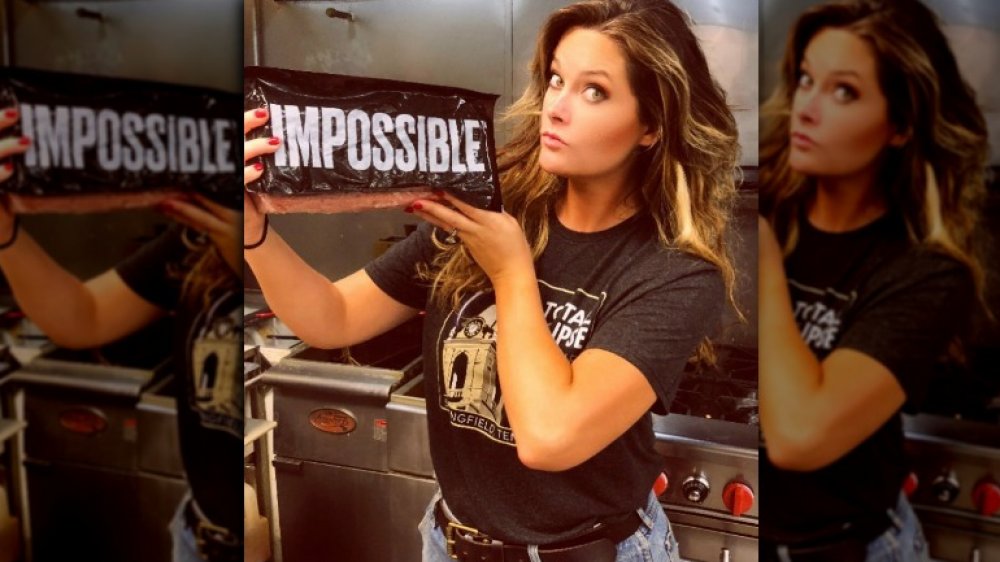 Whitney Thompson made America's Next Top Model history by becoming the first plus-size model to win. She went on to be featured in publications like Seventeen and Elle Canada, as noted by PopSugar, and she became a spokesperson for the National Eating Disorders Association in 2010.
The former Top Model winner, who now goes by Whitney Thompson Forrester, is now a blogger and a restaurant owner. Her business The Copper Vault, featuring a café, opened in 2016. "It was so out of left field for me," she said to HuffPost when describing her switch to restaurateur life. "It's been busy, and people have been really excited to see us," she told The Tennessean after the café's opening.
In addition to her life as a restaurant owner, Thompson Forrester is a mom to a son, and she has detailed her postpartum experience on her blog. In one post, she wrote, "I wish I had more positive things to say about postpartum life, but the only thing I can bring to the table is that … It's 100%, beyond a shadow of a doubt, worth it." She is married to husband Ian Forrester and currently lives in Tennessee.
America's Next Top Model's McKey Sullivan became an adventurer and mom of five
McKey Sullivan stood out during Cycle 11 of America's Next Top Model. Her makeover and adoption of a pixie haircut took her all the way to the finale, and her performance on the show sealed her win. She accrued an impressive portfolio of work during the competition, and she later walked in New York Fashion Week.
Sullivan has retired from the modeling industry and is now a wife and mom. She and her husband, MMA fighter Sam Alvey, welcomed their first baby in 2013, and have had four more children. Sullivan also adopted the life of an adventurer, having climbed Mount Whitney in August 2020.
According to her social media, Sullivan's mom life keeps her busy. She is also very supportive of her husband's martial arts career. "She loves the sport as much as I do and without much prodding on my end," Alvey told The Press-Enterprise, "she just started paying attention, studying it and learning the entire mixed martial arts game. She's very involved in my training and I wouldn't have the record I have without her."
After winning America's Next Top Model, Ann Ward traded high heels for a sketch pad
Ann Ward received intense media coverage before her cycle of America's Next Top Model due to her thin figure. Only 19 during the competition, Ward stood at 6'2", and a set of adult hands could literally fit around her waist. Despite the scrutiny she faced, Ward made Top Model history by setting the record for most selected "Best Photos," and she rode that wave all the way to the finale.
"At school I was the tallest and the other students always laughed at me," she told Vogue Italia. "Now that I've won, I feel self-confident and I don't worry about people judging me." She added, "I want to become a model and I'm almost there." After her win, Ward was featured in Time Out México, Grazia México, and Glow Magazine.
Despite her success, Ward went on to pursue another career path: concept artist. According to her website, Ward works as an artist and "motion designer at the AR and VR advertising agency, Groove Jones." Her website further noted, "She also creates characters and art directs show pitches for the remote animation studio, Theory Studios." Ward currently lives in Dallas, Texas.
America's Next Top Model's first-ever winner Adrianne Curry opted for a quieter life
America's Next Top Model Cycle 1 winner, Adrianne Curry set the standard for the series, and she used her win to pursue other television endeavors. Curry appeared on The Surreal Life, where she met her first husband, former child actor Christopher Knight. Due to their marriage, she was a pivotal part of My Fair Brady, a VH1 reality show that followed Knight in his life after fame. Their marriage fell apart just before their five-year anniversary, as reported by E! News.
"My big joke now is, 'I'm Mrs. Knight the third and probably not the last,'" Curry said on Howard Stern's radio show before the split (via E! News). "You know, cause I always tell him, 'I understand, now, why they left you.'"
According to her blog, America's first Next Top Model eventually "grew jaded" of the Hollywood industry and left for a more peaceful life. She has since remarried, and she works as a successful Avon salesperson in Arizona and is enjoying life out of the spotlight. "I would advise anyone trying to get on a show to really think about the consequences," she told HuffPost.
America's Next Top Model winner Nicole Linkletter runs a travel and lifestyle blog
America's Next Top Model winner Nicole Linkletter quickly earned praise from some of the modeling industry's biggest names after her Cycle 5 win. "She's got that 'It' thing," Top Model host Tyra Banks said, as noted by Elle Girl. Famed model Twiggy said, "She has that magical something that you can't quite put your finger on," and J. Alexander said that Linkletter "stood out — even in her most boring moments!"
After her success, Linkletter, who was on the cover of Elle Girl, said "I want to do everything!" She added, "But I'm not going to lose sight of who I am."
After her win, Linkletter appeared as a judge at a Miss USA pageant, participated in a 2006 runway show for Alice and Olivia, and appeared in issues of Nylon Mexico and Marie Claire, as noted by The New York Times. She has since married and become a mom of two. In addition to her busy life, Linkletter runs a blog called No Way Mama, named after her son's first words. She writes about family, food, and travel, sharing stories from Israel and Barcelona.
After America's Next Top Model, Brittani Kline followed her passion
Brittani Kline stood out from her competitors on Cycle 16 due to her steely eyes and one of the best makeovers on America's Next Top Model. She went on to win Top Model, scoring a photo shoot with Italian Vogue and a front cover feature with the magazine's Beauty in Vogue supplement, as noted by The Cut. Her career as a model brought professional success, as noted by her website, including runway appearances with Prabal Gurung and Balenciaga, as well as editorial features with Vogue Mexico and Elle Vietnam.
But in 2017, Kline announced that she was leaving the modeling industry, crediting her decision to the stresses of the business. "As many of you should know, it's not as glamorous as it appears," she shared in an Instagram post.
Kline went on to receive her Bachelor's degree in foreign language and English from Lock Haven University, and she has since pursued a quieter life. She's a mom to her son, Rowan. In addition to her life with Rowan and partner Erik, Kline has become very politically engaged and often shares her perspective with her followers.
Teyona Anderson became a parent and a vocal advocate after winning America's Next Top Model
Cycle 12 winner Teyona Anderson stunned throughout her season. After winning the America's Next Top Model title, Anderson went on to have a successful international modeling career. She walked in South Africa Fashion Week and the Arise Cape Town Fashion Week, as noted by The New York Times.
But Anderson has since traded modeling for motherhood, and she actively shares insights into her life. She has been open about struggles she has faced as a mom, revealing her son's diagnosis with autism on Instagram in August 2020. "Anderson was diagnosed with Autism in April. Since then we've been adjusting our life and this boy has been a champ! Some days are not easy but we make it through," she said in her post. She added, "I've been learning everyday that no matter where he falls on the spectrum there's no shame in being on the spectrum."
In addition to her role as a mom, the Top Model winner is very vocal about racial and social justice, voicing her outrage over the killing of Breonna Taylor and encouraging others to vote.
America's Next Top Model winner Yoanna House is a model, mom, and television producer
Yoanna House became Cycle 2's winner of America's Next Top Model, but she didn't have the easiest transition after the series ended. "After the first two or three years, I wanted people to forget the show," she told Vulture. "My friends would get so livid because we'd be out and people would say, 'That's the girl from the show.' They would yell, 'She's doing other things now!'"
Despite her distancing from the show, House continued to work as a model and booked 16 covers in 2014 alone. However, she found her true calling in television production, and she stepped both in front of and behind the camera as a producer and as the host of shows like The Look for Less and Queen Bees.
She has since become a mom to her son, Alastair. "Being mom to a boy is something special," she wrote in the caption of an Instagram post. "I told you that I might make mistakes along the way… but my intentions are always pure and you're my proudest achievement. Love you to the moon and back, sweet son."
America's Next Top Model winner Keith Carlos founded a multimedia company
Keith Carlos made America's Next Top Model history by becoming the first man to ever win the show. His win catapulted him into the modeling world, and he went on to walk for Giorgio Armani, Betsy Johnson, and Civil Society, among others, as noted on his website. He dabbled in entertainment, and acting followed. He even starred in Cardi B's music video for her hit song "Be Careful."
He has since become the co-founder of Dream Katchers, along with Matthew Smith, a company that specializes in content creation and event planning. He is very active on Instagram, and he partners with brands to promote to his 1 million followers, including jewelry line Girlfriend Box, Bang Energy, and FashionNova Men.
Often featured on Carlos' social media accounts are photos and videos of his son, showing their sweet bond. Followers can now see Carlos building playground sets and going through his and Jr.'s morning routine.
America's Next Top Model winner Sophie Sumner entered the world of television and journalism
Beautiful Brit Sophie Sumner was not a stranger to reality modeling shows when she appeared on Cycle 18 of America's Next Top Model. Having been the runner-up on Britain's Next Top Model in 2009, Sumner came to the Tyra Banks-hosted competition as a part of the "British Invasion" season and won. According to Oxford Mail, Sumner put off an acceptance to study drama at Exeter University to pursue her modeling career.
But since her win, Sumner has evolved as a professional. She has interviewed the likes of Daniel Jones, creator of "Modern Love" for The New York Times, among others. In June 2020, she shared her first written piece with The Daily Front Row – a review of an organic meal program — on Instagram.
In addition to her written work, Sumner hosts a social media show called So Sophie where she discusses fashion, films, and lifestyle. In January 2020, she announced on Instagram that she was working on a television show proposal. "Hopefully, this all pays off and I will see you on Netflix this 2020," she wrote.
America's Next Top Model winner Krista White became a magazine fashion director
America's Next Top Model Cycle 14 winner Krista White used her fashion knowledge to launch her career. After her win, she walked in runway shows for designers like Nicole Miller and Betsey Johnson and traveled internationally for work. But she revealed to American Statesman the realities of her new life shortly after her Top Model success. "Your life is not your own anymore," White told the publication. "I just can't go out in the mall anymore."
After her success both on the show and after as a model, White became the fashion director of DLXVRSN Magazine. She even appeared on the cover of the magazine herself.
White is also very outspoken in her support of Black culture. In May 2020, she took to social media to express her thoughts as Black Lives Matter protests were going on. "There are so many people who love, mock, dance, date, emulate, etc. my Black sisters and brothers and our culture," she wrote, adding, "We are only asking to be treated fairly and equally as human beings!"
America's Next Top Model All Star winner Lisa D'Amato is a vocal advocate, wife, and mom
America's Next Top Model's Lisa D'Amato is known for being a contestant during Cycle 5 and for winning the all-stars season. The all-stars season finale was filled with controversy, as one of the finalists was eliminated without much of a reason, as noted by People. Ultimately, D'Amato came out on top, and she went on to make reality show appearances in the 2010s, including on Marriage Boot Camp.
D'Amato married her husband, entrepreneur Adam Friedman, in September 2012. She told Us Weekly that even though she had never believed in marriage before, the wedding "went far and beyond my expectations of what love and life can bring." She became a mom to son Daxel in 2013 and son Venice in 2016.
While D'Amato may not have a traditional life — she's had a music career, lives in the Hollywood Castle, and became the richest America's Next Top Model contestant — she did pursue a normal career venture by becoming an entrepreneur. She founded a children's bib line, Dare-U-Go, that features bibs with three food compartments that turn into sealable storage containers. She pitched the product on Shark Tank and struck a deal with Barbara Corcoran.
America's Next Top Model's India Gants started a career in social media management
Cycle 23 contestant India Gants took her modeling skillset all the way to the top, eventually sealing her fate as America's Next Top Model's winner. The Seattle native said after her win that the scariest part of being on the show was "thinking about [her] fate." She told Paper, "I didn't want [the show] to ruin my reputation, but I was also thinking about how it could change my reputation and totally make my career."
After her win, Gants focused on her career as both a model and a social media writer. She's worked as a social media manager and copywriter, according to her Instagram bio, and has partnered with brands on her own Instagram page.
In December 2019, Gants took to Instagram to reveal her evolving career aspirations. "I have been writing for social media for about 7 brands for the last year. I've recently transitioned to freelance and I can't wait to refine my skills and start getting more clients!" she said, also disclosing that she wants to pursue acting classes and teach modeling 101 for Seattle-area models.
Fashion experience led America's Next Top Model winner Dani Evans to start her own hat line
Fashion experience led America's Next Top Model Cycle 6 winner Dani Evans to a successful career. After her win, Evans set her own career ambitions in motion. In 2013, she released a book called The Skinny on Getting In, which provided an insider's look into the modeling industry, and she founded Monrowe, a unisex hat company inspired by her grandfather. Evans has since used her company to make face coverings in response to the 2020 pandemic. Regarding the masks, she noted on Instagram that she "saw a need in the market so I filled it."
Evans has been particularly honest about her time on Top Model, speaking out after an interaction between her and Tyra Banks on the show resurfaced. In the clip, which regained notoriety in 2020 (via Essence), Banks asked Evans why she didn't have her tooth gap closed, as it was "not marketable." Yikes. In response to the clip, Evans took to Instagram and said, "I knew that I was basically set up and not being told that Tyra wants me to get my gap closed so that it's good for TV."