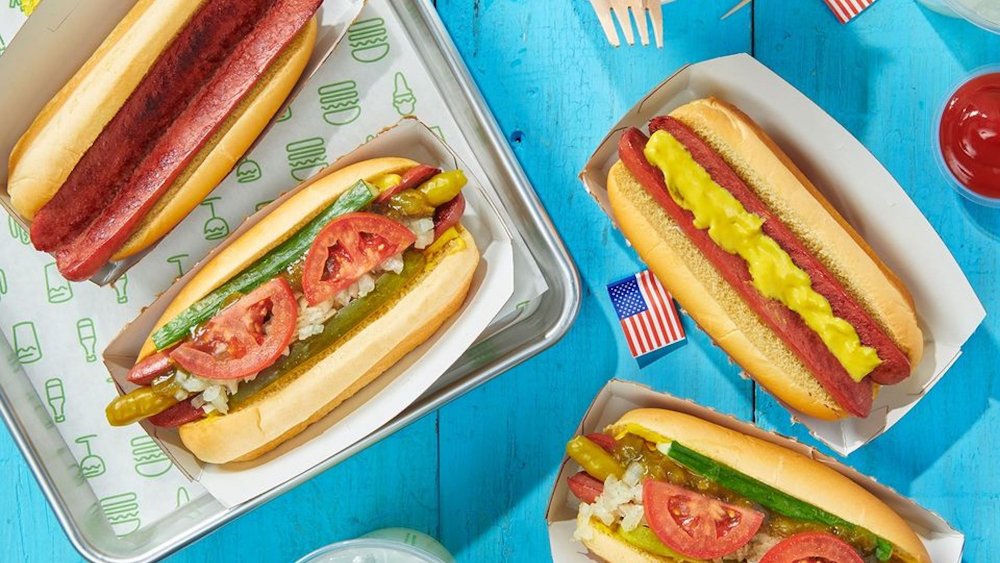 Hot dogs are the star of the show at backyard cookouts, summer get-togethers, and pretty much any time a grill is brought out. There's just nothing like biting into a dog that's loaded with all your favorite toppings, whether you like to keep it basic with ketchup and mustard or you crave the completely filled Chicago dog. When it comes to national fast food chains, though, the hot dog can sometimes come as an afterthought compared to the chicken sandwiches, burgers, and secret menu orders. Yet true fast food fans know that hot dogs shouldn't be left by the wayside.
While hot dogs aren't the ubiquitous menu item that burgers are, there are plenty of respectable hot dog options out there from famous famously cheap eateries like Costco and Sonic. In many fast food cases, the hot dog is topped with chili. The variations available are all part of the fun. Fast food hot dogs are customizable and can please a multitude of appetites — if you order from the right place. These are the best choices ranked from worst to best, with supermarket food court options thrown in as well because they are indeed fast (and also delicious).
11. Dairy Queen's hot dog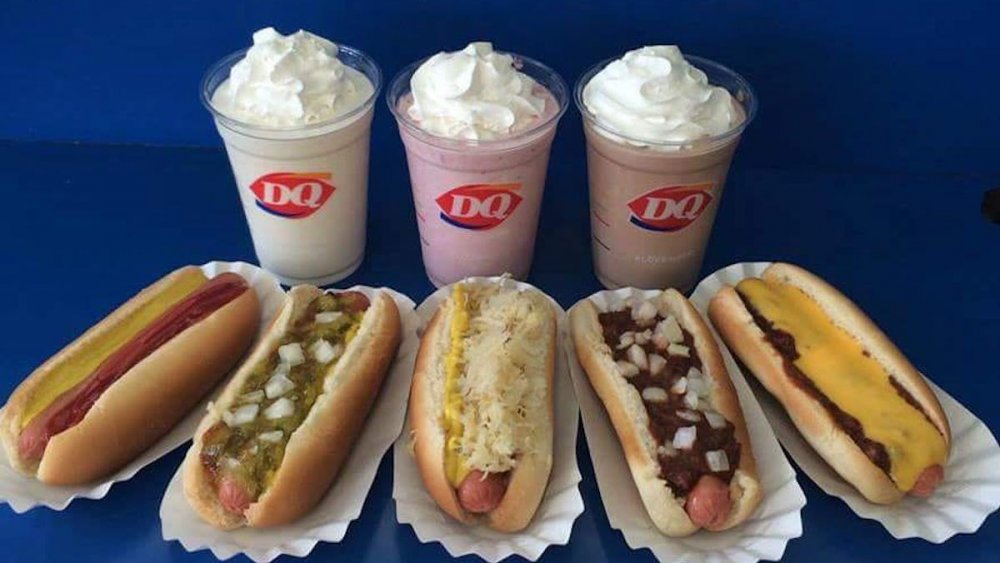 Rumors of poor hot dog quality at Dairy Queen have circulated the internet for at least a decade. In 2010, a Reddit commenter who claimed to work at Dairy Queen said the hot dogs were reheated and reused day after day until they were sold. Another commenter said that didn't happen at the DQ they worked at, but others who say they worked at Dairy Queen posted on Quora that people should "avoid the hot dogs" and that the way the chili is prepared for the chili cheese dogs is "really disgusting."
According to a press release, Dairy Queen has used an all-beef hot dog since 2007 (though as a reviewer for Eater noted in 2016, the franks are of the "skinless" variety with no snappy casing that pops when you bite into them). Turns out, they're not too popular. A Business Insider fast food reviewer named Marina Nazario wrote in 2016 that the Dairy Queen chili dog was the worst menu item she's eaten from any fast food restaurant.
And then there's the reviewer from the site Fast Food Menu Prices. The review found that the chili cheese dog wiener "is not comparable to a backyard BBQ or sporting event," but instead "it tastes like low-grade meat." There's not much going for Dairy Queen in the hot dog department. Even adding chili cheese on top can't save the dogs. It's best to stick to the Blizzards and fries at Dairy Queen.
10. Five Guys' hot dog
The full name of this chain is Five Guys Burgers and Fries. "And hot dogs" is not in the official title, yet Five Guys still puts out a very tasty dog. The Hebrew National Hotdog is sliced lengthwise (also known as butterflied) and cooked on the griddle, so there's a crisp outside and inside. As for topping, mustard and maybe some relish is the way to go, though raw onions and Kraft American cheese are acceptable additions on the cheese dog, if that's something you're into. There's even an option for a bacon dog and a bacon cheese dog. All of these are filling and fine tasting options.
This type of praise isn't normally lavished on a food item that lands close to last in a ranking. But there's a sticking point: Five Guys prices its hot dogs at more than $5 for the most basic version at many locations and racks it up to $7 or more for additions like bacon and cheese.
A single Hebrew National Hotdog with basic condiments and a basic bun should not cost $5 or more. For perspective, a pack of seven Hebrew Nationals can cost less than $4 at Walmart. Hot dogs are cheap and quick hunger fixes, even by fast food standards. So while Five Guys deserves to be higher from a pure taste perspective, only the most decorated and craft of hot dogs should command the prices that Five Guys' does.