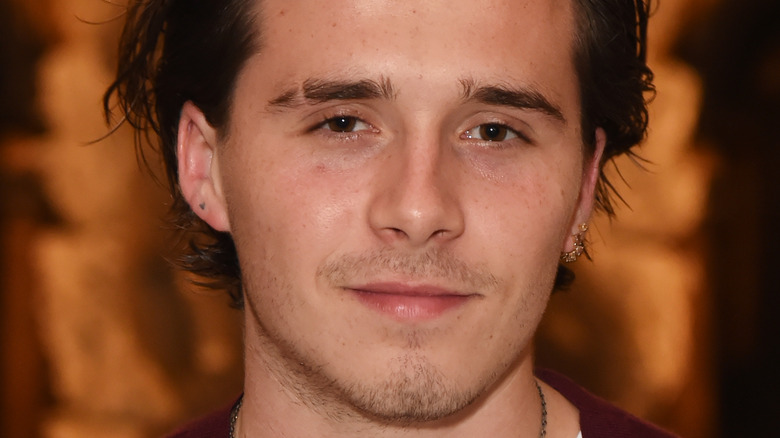 Brooklyn Beckham is the eldest son of former superstar soccer player David Beckham and former Spice Girl-turned-fashion designer Victoria Beckham, but it appears the London native is determined to make it on his own in life. Sure, Brooklyn is relatively young, being born in 1999, but so far, he's already managed to find success in three different careers, briefly attend university, live in multiple cities, and even get engaged.
Despite wanting career accomplishments of his own, with his rich and famous parents, Brooklyn presumedly never had to worry when it came to his finances. In fact, he probably could have chosen to just ride his parents' coattails and live a spoiled, charmed life. But as his mom Victoria told TIME, that's not how her sons were raised. She dished, "Being in a position where they live such a privileged life, it is important that our children understand humility, that they appreciate how their parents have worked very hard to create this life for the family…" The star pointed out that her sons understand that "they, too, have a responsibility to work hard."
It seems Brooklyn took that responsibly to heart and has been trying to make a name for himself through his own work. In young adulthood, Brooklyn is off to a good start, with Celebrity Net Worth reporting that as of 2021, he's worth about $10 million. But how did Brooklyn get so rich on his own already? Let's break it down.
Brooklyn Beckham was raised to work hard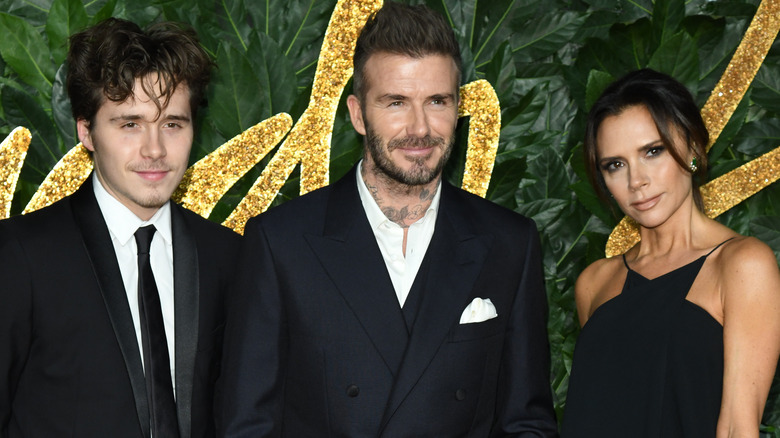 Brooklyn Beckham may have grown up with money and fame thanks to his parents, David and Victoria Beckham, but he and his younger brothers have, apparently, always been driven to find success on their own. David explained to Men's Health (via E!), "It would be easy for our kids to sit back and not work for anything, but they're not like that." He continued, "They're as competitive as Victoria and me. … They want to win. They want to work at something."
While Brooklyn is competitive, he doesn't necessarily want to follow in his parents' exact footsteps. Despite playing soccer as a child, Brooklyn hasn't pursued the sport that made his dad world famous. David seems to understand Brooklyn's decision, confessing to ABC that one of his sons once told him, "Every time I step onto the field, I know people are saying, 'This is David Beckham's son.' If I am not as good as you, then it is not good enough."
Brooklyn works hard for what he wants. His dad dished on the "The Late Late Show" in 2015 that the then-16-year-old had a job at a local London restaurant. "[Kids] want new sneakers, they want new soccer boots." David decided it was time for his son to earn those things. "So, much to his dismay, we packed him off to the French café and he works there every Saturday and Sunday for a few hours and gets his own pocket money," the dad told James Corden.
Brooklyn Beckham makes money as a model
It appears that Brooklyn Beckham has found most of his success on his own through his modeling career, having made his debut at just 15 years old in 2014 with a 20-page fashion spread for Man About Town magazine, according to People. The Londoner has done other magazine covers alongside his famous parents, including British Vogue and Interview magazine, as well as some on his own for Wonderland and Dazed.
In 2020, the Daily Mail reported that Beckham decided to take his modeling career to the next level by signing to an agency. An unnamed source told The Sun (per the Daily Mail), "Brooklyn has a recognizable face now and is in high demand in the fashion world, especially as he's the son of David and Victoria." Apparently, that move actually paid off, since Beckham is now the face of Pepe Jeans. He assumedly gets paid to frequently post about the brand on his Instagram, and he even got his fiancee, Nicola Peltz, involved with their "Just for Us" campaign.
Yet Brooklyn's most lucrative deal appears to come from the brand Superdry. The fashion label paid him £1million in 2021 to front their British streetwear line, according to The Sun. The model announced the paid partnership on his Instagram: "With our mutual passion for the future of sustainable fashion, excited to introduce my new collaboration with @superdry." While Brooklyn's making money off his handsome face, he originally preferred being behind the camera.
Brooklyn Beckham pursued photography
In 2017, Brooklyn Beckham wanted to make a career out of his passion for photography. He gushed about his love for the art to L'Officiel, saying, "I like the challenge of trying to capture a moment, an expression, the way the light falls on the subject." Beckham decided to work toward his goal by attending Parsons School of Design to study the craft, telling E! at the time, "I'm going to New York, so people know me as a photographer and take me more seriously."
At age 18, Beckham published his first book of photography, "What I See," which, according to the BBC, received mixed reviews ranging from "terrible" to "brilliant." Despite British tabloids claiming that the book was "panned" by critics, Beckham's publisher, Penguin Random House Children's, seemed pleased with the money it made them both. While that amount is unclear, they told The Sun, "We were delighted that Brooklyn Beckham hit the bestseller list on publication and we are happy with the sales of this title so far."
Beckham eventually decided to leave New York City in 2018 to return to London for a photography internship (per The Sun). These days, it seems that Beckham is still into photography and has even landed gigs shooting for major magazines, including Vogue.
Brooklyn Beckham could make bank as a celebrity chef
With ventures in modeling and photography under his belt, in 2021, Brooklyn Beckham decided to take a different approach to making a living, this time as a chef. It all started when Beckham posted Instagram videos of himself cooking various dishes, from pasta to French toast. The videos were a hit with fans, and Beckham even got his dad involved, showing him making risotto.
While Beckham may not be a trained chef or own a restaurant yet, he was good enough to appear on "Today" to demonstrate how to make a cheese quesadilla. He explained how he ended up seemingly pursuing this particular field, dishing, "My fiancee started filming me, and I started posting it. And it's just something that I just love doing."
Despite some people questioning why Beckham would try to cash in on cooking, the popularity of his social media videos proved he had potential. According to the Mirror, Beckham reportedly met with YouTube and Facebook about creating an online cooking show. Although it may seem far-fetched, let's not forget Paris Hilton's cooking show was a hit on Netflix, even though she's not an actual chef, either. And if Beckham makes being a TV chef work, he's looking at some big paychecks. According to Forbes, Guy Fieri signed an $80 million contract renegotiation with the Food Network, while Gordon Ramsay makes around $20 million a year for his shows on Fox.
Brooklyn Beckham's fiancee is a billionaire heiress
Brooklyn Beckham clearly comes from a wealthy family, but it's safe to say that his fiancee, Nicola Peltz, isn't marrying him for his money. In fact, Peltz was already loaded, thanks to her own family. According to Forbes, Peltz's dad, Nelson Peltz, is a founder of a New York-based investment management firm and is currently worth $1.7 billion. That's right, Beckham's love comes from a family of billionaires, which means the young couple shouldn't have to ever worry about making ends meet, as long as they're on good terms with either's family.
Yet, Peltz isn't just an heiress; she's also been working as an actor since she was 12 years old, despite her mom initially opposing it. The New York native told Interview, "It took a lot of convincing. But when I got a job at Manhattan Theatre Club, I think she saw how passionate I was about it and that I worked really hard." Peltz has since appeared in such titles as "The Last Airbender" and "Transformer: Age of Extinction," as well as the TV series "Bates Motel."
Additionally, Peltz has a big presence on Instagram, boasting over 2 million followers. According to her bio, she also considers herself a writer, producer, and director. Similar to Beckham, she does some modeling, too, joining her fiance for a Pepe Jeans campaign, as well as the occasional magazine feature (like the one she did for Vogue Germany).
Brooklyn Beckham's lavish purchases
While it appears that Brooklyn Beckham likes to make money through his hobbies, the young model seems knows how to spend that money, too. Beckham dished to GQ that he likes to invest in expensive cars. He explained how his interest began, saying, "Me and my dad are proper car guys… I've been in go-karts since I was a little kid." He also revealed what he looks for now. "I'm old school. I was always into classic cars. The shape is important, but how it drives matters to me. I've never felt more at home in anything than a BMW."
When Beckham isn't spending his money on luxury cars, he's into throwing lavish parties, including a big bash in March 2020 for his 21st birthday. According to The Sun, Beckham held a dinner that cost about £100,000 (that's over $134,000) and included a private performance by British rapper Stormzy. The Daily Mail reports that Wagyu steak, smoked salmon with caviar, caviar covered sushi, and even £140 ($188) Wagyu 'Katsu Sando' sandwiches were served, made by famous chef Hisato Hamada.
Sure, that's not the average dinner for a typical 21-year-old, but the Beckhams are used to doing their birthdays in a big way. For Beckham's 17th birthday (per The Sun), his parents gifted him a brand new Mercedes C-class worth £33,350 (about $45,000), and the next year, one of his gifts was a £500 ($670) tattoo from a famous artist.
Brooklyn Beckham dropped $10.5 million on a wellness mansion
Brooklyn Beckham doesn't just spend his money on frivolous items; he also put down a pretty penny on a home for himself and fiancee Nicola Peltz in 2021. And while the couple may just be starting their life together, this is definitely no starter home, since Beckham and the actor jointly dropped a whopping $10.5 million on their mansion in Beverly Hills.
According to the New York Post, the home is 7,700 square feet and includes 5 bedrooms, 5.5 bathrooms, and a theater room, as well as an outdoor dining space and a saltwater pool. It also has a wellness theme to it with its other amenities: a juice bar, a gym/yoga room, a steam room, a sauna, a relaxation room, and even "a white crystal quartz massage and healing room." If it sounds like they're living in a spa, that's kind of the point. According to The Dirt, the designers from the James Group built it "to promote the ultimate wellness lifestyle experience with the highest level of design."
While Beckham is originally from London, he lived in Los Angeles with his family when his dad, David Beckham, played for the soccer team the LA Galaxy. The Beckhams had reportedly bought their massive family home in 2007 before selling it for over $33 million in 2018. It seems that when it comes to real estate endeavors, Beckham's parents would be a good source of advice.
Brooklyn Beckham doesn't skimp on his fiancee
It seems that Brooklyn Beckham has invested a lot of money in his relationship with his fiancee, Nicola Peltz, starting with her engagement ring. Beckham proposed to Peltz in 2020, after less than a year of dating, with a 5-carat Emerald cut diamond that reportedly cost about £350,000 (over $470,000), according to The Sun. The "Holidate" actor showed off the rock on her Instagram when she announced their engagement, writing, "you've made me the luckiest girl in the world."
And if an expensive engagement ring, as well as a $10.5 million house, isn't enough to prove how serious they are, the couple also plans on having not one, but two lavish weddings. According to the Mirror, Beckham and Peltz want to tie the knot both in Beckham's native U.K. and in the U.S. Yet when it comes to the planning, an unnamed source dished, "Brooklyn has already told Nicola he'll let her take the reins — joking how he's already under the thumb."
If Beckham's wedding is anything like his parents', both ceremonies would presumably be quite costly. David and Victoria Beckham reportedly spent £800,000 (over a million big ones) on their special day in 1999. But Beckham and Peltz will be playing it safe financially if they sign a prenup, which the Daily Mail reports they plan to do on the advice of Peltz's billionaire father.
Brooklyn Beckham gives back
Brooklyn Beckham has made it a point throughout the years to give back to those less fortunate than himself. For example, in 2015, when he was only 16 years old, he joined his dad, David Beckham, on the soccer field to play a charity match for UNICEF, which raises money for underprivileged children around the world.
In 2016, Beckham joined his mom, Victoria Beckham, on a trip to Kenya to do charity work with the group UNAIDS, according to the Daily Mail. The mother and son helped out at the New Life Home Trust and Beyond Zero clinics, which offer treatments for families dealing with HIV. While it's unclear how much the Beckhams have donated to the charity, UNAIDS reports that the organization is "committed to ending the AIDS epidemic as a public health threat by 2030," so any donations are meaningful.
Outside of the work Beckham has done with his parents' charities, he's taken the initiative to give back on his own. In 2017, the London native decided to donate proceeds from an art exhibition he did of his photography to the children impacted by the Grenfell Tower fire (according to Teen Vogue) after volunteering at a church in London to assist victims. He dished on "Capital Breakfast with Roman Kemp" that he "kind of went down to help out the day after, and it was crazy and so awesome to see everyone come together. I just really wanted to help out."