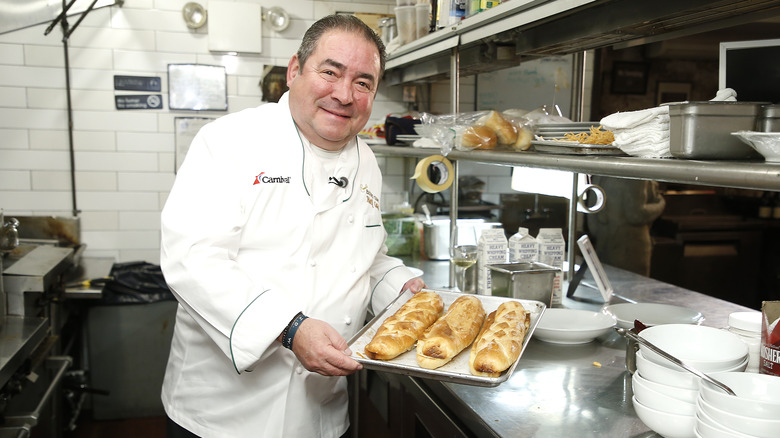 With his big smile, bigger face, and award-winning Creole cooking, what's not to love about celebrity chef Emeril Lagasse? Well, if you're one of the people he's crossed in his professional or personal life, that's actually quite a lot. Turns out, the guy who loves, "kicking it up a notch" has made more than a few enemies during his decades-long road to fame and fortune. Of course, it shouldn't be that much of a surprise, as most celebrity chefs have found themselves in some kind of public spat during the course of their careers.
But there's something about Emeril that seems to really get under people's skin, even if it's simply the way he looks. In his 2000 book, "Kitchen Confidential," the late Anthony Bourdain wrote of his "naked contempt" for the "Ewok-like Emeril Lagasse" (via ABC News). He later went on to trash Emeril's Food Network shows (via Grub Street). And while Anthony Bourdain and Emeril Lagasse eventually buried the hatchet, became friends, and even did some TV work together before Anthony Bourdain's 2018 death, per HuffPost, not everyone has decided to kiss and make up with Emeril. Who else has had beef with him? Read on for the people who can't stand Emeril Lagasse
Tommy Lee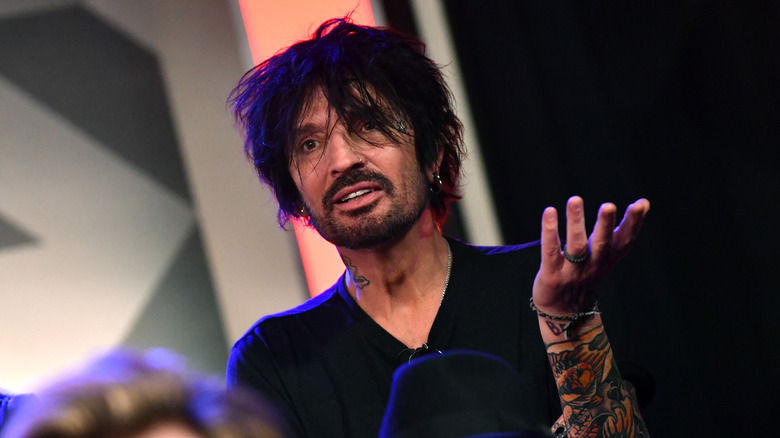 You'd think family-friendly TV chef Emeril Lagasse and heavy metal drummer Tommy Lee of Mötley Crüe wouldn't be a likely pair to cross paths. But they had a juicy online war of words in 2019 when Tommy Lee was ejected from the chef's New Orleans restaurant, Emeril's Delmonico. "Hey @Emeril I was just at your restaurant in New Orleans and was aggressively asked to leave because I was upset about removing my hat," the rocker tweeted at Emeril. "I removed it and they still came up to the table and gave me a hard time. Wtf dude????" USA Today also reported that on his way out, Tommy Lee hurled profanity at the staff.
Instead of apologizing for Tommy Lee's unpleasant dining experience, Emeril had a surprisingly salty retort, making fun of the amount of attention Tommy was bringing to himself over the matter. Per USA Today, he even compared it to the then-new Popeyes chicken sandwich, which at the time had just gone viral.
Not finding Emeril's reaction funny, apparently, Tommy Lee went to TMZ to further complain about the way he and his wife Brittany Furlan had been treated. Delmonico then replied with its own public statement, defending its decision to boot him (via Delish). To this day, it's unclear if Tommy Lee has frequented another Emeril Lagasse restaurant — but we're guessing he's probably chosen some other places.
The Food Network
The Food Network helped give Emeril Lagasse his big break, but it also gave him the boot. Starting in 1993, Emeril starred in a pretty staggering three shows on the network: "How to Boil Water," "The Essence of Emeril" and finally, the successful and award-winning, "Emeril Live," which ended its run in 2007. It was suddenly canceled, much to Emeril's shock and dismay. "Why are they doing this," Emeril recalled thinking. "How can this be real?" (via NPR).
Ultimately, the Food Network's decision had to do with the show's high budget, according to NPR. But the New York Times also pointed to the Food Network's declining ratings, tough competition from fledgling shows like Bravo's "Top Chef," and the network's desire to focus on newer, fresher talent at time, like budding star Rachael Ray. In other words, it seemed that Emeril had become little more than stale leftovers.
Emeril has since admitted he was unhappy with the decision. In fact, he's come out and said that he was pretty hurt by the whole affair. "When it ended, everybody felt like it was time for a little break," Emeril told GQ in a 2016 interview. "I didn't necessarily think that, but that's what everybody else thought, that maybe it was time for a break from Emeril."