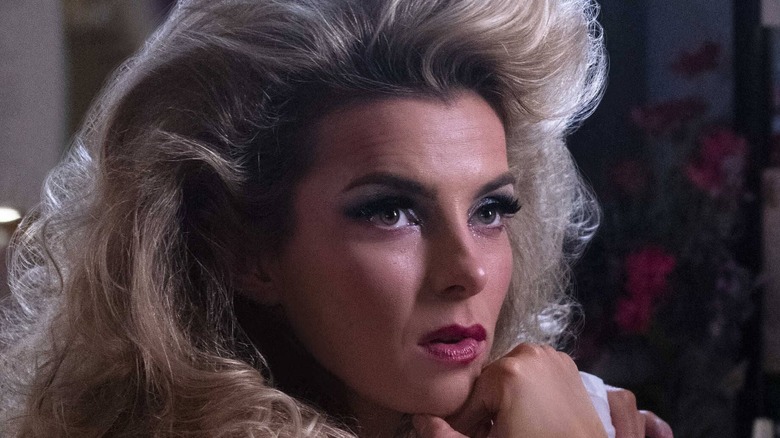 Every TV show (except for "The Simpsons") comes to an end eventually. Some end of their own accord. More are canceled. Most of those are canceled for normal TV reasons: bad ratings, production costs, boring network politics, so on and so forth. This is, unfortunately, often the best case scenario.
Many other shows have been canceled for sad, tragic, or generally upsetting reasons. Sometimes a reality show participant behaved in such a way that the show can't in good conscience profit off them. Sometimes the star of a beloved TV show dies prematurely and production has no choice but to shutter. Other times the events of the world just make it logistically too difficult to keep production going. Here are some of the saddest reasons ever that TV shows got the plug pulled.
Fair warning: this will not be an easy read. There will be mention of death, cancer, murder, suicide, child abuse, and molestation.
Schimmel didn't get past the pilot due to Robert Schimmel's health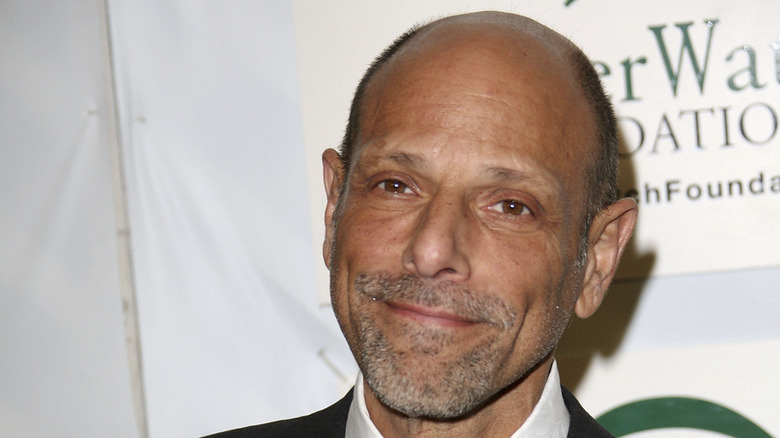 Robert Schimmel's life was more tragedy than comedy, up to and including his 2010 death in a car accident. One such tragedy was the story surrounding his planned sitcom, "Schimmel" — and how it never got past the pilot.
In 1999, Schimmel signed on to do a sitcom with 20th Century Fox. Mike Scully, executive producer of "The Simpsons," was set to have a hand in it. A pilot was shot — in which a very young Brie Larson played his daughter — and got picked up by the Fox network in 2000. Mere days after the announcement, however, Schimmel was diagnosed with non-Hodgkin's lymphoma and given six months to live.
Production on his sitcom stopped while he went into treatment, and he managed to make a full recovery. Variety reported in January 2001 that production was intended to resume, but the network axed it after the schedule got a little too crowded. The pilot's cold open surfaced on YouTube in 2006 and Schimmel posted some outtakes to his Facebook page in August 2010.
Friend Me never made it to air after the co-creator died
"Friend Me," announced in early 2012, was to follow two friends who moved from Indiana to Los Angeles to work at Groupon. (How they ended up with that show title for characters in that line of work remains a mystery.) Attached to star were Christopher Mintz-Plasse (yes, McLovin) and Nicholas Braun, one of whom would insist on venturing out into their new city while the other would remain a homebody trying to keep his Midwest roots. Unfortunately, due to real life tragedy, it never made it to air.
"Friend Me" was co-created by Alan Kirschenbaum, a veteran TV writer who was best known as the creator of "Yes, Dear." In October 2012, Kirschenbaum was found dead in his home of a suspected suicide. This, among many other things, put the show — which had yet to debut — in a state of limbo. After months of delays and uncertainty, then-CBS President Leslie Moonves confirmed at an August 2013 TCA press event (via The Futon Critic) that there were no plans to show or burn off the episodes. As such, the show remains unaired to this day.
If you or anyone you know is having suicidal thoughts, please call the National Suicide Prevention Lifeline​ at​ 1-800-273-TALK (8255)​.
Family Forensics UK didn't investigate their own team
"Family Forensics UK" was a strange reality show, even by the Mad Max wasteland standards of weirdness that was mid-aughts reality TV. The show had a forensics team move into a family's home over a weekend and treat it like a crime scene, after which they'd offer a profile of the family and their secrets. If this doesn't sound familiar, it's because it only lasted one episode on Living TV (now Sky Witness).
"Family Forensics UK" aired on November 16, 2005. Shortly after, word broke that Michael Brown — one of the show's investigators — was convicted the previous month of engaging in sexual activity in the presence of a child. Living TV apologized, saying that they weren't aware of Brown's past, and that he also violated his contract by not telling them of any criminal charges. A production spokesman said (via Digital Spy), "Due to the serious nature of these offenses and out of respect and to protect the families involved, Living TV took the immediate and difficult decision not to transmit the rest of the series."
One month later, the BBC reported that Brown was previously convicted for underage sex in 1989 and spent a year in jail. He was further sentenced to at least two years for his conviction from that October. Somehow, a show entirely about investigation didn't do any due diligence into their own investigators.
If you or anyone you know has been a victim of sexual assault, help is available. Visit the Rape, Abuse & Incest National Network website or contact RAINN's National Helpline at 1-800-656-HOPE (4673).
COVID-19 made shooting GLOW impossible
COVID-19 put a nearly uniform stop to show business (along with the rest of the world). Almost every TV and movie production came to a screeching halt. Many projects got pushed back, and at least one was canceled mid-production: Netflix wrestling dramedy "GLOW." Even though it had several unresolved storylines, the show was canceled because of the unique difficulties it presented.
"GLOW" was three weeks into filming when the world changed in March 2020. Netflix spent the next seven months trying to find a safe way to restart production, but the particular circumstances were too onerous to overcome. The show was shot in Los Angeles, a COVID hotspot in and of itself. Even worse, the show's core was wrestling — an activity that requires physical contact and heavy breathing in close quarters. Combine all this with the show being a high budget ensemble piece with about 20 principal cast members, and Netflix just couldn't find a way to make it work safely.
Deadline broke the inevitable news on October 5, 2020: Netflix had canceled "GLOW." Series creators Liz Flahive and Carly Mensch said that "COVID has killed actual humans. It's a national tragedy and should be our focus. COVID also apparently took down our show." Thankfully, there are no reports of anyone involved in the production catching COVID, and all the series regulars were paid in full. The cast has since expressed interest in a feature length movie to wrap up the story.
The Jeremy Kyle Show was brought down by tragedy
"The Jeremy Kyle Show" was one of the longest-running tabloid talk shows in the UK. For those unfamiliar, take a minute to imagine "The Jerry Springer Show" for a class of people who call French fries "chips." In typical tabloid talk fashion, things often got controversial, violent, and embarrassing. A popular tool on the show was a lie detector, and it was one such segment that led to the show finally getting canceled.
During the first week of May 2019, a man named Steve Dymond went on "The Jeremy Kyle Show" to prove that he hadn't cheated on his ex-partner. Dymond failed the lie detector test, and Kyle mocked him. Family and friends report that Dymond, who was already diagnosed with depression and on medication, was distressed and humiliated. On May 9, Dymond was found dead in his home of a morphine overdose, which many suspected to be a suicide. The ITV network put out a statement expressing sympathies for Dymond's family and said, "Given the gravity of recent events we have decided to end production of 'The Jeremy Kyle Show.'"
If you or anyone you know is having suicidal thoughts, please call the National Suicide Prevention Lifeline​ at​ 1-800-273-TALK (8255)​.
The Sarah Jane Adventures ended after Elisabeth Sladen's death
Few "Doctor Who" spinoffs were more enduring than "The Sarah Jane Adventures." Investigative journalist Sarah Jane Smith (played by Elisabeth Sladen) was one of the longest tenured characters on television, period — made all the more impressive that she came from a series marked entirely by change. "The Sarah Jane Adventures" was aimed at a young audience and followed Sarah Jane on her investigative alien journeys.
The show was a huge hit, and it was stopped by the only thing that could have stopped it: the death of Sladen.
Producer Brian Minchin told Doctor Who Magazine in 2016 (via Den of Geek) that the BBC loved the show and expected to get more seasons after the current one wrapped. Then in early 2011, Sladen called producer Russell T. Davies and informed him that she had cancer and didn't have long to live. The crew, over 100 people, kept it secret. Between the death of their star and the ensuing heartbreak, all parties involved decided to regretfully end the show.
Minchin did have a curious note, though: "Russell emailed me not so long ago saying, 'We shouldn't have stopped, should we?' He thinks we canceled the show out of shock. And he's right. It was such a lovely show, and Lis was fantastic." On April 19, 2020, the nine-year anniversary of her death, Davies put together a final episode: "Farewell, Sarah Jane," which depicted a memorial service for Sarah Jane.
Brett Butler's behavior and addiction ended Grace Under Fire
"Grace Under Fire" was one of the first big hits from TV megaproducer Chuck Lorre. The show starred Brett Butler as Grace, a single mother raising her kids after a divorce. Grace was a recovering alcoholic, while Butler herself was anything but recovered. This caused problems for her and everyone around her, which ultimately ended the show.
Butler became infamous for her volatile backstage behavior, with a bad temperament and a drug addiction that kept feeding off each other. She was known for berating her coworkers, which led to five executive producers over a mere five years and the departure of two cast members. Entertainment Weekly reported that the low point was "Vegas Night," a crossover event between "Grace," "Ellen," "Coach," and "The Drew Carey Show." Production teams for the other shows were mortified by her behavior, which often delayed production. "Drew Carey" crew members were given T-shirts declaring "I Survived Brett" afterwards.
On top of her erratic behavior were her trips to rehab for painkiller addiction. Each visit stopped production, dropped ratings, and just added to the frustration. One of these trips was partway through Season 5. Unable to handle Butler's erratic behavior anymore, ABC shut down the show. The production company claimed (via the Orlando Sentinel), "We have decided to suspend production … so that Brett may have time to resolve some personal issues." Production never resumed.
If you or anyone you know is struggling with addiction issues, help is available. Visit the Substance Abuse and Mental Health Services Administration website or contact SAMHSA's National Helpline at 1-800-662-HELP (4357).
Megan Wants A Millionaire was cut short by murder
"Megan Wants A Millionaire" was one of about eleventy billion D-list celebrity dating shows from the late 2000s. It starred former "Rock of Love" contestant Megan Hauserman, who had a bunch of millionaires compete to make her a trophy wife. But the show got canceled before the end of the first season after one of the contestants committed a murder-suicide.
The contestant in question was real estate investor Ryan Jenkins. The entire series was in the can by the time he committed his crime, so we know he came in third. Not long after he wrapped his part in the series, he married a woman named Jasmine Fiore, only for the two to later separate. Jenkins joined the cast of "I Love Money 3." Fiore's body, which the New York Times described as "mutilated," was found in late April 2009, and Jenkins fled to Canada after getting charged with murder. VH1 promptly canceled "Megan Wants A Millionaire" and left the last few episodes unaired.
Jenkins was later found dead in a motel in Hope, British Columbia, of an apparent suicide. "I Love Money 3" was also preemptively pulled, never airing an episode.
America wasn't ready for Ellen in the 90s
"Ellen" was a hit sitcom in its time, but it will always be remembered for one thing: "The Puppy Episode." It saw the main character Ellen, played by Ellen DeGeneres, come out of the closet — not long after DeGeneres herself did in real life. "The Puppy Episode" drew monster ratings and got massive publicity, but it also marked the beginning of the end for the show.
Going forward, DeGeneres and ABC clashed behind the scenes. The New York Times reported that ABC tried to limit the number of LGBTQ storylines and even at one time slapped a special viewer's advisory in front of the show. DeGeneres was quick to point out that shows about heterosexual relationships had no such warning.
GLAAD media director Chaz Bono noted to Variety the dangers in the show becoming "too" LGBTQ, especially after it became important to the plots: "This is network prime time. When a show treats gay issues over and over again, it becomes 'a gay show,' and the average viewer says, 'Hey, I'm not gay — I'm not going to watch it.'" The show's ratings declined, and it's certainly possible that the audience and networks weren't quite ready.
If the show's cancellation wasn't proof enough of this, the hit that Laura Dern's career took was. Dern, whose character made Ellen realize that she was gay, started getting death threats. Dern hit a career peak with "Jurassic Park," but the backlash to "The Puppy Episode" meant that she stopped getting offered roles for a significant period of time.
Josh Duggar's behavior ended two Duggar family shows
The Duggar family — all 19 kids and counting — made TLC a lot of money over the course of two shows. Both of these shows ended due to abrupt and upsetting circumstances.
The first show, "19 Kids and Counting," ran on the network from 2008 to 2015. Viewers got to know the Duggar family, devout Baptists who eschewed birth control and ended up with a massive, religious, homeschooled clan. The show ended abruptly after it was revealed that Josh Duggar, one of the sons, molested five girls over several years — made more sickening by the fact that four of them were his own sisters.
TLC went to the well again with the spinoff "Counting On." This show, which ran from 2015 to 2020, originally followed some of the older Duggar siblings (sans Josh) before roping in the rest of the family. This, too, was canceled due to Josh Duggar — as if his previous actions weren't disgusting enough, he now faced federal charges for receiving and possessing child pornography. Even though he wasn't part of the show, the name and the publicity was too much for all involved — especially the network — to deal with in public.
If you or anyone you know has been a victim of sexual assault, help is available. Visit the Rape, Abuse & Incest National Network website or contact RAINN's National Helpline at 1-800-656-HOPE (4673).
Training Day got canceled after Bill Paxton's death
In 2017, CBS put out a sequel series to the classic Denzel Washington film "Training Day." The show was clearly meant to be a major cornerstone for the network: the production team included Antoine Fuqua (director of the movie) and producer Jerry Bruckheimer, and had a legit star in Bill Paxton. Nonetheless, the show only garnered modest ratings — not exactly renewal-bait.
Then the show hit a bigger issue: after four episodes aired, Bill Paxton died at the age of 61. All 13 episodes were in the can at the time, so production wasn't impeded, but that was a small consolation given the sudden death of the well-liked star. Many sources, including Deadline, predicted that Paxton's death guaranteed the show wouldn't get another season. This proved accurate: there was a small uptick in ratings after his death before they tanked. "Training Day" already had a weak path forward, one that turned impossible without Paxton.