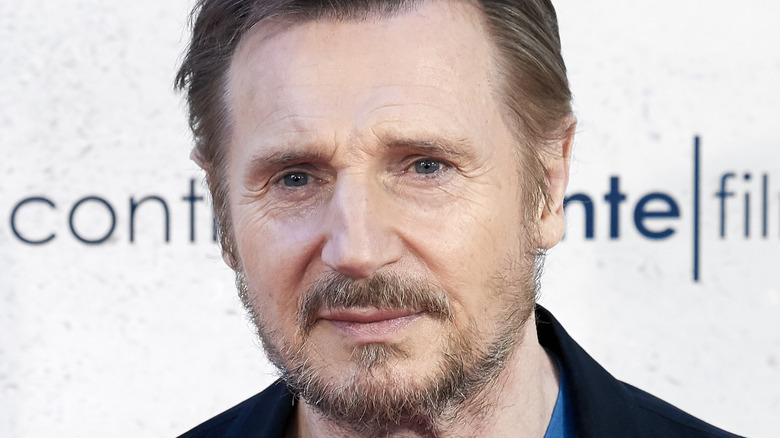 If you're into movies filled with action and adventure, then "The Ice Road" is for you. The film was released on Netflix in June 2021, and according to the streaming service's description, follows "a down-on-his-luck ice road trucker" who has to travel across dangerous terrain to deliver the special hardware needed to rescue miners who are trapped underground. Since its release, the feature has been a hit for Netflix, and at one point even held their top spot for most watched movie in July 2021 (per PureWow).
Leading the charge on the film is legendary action star Liam Neeson, who is no stranger to rescue missions having starred in the "Taken" trilogy. Neeson is joined by another veteran actor, "Matrix" star Laurence Fishburne, both seemingly proving that age doesn't matter when it comes to saving the day. Other recognizable actors like Benjamin Walker, Amber Midthunder, Holt McCallany, Martin Sensmeier, Matt Salinger, Matt McCoy and Marcus Thomas round out the cast. They all apparently spent time shooting in various, and presumably cold locations in Canada.
When the actors aren't shooting action movies on ice roads, most of them have pretty interesting personal lives, especially when it comes to who they've been romantically involved with. Sure, this isn't a romantic movie by any means but with the popularity of the film, it's safe to say fans are interested in learning more about the movie's stars. So let's get to know the real life partners of "The Ice Road."
Liam Neeson and Natasha Richardson were very in love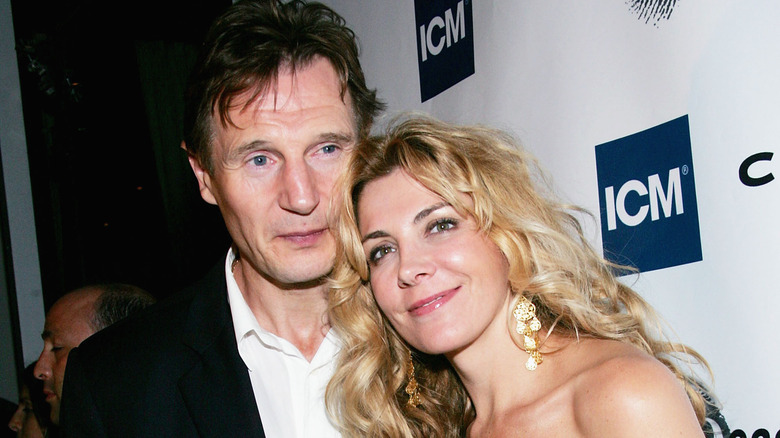 It's safe to say that Liam Neeson and his late wife, actor Natasha Richardson, had the kind of love story usually only seen in movies. The two met while starring in the Broadway play "Anna Christie" in 1993. Neeson recollected to "60 Minutes", "I'd never had that kind of an explosive chemistry situation with an actor." At the time, Richardson was married to producer Robert Fox, and Neeson had a ladies man reputation. Richardson recalled to the Daily News, "What happened between us, and that becoming public knowledge in conjunction with my marriage falling apart, was kind of bad timing… Obviously I fell very much in love with him."
The two had a whirlwind romance and were married that next year. In 2016, Neeson gushed on SiriusXM's "My Favorite Song" about how his bride surprised him with a special rendition of their wedding song, Van Morrison's "Crazy Love," at the reception: "Behind my back, Natasha had been taking singing lessons to sing it to me." The couple went on to welcome two children. In the aforementioned "60 Minutes" interview, the "Taken" actor said Richardson "cared for everybody. She has a motherly instinct. And she'd make dinners for everyone and just looked after us all."
Richardson died in 2009 after suffering a traumatic brain injury following a skiing accident. Neeson rushed to be by her side at the end. "I told her I loved her," he shared with "60 Minutes." "Said, 'Sweetie, you're not coming back from this.'"
Liam Neeson has an on-again off-again girlfriend
Liam Neeson has struggled with the loss of his late wife, "The Parent Trap" star Natasha Richardson. The actor told "60 Minutes" in 2014, "Anytime I hear that door opening I still think I'm gonna hear her, you know. And, then, it's grief's like… it hits you. It's like a wave." An unnamed friend told OK! in 2021 that Neeson has had trouble moving on considering that "he seems lost in thoughts of the past" and "knows he'll never find another woman like Natasha."
However, Neeson supposedly has been in an on-again off-again relationship with public relations executive Freya St. Johnston since 2010. While not much is known about St. Johnston, her ex told People, "She's a wonderful person and a fantastic mother," adding, "She takes life seriously in a free-spirited kind of way." According to Distractify, the two split in 2012 before reportedly reuniting in 2016. That year though, Neeson stirred up the rumor mill by joking to the Irish Independent that he was dating a fellow celebrity, quipping, "I'd embarrass her if I said her name, she's incredibly famous."
Yet, since then, Neeson and St. Johnston have been seen out together, with their last public appearance being at the 2019 premiere of "The White Crow" (per Daily Mail). While it's unclear if they're still a couple, it's been nice to see Neeson happy with someone again.