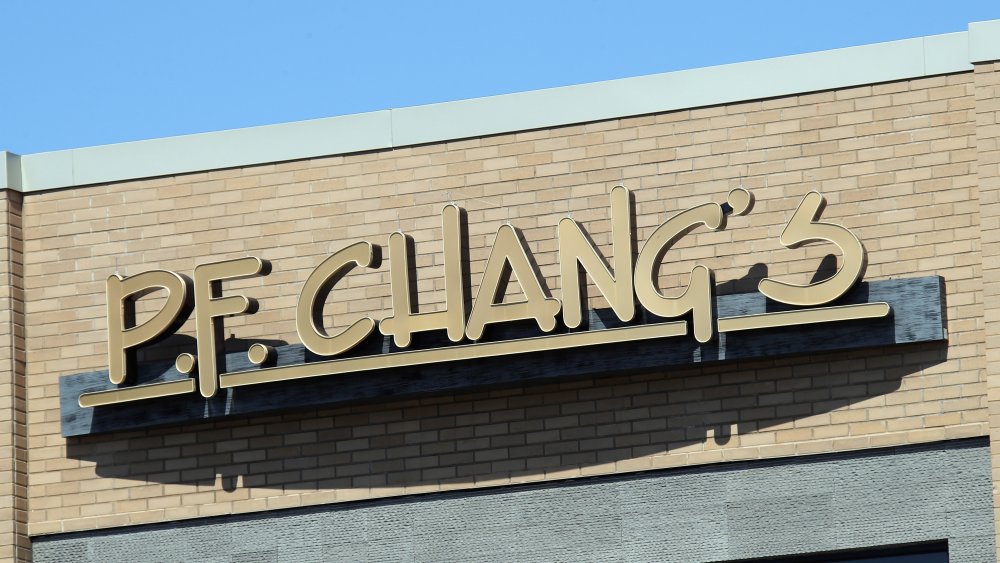 We all love some good Chinese takeout from time to time. Whether you like to stick to the fried rice or you're more of a General Tso's person, you can't deny that Chinese cuisine is some of the best around. But unless you've actually been to China before, there's a good chance you've never had the real thing. Yes, even if you've taken a trip or two to P.F. Chang's. Sure, the chain restaurant might have some tasty dishes, but that doesn't mean they're taken straight from China … and it doesn't necessarily mean that they're all going to be good, either.
While some menu items will make your mouth drool and keep you coming back to the restaurant for more, there are others that consistently miss the mark that we simply can't recommend. Whether they're lacking in flavor or nutrition, there are a few items on the expansive P.F. Chang's menu that you should probably avoid. Take a look at the dishes you should never order at P.F. Chang's so you know what to pass up on the next time you visit.
P.F. Chang's Great Wall of Chocolate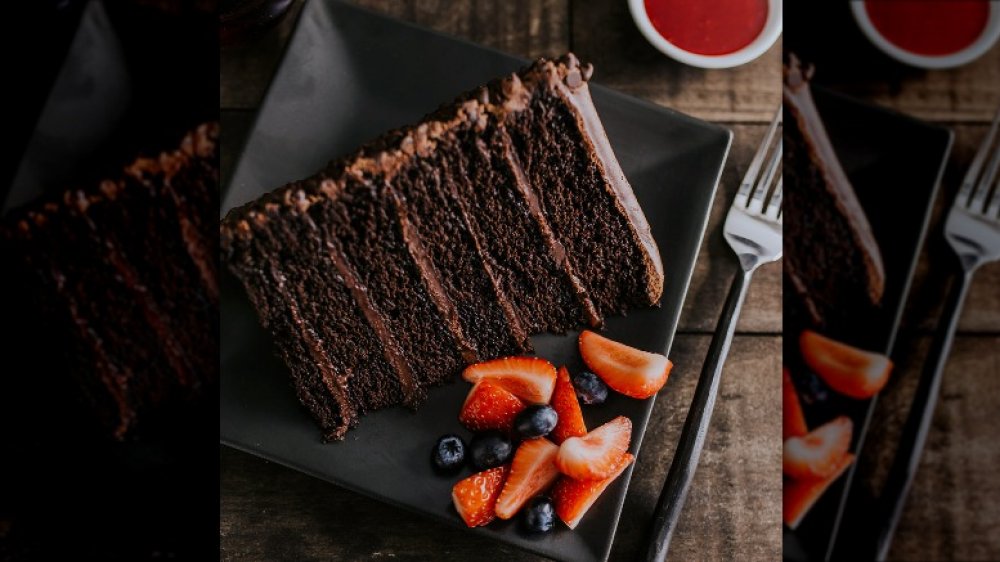 Here's the thing. At Mashed, we love a chocolate-y dessert. Like, really love it. And out of all the chocolate-filled desserts out there, we love a moist chocolate cake the best. How can you go wrong with layers upon layers of rich chocolate and smooth frosting? But let's just be honest. Not just any cake will do. We want the real deal, something that tastes just as good as it looks and leaves us wanting more even when we know we shouldn't take another bite.
When you see the Great Wall of Chocolate on the menu, you may think that you've found the perfect chocolate cake. After all, with six layers of chocolate cake encased in chocolate frosting and blessed with semi-sweet chocolate chips, what could possibly go wrong? Apparently, a lot of things.
It should go without saying that this cake is far from healthy. Just look at the picture, and that's already very clear. A slice of this cake is 1,700 calories! We love to indulge, but that's just ridiculous. Then, add in the fact that the cake is just way too rich, and it's clear why we'd rather choose something else off of the dessert menu. We're all for an over-the-top dessert, but this one has so much chocolate that it just feels heavy in your mouth. It's one that you can probably skip out on.
P.F. Chang's Ma Po Tofu
Here's another P.F. Chang's health blunder that may actually surprise you. Often, we're told that meatless diets are healthy and that we should work to incorporate more plant protein into our diets. That's one reason why so many people are turning to tofu and seeing just how delicious it can be. Some may consider it bland, but that's not the case when it comes to a good cook. As a blank canvas, it easily takes on the flavors of the spices and seasonings that the cook chooses to use. Not only can it make a delicious meal, it's often lauded as being a healthier choice when you're looking for a high-protein food.
But that shouldn't make you assume that every tofu dish out there is going to be good for you. For example, you'd be sorely disappointed if you ordered the Ma Po Tofu from P.F. Chang's. Fitday actually lists this entree as one of the five worst items you can find on the restaurant's menu when it comes to health. This menu item is high in calories when you consider you're not getting any meat. But more importantly, it really packs on the salt, which can be detrimental to your health.
That being said, the Ma Po Tofu is also one of the more delicious items on the P.F. Chang's menu, so if you're enjoying a cheat day anyway, you might as well go for it and enjoy it.
P.F. Chang's Fried Rice
This one may surprise some people. After all, who doesn't like some fried rice every now and then? Sure, we all know it's not exactly the most authentic thing on the menu, but it can be delicious.
However, one thing that P.F. Chang's is known for is its extensive menu. There are so many different dishes available, so why wouldn't you order something that you can't find at just any old Chinese restaurant? The Fried Rice that you can get at P.F. Chang's, you can get pretty much everywhere. It's nothing too special, so you shouldn't waste your time on it unless you're absolutely dying for fried rice.
Not only is it not a very imaginative choice, but you also won't be getting a very good deal for your money if this is the route you choose to take. Fried rice is mostly just starch, and you're not getting very many vegetables or very much protein. It's not really a balanced meal, and according to Showbiz Cheat Sheet, you're overpaying if you get it from a restaurant.
Luckily, you can easily make fried rice in the comfort of your own home. It's not too hard, provided that you know what you're doing.
P.F. Chang's Mandarin Crunch Salad
You've heard the story a thousand times. One of your favorite chain restaurants comes out with a salad that looks delicious. You may even order it and try it for yourself. Yes, it tastes really good — almost suspiciously good for a salad. Then, you look into the nutrition information and realize that you would've been better just ordering a burger instead when it comes to the health factor of the salad you just put away.
So, when you hear about yet another restaurant offering outrageously unhealthy salad options, it probably won't come as a big surprise … though it might still come as a big disappointment.
That's certainly true when it comes to the Mandarin Crunch Salad. With lots of greens and citrus, it seems like a given that it would be good for you. But luckily for us, Delish uncovered the real truth of this meal. Just the salad is 730 calories. Then, when you add in chicken or shrimp, it ups the calorie count even more.
We love a good salad, but a salad that's just as unhealthy as a burger and fries? Not really our thing.
P.F. Chang's Kung Pao Chicken
It probably won't come as a surprise that Fitday listed the Kung Pao Chicken at P.F. Chang's as one of the worst items on the menu when it comes to eating healthy. At 1,100 calories, you can't really count it as a healthy and balanced meal. But honestly, we're not surprised. It's a fried chicken dish, after all. So what would you really expect?
Our problem is that it just falls flat when compared to other dishes at the chain. We wish the chicken were a bit crispier, but when it's drenched in sauce, it just gets kind of soggy. Plus, the spicy Sichuan sauce is far from spicy, which is just the kick that this dish so desperately needs.
However, that doesn't mean that we can't get on board with anything from this dish. In truth, the sauce is pretty good. Luckily, you don't have to order this meal to taste it because you can buy it by the bottle. Homemade P.F. Chang's, anyone? You can probably make it healthier anyway.
P.F. Chang's Hot and Sour Soup
Having a light soup is the perfect way to start a meal. The warm broth helps to get your digestion working, and it gets you prepared for all the rich, delicious flavors to come. Because most people just want to start off with a soup, there's a good chance that you're looking for something that's on the lighter side. If that's the case, you'll definitely want to pass up on the Hot and Sour Soup.
This spicy, tangy delight might taste good, but it's far from a light option. In fact, Delish reports that this starter has 470 calories … and that's for a dish that's not even your main entree. The sodium is the real kicker, though. In just one bowl of soup, you'll be slurping back an astronomical 3,800 milligrams of sodium.
Sure, if all you want to get is soup and maybe a side dish or two, then this soup may not be the absolute worst choice you can make. You can go for it and enjoy every single drop. But if you're just starting your meal with it, you're better off getting something entirely different.
P.F. Chang's Northern Style Spare Ribs
Ordering a big rack of ribs is exciting, as you know you're going to have an incredible meal. But would you ever start off with an appetizer of ribs? Well, if you go to P.F. Chang's, you can do just that. But wait a minute. You didn't expect it to be healthy, did you? After all, when you take a full meal and turn it into an appetizer, you know you're walking into dangerous territory.
These things have over 1,100 calories, according to Fitday, which is definitely not a balanced way to start a meal. And considering you're not even going to get that much, it doesn't seem worth it. After all, the appetizer only comes with six ribs.
However, when it comes to taste, these things do knock it out of the park. Maybe it's the fact that these delicious pork ribs are slow braised. Maybe it's the dry rub made with Chang's seasoning. Actually, it's almost certainly the dry rub — perhaps that's why you'll down over 3,000 calories just with your appetizer when you order this menu item.
P.F. Chang's Lettuce Wraps
If you've been to P.F. Chang's before, you probably already know that the Lettuce Wraps are one of the most popular items on the menu. However, that doesn't mean that it's something you should actually order. Why? Well, a Redditor took to the site to express just why you should pass up on this popular menu item: "The P.F. Chang's Chicken lettuce wrap meat is all the trimmings from the meat cutting guy all ground up. Mostly fat."
Doesn't sound that appetizing, does it? And it's not just that the meat has unsavory origins. It's also not that good for you, despite what you may think considering you're getting a dish that literally comes wrapped in fresh lettuce. Another Redditor said, "I previously worked at a large chain Chinese restaurant that rhymes with bangs. Those of you that eat the chicken lettuce wraps and think they are healthy, you're wrong. They are 100 percent white meat, what they don't tell you is that it is all the fat, skin and connective tissue from the breast ground and seared before being made into the lettuce wrap mix."
Too bad. This truly is one of the better items on the menu. However, we'd prefer to feel more comfortable with the origin of the meat in question before we decide to dig in.
P.F. Chang's Crispy Green Beans
Your mother always told you to eat your vegetables, and if you knew what was good for you, then you did. But when she said "vegetables," she probably wasn't thinking about anything deep-fried. When you order the Crispy Green Beans at P.F. Chang's, though, that's just what you'll get. Tender green beans get the tempura treatment in this dish, and you can dip the battered beans in a signature spicy sauce that truly is delicious. But as you might expect, that fried breading pretty much negates the health factor of the veggies.
In fact, Delish pointed out a comparison that might surprise you. You may think that you're making a healthy choice with this appetizer, but that's just not the truth. This appetizer has 990 calories. But a large McDonald's fry actually has fewer calories than that … like way fewer: only 510. When you really think about it carefully, you probably won't even want to come close to this dish.
Oh, and if it makes you feel better, the crunch can sometimes be lacking. And limp, fried green beans are definitely not worth all those calories.
P.F. Chang's Asian Caesar Salad
At just about any restaurant you go to, there are going to be a few standard salad options. Perhaps the most popular is the ubiquitous Caesar salad with a sauce that's known for containing anchovies. And at P.F. Chang's, you'll come across this salad yet again.
But the Asian Caesar Salad has a twist in the restaurant's attempt to make it relevant to the cuisine. It's your normal salad until you get to the toppings. Expect to find wonton croutons and sesame seeds in your salad. And that … that's it. That's what makes it Asian. We can't exactly call that authentic. Add the cooked salmon, chicken, or shrimp to it, and you have a thoroughly disappointing entree.
Reviewers on Ranker surely agree. Out of 67 items listed on the site, this one comes in 63rd. We understand why. Though it may be one of the healthier choices, coming in at under 500 calories (unlike the vast majority of the other items you'll find on the menu), it's just kind of sad. P.F. Chang's, you really don't have to try this hard. You can just give us a normal Caesar salad.