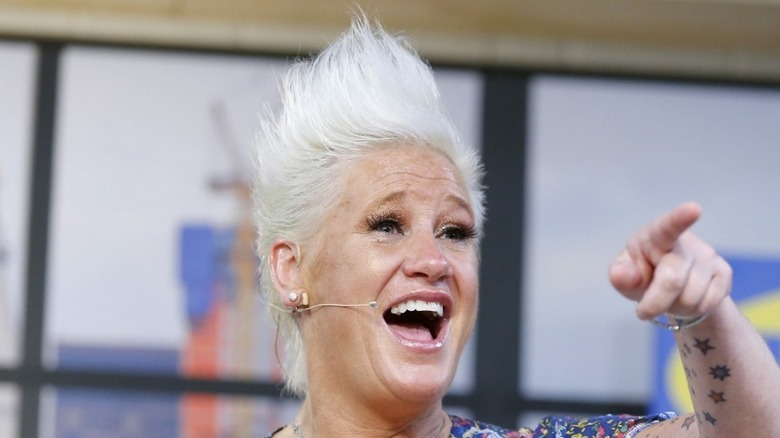 It's pretty easy to spot Anne Burrell amongst a sea of chefs. It might be the perfectly spiked coiffure, the knee-length skirt below her chef's coat or her infectious laugh. The chef, who hosts "Worst Cooks in America", is where she is today because she decided to wade through uncharted waters. As someone who comes from a family of zero restaurateurs, Burrell had to figure out the way to the top of the culinary world all by herself. "Cooking is a learned skill. It doesn't matter if your mom or grandma was a great cook—it's not a genetic thing. Granted, there are people that are going to be better at it than others, but I feel like anyone who wants to cook, can," she said in the keynote speech for the 2017 SmartWomen Luncheon & Expo.
Even as she made the journey to become a top celebrity chef, she dabbled in a teaching career, embraced Italian cuisine, and preached the gospel of piccolinis. Burrell has come a long way from being a little girl who learned cooking from her mom to a chef who teaches others. More importantly, she is happy to be that chef who makes people feel good: "I've also had people come up to me and say, 'You helped me get through chemotherapy […] So I realize what I do also has a great responsibility," she said in her keynote. Here's all you need to know about Burrell's transformation.
As a kid, Anne Burrell was a big fan of Julia Child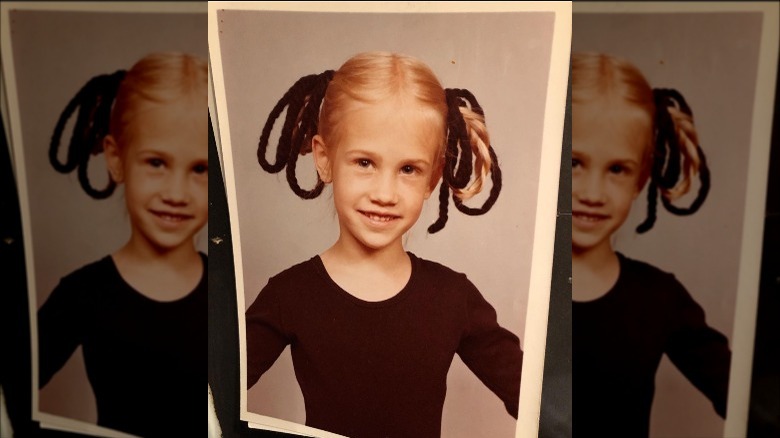 Anne Burrell's earliest childhood memories include watching legendary chef Julia Child on television. It was the early seventies, and Child's show, "The French Chef", had become a phenomenon in the culinary world. For little Burrell, Child was not just a popular icon, but a friend who showed up every day to talk about food in a soothing lilt. In fact, the three-year-old Burrell was so taken by the PBS show that she would tell her mom she had a friend named Julia, referring to the television celebrity (via Anne Burrell).
A chef like Child was what Burrell wanted to become growing up (via Restaurant Girl). She also grew up in a household in Cazenovia, New York, where farm-to-table was the basic style of cooking. But on an everyday basis, it was watching her mother whip up dishes with fresh ingredients that made her fall in love with cooking. "My mom was a great cook, and we always had a big garden out in the backyard. So she'd be like, "Go out and pick lettuce or tomatoes or dig up potatoes for dinner." I loved doing that. I loved being involved in the garden. I mean, I didn't like to weed it, but I liked to plant it, and I liked to harvest and then use all the stuff," she told All Recipes. And that, in more ways than one, contributed to Burrell's passion for good food.
Being a chef was not her first career option
Growing up, Anne Burrell wasn't especially interested in academics or extracurriculars and, when she turned 16, took up a job as a fry cook at McDonald's, as she told Bella Magazine. Little did she know then that she would one day become a world-famous chef working at kitchens of important restaurants across the world. However, as a kid, Burrell had dreamed of becoming like Julia Child when she grew up. But the dream fizzled out as she got older and finally disappeared when she decided to major in English and communications at New York's Canisius College (via Anne Burrell).
After graduation, she landed a job in a non-culinary field – "a rotten job, actually," she told Canisius College Magazine. Thankfully, she realized that she was "way too young to be miserable" and decided to start afresh by joining the Culinary Institute of America. It was not an easy decision though. At that time, "being a chef wasn't the cool thing […] Chefs weren't rock stars then," she said. Besides that, her dad was quite apprehensive of her career choice. "He was like, 'You wanna do what? A girl like you wants to go to work in a kitchen?' And there was not even a Food Network to aspire to be on — It was just like I just knew that I wanted to do it.," she told NBC News.