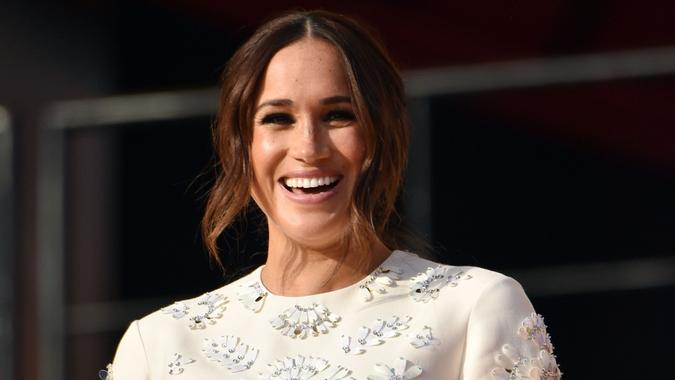 In June, Markle's first book, "The Bench," was released, and it wound up as a New York Times bestseller. British media reported she could have received an advance of as much as $700,000 for the book, which is a story about fathers and sons.
Publisher Penguin Random House announced in July that it had purchased the rights to Price Harry's "literary memoir" and that it was tentatively scheduled for a late 2022 publication. The company did not confirm reports in the British press that the deal is for four books, one of which will be a "wellness guide" penned by Markle. The Daily Mail reported the book contract could be worth as much as $40 million.
Meghan Markle's Career Before She Met Prince Harry
Markle grew up in Hollywood, where her mother was a yoga instructor and her father was an Emmy-winning lighting director. Markle attended private schools and graduated from Northwestern University with degrees in theater and international studies. She went on to pursue a career as an actress, first appearing in small roles on "General Hospital," "Century City," "CSI: NY" and "Fringe" in the early 2000s. She earned extra income as a model, appearing for a brief stint on "Deal or No Deal."
Read More: 20 Billionaire American Dynasties and How They Made Their Money

In July 2011, after a few movie appearances including the film "Horrible Bosses," Markle joined the cast of "Suits," reportedly earning $50,000 per episode, or an annual salary of $450,000, according to Celebrity Net Worth. Appearing on the TV show until 2017, she brought in a total of roughly $4 million.
While she was filming "Suits," she also launched a lifestyle website The Tig and positioned herself as an influencer, eventually amassing three million Instagram followers, 800,000 Facebook followers and 350,000 Twitter followers, Celebrity Net Worth reported. The site estimates she brought in roughly $80,000 per year from the blog before taking down the site and archiving the materials in 2017.
Meghan Markle Real Estate
Using the money from their new media contracts in 2020, Meghan and Prince Harry purchased a $14.7 million Montecito, California estate, where they live with their two children. To purchase the property, they made a down payment of $5 million in cash and financed the rest with a $10 million mortgage, according to Celebrity Net Worth. They also paid back $3 million they used to remodel their home in Frogmore, U.K.
About the Author
Dawn Allcot is a full-time freelance writer and content marketing specialist who geeks out about finance, e-commerce, technology, and real estate. Her lengthy list of publishing credits include Bankrate, Lending Tree, and Chase Bank. She is the founder and owner of GeekTravelGuide.net, a travel, technology, and entertainment website. She lives on Long Island, New York, with a veritable menagerie that includes 2 cats, a rambunctious kitten, and three lizards of varying sizes and personalities – plus her two kids and husband. Find her on Twitter, @DawnAllcot.