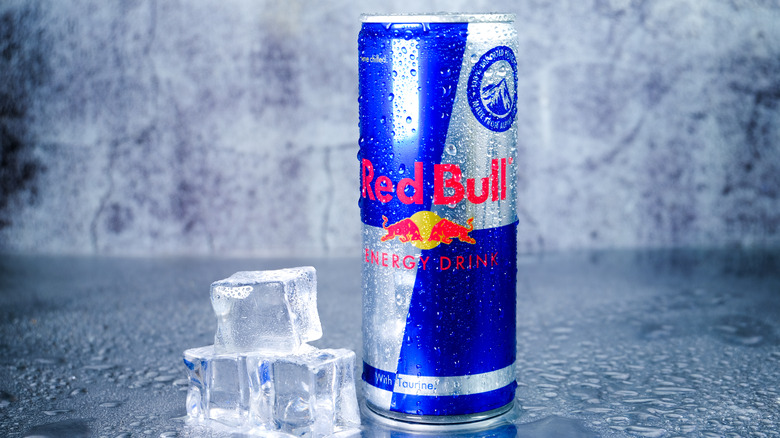 Whether you're really feeling it from a long, hard week, or need a little something extra to power through a workout, grabbing an energy drink when you need a pick-me-up is something most people have done. The worldwide energy drink market has reached almost monstrous proportions, with a total value of over $134 billion in 2021 — almost $14 billion of which was spent in the U.S. alone (per Statista).
However, energy drinks have remained controversial pretty much since they went mainstream. With the astronomical levels of caffeine, sugar, and additives that some energy drinks can contain, drinking too many or too frequently can have some seriously unpleasant (and potentially dangerous) side effects, as Eat This, Not That highlights. It's important to remember, though, as Ohio State University Wexner Medical Center's primary care sports medicine physician Larry Nolan told U.S. News & World Report, "Any drink that contains a stimulant compound" is in effect an energy drink, and there are plenty of choices out there that are healthier than some others.
Best: Bai Bubbles Sparkling Antioxidant Infusion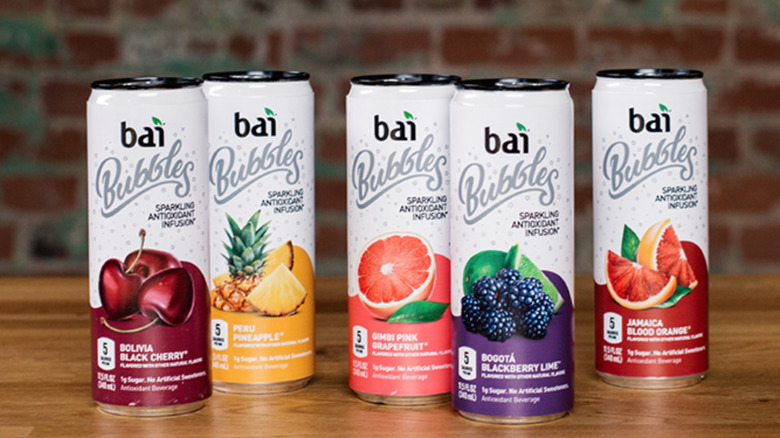 Beverage company Bai seeks to "translate modern wellness trends into tasty drinks," according to its website. A glance at some of their Bubbles Antioxidant Infusion products' nutritional information confirms that they're putting their vision into practice. The Bolivia Black Cherry drink contains no artificial preservatives, just a single gram of sugar, a hefty dose of vitamin C, and a gentle amount of caffeine per serving (45g, equivalent to a cup of green tea).
To add to this goodness, Bai also infuses their drinks with antioxidants in the form of chlorogenic acid and polyphenols (via Bai). Chlorogenic acid, which is found in coffee as well as other plant compounds, can provide a stimulant effect that's less harsh than coffee, and may provide health benefits around blood pressure and weight loss, according to Examine. Polyphenols, too, are found in many plant compounds and may have notable positive health effects, with evidence pointing toward benefits of reducing inflammation and blood pressure, and reducing the risk of developing type 2 diabetes, per Medical News Today.
If all that weren't enough, Bai believes their drinks are pretty good in cocktails, too, with their Bolivia Black Cherry being a key component in their "Very Berry Moscow Mule" recipe on their website. We respect the versatility of this drink!
Worst: Monster Energy
The monolithic Monster Energy brand might be one of the most well-known energy drinks out there, but let's be real –- just because it's popular doesn't always mean that something's good for you. Such is the case with Monster Energy drinks. Some nutritional aspects of these beverages make Monster far and away one of the unhealthier choices out there today, with one of their 24-ounce cans providing 27 grams of sugar (via InstaCart).
Monster Energy drinks also contain salt and a caffeine load of 160 milligrams per can, according to Caffeine Informer. The drinks also contain a host of further troublesome ingredients such as citric acid, which is guaranteed to give your dentist a headache, particularly in combination with Monster's high sugar load. "Imagine the collision of citric acid with sugars, and you have the perfect storm for tooth enamel demineralization and/or tooth decay," Anastasia Turchetta, a registered dental hygienist, told The Healthy. Enamel cannot grow back, and once it's gone, you face an increased risk of dental issues, as well as teeth that are way more yellow and stain-prone, says Turchetta.