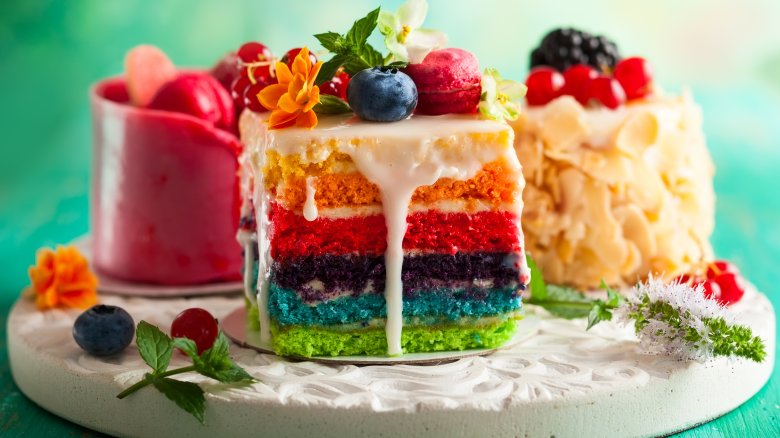 Chances are, you have your favorite, go-to birthday cake — but how about enjoying the one everyone was eating on the day you were born? Let's take a walk down memory lane and look at all the biggest, best, and most popular cakes that have trended over the years. Some were popular for decades, some were popular for only a year or two, but at one time, they were on everyone's table.
1948-1956: Chiffon cake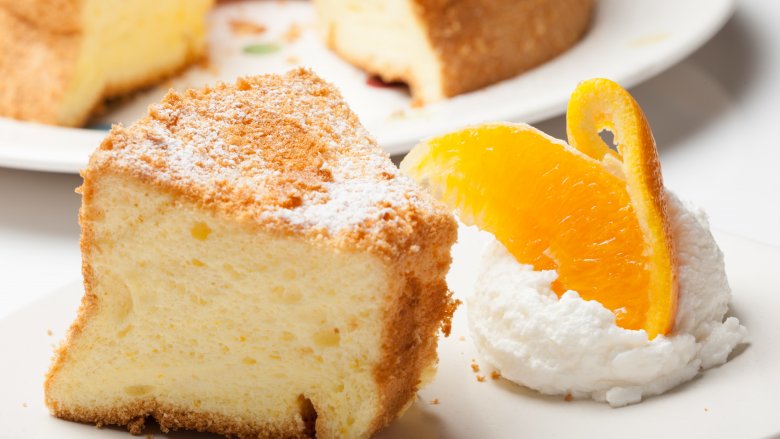 Chiffon cake is a light, dairy-free cake that looks a lot like Angel Food. It's got the same spongy texture, but this cake is made with both egg whites and yolks, along with fruit juice. It also has something of a sordid history, says The Rake. The cake's history goes back to the 1920s, and it was the creation of a super-secretive baker named (and we're not making this up) Harry Baker. He sold his recipe to Betty Crocker in 1948 and when he did, the following marketing campaign made chiffon cakes one of the new food trends that ushered in the 1950s. For years, orange and lemon chiffon cakes were the pride and joy of many home cooks, and the crowning glory that dinner guests "Ooh'ed" and "Aah'ed" over.
1957-1960: German chocolate cake
German chocolate cake isn't actually German, says NPR, and was instead named for Sam German, the creator of a sweet baking chocolate aptly called German's Chocolate. Even though the chocolate hit the market in 1852, it wasn't until 1957 that it became hugely popular — and German himself had nothing to do it with. When a Texas baker sent her chocolate cake recipe to a Dallas newspaper, people tried making it for themselves and absolutely loved it. German's sweet baking chocolate was the key ingredient, and the cake was so popular their sales rose around 73 percent.
1961-1965: Pink champagne cake
You've probably seen the social media posts about the brilliance of putting carbonated beverages in cakes, and it's definitely not a new thing. Chocolate cakes made with cola have been popular across the southern US for decades, but in the beginning of the 1960s it was the West Coast's pink champagne cake that took, well, the cake.
There actually is champagne in it, and Epicurious says it's one of the most requested recipes from the Los Angeles Times. Their version called for ¾ cup of champagne, and others who wanted to make a cake that was a little less boozy substituted strawberry soda. The layers of this sweet, light cake were usually separated by a layer of coconut or Bavarian cream then covered in fondant, and for the life of us, we can't imagine why this one ever fell off America's radar.
1966: Tunnel of Fudge cake
In 1966, America was all about the decadent Tunnel of Fudge cake. The American Table says the story of this cake goes back to World War II, when a returning soldier formed the bakeware company Nordic Ware. A women's Zionist group requested he manufacture pan of a certain shape, and he trademarked it with the name Bundt. It was almost discontinued until 1966, when Houston's Ella Helfrich used it for her Pillsbury Bake-Off competition cake. Her Tunnel of Fudge cake — with its chocolate-nut, Bundt-shaped cake and fudgy middle — came in second, but seriously, it's not important who came in first. Her cake was so popular, Nordic Ware was making 30,000 Bundt pans a day to keep up with demand. It's still the most popular recipe to come out of Pillsbury's competition, but the fame it enjoyed in 1966 was unparalleled.
1967-1971: Carrot cake
People have actually been making carrot-filled desserts since the Middle Ages, and Cake Spy says foodie history is dotted with a resurgence in the popularity of carrots in sweet and savory dishes alike. But carrot cake got a major boost in popularity as the decades shifted from the 1960s into the 1970s, for a few reasons. It wasn't until the late 1960s that the cream cheese frosting we know and love today became the go-to choice for topping carrot cake, and let's be honest here — it's the frosting that makes it. Couple that with an increasingly health-conscious country, and carrot cake surged in popularity. It stayed near the top for years, too, because the carrots make it healthy, right?
1972-1973: Sock-it-to-me cake
A what? We can hear it now. The 1970s Sock-it-to-me cake was a kind of coffee cake, and it looked pretty boring from the outside. Cut into it, though, and you'll find a layer of brown sugar, cinnamon, and pecan filling. The whole thing was usually topped with a glaze, and it's what anyone who was anyone was making for their guests. That's partially because the name was a pop culture reference to one of the biggest shows on television at the time, Laugh-In. According to The Times-News, the Sock-it-to-me cake wasn't just banking on its sketch comedy name — it was seriously tasty.
1974: The Watergate cake
Some events define an era, and Watergate was one of those events. It was so earth-shattering that it even spawned a dessert, a white cake colored bright green with the help of club soda and pistachio Jell-O. Sounds weird? It totally was, and it was also massively popular around the time of President Nixon's resignation. According to Atlas Obscura, it was defined as a cake hiding a ton of nuts beneath a heavy cover-up of icing, and it was timely. At least the Watergate cake usually came with a sweet center.
1975-1977: Jell-O poke cakes
We can't even begin to stress just how important Jell-O was in the 1970s. It was quick, it was easy, and it was even used in cakes. The idea is actually pretty brilliant, and there's an almost endless number of combinations you could have whipped up for your family's dessert. When Chicago Now's Abbie Claire had her first 1970s-inspired Jell-O poke cake, it was lemon cake with lime Jell-O, while cookbook writer Jeremy Jackson says his grandmother's go-to recipe was white or yellow cake with strawberry Jell-O (via NPR). Integrating the cake and the Jell-O is the brilliant part, and doing it only requires poking some holes in the cake (hence the name), and pouring in the Jell-O. That's it. Seriously. The Jell-O sets into the cake, and it's no wonder this slightly psychedelic cake was so popular.
1978-1983: Hummingbird cake
Hummingbird cake is pretty aptly named, as it's a light cake filled with the sweet flavors of banana and pineapple. It's also a little odd in that we know exactly when it became so popular: with the February 1978 issue of Southern Living. That's when Mrs. LH Wiggins's recipe was published, and for decades, it's remained their most requested recipe.
It was massively popular when it first came out in particular, because it was a pretty novel idea with a neat name. It's said to be so sweet it would attract even a hummingbird, and earlier versions of the sweet, fruity layer cake were called the Doctor Bird Cake, created by a Jamaican airline. It was Mrs. Wiggins's recipe America really feel in love with, though, bringing a slice of the tropics to dessert plates everywhere.
1984-1987: Tiramisu
By 1985, Eater says, tiramisu was so popular that The New York Times was wondering just how it had happened. The spongy, chocolately, espresso-dusted cake only really got introduced to restaurants in America in the 1980s, and America immediately fell in love with it. It had been kicking around for a long time before that, but it was something of a niche dessert served by grandmothers following recipes handed down through the generations. It's not entirely clear just how the tiramisu craze kicked off, but we do know that by 1987, there were hundreds of different variations on the same idea being made in restaurants and bakeries across the country. Bread or cookies, booze-filled or booze-free, cocoa or chocolate… there were any number of ways you could get your tiramisu, but everyone was eating some version of it.
1988: Chocolate praline layer cake
The Pillsbury Bake-Off competition introduced the Bundt pan to the country in 1966, and in 1988, it introduced another star. The chocolate praline layer cake looked much, much more difficult to make than it was, and it tasted even better. Julie Bengtson's recipe for a Devil's food cake layered with sugary pecans and whipped cream proved that boxed cake mix definitely doesn't have to be boring, and that layered cakes don't have to be difficult. No wonder it was a massive hit!
1989-1990: Funfetti
The Funfetti craze started in 1989 when Pillsbury did something revolutionary: they put rainbow sprinkles in the cake batter itself, instead of just on top. It's a pretty simple idea, but according to The New York Times, it kicked off a craze that defined 1990s cakes — especially birthday cakes. Funfetti is the original, trademarked Pillsbury version, but other rainbow-colored desserts came fast and furious.
This cake trend hasn't been forgotten, either. With the generation that grew up in the middle of the Funfetti craze now chefs and bakers in their own restaurants, rainbow sprinkles are showing up again. Memories!
1991-1994: Chocolate lava cake
Chocolate lava cake is so commonplace now, it's a staple on dessert menus at restaurants of a certain quality. You know the ones we're talking about, the ones that are good without being great. It's easy to forget that this warm chocolate cake with the runny center was once the coolest thing you could possibly get for dessert. According to Thrillist, there's a bit of a debate on who invented the chocolate lava cake, but regardless, it was served at all the hottest restaurants of the early 1990s. Originating on the East Coast it soon spread, and it was pastry chef Sherry Yard who took this cake west. She called it "the viral dessert of the 90s", and that's a pretty accurate observation. From high-end restaurants to Disney, the cake's downward spiral started when every restaurant in the country (roughly) started making their own version, and it turns out you can have too much of a good thing.
1995: Viennetta
We couldn't forget ice cream cakes, and in 1995 you couldn't turn on the television without seeing commercials for Breyer's Viennetta. Eater called it "the most distinguished ice cream cake of the 90s", and it definitely was. It was the cake you served if you wanted to be classy, a very European-feeling but mass-produced dessert you could pick up at the grocery store and then — if the commercials are to be believed — serve off a silver platter. Sadly, this is one nostalgic cake you're not going to be able to indulge in again if you're in the US. You can still buy it in some areas of Europe, and that's definitely something to keep in mind for future vacations.
1996-1999: Red velvet
There's just something about a red velvet cake, you can't deny that. It actually dates back to the 19th century, says food historian Kim Severson (via Food & Wine). For decades, "respectable" bakers looked down their collective noses at it, and that red color? It was a total marketing gimmick to sell more food dyes. But things started to change for red velvet in 1989, when it had a cameo in Steel Magnolias. It languished along for a little while longer, and when New York City's Magnolia Bakery opened in 1996 with their take on red velvet, it skyrocketed in popularity. QZ says that kicked open the door for red velvet everything, and while the cakes became a favorite at bakeries across the country, the flavor is still going strong. You can get everything from red velvet Oreos to protein powder now… for better or worse.
2000: Anything in cupcake form
Cupcakes have been around forever, but cupcake mania started redefining cakes in 2000. According to Business Insider, Magnolia Bakery is, in part, to blame for the rise of this trend, too. When they were featured on an episode of Sex and the City, people started going nuts for this latest cake craze. New Yorkers felt it most, and it's tough to sum up just how mad people went for cupcakes. Emma Forrest wrote an entire piece on the impact Sex and the City, cupcakes, and Magnolia's Bakery had on the neighborhood for The Telegraph, and it wasn't pretty. Magnolia's rise to fame pushed out the quirky and brought in the super-trendy, and that's what cupcakes became, too. Other cupcake shops followed, of course, and cakes have literally never been the same.
2001-2007: Bacon cakes
It's tough to say just when bacon became the culinary juggernaut it rose to be in the 21st century, but according to the National Pork Board (via Time), it really started in 2001 with a 25 percent increase in bacon sales. That includes bacon that's used for everything, but we're here to talk bacon cakes.
There have been recipes for maple bacon cakes, bacon and blueberry cakes, bourbon bacon cakes, and cakes filled with brown sugar and bacony goodness. Cakes and cupcakes, it doesn't matter — bacon is king. Bacon cakes are still enjoyed today, but not at the level they were then.
2008: Anything in cake pop form
Thanks to social media, it's all about the trends. Cakes gave way to cupcakes, and in 2008, Bakerella created the cake pop. CNBC called them the "cupcake killer," and while they haven't killed the cupcake any more than cupcakes replaced cakes, they're still all the rage.
They were originally the creation of blogger Angie Dudley, who took a cake decorating class in 2007 and never looked back. Not only were Babycakes pop maker (which were completely unaffiliated with Dudley) the hot holiday gift for 2008, but she turned into a New York Times best-selling author for her book Cake Pops: Tips, Tricks, and Recipes for More than 40 Irresistible Mini Treats. How popular were they? More popular than Dudley ever expected, and she simply said, "I tell people it's crazy."