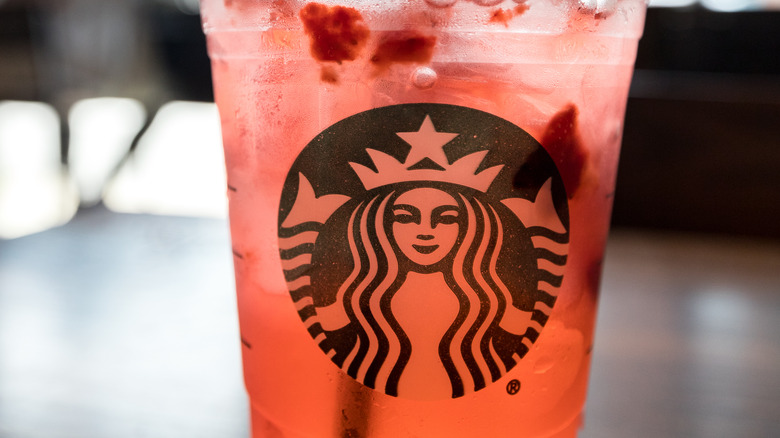 Ah, we all remember the time when the Pink Drink, Starbucks' Strawberry Açaí Refreshers® Beverage with coconut milk, went viral on Tumblr in 2016. It was joined by the Dragon Drink in 2017 and the Star Drink in 2020, along with a handful of other varieties in the years in between. Needless to say, we've all enjoyed Starbucks' Refreshers, both with and without their coconut milk and/or lemonade additions, especially when we wanted something fruity but wanted to lay off coffee for the day.
The popularity of Starbucks Refreshers soars during the summer months, with many of the drinks on Elite Daily's "16 Starbucks Drinks That'll Keep You Refreshed" being these fruity, thirst-quenching juices.
But as much as we love them, many of us can't pinpoint the moment when they became all the rage. Since that's the case, here's the story about their rise to popularity, along with some other fun facts about these fun, fruity-flavored drinks.
They were first made available in 2012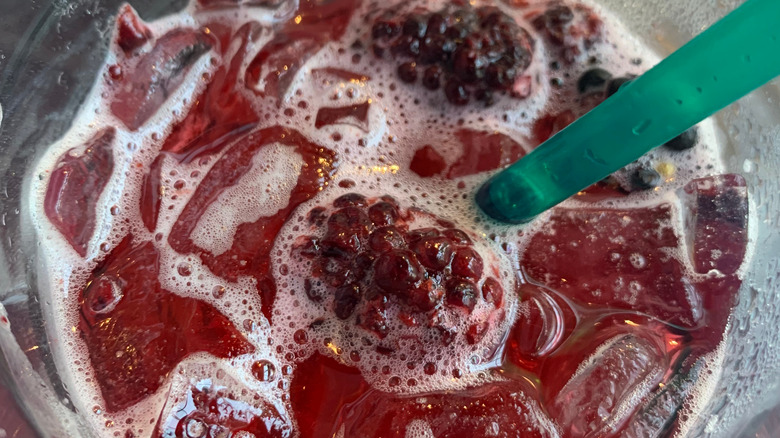 The first Starbucks Refreshers became available on July 9, 2012, according to the company's website, with the first of those drinks being the Very Berry Hibiscus and Cool Lime.
Not to be confused with the Teavana® Iced Teas that the chain also carries, the Refreshers are essentially just iced fruity drinks that don't dehydrate you in the way coffee does. They are also usually low in calories, with a grande Strawberry Açaí coming in at 90 calories and a grande Very Berry Hibiscus weighing in at 70 calories. Per Reddit, customers and baristas have been discovering and sharing new, creative ways to jazz up ordinary Refreshers, with the addition of lemonade, iced tea, and even matcha.
Furthermore, with rival chains like Dunkin' Donuts just recently releasing its own line of Refreshers (via Brand Eating), Starbucks can say they were the innovators of these non-espresso, light beverages, which have amassed a major following over the years they've been available.
Starbucks Refreshers contain quite a bit of caffeine
A lot of people might opt for a Starbucks Refresher when they aren't feeling like getting the coffee jitters on a particular day. However, Refreshers do contain just a bit of caffeine from the green coffee extract, which are coffee seeds that are yet to be roasted, according to WebMD. Therefore, an average grande-sized drink totals to about 45 milligrams of caffeine, which is more than a hot chocolate, but still significantly under the 165 milligrams of caffeine in a grande iced coffee at Starbucks, according to Coffee At Three.
Furthermore, some Refreshers contain a hefty amount of sugar — up to 20 grams in the Strawberry Açaí (via The Travel). In addition to the small amount of caffeine in them, they can also spike your blood sugar, which might be something to be mindful of.
Given that information, maybe reconsider ordering these drinks too close before bedtime or for children. Otherwise, they serve as a great afternoon pick-me-up or a good order for someone who isn't much of a coffee fan.
Starbucks has another line of drinks by the same name
Although some variations have since been discontinued, Starbucks' line of energy drinks are also called Refreshers, according to Eater. The outlet spotlights the flavors Raspberry Pomegranate, Strawberry Lemonade, and Orange Melon, all of which were available in grocery stores in 2012. Similar to today's popular energy drinks, like Celsius, they obtain their caffeine level from green coffee bean extract. Containing only 60 calories for a 12 fluid ounce serving, these drinks are sold in cans and appear to have been marketed toward those with active lifestyles. Unfortunately, according to a Reddit thread, a lot of the canned refreshers have been discontinued in recent years and are quite difficult to find now.
You may find certain Starbucks refreshers on Amazon in flavors such as the Black Cherry Limeade, Peach Passion Fruit, and Strawberry Lemonade. Additionally, Starbucks still has a line of canned coffee drinks that will give you a similar energy boost, like Doubleshot Energy Espresso coffee (via Coffee-Statistics).
They remain a prime base in secret menu drinks
Starbucks is known for its extensive secret menu, which honestly isn't much of a secret with the help of social media and users posting the ordering formula of these drinks that were intended to be kept low-key. However, if a secret menu drink becomes popular enough, Starbucks HQ just might turn it into a mainstream item. One prime example is the Pink Drink itself, which started off as a secret menu item, before it was officially added to the main menu in 2016 (via Mashed).
Refreshers continue to be the base of many secret menu drinks, such as the Sunrise Drink and the Pink Starburst Refresher — the directions on how to order both of these drinks can be found on Let's Eat Cake. With their light, refreshing taste and low calorie count, Refreshers make a great contribution in secret menu orders, and we expect them to continue to be, as Starbucks connoisseurs continue to experiment with more drink combinations.
The Valencia Orange Refresher was discontinued
Along with the O.G. Cool Lime, another popular Starbucks Refresher, Valencia Orange Refresher, was discontinued. This is particularly unfortunate, as the drink had a huge following, and many were upset when it was removed from the menu (via Business Insider). Its sudden removal prompted the launch of multiple Change.org petitions to bring it back, but sadly, to no avail.
According to The Daily Meal, the drink was one of the first Refreshers, first appearing on the menu in April 2013. Like the other Refresher drinks, it was light and fruity, but had a bit of spice from the cardamom and jasmine also used to make it. Ironically, what caused this popular drink's retirement was the introduction of the iconic, Strawberry Açaí flavor, according to the same article by The Daily Meal. With the Strawberry Açaí being No. 11 on Coffee At Three's "Best Starbucks Drinks" list, it comes full circle — well, almost. We still want the Valencia Orange Refresher back!