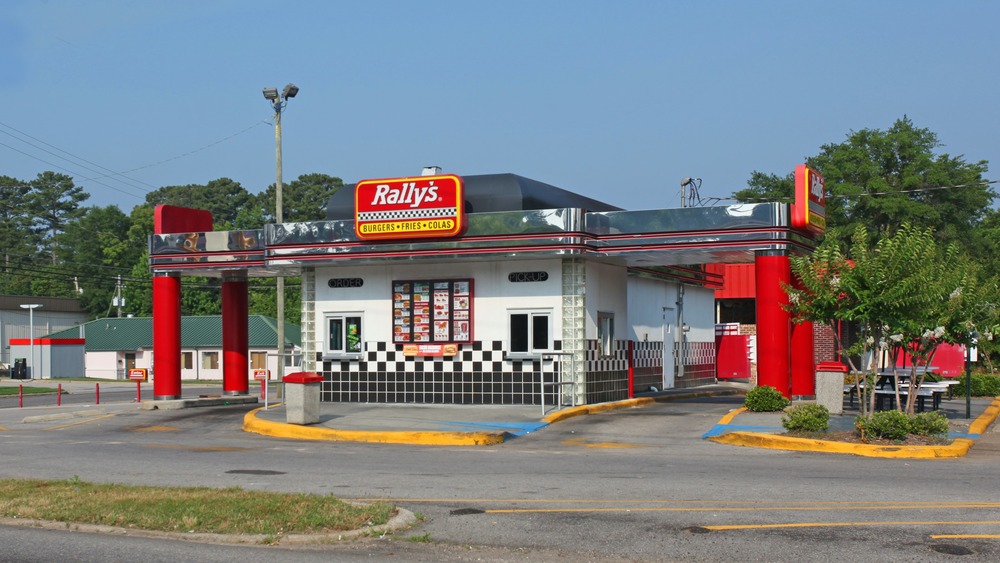 Rally's, which was founded in 1984, is best known for its double drive-thru ordering system, lack of dining rooms, simple menu filled with affordable eats and unfortunately, and in many cases, its lackluster food. While some Rally's fans rave about its cheap fast food, others continuously allege that Rally's food often comes out cold, slightly soggy and lacking in flavor. Because of this, navigating the Rally's menu can be a difficult task, but to make it easier for you, here are the top items you should never order from Rally's.
But wait — you might be wondering if this list applies to both Rally's and Checkers. What's the difference, exactly? The answer is, yes, it does, and there's not a thing that's different between the restaurants except for their names. According to the Checkers & Rally's franchising group, Checkers acquired Rally's in 1999 and kept the Rally's name and branding in the geographical areas where Rally's was already prominent (the Southeast and South). However, the two restaurants have the exact same menu items and use the exact same ingredients provided by the exact same distributors — no matter where in the country they're located. They even share the same tagline: "Crazy Good Food."
So, rest assured, if you shouldn't order something at Rally's, you shouldn't order it at Checkers either. Now, let's review what to avoid at your next Rally's or Checkers fast food burger trip.
The Rally's chili is a meat mountain that might never end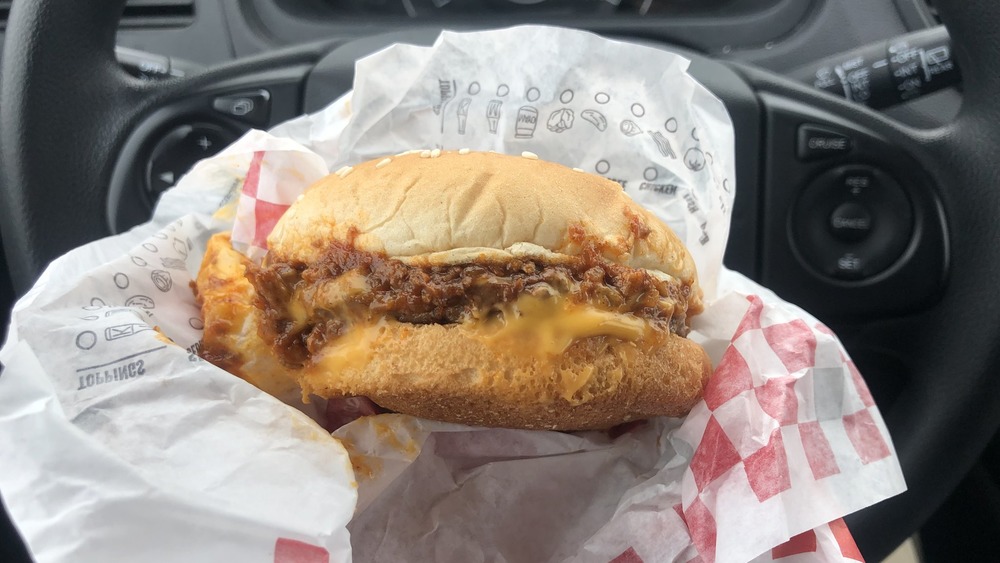 If you've ever made sourdough bread, you know that your sourdough starter never really goes away, so long as you keep it alive. If you keep feeding it and using as much as you need for individual recipies, then theoretically, you could have dozens and dozens of loaves of bread for years, all from the same starter. Rally's chili is kind of like that.
Every serving of Rally's chili — whether you order it solo or on a burger, hot dog or fries — can be traced back to a starter batch of chili that was never thrown away. According to one Redditor who claimed to be a former Checkers employee, "The 'chili' is just the past few day's unsold, sat-in-the-heater-too-long-to-sell-as-a-hamburger meat that gets chopped up and thrown in some chili seasoning and beans."
That in itself isn't too bad. Old hamburgers are gross, of course, but if the burgers are kept at a safe temperature, then the chili might not be any worse than eating a leftover burger that's sat in your fridge for a few days. The truly gross part, though, is that the concoction you're served upon ordering is part of a never-ending, ever-lasting, eternal pot of chili. As the same Redditor describes, "The batch of chili was never thrown out, just always sat there getting replenished with new chili sauce and meat, so some of the chili in there was months old at least."
You'll need to know a hack to avoid getting cold and soggy food when ordering this at Rally's
When it comes to burgers, Rally's and Checkers are probably most known for their Big Buford burger. As a double cheeseburger with lettuce, tomato, onion, pickles, ketchup, mustard and mayo, it's a pretty standard variant of what you see at just about every fast-food burger joint, though maybe slightly sloppier. However, you can also order a simpler burger with fries — often for just $0.69. If you do, though, you may be disappointed in your meal.
Plenty of Checkers and Rally's reviews all say the same thing: The plain burgers and fries are woeful. As a Serious Eats reviewer noted, "Eating this burger was like eating a mustard and pickle sandwich with some synthesized protein matter thrown in for texture." A Franchise Chatter writer adds: "What's worst is that the most identifiable trend in the Checkers/Rally's burger experience is your likelihood of getting a burger that is not served hot. In fact, it is often the case that any slices of cheese added won't be melted."
Other reviewers, both professional and otherwise, complain of similar cold patties, unmelted cheese, flavorless ingredients, and sloppy craftsmanship. The only way to get around it? Order your food with added bacon. The bacon is cooked (or at least kept) hot and arrives on your burger that way, adding a little heat to your meal and doing what it can to melt the cheese.