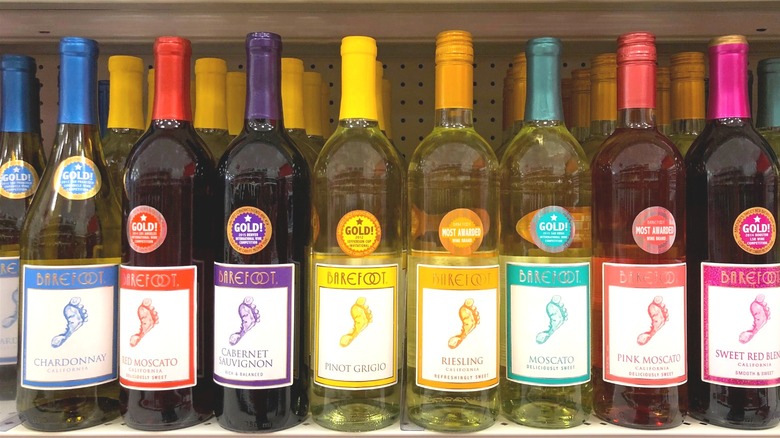 As the "most awarded wine in the world", Barefoot is proudly carried in shops across the world. This brand, originally from Modesto, California, only produced four wines back when it was founded in 1995. Their slogan "Get Barefoot and Have a Great Time!" speaks to their ethos and the color-coded bottles are easy to decipher. Although the brand has modest beginnings, they have expanded and become a loved wine brand. How loved are they, exactly? Well, in 2020, Barefoot wine was the number one best-selling wine brand in the world. The recognizable foot logo is a nod to how the wines should be enjoyed — barefoot and free.
Now with a vast range of wines, from still and sparkling, from sweet whites to dry, bold reds, Barefoot is attempting to show the world that it may, in fact, be possible to produce good wines in a large quantity. Although much of wine is subjective and can vary based on factors like environment and meal, we looked at the range of barefoot wines to see which wines in their portfolio are worth grabbing on your next wine run, and which may be better off on the shelf.
16. Pink Moscato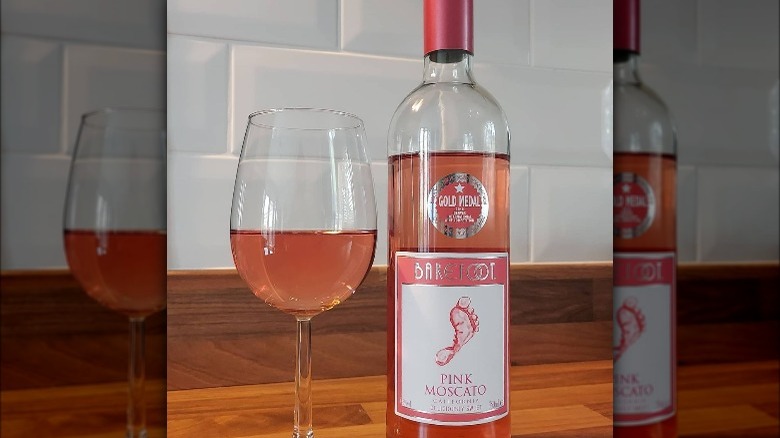 Barefoot's Pink Moscato is a fantastically charming salmon color but for us that's where the praise for this wine ends. Although this is one of Drizly's top rosé's, this pink moscato comes in at the bottom of our list because it's a syrupy take on a rosé wine but just misses the mark on balance, acid, refined fruit, and so much more. Now it's sweet, like so many of Barefoot's wines are but if you have a sweet wine that doesn't offer much in terms of acidity, you'll be left with a wine that is prominent on the sweetness.
There are some notes of red fruits like strawberry, raspberry, and watermelon, along with some light citrus notes but nothing that lifts the wine from the sweet haze it sits in. You may like this Barefoot Pink Moscato if you like sweet wines but even across Barefoot's range of products, there are better sweet options out there.
15. White Zinfandel
You have to know what you're getting into when you open a bottle of Barefoot White Zinfandel. What you'll find once you unscrew the cap is a sweet, fruity wine. It's best to drink this wine ice cold. Heck, you can even get wild and toss an ice cube in there. Simply put, this is a textbook sweet white zinfandel, which is great if you're looking for something straightforward that doesn't require a lot of mental power to process. This is more picnic in the park or brunch with friends than it is whip out your notebook and jot down tasting notes.
But it isn't all bad news here because the fruit and intensity in Barefoot's White Zinfandel are balanced and it has a sweetness that isn't overwhelmingly luscious. There are notes of ripe strawberries but there other tropical notes here too. Juicy, ripe peaches are also very prominent.
14. Pinot Noir
The West Coast, particularly the states of Washington and Oregon, can churn out some fantastic Pinot Noirs. Unfortunately, this Barefoot California Pinot Noir is not one of them. It's far from horrible but when compared to some of Barefoot's other reds, this one just falls flat. Pinot noir should have low tannins as well as a lovely acid level and some depth and complexity … and there is none of that in this wine. It also has some sweetness which is pretty surprising for a pinot noir. You might pick up some bright, ripe cherry and raspberry notes, which help to bring this wine from boring to acceptable. Another bonus is that Pinot Noir might be the healthiest red wine you can drink. It's a bit of a reach, but we'll take it! If you need a pinot noir in a pinch, sure, this will do … But don't be surprised when it doesn't meet expectations.
13. Bubbly Pink Moscato
With its perky bubbles and bright pink hue, this Barefoot Bubbly Pink Moscato is ready to party! But with all the sugar content in this wine, you'll be so buzzed the party might end early. Traditional versions of sparkling Moscato are known to be sweet but this really just crosses that threshold from enjoyable into overwhelming territory. It comes in near the bottom of our list because the cherry candy flavor and syrupy notes just feel too unnatural to be remotely enjoyable.
It's not all doom and gloom with this Barefoot bubbly Moscato, though. It gets some points for being a fun wine that would possibly do in a pinch if you were looking for some bubbles and didn't have many options. But to fully enjoy this wine, we think it'd get a lot more mileage mixed with seltzer and other components for a dry cocktail, zippy punch, or zesty spritz.
12. Pinot Grigio
Pinot grigio (also known as pinot gris in France and grauburgunder in Germany) isn't exactly the most exciting grape on the planet. It's a grape variety that really needs to be finessed. It's certainly a challenge, but once you're able to pull the magic out of grauburgunder, it can actually be a very exciting wine. Barefoot's rendition of a pinot grigio isn't exactly exciting, but it is a nice display of pinot grigio's signature zesty and bright qualities. There's some ripe peach, tangy green apple, zesty lemon, and zingy grapefruit in this bottle, which makes it a refreshing wine to sip on. It isn't bone dry so the slight sweetness found in this wine helps underscore the fruit and give slightly more structure. This would also make for a great sprit, or even better as a punch additive for a refreshing summer drink. But on its own? Well, it's not our top pick of the Barefoot range.
11. Rosé
Barefoot seems to have the sweet wine category firmly in its grasp. And they've really got their finger on the pulse. Americans do have a strong preference for sweet wines, which may explain how Barefoot wine became so popular in the first place. Its signature Rosé, described on the bottle as "delightfully sweet" is luscious with intense fruity notes of strawberries, bubblegum, cherries, and watermelon. (And for what it's worth, this is a completely different wine from their White Zinfandel and it's not their Pink Moscato)
Sweet wines need acid to help make sure the wines are not too over-the-top cloying but unfortunately, this lacks exactly that. This is also slightly carbonated so it may be your ideal drink on a summer day with its refreshing fizz. It comes in at the middle of the list because you can make an easy spritz out of this to take it up a notch.
10. Buttery Chardonnay
Wine aficionados around the world have long associated creamy, buttery chardonnay with California. It's a style they popularized and they were the regional standard in the 1990s and early 2000s. While palates have adjusted to prefer crisper, more restrained chardonnays, this style of chardonnay still has a place in many hearts. These buttery notes are often the byproduct of a winemaking process called malolactic fermentation. This is a process where tart malic acid is converted into creamy lactic acid.
But even if wine drinkers' palates have advanced a bit, there's still a perfect time and place for buttery Chardonnays. Case in point: Insert Barefoot's Buttery Chardonnay. This wine has rich, creamy dairy notes along with some tropical fruit like pineapple, as well. If you pair lobster with a butter sauce or sage butter chicken with this Barefoot Buttery Chardonnay, you just might be transported to heaven. Barefoot is definitely in comfortable territory making this wine, and it shows because it's a great expression to this style of wine.
9. Red Moscato
Barefoot's Red Moscato is an interesting wine concept, for sure. It's a lighter red wine that's sweet and somehow has the bright floral and subtle citrus notes of a moscato. There's also some red cherry and cranberry in this red moscato, along with some red berry notes. Some sweet wines can be pretty rich and heavy, with high alcohol content. But Barefoot's Red Moscato has 9% alcohol which is relatively low for a rich, red wine and because of that, it is not too heavy or overwhelming of a wine. So you can sip to your heart's content without getting bombarded with heavy notes.
Now it's unclear if this red moscato is some type of red wine blended with a moscato or what, but it doesn't seem to matter much here. This red moscato is one of Barefoot's more delicious and refreshing sweet wines and would work well as a digestif-type end to a big, hearty meal.
8. Malbec
If you crack open this bottle of Barefoot Malbec expecting the same power and richness that you may find in an Argentinian malbec, we hate to warn you but you'll be sorely disappointed. But the good news is that's not what Barefoot is trying to do here.
And it doesn't need to either, because Barefoot knows this malbec will deliver in plenty of other areas. For example, there's loads of really juicy fruit here, like plum, blackberry, and black currant along with some subtle spicy oak notes in this wine. Sometimes you just need an easy going red wine that delivers just enough complexity to pair with food. And this would also go great with a barbecue spread with friends — think sausages, steaks, marinated chicken, grilled peppers, that sort of thing. But all in all, because this Barefoot Malbec works surprisingly well with food, we've put it towards the top of the list.
7. Sauvignon Blanc
There have been quite a lot of sweet wines on this list. It's definitely one of Barefoot's areas of expertise, but also it's what the market is asking for. So we were pleasantly surprised to discover this wine. This Barefoot Sauvignon Blanc showcases the brands versatility and range because it is actually bone dry. But because of that, it stands out amongst the other wines in their range.
This Barefoot Sauvignon Blanc is loaded with intense fruit notes like pear, green apple, citrus, lime, lemon, and gooseberry. It is zippy and bright and just begs to be drunk while sitting poolside. Next best scenario? Paired with a fresh, green-vegetable heavy salad to bring out all of those fun vegetal notes. We rated this high on our list because it has all of the intensity, balance and bright fruit notes that we want out of a sauvignon blanc and for only $6.
6. Rich Red Blend
Barefoot's Rich Red Blend is what you get if you take all your favorite components of all the various red wines you adore and mix them together, like bold black fruit from merlot, lots of vanilla and spices from cabernet sauvignon, and a velvety smooth texture from pinot noir. (It's not clearly indicated which grapes are actually included in this blend so keep in mind this is just an educated guess!) Blends are the perfect way to balance out the grapes from years with inconsistent growing conditions, and this rich red blend shows the magic of bringing a few good things together in one bottle.
This really is an all-purpose red wine — the red for those who love it and those who aren't quite sure if red wine is their thing or not. It will pair beautifully with certain dishes like lamb chops with mint or a beef stew.
5. Riesling
Barefoot lists their sweetness levels on sweet wines which is a wonderfully straightforward way to inform the consumer. There's a wine labeled deliciously sweet and one labeled as refreshingly sweet, for example. And it's a good idea to clear it up sweetness levels because Riesling is known for being delicious with or with sweetness. Riesling is a grape that thrives in cooler climates. It allows the grapes to slowly ripen, which manifests as great balance with sugar and acid. All that means is that the wines will taste more in sync on the palate.
Now a California-grown Riesling alone is enough to raise some eyebrows, but Barefoot has mastered the art of making quaffable wines that appeal to a lot of palates. And that is exactly what their Barefoot Riesling accomplishes here. Notes of ripe peach, honey and green apple converge with some acidity to make a delicious rendition of this grape.
4. Moscato
Mmmm Moscato. The ancient grape that's beloved around the world for its exciting orange, fragrant honeysuckle, pear, and juicy peach notes! Moscato is actually the Italian name for the Muscat Blanc grape. In Italy, it's often produced in a slightly fizzy, low alcohol style called Muscat d'Asti. If we had to guess, that seems to be where Barefoot's Moscato draws its inspiration, although it's definitely not fizzy enough to be considered a sparkling wine. It does, however, have a refreshing spritz that, when chilled, brings out the easygoing nature of this wine.
Even if you don't like sweet wines, you have to admit that this wine screams "fresh fruit under the sun on a Summer's day." If you do like sweet wine, you'll probably love this. Especially because it's versatile enough to pair with a pretty wide range of food like spicy Asian cuisine, as well as a sprawling cheese platter.
3. Chardonnay
Barefoot's Chardonnay is a delicious foray into the world of this wonderful grape, which also happens to be the most popular white variety in the world. Because there's already a creamy, butter-forward version of chardonnay from Barefoot, this one is on the dryer side (with just a hint of sweetness), with notes of fresh green apples, mega-ripe peaches, and touches of honey as well as vanilla. It's a simple wine, which isn't at all an insult here. The pared-down simplicity of this wine means it's flexible, so it can be a wine that accompanies a meal or one that's just meant to share with friends at an impromptu after-work hang out.
But this wine is more exciting than some of Barefoot's other offerings because there is enough acid to help balance the wine. Sure you can sip on this for a happy hour with friends but it would also hold up nicely to food like a succulent tuna dish or a pasta with rich white sauce.
2. Cabernet Sauvignon
California and the grape cabernet sauvignon just go together. In many of the regions in California where cabernet sauvignon is grown, the growing season is long and dry, allowing cabernet sauvignon to fully ripen and develop excellent flavors and its signature notes. Barefoot Cabernet Sauvignon delivers on this with bold fruit notes like ripe raspberry, blackberry, and black currant. It's a good wine, but more importantly, it's a wine that actually delivers on its promise of being a relatively safe bet for the price point. It's hard to find a wine at this price point with this complexity and sometimes you just need that go-to bottle.
There are some subdued spice and vanilla notes here, which help to balance the tannins in this wine and give this Barefoot cabernet sauvignon a rounder feel. It's also a wine that would pair particularly well with burgers and steak to help round off a decadent meal!
1. Merlot
Barefoot's Merlot is our top pick for so many reasons, but most of all, we could not resist its juicy cherry notes. (Take that, "Sideways"!) A well-made merlot is typically a tasty balance of acid and tannins, and will have pure fruit notes of red and black fruits like ripe cherries and juicy plums. And that's exactly what Barefoot's merlot brings to the table here.
There's a lush interplay of tannins and fruit with no harshness and no green notes. Simply put, it's a delicious wine! And compared to the rest of the Barefoot range, this one seems to know itself the most. There's no awkwardness here and definitely no imbalance or confusion. The deep chocolate and jammy blackberry notes are a pleasant surprise, and they help to make this Barefoot merlot so pleasant to drink. Try this Merlot with some spicy Italian sausage and pasta to see it magically rise to the occasion.