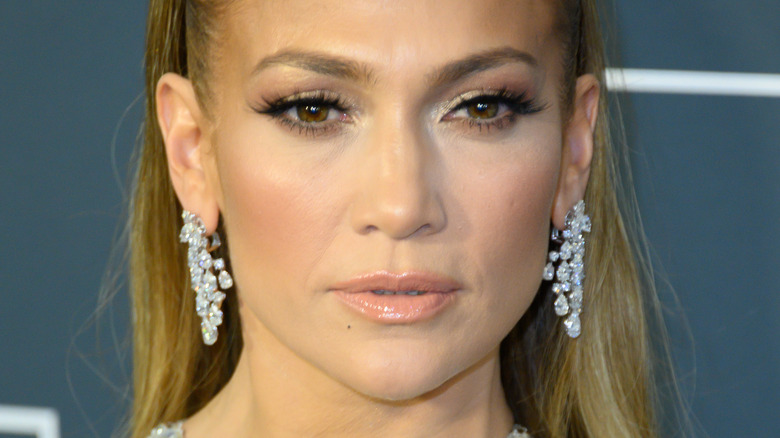 As one of the most beloved women in Hollywood, Jennifer Lopez can do no wrong. She can sing, dance, and act — and she has a killer figure that many women aspire to have. Per Oprah Daily, Lopez has an extremely disciplined diet and exercise regimen, making her one of the fittest celebrities in Tinseltown. Lopez's body is so famous that it needs protection. People reported in 2015 that she reportedly had her booty insured for $27 million.
The "Hustlers" star became a fashion icon in the early 2000s when she showed up on red carpets in plunging necklines and leggy dresses. While Lopez has made numerous best-dressed lists throughout her career, she's also had several run-ins with the fashion police. Not everyone can handle Lopez's sex appeal, and she is not immune to bad fashion choices.
Keep scrolling to find out all of the inappropriate outfits Lopez has been caught wearing and what other people had to say about them.
Jennifer Lopez's green Versace dress broke the internet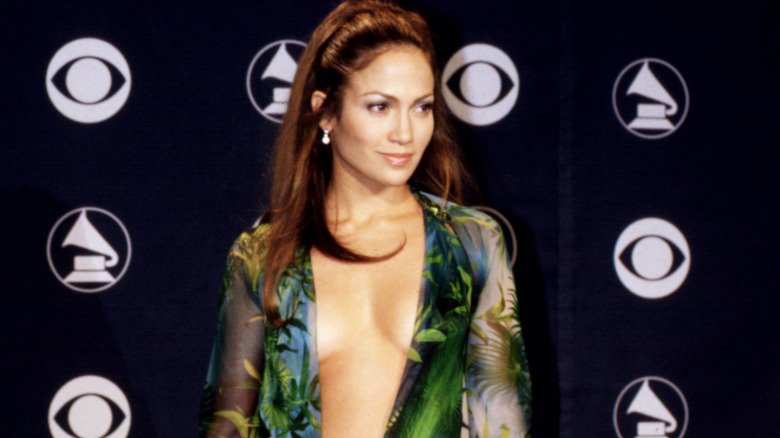 It's hard to believe that Jennifer Lopez has graced us with her bold and oftentimes controversial outfits for more than three decades. The star's style evolution has been something amazing to witness, but there is a dress that unmistakably turned Lopez into a fashion icon and made people go crazy over it.
At the 2000 Grammy Awards, Lopez wore the now-famous Versace Jungle dress. Yes, the one with a green sheer fabric, semi-tropical print, and a neckline that went far past Lopez's belly button. The dress was so iconic that it actually broke the internet, leading Google to create the image search feature because people wanted to know who designed it, per GQ.
While the dress became a massive talking point at the time, Lopez had no regrets when she went against her stylists' advice and chose to wear it. She told Vogue in 2019, "I didn't think it was all that risqué, to be honest. I was more excited that it was the Grammys. I wasn't even really thinking about the dress that much. I was just glad I had something to wear."
Jennifer Lopez loved showing off her body on the red carpet
If you thought the Versace Jungle dress was eyecatching from the front, then Jennifer Lopez's red carpet look from the 7th Annual MTV Movie Awards in 1998 was a different type of risqué. Lopez donned a shimmering, low-cut halter top that left her backside exposed, paired with black leather jeans. It was Lopez's first time at the MTV Movie Awards, and that outfit definitely left an impression on the media.
InStyle noted that Lopez's look stood the test of time, whereas Who What Wear declared it as one of her most viral outfits of all time. The outfit may not be as memorable as the Versace one, but you see that Lopez loved showing off her body and wasn't shy about attending her first MTV Movie Awards red carpet.
Lopez was ahead of the game with her hair accessories, too, wearing jeweled hair clips and earrings to match. Of course, her smile was also enough to light up the red carpet.
Jennifer Lopez went cowboy chic at the 2019 Grammy Awards
For every show-stopping dress Jennifer Lopez wears, there are bound to be a few duds. In this case, the fashion miss happened when she attended the 2019 Grammy Awards with then-boyfriend Alex Rodriguez. Lopez wore a bedazzled Ralph & Russo high-neck, floor-length gown, which showed a lot less skin. But people weren't as upset about Lopez's cover-up as they were with the enormous hat on her head.
USA Today declared Lopez one of the "worst-dressed stars" that night, saying that her bejeweled wide-brimmed hat and crystal-covered collar "blinded us for all the wrong reasons." PopSugar, meanwhile, wrote that the cow-boy hat "overshadowed her dress."
Lopez, though, didn't seem to mind the criticism, telling People on the red carpet that she loved her look. Plenty of fans also left positive comments on Lopez's Instagram post about the hat, with one person writing, "Thank you for wearing hats so beautifully."
Jennifer Lopez loves herself some high-slit dresses
Even though Jennifer Lopez has moments where she covers up on the red carpet, she's a lady who really loves to show off her legs — and what better way to do that than wearing high-slit dresses?
Lopez has shown off her gams throughout the years, but her dress at the 2013 Grammy Awards was certainly something to marvel at. Lopez stunned in a simple black gown with an off-shoulder cut and a high thigh slit on the opposite side. The dress was simple but still got people talking about how she was able to walk down the carpet without exposing herself.
Lopez was happy with her dress, telling Ryan Seacrest (via The Hollywood Reporter) that CBS' dress code for the event was not a factor. "They said nothing about the legs! I thought I was being such a good girl! A little shoulder and a little leg," she explained. And sometimes, that's all Lopez needs to steal the red carpet.
Some of Jennifer Lopez's tour outfits were not well received
It's no secret that Jennifer Lopez loves showing off her body on the red carpet and on social media. So it came as no surprise to her fans that Lopez wore some very revealing outfits on her "It's My Party" international tour in 2019 — so revealing that she was sued by a lawyer in Egypt for dressing inappropriately.
According to Gulf News, lawyer Samir Sabry claimed that Lopez's concert outfits, along with the concert date (which fell on a Muslim holy day), were extremely inappropriate. "It's unacceptable for some people to be [performing religious rituals] in Mount Arafat while others watch a star performs in controversial attire," he stated (via Mashable).
As a performer, Lopez needs her concert looks to be practical and eye-catching at the same time, and that didn't seem to register with some people. But with Lopez's professionalism, we're sure the lawsuit didn't deter her from giving it her all.