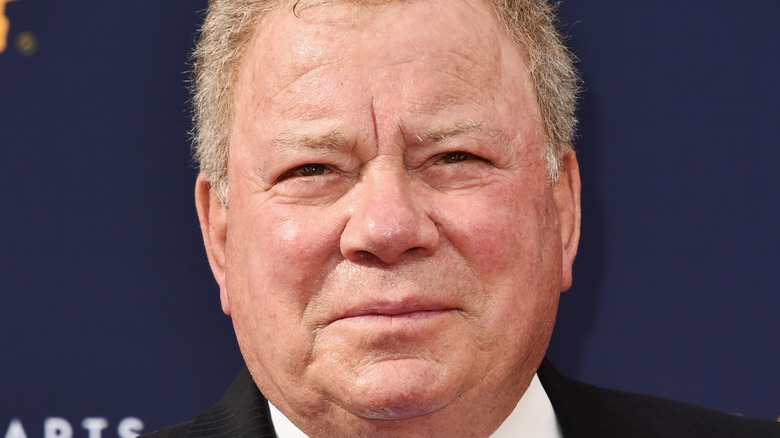 The following article contains references to alcoholism and addiction.
William Shatner may have made headlines with his interstellar travel plans in 2021, but there's at least one other way that he takes after his "Star Trek" character, Captain Kirk: the actor has had a lot of women in his life.
Shatner grew up in "a Conservative Jewish home in Canada," as he told J Weekly, where the family "celebrated Passover every year and held a long seder." He was bitten by the acting bug at a young age and began performing with the Montreal's Children Theatre, which allowed him to star in radio shows and plays in their local park. "For five years I saved damsels on Saturday Morning Fairy Tales, even if I wasn't quite certain what a damsel was," the actor wrote in his autobiography, "Up Till Now." "What eight-year-old doesn't want to be Prince Charming? Or Ali Baba? Or Huck Finn?"
After Shatner graduated from college and became a classical Shakespearean actor, the world of show business helped him meet Gloria Rand, the first woman he ever married. Keep reading to find out more about the fascinating lives of William Shatner's four wives.
Gloria Rand was William Shatner's first wife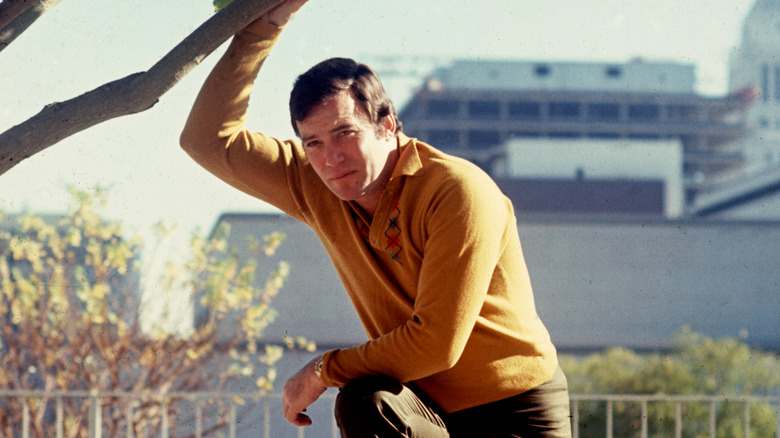 William Shatner had a lot in common with his first wife, who was also an actor from Canada. He met Gloria Rand on the set of a television play called "Dreams," one of a series of screenplays that Shatner had written himself for CBC, according to his biographer, Michael Seth Starr.
"I wrote a television drama," he recalled in an interview with the Archive of American Television in 1999, "in which I cast the girl that I subsequently married and became the mother of my three children." Rand was a "lovely, doe-like woman," who appeared "on the edge of the pasture of life" and won him over with her "tremulous" manners, Shatner explained. Describing their initial connection, he said that she "struck up [his] fancy," adding, "And we struck up a friendship."
The pair were quickly engaged after only four months, as Starr noted in "Shatner," and got married in 1956 at the Toronto house where Rand's parents lived. The couple, who shared a love of theater, would welcome three daughters: Leslie, Lisabeth, and Melanie.
How Star Trek affected his first marriage
When William Shatner started making a name for himself in 1960s television, however, his marriage to Gloria Rand suffered. "I was becoming a star; she was remaining my wife. And for an actor, the role of a star's wife is not a very pleasant one to play," he noted in his 2008 autobiography, adding that while Rand was still getting jobs as a working actor, her career had definitely floundered compared to her husband's.
"Admittedly, I wasn't good at being married," Shatner went on to write, recalling that when he became the breadwinner, the relationship "became very lopsided." When he found the most iconic role of his career in the science-fiction series "Star Trek," being Captain Kirk took its toll. "I was working so hard to support my family and resented Gloria because I was getting so little joy out of my marriage," he wrote, confessing that she "probably [had] many reasons" to start resenting him, too. "So Gloria stayed home with our girls and it seemed like each week new and beautiful — and seemingly available — women showed up on the set."
As the Toledo Blade reported, Shatner began staying away from home for long periods while he was shooting "Star Trek," with Rand claiming in court that she once didn't see her husband for five months, leaving her feeling "nervous and depressed." After thirteen years of marriage, they were finally divorced in 1969.