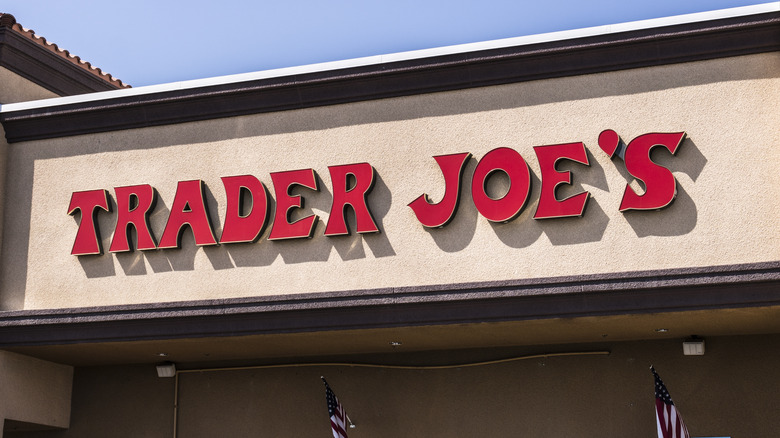 Let's cut to the chase: Preparing a Thanksgiving feast from scratch is an absolute nightmare. The day starts with a few hours in the kitchen, followed by a break to eat to enjoy your culinary creations with your guests, then it's back to the kitchen for a laborious clean-up, and finally, after all that, the exhaustion and the tryptophan kicks in, and that's a wrap. But what if you were able to offer a delicious spread and also skip the cooking and all that soaking and scrubbing so you can spend more time with family and friends? (And if you want to skip the family interaction, you can spend more time watching football or catching up on whatever hot TV show you've been missing out on.)
Enter Trader Joe's, which has plenty of no-hassle and low-cost Turkey Day food and drink options that cover the full meal experience. Whether you want to go traditional or shake things up a bit, serve a massive meat bonanza or strictly veggies, TJ's has you covered. In fact, the beloved grocery chain has such a wide selection of holiday-appropriate snacks, appetizers, mains, beverages, desserts, and, of course, the all-important sides, that narrowing down a menu will require some work.
Well, that's where we come in, as we've done all the research for you with our favorite easy-to-prepare Trader Joe's Thanksgiving picks.
Trader Joe's Cranberry Chevre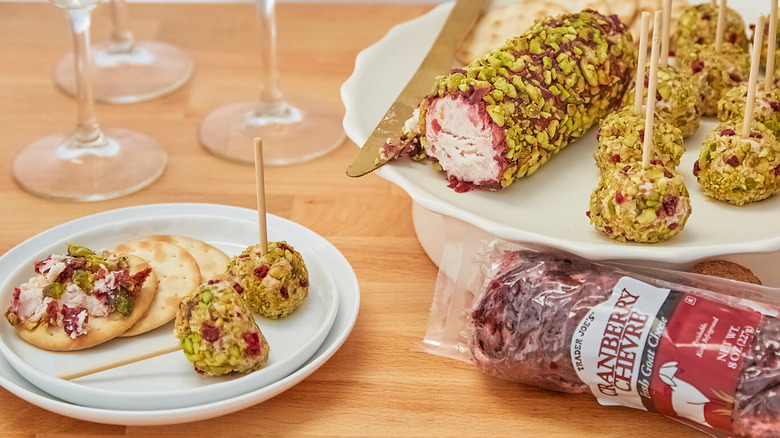 You know it. You love it. You just can't enough of it. Cranberry Chèvre is a fall Trader Joe's cheese aisle staple that has returned once again to much fanfare. A tangy, creamy fresh goat cheese log gets some welcome assistance from a coating of dried cranberries that offer some additional sour notes, a touch of sweetness, and a bit of chew.
It's the perfect way to kick off a Thanksgiving feast as your guests start to pile in. Of course, you can keep things simple with the basic spread option. In that case, you're going to want to load up on snack crackers ⁠— don't worry, Trader Joe's has plenty to choose from. You can also go the kinda fancy route and whip up some easy-to-prepare cranberry pistachio cheese balls (in that case, make sure to add cream cheese, a lemon, extra dried cranberries, and, of course, pistachios to your shopping this list).
Trader Joe's Green Bean Casserole Bites
It wouldn't be Thanksgiving without green bean casserole. The American classic is one of those dishes that is absolutely essential once a year but virtually neglected the others 364 days. Perhaps that's because it's extremely heavy (the combination of cream of mushroom soup and evaporated milk is rather indulgent), which is why Trader Joe's Green Bean Casserole Bites are perfect if you want those familiar flavors without all that heft, especially when there are so many other dishes that require your attention. Plus, there's the added bonus of not having to prepare a full casserole — just take your bites out of your freezer, pop 'em in the oven for seven to 12 minutes, and you're good to go. (Alternatively, for maximum crispiness, Trader Joe's recommends skipping the oven and going with a seven-minute stint in the air fryer. So if that's in your kitchen arsenal, consider going that route.)
The bites, which consist of tiny phyllo dough cups packed with a savory blend of greens beans, mushrooms, cheddar cheese, and heavy cream topped with crispy fried onions, can still fill the role of a side, but they also fit the bill as a pre-dinner app.
Trader Joe's Thanksgiving Stuffing Seasoned Kettle Chips
If you plan on socializing before your Thanksgiving feast, a selection of snacks is essential. Chips are an obvious pick, but for this festive occasion, you'll want to choose something extra special. Enter Trader Joe's Thanksgiving Stuffing Seasoned Kettle Chips, which offer a preview of the big meal to come without spoiling it.
Before we get to that signature seasonal flavor, which is obviously the main draw here, it's worth emphasizing that the base potato crisp is of the kettle variety, which means it packs plenty of that crunch we love. As for that unique seasoning, it consists of a special blend of salt, celery, sage, and thyme, which will surely whet your appetite for the actual stuffing that is sure to be featured with the main event meal. You may want to consider adding a Trader Joe's dip to the equation, particularly since there are plenty to choose from. But the Thanksgiving Stuffing Seasoned Kettle Chips pack in so much flavor, they can easily stand on their own.
Trader Joe's Gobbler Quesadilla
Here's another Trader Joe's fusion food offering that somehow works. Finding ways to repurpose Thanksgiving leftovers is a post-holiday tradition, and this Mexican and American mashup is definitely a play on that. Roasted turkey breast is the star of the show, of course, and the bird of the hour is reunited with an assortment of fall standards: cranberries, kale, and butternut squash. They're joined by melty mozzarella cheese, and the combo is tucked in a flour tortilla for a tasty South-of-the-Border spin.
Cut the quesadillas into pieces and serve as hors d'oeuvres, add them to your list of side dishes, or, if you're preparing an intimate, low-key Thanksgiving meal, the Gobbler Quesadilla can even fill the role of an entrée. Just be sure to heat them up in the oven instead of the microwave, unless you prefer a soggy tortilla over a crispy one (which, of course, you don't). If you serve these quesadillas at Thanksgiving, or perhaps for another fall meal, there is no doubt they will all be gobbled up (please excuse the awful pun).
Trader Joe's Turkey and Stuffing en Croute
All right, let's talk turkey. The big ol' bird is the word for Thanksgiving, and Trader Joe's has multiple options to choose from. Over in the refrigerated case, you'll find a fully cooked, brined (in salt, sugar, black pepper, and garlic-herb butter), bone-in half turkey breast, which is the way to go if you want to keep things traditional. The breast is seared, then cooked sous-vide, which means the meat won't be dry, so huge checkmark for that. Our main issue is the price: It's a penny short of seven bucks a pound, which is over three times as much per pound as buying a raw whole turkey in some cases. (Still, the price difference may absolutely be worth eliminating all that aggravation.)
But for our money, we're opting for the Turkey and Stuffing en Croute, which brings together the two top Thanksgiving food draft picks and rolls them into one neat and tasty package. In other words, this is quintessential Trader Joe's fare. It even comes with packets of gravy and cranberry sauce to complete the meal.
If you happen to have a non-meat eater on hand, not to worry. Trader Joe's also offers a similar Breaded Turkey-Less Stuffed Roast as well as a plant-based vegan stuffed roast.
Trader Joe's Turkey Sausage Stuffing Fried Rice
We've got another cuckoo bananas Trader Joe's fusion alert! Turkey Sausage Stuffing Fried Rice sounds like something dreamed up mid-way through the second set of a Phish concert. And thus, it's no surprise that Trader Joe's sells a package of the insane fall creation in its hallowed freezer aisle.
This is truly an example of what Trader Joe's does best: Take something that everybody loves (stuffing) and another thing that everybody loves (fried rice), then add a wild card ingredient (turkey sausage), sell it for a song, and there you have the chain's recipe for success. And if you're wondering how exactly the stuffing fits in, this is another case of an "inspired by" situation, with a familiar blend of celery, onions, rosemary, parsley, and thyme, plus some bread crumbs.
Take note: If you want to get the most out of your Turkey Sausage Stuffing Fried Rice, a sauté in butter or oil on the stovetop is advised, but if that seems like too much work, rest assured that the dish will be finished in a jiffy — just a mere five minutes.
Trader Joe's Fresh Cranberry Sauce
Sweet and tangy cranberry sauce is a given during Thanksgiving, and even if you end up going with the Turkey and Stuffing en Croute, a single sauce packet won't be enough. Again, Trader Joe's provides a few choices for this classic accompaniment, including a jarred version, which is certainly a step up from the familiar (but sub-par) canned cranberry sauce.
But if you're looking for a primo option, you should go ahead and skip the shelf-stable stuff. Trader Joe's fresh cranberry sauce keeps things simple — whole cranberries, water, and sugar. In fact, it seems so basic that you should consider making it yourself, but at less than $4 for a 16-ounce container, you might as well have the good folks in the Trader Joe's kitchen handle the work for you. For a slight change of pace, also consider TJ's fresh cranberry orange relish if you're down for an extra layer of citrus zing in your sauce.
Trader Joe's Four Cheese Scalloped Potatoes
Whittling down your Thanksgiving side roster is never an enviable task, and roaming the Trader Joe's aisles in search of your bounty will only add to that pressure. You can always buy a sack of organic gold potatoes and make your own mashed, but we're not about to suggest that, at least when it comes to this article. There's the frozen mashed cauliflower option if you're looking for a healthier side alternative (it's only 50 calories and two grams of fat per serving). But on the final Thursday of November, we're are all-in on the gluttony, which is why Trader Joe's four-cheese scalloped potatoes earns a coveted spot on this list.
Break out the stretchy pants because this side is, shall we say, a lot. Thinly sliced potatoes get a bath in a cream sauce prepared with garlic, leeks, and the quad-cheese combo of Parmesan, asiago, fontina, and provolone. It's rich and delicious, not to mention the bane of the existence of anyone who is lactose intolerant.
Trader Joe's Cornbread Stuffing
Just like how it's impossible to have too much cranberry sauce on Thanksgiving, going overboard with stuffing will never be an issue. There are a few dishes on this list that are inspired by or incorporate elements of stuffing, but including a straightforward serving on the dinner table is a must.
Now, Trader Joe's does offer a just-add-water (or broth) boxed version, which is rather simple to prepare on the stovetop. But we promised options for people who don't cook, and we shall deliver. TJ's heat and serve cornbread stuffing simply requires a slide into the oven or microwave. Since it's refrigerated instead of straight out of the box, you'll be treated to a pair of fruity additions — roasted apples and dried cranberries — for a sweet and savory mix that absolutely screams fall. We suggest getting an extra portion because from our experience, stuffing always ways seems to be the first item to disappear from the Thanksgiving table.
Trader Joe's Creamed Greens
If you feel guilty about not including vegetables on the menu but don't want to sacrifice any notion of over-the-top Thanksgiving indulgence, Trader Joe's creamed greens are here for you. Sorry spinach. For years, you've had your moment in the spotlight (and, for the record, it's been a job well done). But now Brussels sprouts and kale are getting their chance to shine in the creamed domain, and they certainly don't disappoint as a tag team in the starring role.
Of course, when you have a Parmesan-laced béchamel supporting your efforts, it's hard to go wrong, and the creamy sauce takes those greens to another level. Prep time for this frozen option is quick and easy: only five minutes in the microwave or 15 to 20 minutes in a conventional oven. This side is truly an angel-and-devil situation, and in this case, the devil definitely wins out — and we're totally cool with that.
Trader Joe's Harvest Apple Salad Kit
And now we've finally come to our first (and only) "healthy" option on this. We get it: There is only so much stomach real estate that can be allotted toward your Thanksgiving meal, and devoting a precious portion of that toward salad may be hard to swallow. But this isn't your typical bag of lettuce. Beyond the spring mix (which should be familiar to anyone who's spent some time in the Trader Joe's popular section), there are bite-sized chunks of Unexpected Cheddar, a.k.a. Trader Joe's most popular cheese, plus apple cinnamon chips and pecans for a sweet, crunchy addition. It even comes with a side of dressing — a seasonally appropriate apple vinaigrette.
We appreciate how this kit offers something on the lighter side but features some tasty addition to help keep things interesting. Of course, a major plus is that everything you need for a big, bold salad is included in the bag, so all you have to do is open, dump, and toss. This is the epitome of fall in a bowl.
Trader Joe's Cranberry Orange Bars
So to recap: We've suggested a Cranberry Chèvre opener, plus the obligatory cranberry sauce with your main, and now that we've made it to the dessert portion of our list, we have another Trader Joe's cranberry selection. (And by the way, this isn't even the last stop on our cranberry journey.)
If you're a fan of lemon bars, this TJ's twist is sure to hit the sweet spot. Despite the dual-billed fruits in the name, the cranberry really does the heaving lifting, though the addition of orange zest addition provides a nice final touch. The shortbread bottom offers a bit of sweet and salty goodness as well as a crumbly texture contrast to the jiggly curd topping.
This is a frozen dessert, and while fresh would have been ideal, we like that you can keep some squares in the freezer for the rest of the holiday season if you don't need to dole out the full 12 portions on Thanksgiving. Although, considering how good these cranberry orange bars are, keep in mind that your guests may crave more than one serving of the treat
Trader Joe's Thanksgiving Pie Chocolate Truffles
If you want a standard pumpkin pie or apple pie Turkey Day meal closer, Trader Joe's has you covered. But, you know: Been there, done that. For something familiar yet completely different (are you noticing a theme on this list?) Thanksgiving Pie Chocolate Truffles are the perfect exclamation point for your meal.
Each package includes two pieces of four different varieties of Belgian-made truffles. Standing in for pumpkin pie, you've got a milk and dark chocolate wedge with a cranberry ginger cinnamon filling. A caramel apple cinnamon filling coated with white chocolate is, not surprisingly, the apple pie rep. Pecan caramel pie fans will be pleased to know that there's a milk and dark chocolate truffle stuffed with — you guessed it — a salted caramel pecan filling. And finally, a silk chocolate mousse pie-inspired truffle with a chocolate and vanilla crème filling and milk and white chocolate shell is also part of the fun. This whimsical package can easily fill the dessert role, or you can serve it up as a post-meal sweet snack — unless, of course, you want your guests to vamoose (and we wouldn't blame you for that).
Trader Joe's Pumpkin Cobbler
If pie in chocolate truffle form is too far off the beaten path when it comes to your menu pick for dessert, consider going with Trader Joe's pumpkin cobbler. It's well within the Thanksgiving wheelhouse without being too obvious of a selection. Fruit always tends to be the focus of a cobbler, but it turns out gourds are also able to thrive under a layer of pecan streusel, which TJ's notes is made with actual butter (in case you wondering). Don't worry, that familiar pumpkin filling is unadulterated.
You can enjoy your pumpkin cobbler straight from the package, but we suggest bringing the heat with a quick trip to the oven. And if you happen to be taking that extra step, you're going to need a cool scoop of ice cream to pair with that warm cobbler. As it turns out, Trader Joe's ice cream selection is rather expansive, so it won't be too hard to find a pint (or quart) or two.
Trader Joe's Sparkling Cranberry Ginger Beverage
Well, we've reached the end of line, and since we opened with a cranberry suggestion, we might as well finish with one. Sweet, sour, and spicy is the name of the game with Trader Joe's Sparkling Cranberry & Ginger Beverage. This is a non-alcoholic drink, which is perhaps why they chose to go with the "beverage" descriptor rather than "beer" in order not to confuse anyone. But yeah, this is basically ginger beer with the addition of cranberry.
Each package comes with four 8.45-ounce cans. It's an enjoyable sipper straight, but for the adults in the room, why not add some boozy enhancements and whip up some simple cocktails? Grab some copper mugs and a bottle of vodka for some festive Massachusetts mules (we're officially claiming the trademark on that). If you want to kick up the spice, add a shot of dark rum and muddle some limes for a cranberry dark and stormy. The possibilities are endless!