Robert Plant is one of the most legendary rock singers in history. His voice was part of the epic success of Led Zeppelin, bringing classic songs like "Stairway to Heaven," "Black Dog," and "Kashmir" to life, and everyone on the planet, regardless of musical taste or age, has a shiver of recognition when they hear that opening wail on "The Immigrant Song."
More than just a voice, Plant was an iconic frontman. Tall and thin, usually shirtless and rocking a mane of unkempt blonde curls, his physical presence onstage with the band was a powerful force. Plant is up there with Mick Jagger, Freddie Mercury, and other legendary rock lead singers, and he has been uniquely successful as a solo artist after Led Zeppelin broke up, constantly reinventing himself and diving into new genres without losing that iconic howl.
But Plant's life hasn't been all hit records and world tours. In fact, if all you know about him is that he was in the biggest band in the world in the 1970s, then you might be surprised to hear the tragic real-life story of Robert Plant.
Robert Plant left home at 17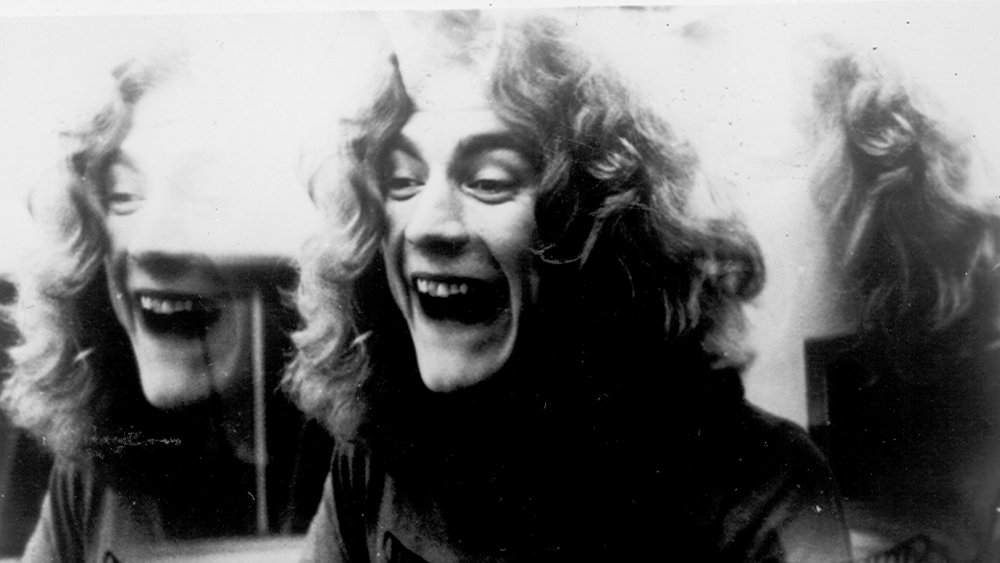 Robert Plant was born in Staffordshire, England, and grew up in a comfortably middle-class house. His father was an engineer, and his parents pushed him to become an accountant. But Plant had discovered blues music, and he was having trouble pretending to care about his education. As he told The Guardian back in 1970, "It was really hard to combine the two and keep a compatible relationship with schoolmasters and parents at the same time as doing what I really wanted to do."
Plant left school at the age of 17 to pursue his music dreams, which upset his parents. As he puts it, "I got in with this crew, which I'm afraid upset my parents a bit, and the cleft between Mum and Dad and Robert got a bit wider and a bit wider…"
Luckily for Plant, he managed to make a huge success out of skipping out on that accounting degree, and he managed to patch things up with his parents. As he told Louder, "I had my moment of professional potential, and because I didn't accept it I had to leave home when I was seventeen. So I toughened up pretty quickly. I made my peace with my parents a couple of years later. But it was good, it was what it should be."
Robert Plant was actually Jimmy Page's second choice
Although Robert Plant was Led Zeppelin's lead singer, he wasn't the chief executive of the band — that was Jimmy Page. Four years older than Plant, Page was already a seasoned professional musician when he formed the band in 1968. Page also had a reputation for being a hard-nosed businessman, so it's not really a surprise that he took the search for a lead singer very seriously, and Robert Plant was a relatively unknown and untested vocalist at the time.
Terry Reid, on the other hand, was an established rock singer and songwriter. While Reid (pictured above) isn't super-famous today, Observer reports that back in 1969, Aretha Franklin said, "There are only three things happening in England: The Rolling Stones, The Beatles and Terry Reid." When Page began putting together the band that would become Led Zeppelin, he invited Reid to be the lead, but Reid had already committed to being the opening act on several tours. He suggested that if Page could wait a few weeks, they could talk, but Page didn't want to wait.
Reid actually recommended Plant to Page, and the rest, as they say, is history. According to Reid, there are no regrets or hard feelings — he says his musical interest was diverging from rock music, and he wasn't into what he calls "hard rock" anymore.
Robert Plant got no songwriting credit on Led Zeppelin I
In 1968, Robert Plant was a 19-year-old unknown. He had a record contract with CBS records and had released some songs, but he hadn't enjoyed much success. One thing is clear, though: He was already a confident artist, writing and performing his own music. So it's puzzling that if you look at an original pressing of Led Zeppelin's first album, you won't find his name anywhere on the song credits. (More recent pressings of the album list him as a co-writer on one song, "Babe, I'm Gonna Leave You," because of a later lawsuit.)
If it's hard to believe that Plant had nothing to do with writing those songs, that's because it isn't true. As Showbiz Cheatsheet points out, that CBS contract was the problem. Because Plant was still under contract with another company (Led Zeppelin was signed with Atlantic Records), he legally couldn't receive any credit for songs on that album. Writer George Case explains that in those early days, the band had a very collaborative songwriting style, so the idea that Plant wasn't involved is kind of ludicrous.
Still, officially, Plant doesn't get credit for his contributions to one of the most famous and celebrated albums in rock history, which is a tragedy.
Robert Plant was in a terrible car crash and lost his memory
In 1970, life for Robert Plant was pretty good. He was in a band, Led Zeppelin, that had become enormously successful. He was newly married to Maureen Wilson and had a baby daughter, Carmen. They all lived happily on a farm in rural England with their pet dog and some goats.
But the legendary rock singer was about to have the first of two horrific experiences with near-fatal automobile accidents. As The Irish Times reports, when Plant was testifying in the copyright infringement trial over the song "Stairway to Heaven" (brought by the estate of Randy Wolfe, lead singer of the band Spirit), he was told he'd attended a Spirit concert and even played snooker with one of Spirit's members. But Plant maintains that it's impossible he stole any aspects of Spirit's song because he doesn't remember any of it.
Plant testified that he couldn't remember either of those events because he'd been involved in a terrible car crash immediately afterward. He told the court that Maureen suffered a fractured skull, and that "Part of the windshield buried in the top of my head." He claimed that as a result, he didn't remember anything about the earlier events.
Robert Plant had vocal cord surgery and struggled to get his voice back
Being a professional singer puts a lot of strain on your body — your respiratory system, your throat, and especially your vocal cords. Inexperienced singers often strain their voices, but the pros learn early on that taking care of your voice is vital to a long career. Still, plenty of famous singers have had vocal cord surgery to remove nodules. Vulture notes that Julie Andrews and Meghan Trainor are just two examples of famous vocalists who went under the knife, and Page Six reports that Miley Cyrus, Adele, and Justin Timberlake all had nodules removed from their vocal cords — and struggled to get their singing voices back.
No one's entirely sure when Robert Plant had vocal cord surgery to remove nodules, but the New York Post confirms that he did, and fans are convinced that you can guess when based on a change in his vocals. The years 1972 and 1973 are the most common guesses, as most fans believe the quality of Plant's vocals changed after that. They also tend to believe he became less adventurous, shying away from the primal howls that marked much of his early work.
What confuses things is that Led Zeppelin's 1975 album, Physical Graffiti, contains tracks that were recorded years before as well as contemporary recordings, so you can't simply listen to the album and compare it to earlier work.
Robert Plant was in a second bad car crash
In 1975, Led Zeppelin were poised to start a new tour and a new album as the biggest band in the world. They'd just come off a huge tour that had earned them huge money, and they had every intention of keeping that momentum going.
And then, as Louder reports, came August 4th. Plant was in the passenger seat of a rented car on the island of Rhodes. His wife, Maureen, was driving, and their children, Karac and Carmen, were in the back seat with a friend. Then the car skidded off the road, sailed over a ledge, and landed in a tree. Plant shattered his right leg in several places, Maureen was unconscious and bleeding, and the children were also injured. It took hours for help to arrive, and when Plant finally came out of the hospital, he was in a wheelchair, Karac had a broken leg, and Maureen had a fractured skull. It was a miracle that they all survived.
A tour was out of the question, of course. The band rallied to record their 1976 album Presence, but Plant had to lay down his vocals from a wheelchair and understandably battled depression, which is reflected in the album's dark lyrics.
Robert Plant's five-year-old son died
In 1977, Led Zeppelin was a band trying to get its groove back. The group had been forced into semi-hiatus in 1975 in the wake of Robert Plant's horrific injuries in a car crash. Over the next two years, the music world changed around them with the arrival of punk rock, and Led Zeppelin's 1976 album, Presence, was regarded as a relatively minor work in their catalog.
Embarking on a world tour, the group intended to prove they were still the biggest band in the world. Things got off to a rough start when Plant lost his voice for several weeks, and tour dates had to be postponed. They finally got on the road in April. On July 26, 1977, Robert Plant received two phone calls, according to Ultimate Classic Rock. The first informed him that his son, Karac, was ill. The second call came shortly after, giving him the devastating news: His five-year old son had died.
A week earlier, Plant's daughter, Carmen, had been sick with a stomach virus but had gotten better. When Karac fell ill, it was thought to be the same virus, but Karac was hit much harder. Plant left the tour and immediately flew home. Unsurprisingly, the rest of the tour was canceled.
Robert Plant almost quit music forever
Robert Plant has been one of the most successful musicians in rock music history. Not only was he the iconic lead singer of one of the most successful hard rock bands of all time, but he's enjoyed spectacular success as a solo artist. In fact, the four decades of his solo work dwarf the 12 years he spent in Led Zeppelin.
So it's kind of shocking to think there was a time when he seriously considered leaving music behind and training to become a teacher. But that's exactly what happened in 1977 when his son, Karac, died at the age of five. As he told Louder, "I was thinking about the merit of my life at that time, and whether or not I needed to put a lot more into the reality of the people that I loved and cared for — my daughter and my family generally. So yeah, I was ready to jack it in…" He put it more bluntly to Rolling Stone: "I lost my boy. I didn't want to be in Led Zeppelin. I wanted to be with my family."
Plant goes on to say that he was convinced to carry on with music and Led Zeppelin by his best friend, drummer John Bonham.
Robert Plant lost his best friend
Robert Plant and John Bonham, the drummer for Led Zeppelin, knew each other long before the band. They met in 1965, when Plant was just 17 years old, and played in two bands together over the next few years, the Crawling King Snakes and the Band of Joy (which Plant reformed in 2010). When Plant was offered the lead singer position in Led Zeppelin in 1968, he recommended Bonham for the drums, which allowed the two friends to work together on what would be the biggest band in the world.
Bonham was a heavy drinker, and on September 24, 1980, he went to sleep after drinking heavily and choked in his sleep. Bonham died at the age of 32. Plant was devastated. According to OnStage Magazine, 32 years later, he said of Bonham, "He was a very, very dear friend of mine, that I miss every day."
In fact, Plant's devastation over his friend's death is a big reason why Led Zeppelin have never reunited. Even though such a reunion would make headlines everywhere, Bonham's son, Jason, told Billboard that Plant said, "I loved your dad way too much. […] When your father left us, left the world, that was it for Led Zeppelin."
Robert Plant got divorced and never married again
Robert Plant married Maureen Wilson in 1968, just as Led Zeppelin was taking off. They met in 1966, and according to Rocks Off Magazine, Plant has acknowledged that Maureen supported them with her nursing work when he was a struggling, unknown musician. Plant obviously loved her very much — according to Rolling Stone, he dedicated the song "Thank You" on Led Zeppelin II to Maureen, a sweet declaration of love and commitment.
Maureen accompanied Plant on the first Led Zeppelin tour, but shortly after the birth of their first child, Carmen, she began staying home with the kids while Plant toured. (The couple had two other children, Karac and Logan.) Plant has admitted that while he tried to be a good father and husband, he was distracted, telling Louder, "I'd spent so much time trying to be a decent dad, but at the same time I was really attracted to what I was doing in Zeppelin."
Then, in 1977, tragedy struck when Karac, just five years old, died suddenly of a stomach virus. Plant was so devastated that he considered quitting his music career. The couple carried on, having their son Logan in 1979, but the tragedy and Plant's career took its toll. In 1983, the couple divorced. Plant has never remarried.
Robert Plant was told he'd never sing again
A singer's voice is everything — their living and their identity. Robert Plant has one of the most famous voices in rock music, so anything that threatens that voice is a tragic reminder of life's fragility. Like many artists, Plant has been his own harshest critic (he told The Guardian that he finds many of his early vocals on Led Zeppelin songs "horrific"), and he had to have surgery in the early 1970s to remove nodules from his vocal cords — a fairly common procedure that many singers have had to endure. The procedure can sometimes end a singing career, and Led Zeppelin fans debate whether the surgery caused a change in his vocals, but it's fair to say that Plant managed to carry on with his singing career after that.
So it was a shock when, according to Alternative Nation, the iconic singer went to a doctor in the early 1990s and was told that he would lose his voice within a few months — and he probably wouldn't even be able to speak, much less sing. "The number of times you think you've had it, you think it's gone," Plant said in 2019 as he recalled the incident. "There's a certain number of singers who were so hard on themselves, it's lost forever."
Robert Plant broke up with the other love of his life
After divorcing his wife Maureen in 1983, Plant dated around a bit, but he never came close to the level of commitment he'd enjoyed with Maureen, his wife of 15 years.
In 2010, Plant decided to reform one of his early groups, Band of Joy, and recruited some new musicians into it. One of those musicians was folk singer-songwriter Patty Griffin, whom Plant hired as a backing singer, and the two began a relationship that proved to be very serious. In fact, as Voice of America reports, Plant moved in with Griffin and lived with her in Austin, Texas, for several years. He also collaborated with her on the band's album, 2010's Band of Joy.
Sadly, in 2014, the couple ended their relationship, and Plant moved back to England after several years in America. Griffin has refused to comment on the relationship or its ending, but it's clear that the breakup affected Plant deeply. He told Louder that on his 2017 album Carry Fire, "If you listen to the album you can hear me pouring out my heart to whoever's interested. Cos that's what I do. And it's not easy to do that, believe me."