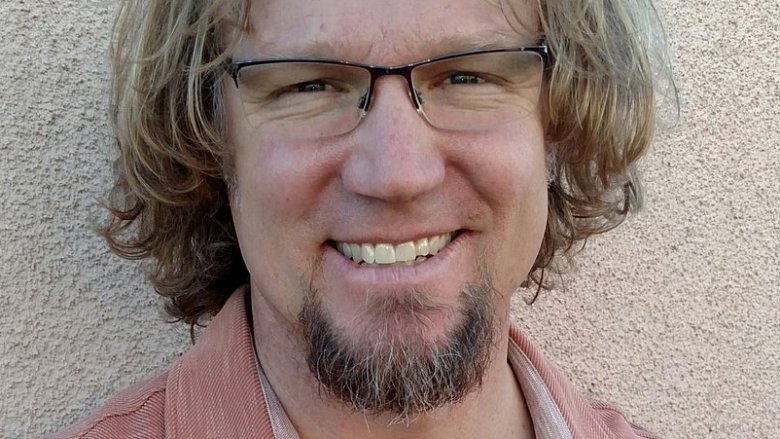 When Kody Brown burst onto the reality television scene à la Sister Wives in 2010, his polygamist lifestyle understandably generated a lot of questions from viewers. It's not every day that a guy with multiple wives lands a docuseries on a major cable network, and while Brown has generally been forthright about his interesting life, there are a number of things fans still don't know about him.
For instance, are fans aware that Brown possibly courted his fourth wife Robyn's niece to be lucky wife number five? Or how about the fact that Brown and his second wife Janelle are technically step-brother and step-sister? What's more, Janelle also happens to be the ex-wife of Brown's first wife Meri's brother, making her Meri's ex-sister-in-law. Oh yeah, this one gets more than a little funky.
What other details about this intriguing reality star are hidden beneath the surface? Let's take a dive into the untold truth of Sister Wives' Kody Brown.
His love life is complicated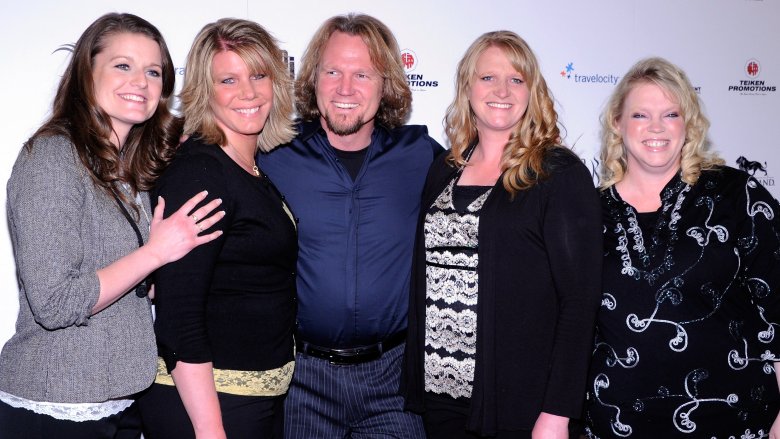 One of the most curious aspects of Kody Brown's life is his, ahem, sex life. Fans can't help but wonder how Kody, a dad of 18 and a busy reality television star, can maintain intimate relationships with all four of his wives: Meri Brown, Robyn Brown, Janelle Brown, and Christine Brown.
Well, according to tabloid rumors that swirled in February 2016, Kody wasn't doing the dirty with all of his wives at that time. In fact, an alleged insider claimed Kody was only getting busy with Robyn, which his other three wives aren't exactly thrilled about, according to Life & Style (via Hollywood Life).
"The idea that the Browns are a polygamist family is laughable at this point," another source told Radar Online around the same time. "It's just Kody and Robyn who are truly together at this point."
Considering Kody has stated in the past that he rotates his time equally between wives, these bedroom rumors might come as a bit of a surprise to some fans.
Was he almost Uncle Hubby?
When Kody Brown spiritually married Robyn Jessop in May 2010, the two appeared head-over-heels in love. But in June 2016, just six short years after the couple got hitched, a rumor surfaced that Kody wanted Robyn's step-niece, Mindy Jessop, to take on the role of his fifth wife. Awkward, much?
Mindy, who also worked as a nanny for Robyn, met all the physical requirements Kody supposedly wanted in his next wife. "He [Brown] wants a younger female with a hot little body –- which Robyn was at first," an insider revealed (via Radar Online).
As one might expect, Kody's alleged infatuation with Mindy didn't go over so well with Robyn, and a source claimed that she threatened to leave the family due to the uncomfortable drama. "She's refusing to do this anymore because she can't believe he would betray her like this," the so-called confidante said.
As for whether Mindy would be game to join the Brown family, she didn't specifically elaborate, except to say that she's open to plural marriage. "I was raised in a plural family. I'm open to living a plural marriage, but the family bond would have to be really strong, otherwise it would just be not worth it to me," Mindy once explained on the show (via The Heavy).
Staying on TV at all costs
Any fan of Sister Wives knows that Kody Brown can come off as a very prideful guy, which is why it's a bit of a shock that he allegedly begged TLC executives to renew the series for Season 12 despite poor ratings.
How did Brown convince network honchos to keep Sister Wives afloat? The answer, like most things in life, supposedly has to do with money. "Kody told them he'd be willing to have the network slash his family's pay from $180,000 for each adult to $180,000 total if it meant they could make Season 12," an insider claimed (via InTouch). "He put everything on the line to convince them it could still work.
Fortunately for Brown, his bargaining worked. By March 2018, Sister Wives got the green light for its 13th season, even in the face of a continued ratings spiral, according to the reality TV blog The Ashley's Reality Roundup.
His dad married to his second wife's mom
Kody Brown's relationships with his wives are a bit complicated, to say the least. Case in point: Kody's father, William Winn Brown, was married to Janelle's mom, Sheryl, until his death in August 2013. Yep, you read that correctly — Kody and Janelle are quasi-step-siblings.
Of course, it's important to note here that Kody and Janelle didn't grow up together as step-brother and step-sister. Here's what really happened: When Janelle started dating Kody and was considering a polygamist lifestyle, Sheryl was supposedly accepting of the unconventional situation (via Starcasm). Sheryl's open-mindedness eventually led her to develop a relationship with William and his first wife, Genielle, and as they say, the rest is history. Sheryl married William just three months before Janelle and Kody said "I do."
While this seemingly, ahem, unique connection may not be widely known in the Sister Wives universe, Kody and Janelle did address it in a March 2011 episode of the show. Although they didn't go into details about their parents' marriage (can you blame them?), they tried to downplay the awkwardness of the situation. "I just want to make it clear there is not anything funny going on here, it was just a matter of circumstance, almost," Janelle says in the episode (via Jezebel).
From rags to riches
Kody Brown has experienced his fair share of money problems over the years. Although some of these financial issues are public, fans might not know that Kody and Meri Brown filed for bankruptcy in June 2005, according to Radar Online. At the time of the filing, the couple claimed to have only 10 bucks to their name and "$5 in five joint bank accounts," according to court docs obtained by the outlet.
To make matters worse, Kody and Meri owed "$229,873.49 to creditors, including nearly $137,000 in mortgages on their Powell, Wyo. home, about $7,300 in car loans, and roughly $40,000 in credit card debt," per the report. In December 2007, they settled the bankruptcy case, agreeing to pay their creditors $187,885.74.
Mind you, the debt was racked up before Sister Wives entered the picture and when Kody was working as a salesman at a sign shop, reportedly pulling in about $4,000 a month. It doesn't take a math scholar to realize that salary would make it tough to cover the costs of such a large family. While it's unclear exactly how much the Browns make from the show, Kody now has a reported net worth of $800,000. Also, according to the St. George News, he somehow shelled out $820,000 in June 2018 for "almost 15 acres a few miles from downtown Flagstaff," on which he plans "to build a home or homes" for the family's permanent move to Arizona. That's a long way from bankruptcy court, huh?
Janelle is his former sister-in-law
Just when you thought the relationship between Kody and Janelle couldn't get any more convoluted (Reminder: Their parents got married), the plot thickens. It turns out that Janelle was once married to Meri's brother, Adam Clark Barber, which essentially makes her Kody's former sister-in-law.
Janelle, who was hitched to Barber from 1988 to 2000, according to Radar Online, met Kody at a party, presumably through Meri.
Curiously, Janelle sort of glossed over the Meri connection on the series' website. "I met Kody in the fall of 1989, even though he may not remember it," Janelle penned in her now-defunct bio page (via Radar Online). "When he walked into the room I looked at him and had that feeling of remembering something I had forgotten. It was a singular experience. I had known Meri's family for several years before the night I met Kody."
Hmm, maybe this uncomfortable situation is to blame for the years of fighting between Meri and Janelle? Just a thought.
His brother died in a motorcycle accident
In June 2013, Brown suffered the devastating loss of his younger brother, Curtis Brown. Curtis' death was touched on in an episode of Sister Wives, but the show didn't elaborate on the circumstances surrounding his sudden passing.
Curtis, 34, died from injuries he sustained in a motorcycle accident, according to the Billings Gazette. Although the crash occurred in Montana, Curtis was a resident of Worland, Wyo. throughout his life.
At the time of his passing, he left behind a wife, Erica Brush, and three children: Carter, 12, McCayde, 8, and Kinlynn, 7, according to his obituary. Curtis' loved ones described him as dedicated family man with a "giving heart."
He almost tore up his meal ticket
It's safe to say reality television isn't for the faint of heart. Showcasing every aspect of your life on TV can put you in a vulnerable position and subject to widespread criticism from fans, a downside Kody Brown learned early on in Sister Wives. In fact, Brown revealed that he almost quit the show following the initial backlash from viewers.
Brown, who has grown to love his job with TLC, made the surprising admission in 2015 during a Sister Wives: Tell All special hosted by veteran journalist Tamron Hall. When Hall asked Brown if he ever "wanted to throw in the towel" on the series, he replied (via AOL): "Yeah, I literally started talking to the family the week after that aired. I started talking about, 'How can we get out of this show?'"
Hall, clearly shocked by the revelation, asked: "Were you serious about that?"
"I was dead serious," Brown said.
Considering Sister Wives has since allowed the family to live a seemingly very comfortable lifestyle, it's wild to think that Brown almost cut ties with the show.
Did he try to score some benefits with his wife's friend?
Throughout the years, fans might have noticed that Kody Brown suffers from foot-in-mouth disease. A lot of Kody's comments are off the cuff and it's a rare day that he doesn't offend one of his wives with something he said. Case in point: Kody allegedly hit on Robyn's now former friend, Kendra Pollard-Parra, right in front of Robyn. Yikes.
"The first time he met me he said, 'You're so pretty. I'm looking for another wife!'" Kendra recalled, according to InTouch. "Robyn was laughing, but I was like, 'Eww!'"
Although it's unclear if Robyn was laughing out of nervousness or general amusement, one thing is for certain — Kendra claims Kody is dead-set on securing a fifth wife. "He'll most likely drop one of the other wives," she claimed. "Kody's main goal is to keep the series going and to make money. He's a snake."
Hmm… something tells us that Kendra won't be applying for the fifth wife position.
Kody might be a hothead
Kody Brown might have a dark side to his personality. Yep, the happy-go-lucky guy you see on television could be an illusion. Kind of unnerving, right?
Kendra Pollard-Parra, the same former friend of Robyn's who alleged Kody once hit on her, claims the untold truth of the Sister Wives patriarch is that he is always on the verge of flipping out. Apparently, Kody's "hothead" attitude is supposedly causing major tension at home with Robyn.
"[Kody's] totally spiraling out of control. [Robyn] can no longer trust him. He is becoming a hothead, he has no filter and it is freaking Robyn out," Kendra said (via Hollywood Life). "They [used to] fight and yell at each other. Now Robyn simply ignores him, which makes him even more infuriated."
"Kody has to be the king of his castle," Kendra added. "Robyn used to be Kody's puppet. Now she's saying no."
He's serious as a law suit (several actually) about polygamy
Kody Brown and co. initially fled Utah in 2010 to avoid prosecution under the state's strict anti-bigamy laws. According to In Touch Weekly, this legal drama was at the heart of the early seasons of Sister Wives, and has continued for years thereafter. Though the criminal case against the Browns was dropped in 2013, the unconventional family had already filed a civil suit against several Utah government officials that basically challenged the constitutionality of Utah's unique polygamy law," according to the Associated Press.
The suit eventually made its way to the U.S. Supreme Court, who declined to take it on, "because [The Browns] were never prosecuted" under the laws in question. Though the Browns never got their day before SCOTUS, that hasn't stopped Kody from staying active in other polygamy-related legislation.
In August 2018, he was slated to testify as "an expert witness" in a Utah domestic violence case against his "longtime friend" and fellow polygamist Mitchell Kyle Henderson, who was charged with assaulting "his first wife — after marrying a second 'spiritual' spouse." According to The Salt Lake Tribune, Kody's testimony would be to refute the assertion that polygamist church he attended, Apostolic United Brethren (AUB), is "patriarchal." Kody didn't comment on the case at the time, but it's clear that he has a serious interest in the helping to legally legitimize the practice of polygamy.