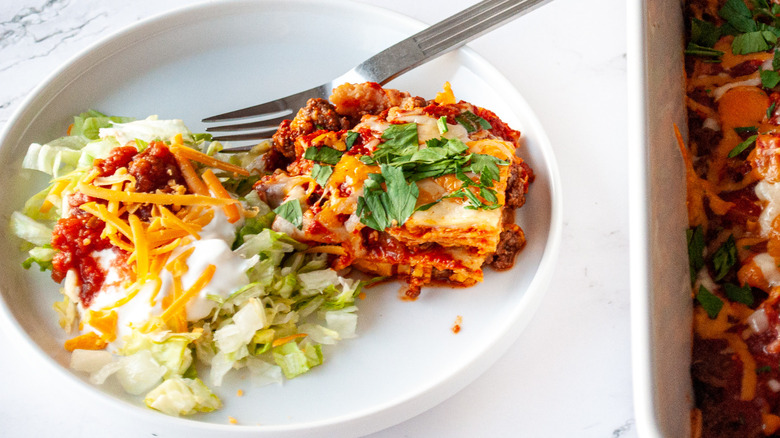 Casseroles are nothing short of a wonder. When you take the sheer variety that they come in, how they're cost-effective when cooked in batches, are easy to reheat, and are endlessly delicious, the humble casserole makes for an amazing side dish. If you've been looking for recipes, you've come to the right place. With some form of casserole found in dozens of cuisines, they may mean different things to different people, but they're definitely dishes that can be so much more than a mélange of ingredients in a baking dish.
When you consider silky egg casseroles for breakfast, tuna casserole for lunch alongside crudités, Italian ziti and lasagna for dinner, or apple crumbles for dessert, casserole can make for meals at any time of day. Don't even get us started on how there is a whole category of casseroles that people eat on special occasions.
Some may feel that, given the heft some recipes may have, casseroles are the main dish in and of themselves. However, a smaller slice can also make for a side dish that makes room for another main attraction on the table. With that in mind, we're ready to dish out the details on the best recipes we have for casserole that make for amazing sides.
Breakfast casserole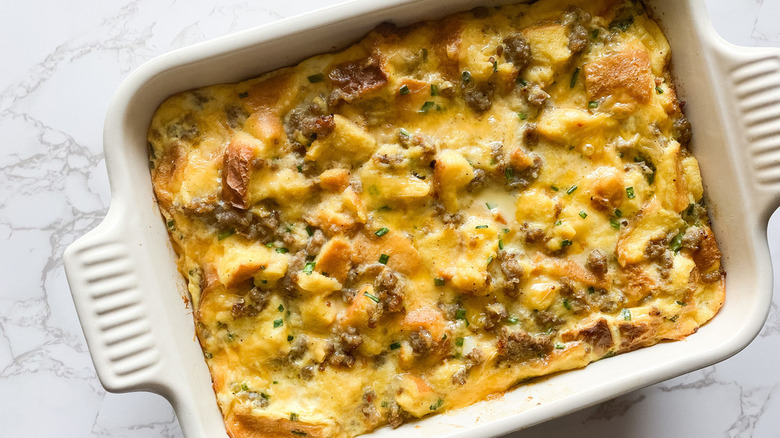 It can be complicated enough as it is if you want to make yourself a full breakfast, so why not roll it all into a single dish with this breakfast casserole recipe? Full of sausage, eggs, bread, and cheese, it's part of the recipe's author Kristen Carli's Christmas morning regimen. According to her, it's tradition to eat this with "cinnamon rolls, Bloody Marys, and plenty of coffee." Don't go thinking this is the only thing you should be putting on your breakfast table, even if it's not a holiday or special occasion.
Healthy egg casserole
Breakfast casseroles don't always have to be a baking dish that's brimming in eggs mingled with a heartstopping amount of bacon fat. Oftentimes, it can be an amazingly healthy kind of meal that can be prepped in advance, much like this healthy egg casserole recipe. Mixing bright and flavorful cherry tomatoes with spinach and feta, it's a delicious mix that's great for breakfast and lunch.
This casserole is also a great make-ahead meal because of how easy it is to reheat individual portions as you need them. This recipe is far from complicated to make as well, so feel free to get inspired and take the meal in any direction you want, especially if you can take advantage of fresh, in-season produce.
Hashbrown casserole
Once potatoes are shredded up and mixed with cheese and seasoning before being baked, they make for irresistible side dishes at breakfast time — or any time, really. This hashbrown casserole is no exception, with its delicious cheese and carby comfort. Even better, there's barely any heavy lifting involved with this version, as you can easily use pre-shredded ingredients to make it go all the faster. That makes the whole affair little more than a toss here, a stir there, and popping it into the oven until the aroma steals the show.
Instant Pot snickerdoodle French toast casserole
Much as well may love a good egg and cheese dish, breakfast casserole doesn't always need to be savory. There's no better proof of that than this French toast casserole. Even better, where many recipes for this kind of dish call for some preparation the night before, this one is exceptionally easy. Using an Instant Pot to cook this meal means that it can be made fresh the very morning that you want it. Just be sure to use brioche bread as specified, since the rich, fluffy nature of an enriched bread like brioche makes this casserole an even more satisfying side to your breakfast.
Corn casserole
Lest you think that all casserole-based side dishes are exclusive to breakfast, this corn casserole is a great place to start in on the lunch and dinner versions of this cooking method. Made sweet with creamed and kernel corn, as well as toothsome with a mixture of Greek yogurt or sour cream and corn muffin mix, this is a perfect flavorful side dish.
This casserole also takes next to no time or effort to make as you focus on whatever main dish you've got planned. This would go especially well with a whole roast chicken or some filets of fish with roasted greens for a hearty, filling meal.
Taco casserole
With their layers upon layers upon layers of incredible flavor, it's taco casseroles that help to round out the offerings on a table and bring the whole meal to a new height. Be it for taco night, a Superbowl party, or just a showstopper for a potluck, this multilayered meal of beef, tortilla, beans, cheese, and salsa with fresh cilantro and dollops of guacamole on top helps to add a little variety to a night's offerings.
Granted, you may spend a bit of extra time gathering all of the ingredients for this casserole and then assembling it for baking. However, one look at the finished product — not to mention a whiff of the wonderfully aromatic casserole — will le you know that it was all worth the effort.
Enchilada casserole
On their own, enchiladas technically aren't proper casseroles. However, a simple rearrangement of the ingredients can turn them into one pretty easily. That's pretty clear once you take a look at this enchilada casserole recipe that's not only delicious, but easy and affordable to make, too. Rather than rolling up individual enchiladas, simply take their innards and spread them out in the baking dish, following by layers of tortilla until it's time to layer on the cheese and bake.
Tater tot casserole
Once it's topped with cheese, bacon bits, and freshly chopped scallion, this tater tot casserole is about as addictive as it can get. It's not as simple as laying a bunch of tater tots in an aesthetically pleasing manner in a baking dish, though it's all in the service of great flavor. Using ingredients like cheddar cheese soup, ground beef, and bacon bits helps to make this a surprisingly luxuriant thing to eat for lunch or dinner.
American goulash
"I've spent some time in Hungary, and Hungarian goulash is an entirely different dish than American goulash," says recipe developer Sher Castellano. A little bit more of a thick stew with ground beef, tomato, and bell peppers with a base layer of macaroni, this great goulash recipe is one of those casseroles that may remind you of chili, but it's the mix-and-bake method that comes at the very end that makes this a solid side casserole.
Baked mac and cheese
True baked mac and cheese fans know that the dish is a definite side, something that's a part of all the fixings on a good table weighed down with dinner. That doesn't make it any less delicious, however. First, in this baked mac and cheese recipe, you'll cook the pasta, then assemble the luxuriant cheese sauce. You'll then start to layer the dish with panko and parmesan shavings at the very end, adding a delightful crunch and some serious umami flavor. The end result will make you a hero of the dinner table.
Easy spaghetti and meatballs casserole
A classic meal like spaghetti and meatballs is generally one of those things that can easily stand alone when it comes to dinner, but fashioning it into a casserole like this easy spaghetti and meatballs casserole turns it into a photogenic dish that can be easily passed around the table as a complementary side to another meal. Ready in roughly 45 minutes, the meatballs are made from scratch with a blend of beef and Italian sausage, while the al dente spaghetti's a no-brainer.
Cabbage and sausage casserole
Italian casseroles tend to get all the love, but what about Eastern European alternatives like this one with cabbage and sausage? A mix of butter, cabbage, and sausage is all it takes — plus a low and slow cooking time of two and a half hours — to make this incredibly simple and tasty dish that works wonderfully as a side to another main meal. Reminiscent of cabbage rolls, consider this to be a deconstructed version you won't be able to get enough of.
Classic shepherd's pie
If you want a standard side dish of a casserole that takes little to no effort to put together, all while ensuring the meal will be a filling one, this classic shepherd's pie recipe is the way to go. A layered dish of ground meat on the bottom that's topped with veggies — usually diced carrots with corn and peas, if you're feeling traditional —and finished with a layer of mashed potatoes, the whole thing resembles a complete dinner in one slice, but it can easily be part of a greater feast.
20-minute lasagna
Some folks will tell you that lasagna can't be properly made without turning your kitchen into a steady-as-she-goes assembly line. That may be true, but we can't always spare the time necessary for that when hunger's hitting its hardest. That helps to make a 20-minute version like this easy lasagna recipe so appealing. Here, you get all the beloved parts of the classic Italian dish without having to spend hours prepping each composite part. Granted, this recipe uses a lot of prepared ingredients, but there's no shame in that when you need a great side to dinner as soon as possible.
Baked ziti
You didn't think we were going to round up our favorite casseroles for side dishes without including at least one recipe for baked ziti, did you? Better yet, while you could be making a marinara from scratch that would take up most of your day — a great marinara really makes the ziti, after all — this version is a little more merciful. It offers solutions like either a quick 15-minute version or a slow cooker option that you can mix and let cook while you get the main course going.
Moussaka
This moussaka recipe is bound to impress everyone at the table, even though it may be debuting as a side dish. That's probably because it slices of eggplant are tossed in an herb oil before being baked, rich ground lamb is fried with spices and whole tomatoes, and a thick cheesy layer made of Greek yogurt, ricotta, feta, and eggs is placed on top. It's flavor central, basically. Combined, it'll make for one of the most memorable casseroles you'll have ever made. Don't skimp on the spices when cooking the lamb to achieve absolute aromatic nirvana.
Broccoli casserole
Why do broccoli and cheese taste so good together? It's just one of those simple mysteries of the universe, we guess. Rather than puzzle over it, why not study it through this recipe for this broccoli casserole recipe? Don't think this is going to be a boring, soupy side, either. Rather than mix broccoli with cheddar cheese and call it day, follow every one of this recipe's steps and you'll be rewarded with a tasty and textured creation that's sure to please everyone as a side dish.
Healthy green bean casserole
It's funny how often casseroles come down to a base ingredient getting thrown into a baking dish and, once it's smothered in cheese and cooked, is considered complete. They obviously don't need to be prepared that way, especially if you're trying to be more mindful about what you eat. It's healthy casseroles much like this green bean casserole recipe that turn those notions on their head. With a creamy handmade miso-mushroom sauce that gives a wonderfully earthy and savory taste that's like a masterclass in umami flavor, you'll understand very soon indeed. Enjoy all the deliciousness without the excess calories in this lovely, healthy accompaniment to an entree.
Slow cooker green bean casserole
Traditional casseroles that pop up around Thanksgiving tend to include tasty ones like the holiday stalwart of green bean casserole. Often, this casserole means that green beans are tossed in a thick soup or bechamel before getting topped with crispy fried onions. Who says it needs to be Turkey Day to eat it, though? A side dish like this slow cooker green bean casserole can make a great accompaniment to all kinds of main dishes on the table, be they carnivorous or vegetarian.
Healthy broccoli rice casserole
With its low fat and low carbohydrate counts, this healthy broccoli rice casserole is perfect for quite a few healthy meals, especially if you're sticking to the keto diet. That's saying something when most broccoli casseroles tend to be dairy-on-dairy affairs that involve cream sauces topped with cheese. With low-fat yogurt or sour cream, accompanied by some similarly low-fat mozzarella, you'll hardly be able to tell the difference here. We're pretty positive it'll become a regular fixture in your future dinner plans.
Tasty zucchini casserole
This zucchini casserole knocks it out of the park with its mix of eggs, zucchini, and onions that gets topped with a blend of cheese and breadcrumbs that crisps up nicely while in the oven. The result is a textural and tasty blend of flavor that needs little more than seasoning to taste, although you may want to serve this side with a tomato-rich marinara sauce for a truly great mealtime experience.
Hamburger casserole
Never mind those boxes of Hamburger Helper at the grocery store. That stuff might make for an all-American staple of various childhoods, but consider instead this delicious recipe for hamburger casserole that turns the whole concept on its head. In fact, its whole composition, smell, and taste will have you convinced you've just created not a convincing copycat, but an improvement on the original. Dress this up with a touch of ketchup and mustard and you'll swear you just took a bite of a cheeseburger.
Tuna casserole
There's no such thing as a bad tuna casserole, only tuna casseroles that need a little more love. Making this tuna casserole recipe ought to put you on the path to casserole perfection, as the ingredients that it uses really make the dish. These include gg noodles, panko breadcrumbs, and cream of mushroom soup. It sounds simple, and in many ways, it is! That's the thing about tuna casseroles: when they're made well, you can tell with a single taste. Start here and you won't be disappointed.
Sweet potato casserole
We couldn't possibly end a round-up of casserole sides without including something that leans a little more on the sweet side. What better than this sweet potato casserole to fill that niche? If you're not familiar, the idea of this may suggest 'dessert' to you, but that may be more influenced by sweet potato pie. This more complicated side, on the other hand, is the kind of thing you'll want to put on the table along with any respectable entree.