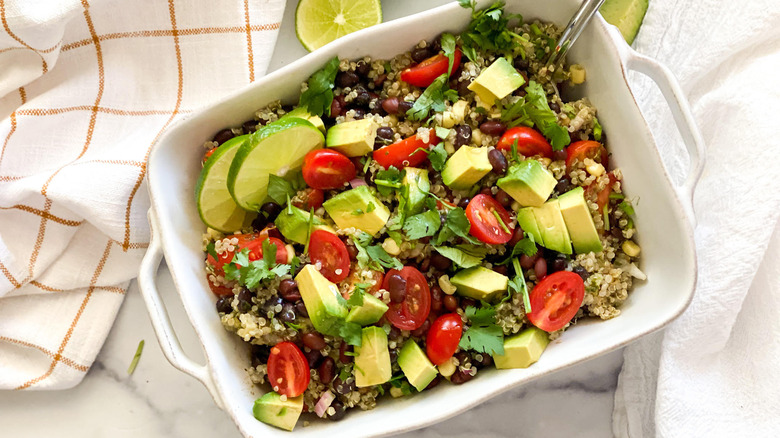 If you're looking for a salad to whip up that's hearty, flavorful, and extremely easy to assemble, this 15-minute Mexican quinoa salad is calling your name. (Yes, it literally only takes 15 minutes to prepare!) We acquired this recipe from wellness coach and recipe developer Miriam Hahn of YouCare-SelfCare. She says this salad really shines because of the spectacular citrus dressing. "I was initially inspired by a similar lime dressing used for a taco salad," Hahn explains. "I loved the flavor, so [I] created a quinoa version with similar ingredients." It's hard to argue with a salad inspired by taco-anything, are we right?
While you can enjoy this dish any time of year, Hahn points out that "it is a great summer salad when tomatoes are beautiful and people generally eat lighter food!" This is a great recipe to prepare for lunch or dinner. It's chock-full of healthy ingredients, and not only will the presentation look super appetizing when plated, but anyone you serve it to will completely love it. This is also an amazing choice to prepare for a party or buffet when thinking of what to serve for a larger crew.
Continue reading, and we'll give you a detailed play-by-play on how to make this salad, which you might also consider a grain bowl, depending on who you're talking to. You could definitely sub mixed greens for the quinoa if you're looking for a lower-carb version of this same meal.
Gather the ingredients to prepare this 15-minute Mexican quinoa salad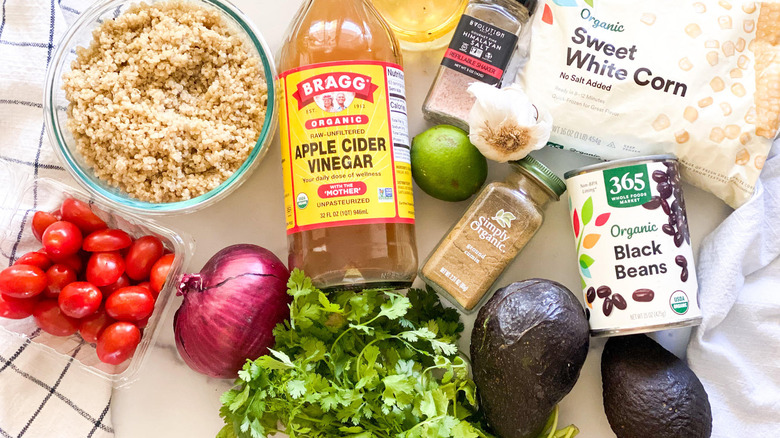 There aren't a lot of ingredients required for this quick, easy recipe, and hopefully you have some in your garden and pantry. There's a reason why it just takes 15 minutes to prepare!
You'll need to gather together 1 ½ cups of cilantro (divided), the zest and the juice of one lime, a tablespoon of apple cider vinegar, 2 tablespoons of olive oil, garlic, salt, cumin, cooked quinoa, black beans (drained), 1 cup of corn, one medium (or two small) avocado(s), 2 cups of grape tomatoes (halved), and ¼ of a red onion (chopped). The recipe also suggests an optional garnish of lime, cilantro, and avocado, in addition to the amounts required for the recipe. The sooner you have everything, you can get started putting this delicious meal together.
Make the dressing
The first step is to make the zesty lime vinaigrette dressing for the Mexican Quinoa Salad. Start by adding 1 cup of cilantro, the lime juice and zest, apple cider vinegar, olive oil, garlic, salt, and cumin to a small food processor or a high-speed blender. You're going to blend all of these ingredients together until you have a smooth dressing, and then set it aside. You will be using it shortly.
According to Hahn, "Since the dressing involves cilantro that needs to be blended, you do need a food processor." No food processor or blender? That's not a deal breaker for this recipe. "If you didn't have one, you could omit the cilantro in the dressing, and just whisk together the olive oil, vinegar, lime zest, lime juice, garlic, salt, and cumin. That would still be delicious." You can always just use some of the cilantro for your garnish, as it will add some fun color and a professional touch.
Put the quinoa, black beans, corn, avocado, tomatoes, cilantro, and onion in a bowl
To assemble the salad part of this meal, place the quinoa, black beans, corn, avocado, tomatoes, the remaining cilantro, and the red onion in a large bowl. You'll mix them all together in the next step.
In case you're wondering, while the quinoa does need to be cooked in advance of making this salad, there is no additional prep work for the beans. "The black beans can be used straight from the can after they are rinsed and drained. They don't need any additional cook time since they come already cooked in the can," Hahn instructs.
All of the ingredients look so Pinterest-worthy, even before the dish is complete! It's definitely a winner for the summer season as it's so fresh and light.
Combine all the ingredients, then toss everything with the zesty lime dressing
The final step in this 15-minute Mexican quinoa salad recipe is to combine all of the ingredients in the bowl until they're well-mixed, then toss everything together with the lime vinaigrette so the salad is coated nicely with the dressing.
Keep in mind that this salad is best enjoyed immediately. Per Hahn, "This is not a good make-ahead or leftover salad, because of the tomatoes and avocado. Best to gobble it up right after making it!" It's true, avocado can get brown and tomatoes can get mushy real quick.
Want more protein in your meal? Hahn ensures us, "You can definitely add chicken or meat to this salad if you want to bulk it up!" So think about your favorite protein, and be your creative best. With or without any additions, this is sure to be a family favorite.
1 ½ cups cilantro, divided
juice and zest of 1 lime
1 tablespoon apple cider vinegar
2 tablespoons olive oil
1 clove garlic, crushed
½ teaspoon salt
½ teaspoon cumin
3 cups cooked quinoa
1 can black beans, drained and rinsed
1 cup corn (thawed if using frozen)
1 large avocado or 2 small avocados, chopped
2 cups grape tomatoes, halved
¼ red onion, chopped
avocado, for garnish
lime, for garnish
cilantro, for garnish
Add 1 cup of cilantro, the lime juice and zest, apple cider vinegar, olive oil, crushed garlic, salt, and cumin to a small food processor or blender. Blend until smooth, and then set aside.
In a large bowl, add the quinoa, black beans, corn, avocado, tomatoes, the rest of the cilantro, and chopped red onion.
Top with dressing, and toss. Garnish with more chopped avocado, cilantro, and lime, if desired.