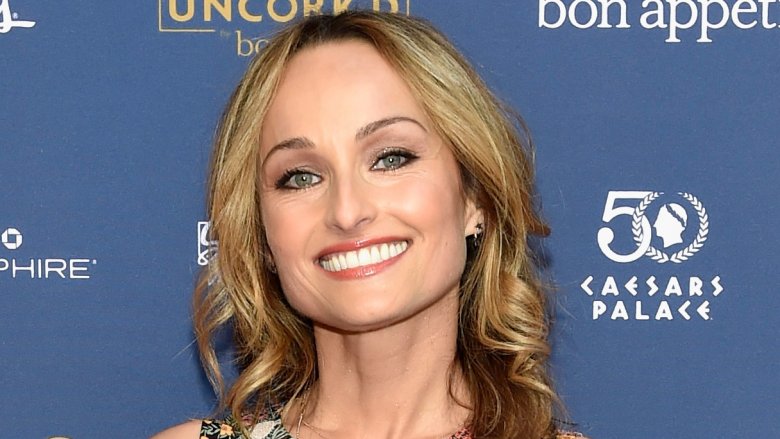 Whether you love her dearly or love to hate her — or maybe a mixture of both — chances are you know who Giada De Laurentiis is.
Giada De Laurentiis is one of Food Network's best-loved stars. She rose to fame in 2003, when her first TV show, Everyday Italian, premiered on Food Network. People quickly fell for her approachable, friendly demeanor and her simple, yet flavorful Italian dishes. It wasn't long, though, before a bit of controversy started to surround the celebrity chef.
While De Laurentiis has been in the limelight for a number of years, there are still some things that even her most devoted fans don't know about the chef with the megawatt smile. From her early years before the fame, to her behind-the-scenes successes, here are some things you might not know about Giada De Laurentiis.
Giada De Laurentiis doesn't like when fans touch her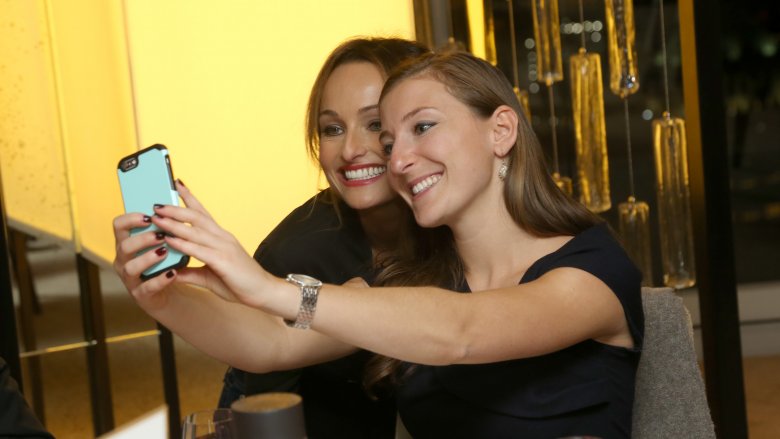 While, understandably, fans can sometimes get very excited when they meet Giada De Laurentiis in person, she'd really prefer if they didn't touch her. She understands why people get excited to meet her, but, as the New York Daily News reported, De Laurentiis isn't very comfortable being touched by strangers (and that's understandable). Regardless of how well you feel like you know her from years of watching her on TV and cooking from her cookbooks, if you happen to see her on the street, keep your hands to yourself.
Nicole Kidman spit out food made by Giada De Laurentiis
During an already-iconic segment on The Ellen Show, Giada De Laurentiis appeared, armed with several of her most-loved recipes and ready to teach Ellen DeGeneres and Nicole Kidman how to cook them. According to Harper's Bazaar, things got catty pretty quickly. First De Laurentiis asked Kidman, "Have you ever made meatballs or anything?" when her risotto balls turned out less than perfect.
Later, after many eye rolls and quips back and forth, it was time to taste De Laurentiis' pre-made focaccia. Kidman called the food "tough" — and then spit it out. Of course, being Nicole Kidman, she did so quite gracefully, but it made for an awkward TV moment, for sure.
Matt Lauer spit out food made by Giada De Laurentiis, too
The first time Giada De Laurentiis appeared live on The Today Show, Matt Lauer spit out her food (are we seeing a pattern here?). According to Food Network Canada, during her cooking segment, then-host Matt Lauer took a bit of her seared chicken. The chicken was only for appearances and not meant to be eaten because it wasn't cooked through. He ran off the set in order to spit the bite out into the trash. De Laurentiis was, understandably, embarrassed, but since then she's been back to The Today Show many times, even becoming a correspondent for NBC's Today covering food, travel, and lifestyle.
Giada De Laurentiis is not immune to #fails
Just because she's a celebrity chef and makes everything look effortless doesn't mean she hasn't had her share of cooking disasters. In an interview with Bravo's The Feast, Giada De Laurentiis proved she's just like the rest of us when it comes to holiday fails. While working one of her first catering jobs out of school — cooking Thanksgiving dinner in a client's home — she got tripped up (literally!) by the family pet. "The thing is, they had a big dog, and I wasn't used to cooking around dogs. I tripped over the dog once I put the turkey on the platter. Once the turkey hit the floor, that dog got to it before I did. So, there was no longer a turkey for Thanksgiving, but lots of sides," she explained. Of course, being that she is Giada De Laurentiis, she was able to quickly whip up some pasta to take the place of the main course.
Giada De Laurentiis' parents were in the film biz
Giada De Laurentiis has worked in TV for a number of years, but the family's entertainment business connections didn't start with her. Her maternal grandfather, Dino De Laurentiis, was a famous movie producer. Additionally, her mother, Veronica De Laurentiis, was an Italian actress and her father, Alex De Benedetti, was an actor and producer who knew her grandfather well, according to The Daily Meal. After her parents got divorced, she took her mother's last name, and moved with her to California.
Giada De Laurentiis was bullied
Though she's a California resident now (and has been for a long time), Giada De Laurentiis wasn't born in California. In fact, she wasn't even born in the United States. In a 2011 interview with Redbook, De Laurentiis recounted how she was born in Italy and arrived in the U.S. in the 1970s, unable to speak any English. She was mocked at school and, understandably, never forgot it.
Giada De Laurentiis' childhood nickname was brutal
Aside from being bullied for her command of the English language, she was also saddled with an awful nickname as a child. Giada De Laurentiis told The Chew hosts that she was called Jabba the Hutt — not because of her looks, but because Star Wars had just come out, and "Jabba" and "Giada" sound too similar for kids to resist. Who's laughing now, kids?
Chocolate cake would be Giada De Laurentiis' last meal
The more we learn, the more we see that Giada De Laurentiis is just like us, especially when it comes to her sweet tooth. She revealed to Health magazine that her last meal would be a seven-layer chocolate cake. "I would eat all of the frosting on the outside, then I would peel off the cake and eat the layers in between," De Laurentiis says. Sounds like she's already got it all planned out.
Giada De Laurentiis' go-to cleanse sounds delicious
Now that we've established Giada De Laurentiis as a chocolate lover, it shouldn't come as much of a surprise that her go-to cleanse involves not juice, but pasta and, you got it — chocolate. Delish reports that De Laurentiis' whole foods cleanse (if it can even be called that) includes things like whole wheat noodles, chocolate mousse(!), and healthy fats, while abstaining from refined sugars, alcohol, and dairy. This might be one "cleanse" we could all stick to.
Giada De Laurentiis wanted to be a food stylist
Perhaps surprisingly, given her seeming ubiquity on Food Network for the past several years or so, Giada De Laurentiis wasn't actually looking to get into show business. The chef, author, and TV personality told Food & Wine that she was actually helping her friend who was a food stylist do a shoot for Food & Wine when they asked to do a story on her famous family. After reading that article, a Food Network executive approached her about doing a cooking show.
Giada De Laurentiis cooked for royalty
When Prince William and his wife, Catherine, the Duchess of Cambridge, visited California as part of their 2011 trip to the United States, Kate attended — and Prince William played — in a charity polo match — and Giada De Laurentiis cooked at the event. In a 2017 interview with PopSugar, De Laurentiis said it was one of the highlights of her career, but when you're Giada De Laurentiis, it must be hard to choose which professional accomplishments are the best.
Giada De Laurentiis/ first restaurant was a win for women
Giada De Laurentiis didn't have her own restaurant until she opened Giada in The Cromwell on the Las Vegas Strip in 2014. As if the fact that it was her first restaurant wasn't exciting enough, Elle reported that she was the first woman to have her own restaurant on the Las Vegas Strip. According to USA Today, De Laurentiis has since announced that her second restaurant, Pronto by Giada, also in Las Vegas at Caesar's Palace, will open in early 2018.
Giada De Laurentiis really loves lemon
Of all the choices on the fairly extensive menu at her eponymous restaurant, Giada, De Laurentiis told The Daily Meal that her two favorite items are the lemon spaghetti and lemon ricotta cookies. In fact, lemon makes multiple appearances on the menu, popping up in the grilled cheese sandwiches, breakfast potatoes, soups, and even the ribeye.
No matter how you feel about citrus, you have to admit those cookies look incredible.
Giada De Laurentiis is sick of the truffle trend
If you're one of those people who think truffles completely overpower whatever dish they're in, you might want to hit up Giada De Laurentiis' restaurant. When asked what food trend she's tired of, she told Bravo's The Feast, "Truffles in everything: truffle oil, truffle butter. Truffles are something that should only be used when in-season. They are a specific flavor, and they should be used delicately. I don't think they should be added to everything under the sun. It doesn't make you more of a gourmet cook to use truffle in everything." Amen, Giada.
Giada De Laurentiis' favorite pizza toppings are very Giada
Nobody thought Giada De Laurentiis was going to say that her favorite pizza toppings were plain ol' pepperoni and sausage, right? While answering a lightning round of questions for Steve Harvey, De Laurentiis revealed that her top three toppings are pancetta, prosciutto, and arugula. And yes, of course she said them in that trademark Italian accent.
Giada De Laurentiis has her own pet peeves when it comes to pronunciation
Giada De Laurentiis takes a lot of flack for the way she says words like "spaghetti" and "pancetta" — she's infamous for what some consider to be the over-pronunciation of Italian words. But it turns out that it irks her just as much when we mispronounce those same words, as she notes in this video. Looks like she could have rattled off a pretty long list if she'd wanted to.
She named her daughter after herself
In March of 2008, Giada De Laurentiis gave birth to daughter Jade, whose dad is De Laurentiis's ex-husband, Todd Thompson. If you've watched her on TV in the past, you've likely heard references to Jade or seen her on Giada at Home, but what you might not know is that Jade and Giada share a name — sort of. SheKnows reported that "giada" is the Italian word meaning "jade," so both of their names mean the same thing.
Giada De Laurentiis pays a hefty amount in child support
After her no-prenuptial-agreement-divorce from husband Todd Thompson, Giada De Laurentiis is said to fork over a whopping $9000 a month in child support. But before you start feeling too bad for her, consider that her net worth is estimated at $20 million…
Giada De Laurentiis lost her brother to melanoma
In 2003, Giada De Laurentiis' younger brother, Dino, died of melanoma (skin cancer) at just 31 years old. She has been vocal about her close relationship with her brother, and told ET, "He was the person I turned to for everything. When something great happened in my life, when something bad happened — I would talk to him 2-3 times per day." To honor Dino, De Laurentiis recorded a PSA for Stand Up To Cancer, and advises that everyone get their skin checked regularly by a dermatologist. She warns, "My brother was in his 20s. The mole was in the center of his back, and it's not like he's going to turn around and look at his back in the mirror. And he didn't really see it for a long time. And I think that was one of the problems. Otherwise, we would have caught it and he would still be alive today."
Giada De Laurentiis has won an Emmy
Not only has Giada De Laurentiis appeared on multiple TV shows, written several cookbooks, and opened her very own restaurant, but she's also won awards. PopSugar reported that she won an Emmy for outstanding lifestyle host for Everyday Italian in 2008, and she's been nominated three other times.
Giada De Laurentiis voiced a cartoon
If you have Handy Manny fans in your household, you might already know this, but Giada De Laurentiis voiced a character named Paulette on the popular kids' show for three episodes in 2009, according to TV Guide. She was just a guest-star, but it was a different professional challenge for the chef, who's used to being in front of the camera, not voicing characters behind it.
Giada De Laurentiis has a series of children's books
In addition to her TV shows and cookbooks, Giada De Laurentiis also wrote a series of children's books called Recipe for Adventure, according to Food Network Canada. The books are set in cities around the world and focus on young Zia's adventures in each foodie city. There are eight different books covering cities ranging from Philadelphia, Miami, and New Orleans to Naples, Hong Kong, and Rio de Janeiro.
Giada De Laurentiis attended Le Cordon Bleu in Paris
It might not be a surprise to find out that Giada De Laurentiis attended culinary school. She is a chef, after all. But the school she chose to attend might be a bit more surprising. De Laurentiis attended culinary school at Le Cordon Bleu in Paris, as The Daily Meal reported. That's the same school that Julia Child attended decades earlier.