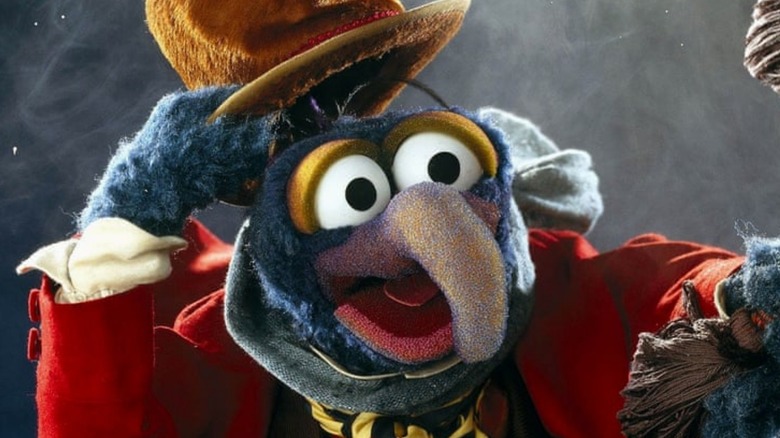 Every viewer's definition of what makes a great "holiday classic" is different. Some film fans prefer their holiday fare to be earnest and heartfelt, while others enjoy seeing a darker take on the winter season expressed in thrillers, subversive comedies, and horror films. A great Christmas movie does more than just take place during the final days of December; it should comment on the holiday itself and tie the celebrations into the storyline. Some Christmas movies are worth revisiting throughout the year, while others necessitate a viewing on the day itself.
While some Christmas films have been popular holiday viewings since the Golden Age of Hollywood, new classics emerge every year. Streaming services continue to churn out Christmas films; Netflix's many Christmas movies include the groundbreaking "Klaus" and "The Christmas Chronicles" franchise. In addition, many of the most beloved holiday favorites, including "Rudolph the Red-Nosed Reindeer," the 2D-animated "How the Grinch Stole Christmas," and "A Charlie Brown Christmas" are actually TV specials — this list only considers theatrically released films.
While they're bound by their connection to the holiday, the Christmas movie label encapsulates many genres and pleases a variety of different audiences. Here are the 14 greatest Christmas films of all-time, ranked.
14. The Man Who Invented Christmas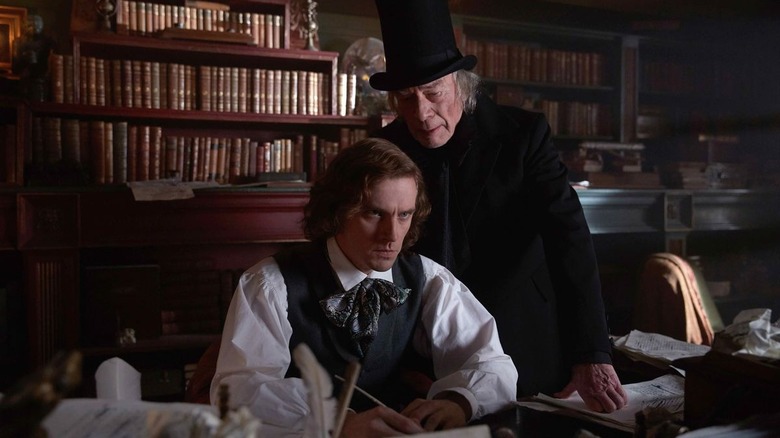 "The Man Who Invented Christmas" debuted only recently, but it's already announced itself as a future holiday favorite. There are many adaptations of "A Christmas Carol," but "The Man Who Invented Christmas" explores the origin of the beloved novel through the "real" characters and events that inspired Charles Dickens (Dan Stevens). Stevens is, as always, very charismatic, and perfectly captures the idiosyncratic nature of a talented, but tortured, writer.
Dickens is in a state of distress, as in the wake of "Oliver Twist," he's yet to write another hit. London's holiday festivities only dampen his mood, but after a series of familiar events, Dickens begins to piece together the narrative of "A Christmas Story." The character Ebenezer Scrooge (Christopher Plummer) appears in Dickens' mind and guides him throughout the writing process, while he learns to reconnect with his estranged father John (Jonathan Pryce). Dickens' own personal family reconciliations help retain the light holiday tone.
13. Home Alone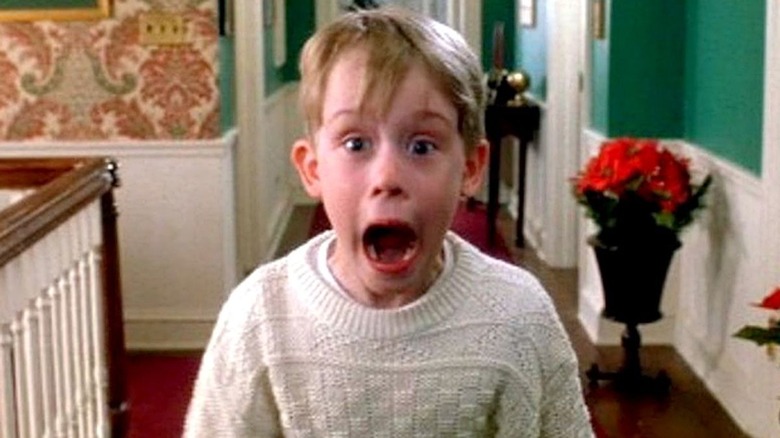 "Home Alone" is one of the most rewatchable Christmas movies — it may be known primarily for its slapstick gags, but John Hughes' clever screenplay actually has a lot of heart. The film delivered a breakout role for Macaulay Culkin, who delivers one of the best child performances of all time in a surprisingly unique film. You'll laugh at the comic pratfalls, and you'll tear up as John Williams' "Somewhere in My Memory" plays.
Eight-year-old Kevin McCallister (Culkin) is constantly scolded by his parents for his mischievous behavior, only to be accidentally left behind when his family embarks on their annual Christmas vacation. Kevin revels in his newfound freedom as he lives on his own, and when the wacky bank robbers Harry (Joe Pesci) and Marv (Daniel Stern) attempt to ransack the house, Kevin combats them by constructing dangerous inventions and traps. A heartfelt encounter with a reclusive old man named Marley (Robert Blossom) reminds the audience of the movie's Christmas themes, as Kevin inspires him to reconnect with his estranged son.
12. Love Actually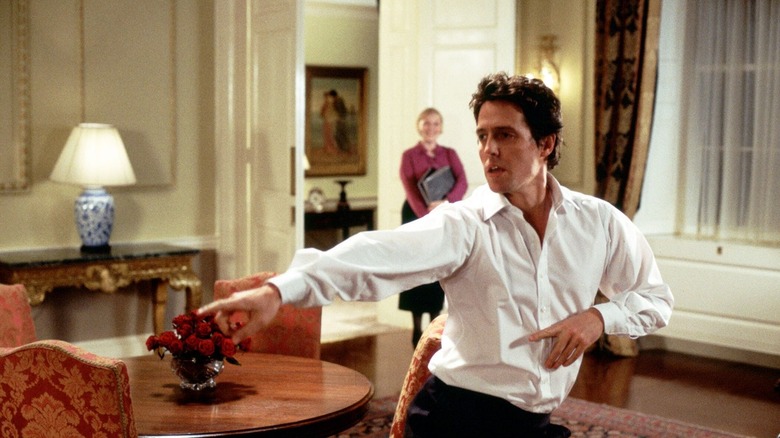 Romantic comedies set during the holidays can often be either unbearably sentimental or coldly cynical, yet screenwriter Richard Curtis finds the right balance between heart, humor, and playful absurdity with his ensemble comedy "Love Actually," although you can make a compelling argument that it hasn't aged particularly well. Still, while 136 minutes is a long running time for a rom-com, "Love Actually" remains engaging with its creative techniques for pulling together a variety of individual stories.
In "Love Actually," each set of characters comes to a realization that saves their holiday season. Eccentric rock star Milly Mack (Bill Nighy) realizes that his best friend Joe (Gregor Fisher) is a better companion than any party crowd. Similarly, Mark (Andrew Lincoln) learns to accept the love he once felt for his best friend Peter's (Chiwetel Ejiofer) bride, Juliet (Kiera Knightley). A depressed writer (Colin Firth) finds unexpected love with his Portuguese housekeeper (Lúcia Moniz), while the marriage between advertising director Harry (Alan Rickman) and Karen (Emma Thompson) ends in heartbreak.
Love appears in unexpected places; the prime minister (Hugh Grant) falls for his secretary Natalie (Martine McCutcheon), grieving father Daniel (Liam Neeson) helps his young son Sam (Thomas Sangster) impress his crush Joanna (Olivia Olson), and body doubles John (Martin Freeman) and Judy (Joanna Page) embark on a surprisingly PG relationship given the intimate sex scenes they film professionally.
11. The Nightmare Before Christmas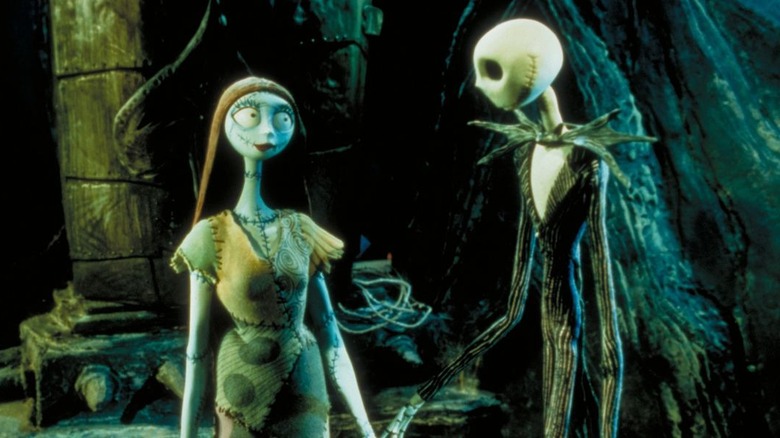 Some Christmas films are so endearing that they can be enjoyed throughout the year; "The Nightmare Before Christmas" is a story worth revisiting during both the Halloween and Christmas seasons. It's among the most beautifully crafted stop-motion animated films ever made, and its dark fantasy elements contrast nicely with an animation style reminiscent of holiday classics like "Rudolph the Red-Nosed Reindeer" and "Santa Claus Is Coming to Town." The story is remarkably dark for a children's film, and while the premise (and some of the aesthetic) came from Tim Burton, director Henry Sellick deserves credit for the film's unique tone.
The film follows the residents of "Halloween Town," a city filled with vampires, ghouls, and monsters, including the "Pumpkin King" himself, Jack Skellington (Chris Sarandon and Danny Elfman). Jack has grown dissatisfied with the spooky holiday and soon finds himself in "Christmas Town." The dark creature is fascinated by the joyous season's greetings, and tries to recapture the Christmas spirit at home as he falls in love with the undead rag doll Sally (Catherine O'Hara).
10. Batman Returns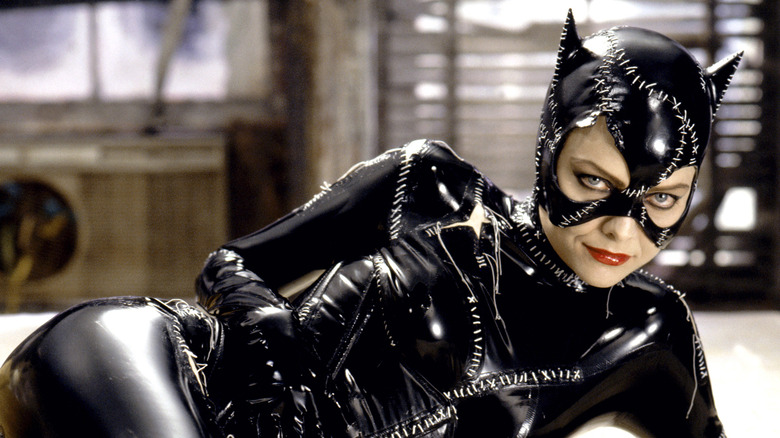 Tim Burton often hints at Christmas themes in his films — see, for example, "Edward Scissorhands" — but his 1989 comic book adaptation of "Batman" had a distinct Halloween vibe, with its dark gothic atmosphere and haunted house elements. However, the 1992 sequel "Batman Returns" is set entirely during the Christmas season, and explores the ways in which the holiday forces each of its isolated characters to break out of their shells.
Bruce Wayne (Michael Keaton) has always been a solemn figure, and his responsibilities as Batman don't rest during Christmas, as he's forced to contend with a trio of villains. A formerly mousy secretary named Selina Kyle (Michelle Pfeiffer) has transformed into the latex-clad femme fatale Catwoman, and the abandoned and deformed orphan Oswald Cobblepot (Danny DeVito) has risen through the ranks of the Gotham underworld to become the supervillain known the Penguin. Perhaps crueler than them both is the cynical politician Max Shreck (Christopher Walken). "Batman Returns" is one of the darkest superhero movies ever made, and the Christmas noir elements make the story even chillier.
9. National Lampoon's Christmas Vacation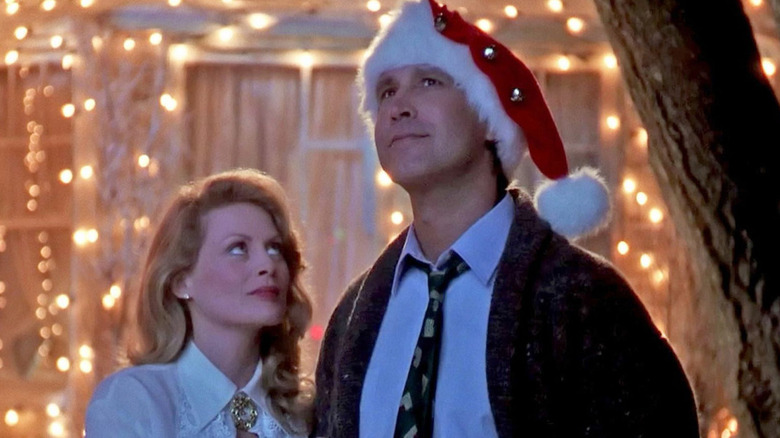 1983's "National Lampoon's Vacation" is one of the quintessential comedies of its era; the "family" adventure wasn't really family-friendly, but amidst the raunchy misadventures was an accurate depiction of familial bonding as the Griswold clan's summer plans go awry. The 1985 sequel "National Lampoon's European Vacation" unfortunately lost the original's charm, focusing too heavily on gags and not enough on relatable moments. A Christmas setting ended up being the perfect way for the series to redeem itself; "National Lampoon's Christmas Vacation" isn't only a holiday classic, but one of the greatest comedy sequels ever made.
Clark Griswold (Chevy Chase) is eager to receive a holiday bonus in order to surprise his wife Ellen (Beverly D'Angelo) and their children Audrey (Juliette Lewis) and Rusty (Johnny Galecki) with a swimming pool. Clark is also excited about decorating and planning for the holiday season, but his mood plummets when the extended Griswold family comes to stay with them for weeks on end. Cousin Eddie (Randy Quaid) proves to be a particularly obnoxious presence, and causes further chaos when he kidnaps Clark's boss to secure that aforementioned bonus.
8. Gremlins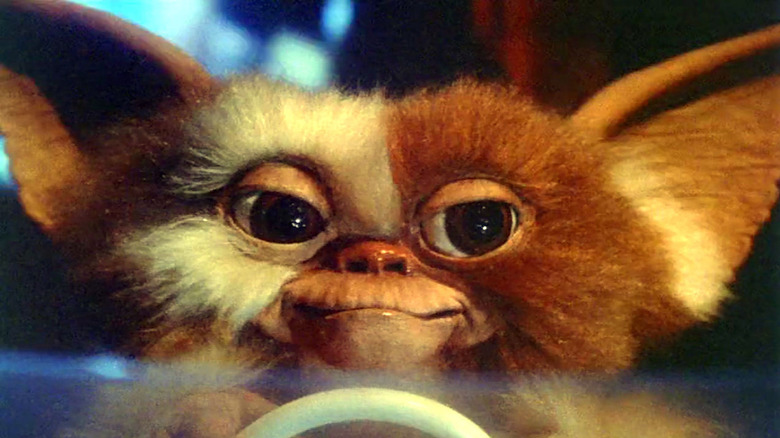 For anyone who's ever bought or received a bad Christmas present, "Gremlins" is the ultimate holiday nightmare. Joe Dante's monster movie classic features some of the most incredible puppet and marionette work ever committed to screen, and Dante is a master at hiding visual gags in his movies that some viewers definitely won't catch on their first viewings. However, the Christmas setting helps ground the madcap narrative, and gives "Gremlins" a heartfelt emotional touch that's allowed it to stand the test of time.
Billy Peltzer (Zach Galligan) receives a mysterious Christmas present from his father Randall (Hoyt Axton): a small, furry creature named Gizmo. Billy is told to follow a series of specific rules to care for his new pet, but he accidentally exposes Gizmo to water and feeds him after midnight. More gremlins are spawned, and they spread havoc across the small town of Kingston Falls during the Christmas season. Along the way, Billy's crush Kate Beringer (Phoebe Cates) tells a hilariously dark Christmas story about her father's accidental death when he tried to sneak down their chimney as Santa Claus.
7. Elf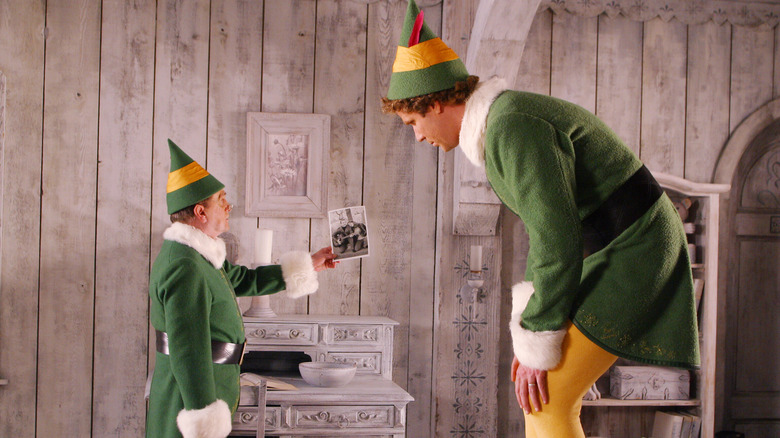 There's always a danger when major stars try to tone down their R-rated humor to make a family-friendly holiday comedy; look no further than Ben Affleck in "Saving Christmas" or Vince Vaughn in "Fred Claus" to see the disastrous results. However, in "Elf," Will Ferrell manages to sideline these frequent issues and create a beloved Christmas character who appeals to audiences of all ages. The story is genuinely heartfelt, and putting Ferrell under PG constraints results in one of his most earnest and hilarious performances ever.
Buddy (Ferrell) was a human orphan raised as an elf in the North Pole by one of Santa's oldest employees, Papa (Bob Newhart). When he learns of his real heritage, Buddy decides to travel to New York City to meet his real father, Walter Hobbs (James Caan). Hobbs is a cynical book publisher who is unaware of Buddy's existence, and he's forced to bring his long-lost son home and introduce him to his wife Emily (Mary Steenburgen) and their younger son, Michael (Daniel Tay). The fish-out-of-water comedy is uproarious. Buddy must adjust to a world that doesn't revolve around Christmas, and yet still needs to save the holiday for those that need the Christmas cheer.
6. The Muppets Christmas Carol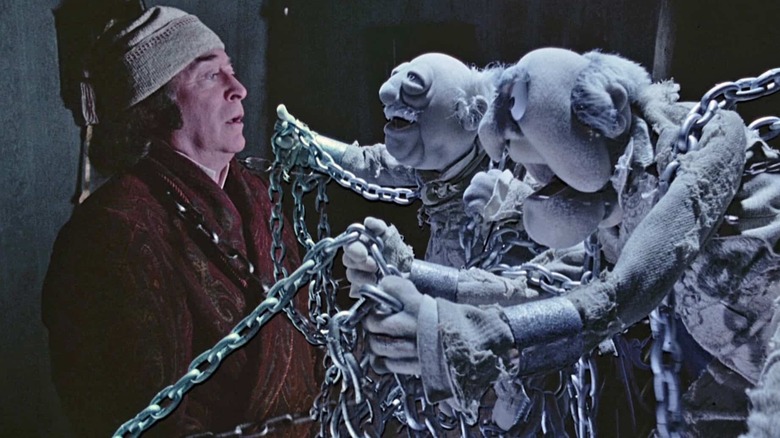 Charles Dickens' classic novel "A Christmas Carol" has been adapted countless times for films and television specials, but, unsurprisingly, the Muppets did it the best. "The Muppets Christmas Carol" is remarkable in that it perfectly casts the beloved characters as Dickens' characters, and is surprisingly faithful to the original source material. Directed by original Muppet creator Jim Henson's son Brian, "The Muppets Christmas Carol" also boasts incredible production design that brings its depiction of 19th century London to vivid life.
What makes the film work is the genuinely powerful performance by the great Michael Caine as the signature grouch Ebenezer Scrooge. Caine doesn't see the material as beneath him, and he delivers what is perhaps the single greatest performance by a human in a Muppet film. Scrooge's journey exploring his tragic past, painful reality, and potentially dark future are humorous thanks to the Muppets' sense of comedy, but his redemption is treated seriously. The framing device of Gonzo explaining the narrative under the guise of Charles Dickens is also hilarious, and improves the film's pacing.
5. Eyes Wide Shut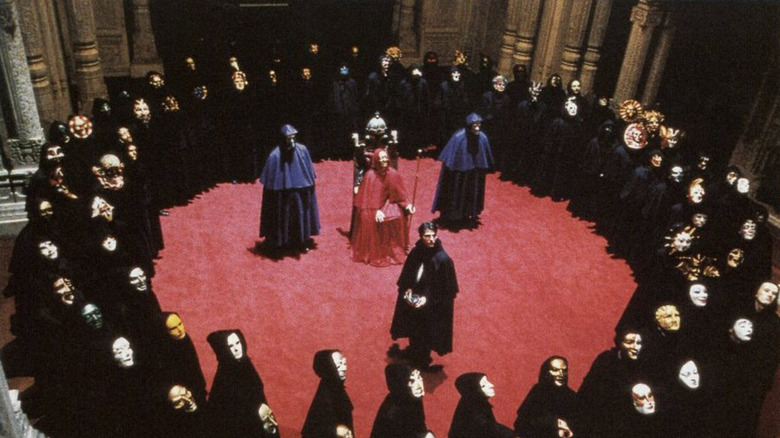 Christmas is a stressful time for many people, as the pressure to be happy and optimistic can lead to anxiety, and familial complications often rear their heads. No filmmaker captures internal pressure better than Stanley Kubrick, and in his final film Kubrick used the Christmas season as the spooky backdrop for his deconstruction of marriage, masculinity, and paranoia. Christmas is integral to the film's story, as holiday imagery is subverted into a nightmarish vision of surveillance. The film has a bright color pallet of red and green, with Christmas decorations frequently appearing in the background. In it, Kubrick satirizes consumerism, a particularly relevant topic amidst the Christmas holiday season.
Dr. Bill Harford (Tom Cruise) is a successful doctor within New York City who learns about a secret private ceremony from a long-lost friend during a Christmas party. Bill decides to attend the ceremony and discovers a ritualistic cult that performs graphic sexual activities. Bill is quickly identified as being out of place, and he's forbidden from joining the group again. Bill discovers that he's constantly being watched, and that the secret society can threaten him even within his own home. They leave a hidden mask for him as a dark Christmas present.
4. Die Hard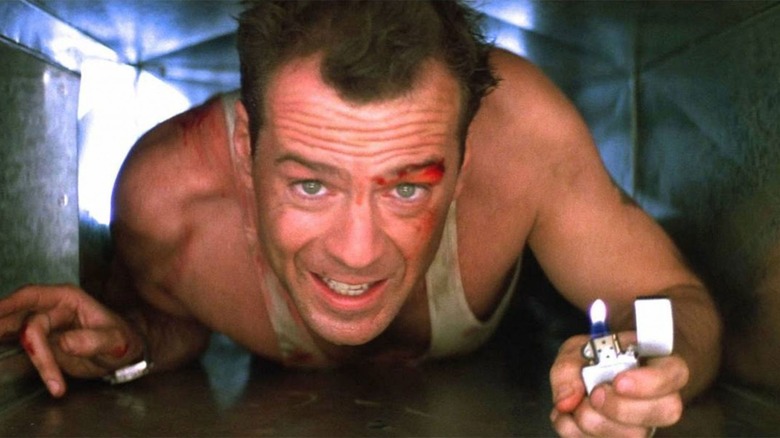 The debate rages every year as to whether or not "Die Hard" is a Christmas movie. There are certainly many action films set during the holiday season (such as nearly all of Shane Black's films), but "Die Hard" actually has themes that are relevant to Christmas. Ultimately, it's a story about everyday heroism and finding a purpose, and it explores the holiday-centric anxieties that many people feel. At the beginning of the film, Christmas is just another stressful burden in the life of John McClane (Bruce Willis), but by the end his hope is restored and has a reason to celebrate.
While whether or not "Die Hard" qualifies as a Christmas movie is in question, there's no debate about its merits as a film. There's a reason why "Die Hard" is so often cited as the greatest action film ever made, and why decades later new films are still pitched as "Die Hard on a…." McClane is the definitive action hero, an intelligent underdog who uses his ingenuity and wit to survive some of the greatest action sequences ever seen on screen. Willis has never been more relatable. It's also unbelievable that Alan Rickman's incredible performance as the scenery-chewing terrorist Hans Gruber was his screen debut, as he set the standard for a generation of screen villains. The 1992 sequel "Die Hard 2: Die Harder" retained the Christmas setting, but the later entries in the saga transitioned to the summer.
3. Miracle on 34th Street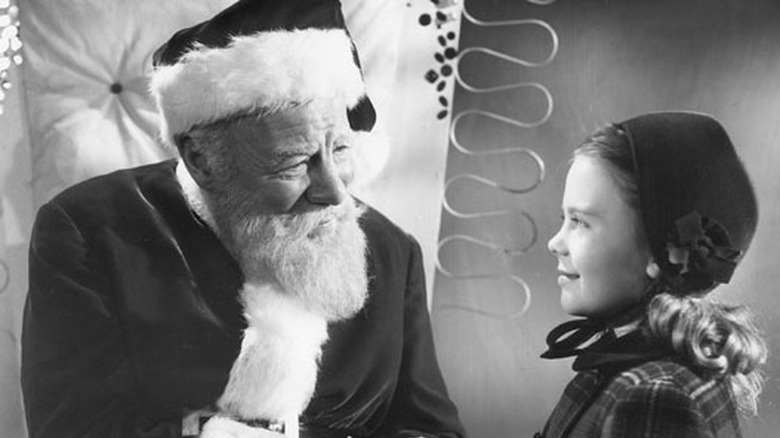 Santa Claus ranks alongside figures like Sherlock Holmes, Dracula, King Arthur, and Robin Hood as one of the frequently adapted on-screen characters, as he's often a key supporting character in Christmas films. While there are many Santa-themed films, including the entries in "The Santa Clause" and "The Christmas Chronicles" franchises, they generally appeal to younger viewers. However, the 1947 classic "Miracle on 34th Street" is the rare film that addresses the legend of Saint Nick in a way that appeals to audiences of all ages.
The film opens on Thanksgiving Day, when business director Doris Walker (Maureen O'Hara) finds herself desperate to find a replacement Santa Claus for the Macy's parade. A curious older man named Kris Kringle (Edmund Gwenn) shows up on a moment's notice, taking up the reins and delighting children with his seemingly magical knowledge and optimism. Doris sees Kringle's success as a great business opportunity, but doesn't want him to influence her young daughter, Susan (Natalie Wood). Doris has raised Susan without any fairy tales, and she's not about to let the idiosyncratic older man convince her that magic is real. Doris' next door neighbor Fred Gailey (John Payne), a successful lawyer, is concerned about Susan's well-being, but also desperately in love with her mother.
When Kringle's mental state becomes a public fixation, a media circus ensues as Fred defends him and makes the case that he's the real Santa Claus. It's inspiring to see how Kringle's Christmas spirit affects the reclusive mother-daughter pair.
2. White Christmas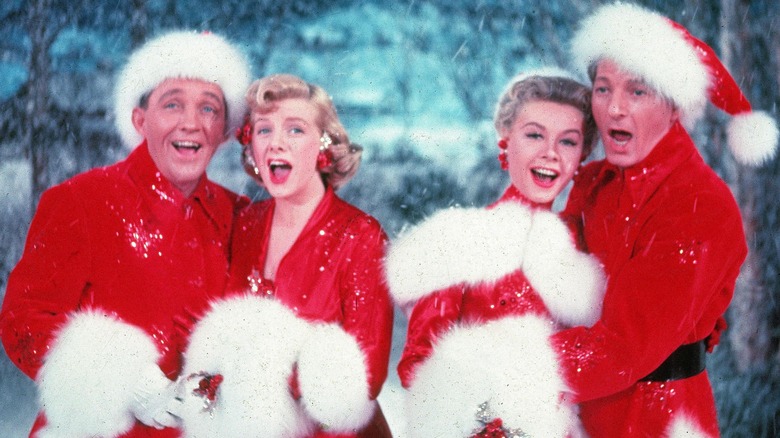 When looking at the history of Old Hollywood musicals, few are as clever, poetic, optimistic, and insightful as 1954's "White Christmas." It's a film that boasts incredible musical numbers, as it's about the very power of show business and its ability to provide comfort to those in need of a boost. However, "White Christmas" isn't an idolization of Hollywood that tries to frame the holiday season from a celebrity perspective; it's a film about finding connections during the most wonderful time of the year.
The film begins in the middle of World War II, as American soldiers Bob Wallace (Crosby) and Phil Davis (Danny Kaye) put on an impromptu Christmas performance for the men in the service. They pay tribute to their beloved Major General Tom Waverly (Dean Jagger), the rare honorable man who treats every soldier as an equal. After a devastating attack, Phil saves Bob's life, and they form a lifelong friendship. They enter show business together, and a chance encounter introduces the pair to the talented musicians sisters Betty (Rosemary Clooney) and Judy Hayes (Vera-Ellen).
The four escape to Vermont where they discover that Waverly has become the manager of a failing hotel, and they concoct a plan to save the old man's dignity by honoring him with a Christmas concert. It's delightfully earnest, and often hilarious.
1. It's a Wonderful Life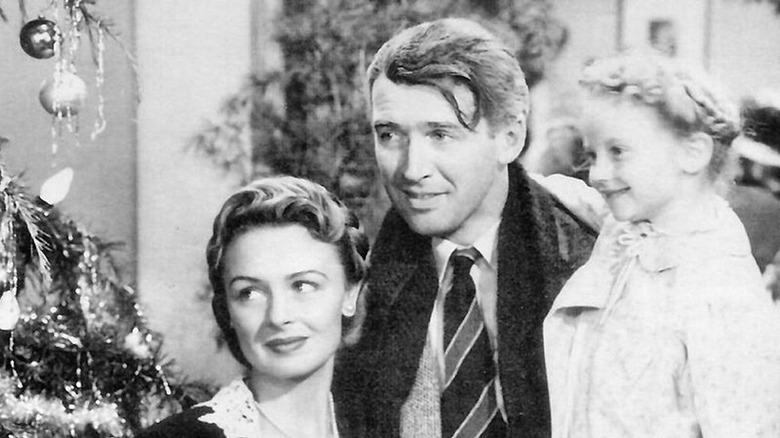 The phrase "holiday greetings" may mean different things to film fans of different backgrounds, but at its core the holiday season is all about hope. Hope isn't tied to one religion or creed, and although the theme is universal, it's very hard to capture on screen. Although there were significant systematic issues within Old Hollywood, there's an optimism about the human spirit present in many classic era films that's rarely captured by the modern studio system. Frank Capra stands among the great cinematic formalists, and his ability to capture genuine emotion was never more present than in the definitive holiday classic, "It's a Wonderful Life."
Capra had many great collaborators, but none more genuinely pleasant and likeable as James Stewart. Here, Stewart shines as the embodiment of goodness. Stewart's George Bailey has no shred of hatred within his body, and he's bound by his commitments to his family and community. He's seen his dreams of traveling overseas dissipate as he takes over the struggling family business and watches his brother Harry (Todd Karnes) become a war hero, even as he has settled down with his wife Mary (Donna Reed) to raise a family.
As George's situation grows worse and he's convinced he has no value, his guardian angel, Clarence (Henry Travers), presents him with a dark vision of a world where he's never been born. George's realization of the lives he's touched and the joyous Christmas celebration that follows are touching moments worth revisiting each and every holiday season.