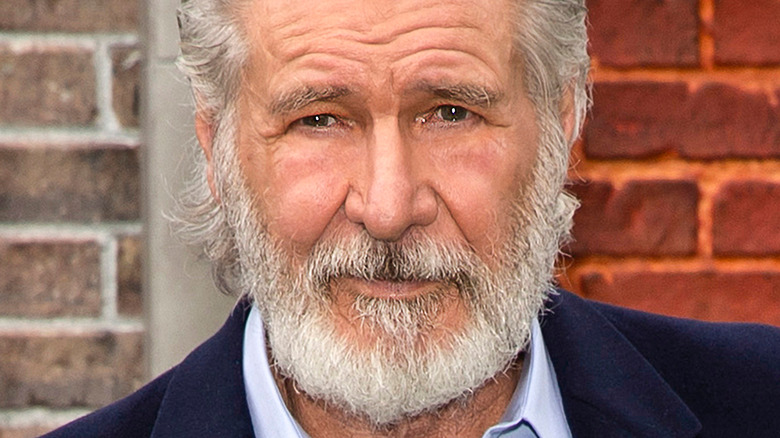 We all know Harrison Ford as the ultimate cinema hunk from the late '70s and early '80s thanks to his roles as Indiana Jones and Han Solo. But Ford actually didn't love his iconic "Star Wars" character because he believed that the swashbuckling smuggler simply wasn't a very "interesting" individual, he told ABC News in 2010. Millions of "Star Wars" fans around the world don't seem to share his opinion of Solo, but you can't agree with your favorite stars every time they speak about their work.
Thankfully for Ford, he was one of the few "Star Wars" actors who didn't disappear from the franchise like a flash in the pan. In fact, he's thrived for decades in Hollywood. Ford has acquired an impressive net worth to back up his fame, as well as movie deals that come one after another.
While the "Indiana Jones" star has led an incredible public life, his personal life has been equally eventful. Ford has been married three times and is a father of five. Ford is also a grandfather many times over, so family life clearly takes precedence over everything else.
Like their father, the actor's five children stay relatively private when it comes to their personal lives. However, they have jumped into the spotlight enough times that we know a few things about them.
How Ben Ford's parents influenced his career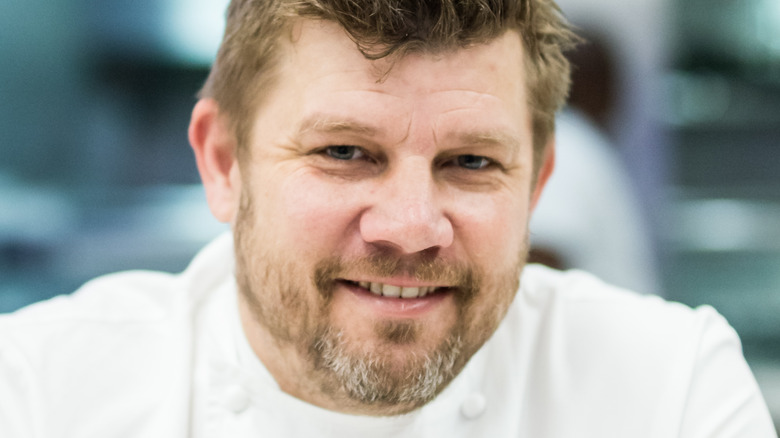 Harrison Ford met his first wife, Mary Marquardt, while he was studying English and philosophy at Ripon College in Wisconsin, per People. They got married in 1964 and welcomed their first child, Ben Ford, in 1967.
While Harrison found success in Hollywood, Marquardt became an illustrator, per Epicurious. Ben would grow up to pursue passions of his own. He originally wanted to be a professional baseball player, but after an injury derailed that dream, he enrolled in the California Culinary Academy in San Francisco.
Ben credits both of his parents for sparking his interest in cooking, telling the Daily Mail that he learned a lot about the craft while visiting his father in Hertfordshire, England, where the movie "Raiders of the Lost Ark" was being filmed. "At weekends we always seemed to go to someone's home, never to a restaurant, for a Sunday roast. I watched everything," he recalled. And while speaking about his mother's influence on his career path, he told Life + Times, "My mother and her friends always involved me in their cooking projects. We also always had a garden and I think those two things were the catalyst for my passion for cooking."
In 2003, Ben told The Baltimore Sun that his then-3-year-old son, Ethan, was following in his footsteps by helping out in the kitchen "every day." Ethan's mother is Ben's ex-wife, producer Elizabeth Winkler. Ben later married a fellow foodie named Emily, and they welcomed a son named Waylon in 2010.
Ben Ford is a celebrity chef
Not that we're calling out nepotism, but one of the perks of having a famous parent seems to be having an easier path into Hollywood. This was not the case for Ben Ford, who told the Boston Herald that he actually "got passed over in a lot of situations" at the start of his culinary career because he was the son of Harrison Ford.
But Ben fought hard to prove himself as a chef, and he opened his own restaurant, Ford's Filling Station, in 2006. The Culver City eatery later branched out with a satellite location at the LAX airport. To further hone his craft, Ben also dabbled in his dad's industry by bringing his culinary skills to the small screen. Per IMDb, he has appeared on "Food Revolution," "Food Network Challenge," and "Iron Chef America." He's also served as a guest judge on "Hell's Kitchen." So while he's not quite jetting around galaxies in the Millennium Falcon, he's found success in his own hybrid world.
The world of restaurants is fickle — Ben closed Ford's Filling Station in 2014, as Eater Los Angeles notes. However, that same year, he embarked on a new venture in the stratosphere of food by publishing a cookbook titled "Taming the Feast: Ben Ford's Field Guide to Adventurous Cooking." It's all about cooking outdoors with DIY setups that "may not look like much" (just like the Millenium Falcon), so perhaps Ben possesses a bit of Han Solo's adventurous spirit.
Ben Ford's cryptic Father's Day post
So what is Ben Ford's relationship like with dad Harrison Ford? By all accounts, they seem very close. But for Father's Day 2021, Ben posted a loving tribute on Instagram to his own sons that, at first glance, seemed like a slight dig at his own father. "I had to extinguish what a father meant and learn what it meant to be a dad," he wrote. "My children needed someone who actively took part in their lives. A dad who nurtured them. A dad who was present in mind, body, and soul. They needed attunement. They needed a connection. They needed someone emotionally available."
While parts of the post seemed slightly underhanded, Ben clarified that he was talking about himself and not referring to his own father. After listing all of these positive traits, he added that none of them "came naturally to me."
In fact, Ben's 2019 Father's Day post to Ford on Twitter emphasized their close relationship with a touching photo of the two of them grilling. "My dad or pops (newly adapted) He taught me resiliency as a young father and later helped give me the courage to pursue my dreams," Ben wrote. They also participated in a Father's Day cookoff for Food & Wine in 2017, so they clearly have a close and happy bond.
Harrison Ford's second son, Willard Ford
Harrison Ford and his first wife, Mary Marquardt, had two children together. Their second son, Willard Ford, was born on May 14, 1969, according to Hollywood Life. While Harrison worked as a carpenter during most of Ben Ford's childhood, per the Daily Mail, Willard only knew his dad as an actor. However, Willard keeps out of the spotlight and opts for privacy over the A-list level of fame of his dad, making him the most enigmatic of Ford's five children. That being said, we do know a few things about his life.
Willard was 10 years old when his parents divorced in 1979. Harrison's "Star Wars" costar Carrie Fisher later told People that she had an affair with Harrison three years before the split. Per Showbiz CheatSheet, Willard's first child, a son named Eliel, was born in 1993. According to Closer Weekly, he also has a daughter named Guiliana, whom he keeps out of the spotlight as well.
But what about Willard's career choice? Much like his older brother, Willard had no interest in acting. Per his LinkedIn profile, he attended the University of California, Santa Cruz, from 1987-1990, where he obtained a bachelor's degree in American Studies. The Times reported that he was working as a history teacher in 2008, but he later turned his love of the gym life into a career.
Willard Ford's entrepreneurial spirit
While Willard Ford wasn't called to the camera or the kitchen, Harrison Ford's second-oldest son did tap into his own combined passions of entrepreneurship and athleticism by opening Strong Sports Gym in Los Angeles. On Mind Body Online, he described himself as an "Assistant Assistant Coach" and revealed that his workout regime began with "traditional martial arts." He later took an interest in "'western-style' wrestling, boxing, and Mixed Martial Arts (MMA)."
Willard's LinkedIn profile is further proof of his passion for physical fitness. As a VeloPura cycling tour guide, he offers guided bicycle tours in "Mexico, Vietnam, Cambodia, Laos, Thailand, Japan, France and other countries." He's also a partner of The Super Fred cycling club.
But Willard's career has shape-shifted over the years. According to the Los Angeles Times, he used to own the Kim Sing Theater in Los Angeles' Chinatown district, which he sold in 2016 for $3.3 million. He used the theater complex as a furniture showroom and sold apparel from his own Ludwig clothing line there, per California Apparel News.
Willard's gym ended up closing down during the pandemic in June 2020. A post on the Strong Sports Gym Instagram page read, "With nowhere to turn we're calling it quits." While it's unfortunate, clearly Willard has an entrepreneurial drive and knows how to channel it.
Malcolm Ford is a musician
Following his split from his first wife, Harrison Ford went on to marry screenwriter Melissa Mathison, who wrote the screenplays for "The Black Stallion" and "E.T. the Extra-Terrestrial," according to her IMDb credits. Ford and Mathison married in 1983, per the Daily Mail, and they went on to welcome their first child, a son named Malcolm Ford, in 1987.
Unlike Ford's other sons, Malcolm followed a creative career that did include some acting credits. He appeared in a 2004 movie called "Water to Wine," per IMDb, but where he had the most success was in music. Malcolm was in the rock band The Dough Rollers, a foursome that worked closely with musician Jack White.
Malcolm explained how he got into music while speaking to Interview in 2013. "I didn't grow up with music in the house, like every kid had 'Blackbird' playing when they got home from school or something," he said. "My mom would have Wagner on sometimes, but I got into punk music first. My first cassette was Green Jellÿ. That was the band I was really into." His musical progression led him to create The Dough Rollers with three other musicians, and when they dropped the album "Gone Baby Gone" in 2015, Performer called it "one of the finest anticipatory debut EPs released." That same year, the band stopped updating their Facebook page, so they either took a long hiatus or quit while they were on top.
Inside Malcolm Ford's struggle with addiction
When Malcolm Ford was 17, he ended up going to rehab in Los Angeles for marijuana addiction, per the Daily Mail. A source, who was allegedly a friend of the Ford family, told the outlet, "The kid had a big marijuana problem and the [program] is specifically tailored to adolescents with addiction."
Since Malcolm was so young, Harrison Ford and Melissa Mathison would attend meetings with their son to support him. The family insider revealed that after Malcolm would introduce himself to the group, Harrison would stand up and say, "My name is Harrison and I'm here to support my son Malcolm."
Harrison and Mathison decided to separate in 2000 after 17 years of being married, per ABC News, and allegedly the split, which was followed by their divorce in 2004, was deeply upsetting to Malcolm. According to the Daily Mail, both parents went to Malcolm's recovery meetings but "both looked very uncomfortable playing a couple." Nevertheless, they did show a solid front and showed up for their son, and a decade after his stint in rehab, Malcolm was touring with the likes of the Queens of the Stone Age and Billy Idol, per Performer.
If you or anyone you know is struggling with addiction issues, help is available. Visit the Substance Abuse and Mental Health Services Administration website or contact SAMHSA's National Helpline at 1-800-662-HELP (4357).
Georgia Ford is an actor
Harrison Ford and screenwriter Melissa Mathison's second child was Harrison's first and only daughter. According to Closer Weekly, Georgia Ford was born in June 1990. While her Hollywood career hasn't had the longevity of her father's, Georgia did try her hand at acting. She appeared in the 2013 film "American Milkshake," worked alongside Jonah Hill and James Franco in "True Story," and starred in the 2016 short film "The Visitor," per IMDb.
In 2016, Harrison joined Georgia at the NYU Langone Medical Center's Find a Cure for Epilepsy and Seizures (FACES) Gala. Harrison, who hosted the fundraiser, revealed that Georgia suffered from epilepsy, according to the Daily News. "I admire a lot of things about her. I admire her perseverance, her talent, her strength. She's my hero. I love her," Harrison said of his daughter, adding, "When you have a loved one who suffers from this disease, it can be devastating."
Georgia had been having seizures since childhood, but Harrison and his then-wife were at a loss in finding ways to help her. She wasn't properly diagnosed for years, and it wasn't until the family sought help at NYU Langone Medical Center that she finally got the treatment she needed. "You know how it affects their lives, their future, their opportunities and you want desperately to find mitigation," Ford said. "You want to find a way that they can live a comfortable and effective life." By all accounts, that appears to have happened for Georgia.
Inside the debacle with Melissa Mathison's will
When Harrison Ford and Melissa Mathison divorced in 2004, the split was one of the most expensive that Hollywood had ever seen. Mathison got $85 million in their settlement, as well as royalties from any movies Ford made while they had been married, the Daily Mail reports. Some of the hit films he appeared in during that time were "Patriot Games," "Air Force One," "The Fugitive," and a pair of Indiana Jones movies.
Tragically, Mathison died in 2015 at the age of 65 from neuroendocrine cancer, and to make matters even more challenging for her family, her original will went missing. Per TMZ, Mathison had a net worth of around $22 million at the time of her death.
Luckily, a copy of her will was found, and according to California law, a copy suffices as long as no one contests the will. In this case, no one seemed to have any issues with it, and TMZ speculated that most of Mathison's fortune would go to her two children, Malcolm and Georgia Ford. When the kids were young, Mathison spoke to the Los Angeles Times about taking them to the theater, where she noticed that many children were portrayed as "mean and materialistic." She recalled, "We'd get back in the car after seeing a movie and I'd say, 'Now what did you think about this?,' and they'd have nothing to say." She left them a legacy of a much different portrayal of children in the movie E.T.
Harrison Ford adopts Calista Flockhart's son
After his divorce from Melissa Mathison, Harrison Ford began dating actor Calista Flockhart, whom he met at the Golden Globes in 2002, according to Hello!. The couple didn't marry until 2010, and, like Ford's previous pattern, he has kept his private life out of the public eye. He did, however, hilariously share a piece of marriage advice with Parade Magazine in 2020. ​​"Don't talk," he suggested. "Nod your head." This advice has clearly served him well, as Ford and Flockhart have been together for nearly 20 years as of this writing.
Before Flockhart began dating Ford, she adopted a 1-year-old boy she named Liam. Flockhart was 36 at the time and told ABC News, "I have always wanted to adopt a child and I am overjoyed that I have been blessed with a beautiful and healthy son. I'm completely enchanted and awe-struck." She was filming "Ally McBeal" at the time, and Flockhart shared her joy over being able to bring Liam to work with her by taking advantage of the childcare offered on the show's set. After Flockhart and Ford got together, Ford legally adopted Liam, per Closer Weekly, making Ford a father of five.
Liam Ford keeps Harrison Ford and Calista Flockhart young
Judging from the characters he plays, Harrison Ford doesn't seem like someone who shies away from action, and he has indeed remained active thanks to his youngest son, Liam Ford. When Harrison was 76 and Liam was 18, they went skydiving together in New Zealand. On "The Ellen DeGeneres Show" in 2019, Harrison said the only reason he tried it was because "Liam said he wanted to do it." However, he really enjoyed the experience. He revealed that Flockhart did not jump and joked that he and Liam were reluctant to tell her that they hoped to do it again.
When Liam was still a little guy, Harrison spoke with the Independent about the experience of raising a 9-year-old while being 67 at the time. "I've got five kids in total, so it's not my first rodeo," the actor said. "Yeah, obviously, I'm getting older but I don't relate to it very much. It doesn't interest me as something to dwell on. I have a 9-year-old kid at home. I feel like the father of a 9-year-old."
Harrison spoke about the wide age range of his children and the experience of being a grandfather as well, but aptly said, "I have those obligations and that's my life, but I don't think so much about how old I am." That seems to be a winning attitude for the father of five, who has juggled the hurdles of relationships and family life with grace and consistency.