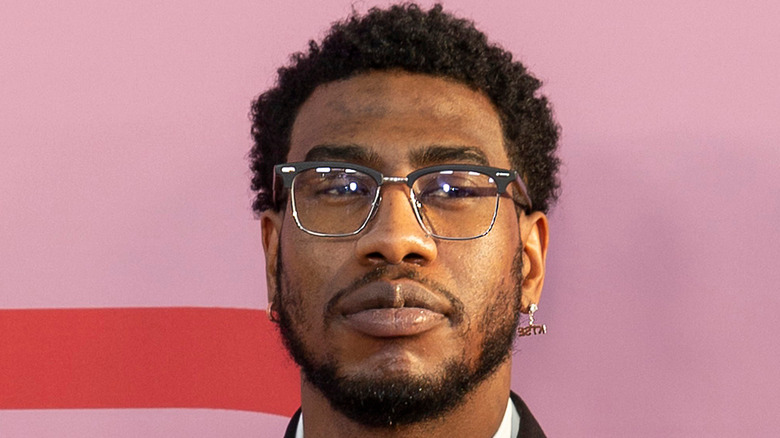 On Monday, November 22, veteran NBA guard Iman Shumpert shocked viewers when he became the first player from the league to win "Dancing with the Stars," as he and partner Daniella Karagach surprisingly defeated fan-favorites JoJo Siwa and Jenna Johnson to win the Mirror Ball trophy in Season 30 of the long-running show. As reported by Yahoo, Shumpert's performance impressed judges and fans alike, with Twitter users noting that he kept improving with each passing week despite not having any relevant experience as a dancer.
Although it may be a stretch to call Shumpert an NBA "star," he has been one of the league's higher-profile players off the court, thanks in no small part to his marriage to singer Teyana Taylor and their forays in the world of reality television — in fact, the couple has a new reality series, "We Got Love Teyana & Iman," that premiered earlier this year (via Entertainment Tonight). On the court, he carved his niche as a tenacious backcourt defender, and he made multiple NBA Finals appearances with the Cleveland Cavaliers, including one in 2016 where they memorably came back from a 3-1 deficit to win the title over the Golden State Warriors. But there are several lesser-known facts about Shumpert's basketball career and other endeavors that are worth looking back on amid the hype over his "DWTS" win.
He achieved a rare feat while playing for Georgia Tech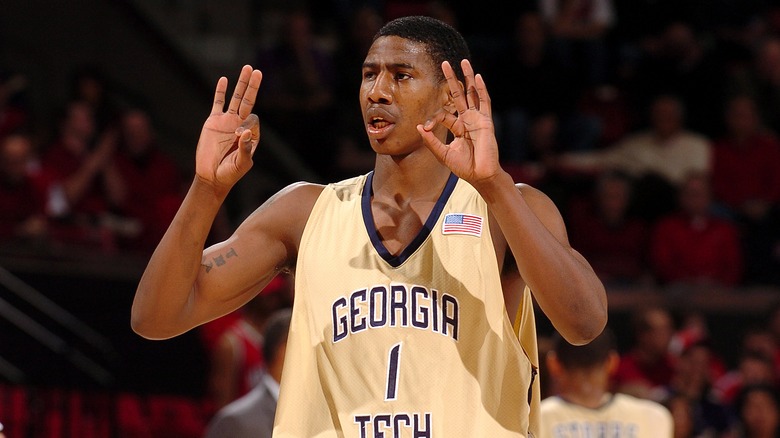 After a decorated prep career where he was one of America's top 30 high school seniors and a McDonald's All-American, Iman Shumpert suited up for the Georgia Tech Yellow Jackets in the NCAA, where he played for three seasons from 2008 to 2011. Although his final season was unremarkable in terms of the team's 13-18 win-loss record (via Sports Reference), "Shump" had a great year on the stat sheet, averaging 17.3 points, 5.9 rebounds, and 3.5 assists and earning second-team all-conference honors. This made him only the seventh player in Atlantic Coast Conference history to lead his team in scoring, rebounding, and assists. His main contributions, however, were on the defensive end, where he easily led Georgia Tech with 2.7 steals per game and was named to the ACC's All-Defensive Team.
Thanks to those credentials, the 6-foot-5-inch Shumpert drew the attention of scouts as he declared himself eligible for the 2011 NBA Draft. He was selected 17th overall by the New York Knicks (via Basketball-Reference), and while he's mostly had a journeyman professional career so far, he's definitely exceeded the expectations most people have for the average mid-first-round selection. As far as backcourt players are concerned, he's had a longer, arguably more successful NBA run than more ballyhooed draft classmates like No. 8 pick Brandon Knight and former National Player of the Year Jimmer Fredette, who played just six NBA seasons after getting chosen 10th overall.
Shumpert's second career as a rapper
It's no longer uncommon for professional athletes — basketball players definitely included — to try their luck in the world of rap. Shaquille O'Neal was the first major example of such, and while many may have wanted him to stick to his day job, he did, in all fairness, enjoy quite a bit of success as a rapper. Even Shaq's would-be Los Angeles Lakers frenemy, the late Kobe Bryant, had a rap career of his own, releasing an album called "Visions" in 2000. Those two legends are far from the only athletes-turned-rappers in NBA history, and Iman Shumpert is proof of that. In 2012, while playing for the New York Knicks, he released a single called "Knicks Anthem," which hyped up the team he played for as a dominant force in the league. (Which is the antithesis of most Knicks teams since then, needless to say.)
Interestingly, "Knicks Anthem" was not entirely a Shump original. It was essentially a remixed, rewritten version of "Clique," a song from a far more famous Chicago rapper you might have heard about. (One clue, and that's it — "Imma let you finish.") But that wasn't the end of his rap career by any means; among other projects, he released the single "Dear Kendrick" in 2013 and dropped another track, "Chiraq Freestyle," in 2014, with Deadspin complimenting Shumpert for his "weird" video for the song.
He's had bad luck with injuries
As productive as Iman Shumpert has been in his 10 NBA seasons, with an 11th to follow if someone signs him this season, it's possible he could have been even better had it not been for nagging injuries that plagued him since his rookie season in New York. Toward the end of the 2011-12 regular season, Shumpert suffered a torn left ACL and lateral meniscus that sidelined him for several months, according to ESPN; prior to that, a left knee injury prevented him from representing the Knicks in the 2012 Slam Dunk Contest during that year's All-Star Weekend.
Midway through the 2014-15 season, Shumpert was traded to the Cleveland Cavaliers, giving him a chance to play on a dominant team alongside LeBron James and Kyrie Irving. Unfortunately, just as he was preparing to start his first full season with the Cavs, he was sidelined with a wrist injury that was expected to keep him out of action for up to three months, per NBA.com. Then, in December 2017, Shumpert underwent surgery on his left knee that kept him out for nearly two months.
It would seem that Shumpert's reputation as an injury-prone player is mostly behind him (via Fox Sports), so who knows? At 31, he's still young enough to contribute off the bench for most NBA teams.
The real reason he shaved his once-impressive flat top
Anyone who's followed the NBA in recent years knows what made Iman Shumpert so distinctive among his peers — his spiky flat top that added a few inches to his listed height. One can even say his hair often overshadowed the fact that he was a productive player on the floor and a strong defender during the prime of his career. Back in 2013, he traded the flat top for a shorter, more conventional 'do, much to the shock of fans (via Bleacher Report), but the big hair was back soon enough, and still very much in place as he helped the Cleveland Cavaliers win their first-ever NBA championship in 2016. But in the lead-up to the 2017-18 season, Shump was once again rocking a less exciting, shorter-haired look.
As it turned out, the Cavs' reliable combo guard had a good reason for getting rid of the flat top that time around — it was the practical thing to do as a father who was being asked to give his young daughter a haircut. "My wife makes me try and do my daughter's hair now and it's like, if she gotta do her hair and I gotta do my daughter's hair, and then I gotta do my hair, I don't got time for that," he told Cleveland.com. Meanwhile, his coach at the time, Tyronn Lue, revealed to the outlet that he happened to be a fan of Shumpert's "nice, new look."
Shumpert wants more NBA players to give DWTS a shot
As we've hinted above, Iman Shumpert is currently a free agent, having most recently made a few cameo appearances for the Brooklyn Nets in the 2020-21 season. As such, he was able to focus fully on his history-making "Dancing with the Stars" stint instead of splitting time between the basketball court and the ballroom. And while he hadn't won the Mirror Ball trophy at that time, he spoke to ScreenRant ahead of the Season 30 finale and expressed hopes that more NBA players would give the show a try.
Shumpert's pro partner, Daniella Karagach, told the publication that she would want LeBron James to keep the trend going in Season 31, but the NBA veteran had another former Cleveland Cavaliers teammate in mind — Kyrie Irving, whom he also teamed with during his ever-so-brief time with the Nets last season. "I told you, you gotta get Kyrie," he suggested to Karagach. "He's mellow, man. Footwork. Guys with good footwork."
These days, Irving is drawing attention for the wrong reasons, as his refusal to get the COVID-19 vaccine has kept him off the court since the 2021-22 campaign kicked off (via ESPN). But Shumpert seems serious in his efforts to recruit his fellow NBA players to "DWTS," so only time will tell if the divisive point guard follows in his former teammate's graceful footsteps.