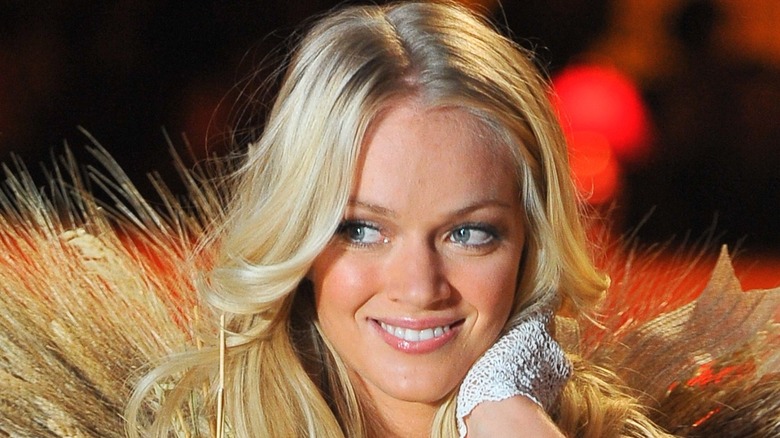 For years, society has been fascinated with Victoria's Secret models. As gorgeous as they are, Victoria's Secret models work hard to look their best, whether they're walking the runway or showcasing the latest fashions for the store's catalog and website.
How do they do it? Strict exercise regimens are primary strategies. Many Victoria's Secret models work with trainers who guide them in these areas, ensuring that they do what's best to keep their bodies in top shape. For example, Lameka Fox works out 2 or 3 times a week to stay toned, and Kelsey Merritt works out every day (via Elle).
However, eating healthy and mindfully is also extremely important. In fact, there's even a diet plan known as the Victoria's Secret Model Diet that mimics the food choices of some of the most renowned models on the planet (via Healthline). Want to know how to eat like a Victoria's Secret model? Here's your chance to find out.
Protein-packed oatmeal is a popular choice
Oatmeal is somewhat of a superfood, and we aren't talking about the prepackaged kind, loaded with sugar. Real, whole grain oats are excellent sources of fiber, vitamins, and minerals. Oatmeal even contains antioxidants that can boost the immune system and fight disease (via Everyday Health). Add some protein-packed, nutritious toppings to it, and you have yourself a hearty meal.
That's precisely what some Victoria's Secret models swear by. Romee Strijd, a Dutch model who spent a few years walking the runway for VS, is one of them. In a video on her YouTube channel, Strijd details everything she eats in one day. Her breakfast of choice is oatmeal, loaded with banana, peanut butter, pumpkin seeds, cinnamon, chia seeds, and other wholesome ingredients that add to the nutritional value of oats. "For breakfast, I like scrambled eggs, avocado, oatmeal—I really love oatmeal—or granola and yogurt," Stella Maxwell, a Belgian model who became part of the Victoria's Secret family in 2015, told Byrdie.
Most food groups are welcome
The way Victoria's Secret models' bodies look might lead you to believe that they avoid eating sugars, meats, or carbs. These are 3 food groups that may stimulate inflammation in the body (via the Cleveland Clinic). However, many models admit that there's not much that's totally off-limits. They consume foods from each food group on most days.
According to Healthline, the Victoria's Secret Model Diet focuses more on the types of foods within each group that you eat, rather than the groups themselves. For example, eating whole, complex carbs rather than processed or refined carbs is the goal. Make sure that your calories for the day include as many healthy ingredients as possible, like avocado, nuts, and berries.
Stella Maxwell tells Byrdie that her lunches and dinners usually consist of protein and green vegetables, like salmon and salad. Kendall Jenner admitted in a blog post that she eats mostly healthily, and as long as she's fed, she's happy. Yahoo! News reports that chips and guacamole, peanut butter, and carrots with hummus are some foods that top her before-show list.
Before-show diets look a little different
While Victoria's Secret models may sometimes stick to an almost-anything-goes diet, their before-show meals are a bit more strict. Dr. Charles Passler, a nutritionist who's worked with top Victoria's Secret models, tells Insider that carbs are an essential part of a model's ability to stay in shape. Victoria's Secret models load up on them before and after exercising. However, Passler explains to InStyle that many of them don't eat any carbs 3-5 days before the show. That's because carbs lead to water retainment, which doesn't fit the needs of a lean runway model.
What else do these beauties eat before they grace the catwalk with their presence? Another Victoria's Secret model trainer, Stephen Pasterino, tells PopSugar that avoiding foods that cause inflammation is key. "Leading up to the show, we cut out vegetables that are hard to digest such as kale, broccoli, and cauliflower," Pasterino told the publication. "We eliminate all salt, eggs, and packaged foods. We need to give our digestive system the greatest chance to function at its best and be sure to reduce any unnecessary water retention."
Give 'em the green smoothies
Green smoothies seem to be trendy items topping the list of Victoria's Secret models' must-have diet staples. Supermodel Elsa Hosk is one VS model who loves her green smoothies. Hosk tells StyleCaster that during Fashion Week, a green smoothie is her snack of choice. She even stops at her favorite juice shop for green smoothies when she's out and about. In her food diary for Vogue, Kelly Gale also says that her pre-workout morning routine consists of an all-greens juice with lemon and ginger.
Green smoothies pack in green veggies and other superfoods, like healthy fats, granola, and seeds. Blend the right ingredients together, and you get a convenient, portable meal that's satisfying and chock-full of proteins, vitamins, antioxidants, and more. "Good sources of fat in smoothies are salt and sugar-free nut butter, chia, flax, sesame, or hemp seeds, flax oil, coconut meat, coconut yogurt, or full-fat organic yogurt," registered dietician Miranda Hammer told Time. "The smoothie is a really great way to get in those key foods."
Veggies, veggies, and more veggies
Talk to a doctor about what makes a healthy diet, and there's a good chance that vegetables will be high on the priority list. Many veggies provide tons of nutrients to the body without loading it up on calories and fats. It's no surprise that Victoria's Secret models make sure they get their vegetables in every day.
For Jasmine Tookes, lunch and dinner always include vegetables, like potatoes, broccoli, and zucchini. In fact, she explains in her StyleCaster food diary that her go-to healthy meal is basic grilled chicken with zucchini. "Simple and grilled all together," she says. In an interview with Harper's Bazaar, Gigi Hadid said loves to visit The Smile for its arugula salad that she admits she could eat daily. Kelly Gale's Vogue food diary is filled with vegetables for each meal, including cucumber, spinach, kale, celery, and peas. She even goes healthy with her pasta, opting for zucchini spirals rather than traditional pasta.
When is more important than what or how much
While many diets focus on what to eat or restricting calories, some Victoria's Secret models swear by timing their meals instead. Trainer Stephen Pasterino tells PopSugar that being mindful of when you eat can result in a more long-term positive impact on your body. For the models he trains, that means cutting out snacks as much as possible and creating 3 wholesome meals each day. "Monday through Friday mornings, I like to incorporate a light breakfast followed by a normal portion lunch and dinner," Pasterino told the publication. "This improves the immune system and heals the digestive tract. [The] time between meals can be anywhere from three to six hours, and never eat three hours before bedtime."
Victoria's Secret models agree. According to the New York Post, Adriana Lima stays consistent with her meals and exercise routine to get the best results. "I eat six meals a day and work out at least six days a week doing mostly boxing," she says, according to the Post. Lima also sticks to a strict diet and fitness regimen all year rather than switch up the routine before shows. Bridget Malcolm says she keeps 12 hours of distance between breakfast and dinner to keep her meals spaced out and avoid overeating.
Carbs aren't completely off the list
Carbohydrates get a bad rap for being fattening and adding unnecessary sugars to the body. But, as registered dietician Kristin Kirkpatrick explains to the Cleveland Clinic, "Complex carbohydrates, like whole grains, are not 'fattening' foods. It's the type and quantity of the carbs you eat — not carbohydrates themselves — that cause weight gain."
Victoria's Secret models are proof, as many of them are mindful of the carbs they eat, but avoid cutting them out completely. The Daily Mail reports that Lily Aldridge stocks up on low-glycemic fruit, in addition to fresh vegetables and lean protein. On Josephine Skriver and Jasmine Tookes' joint Instagram account, the pair admitted to being "big carb eaters," and when asked about her must-have carb, Tookes said rice was her favorite (via Harper's Bazaar).
Passler even says carbs are okay for the models he trains, although they cut them out a few days ahead of a big show. Otherwise, "[Carbs] fuel the muscle so they can work out and feel strong," Passler explained to Insider.
Avocado is a staple ingredient
Talk to almost any Victoria's Secret model and there seems to be a running trend with their diets: Avocado is a primary ingredient. Romee Strijd explains on her YouTube channel's food diary vlog that she loves avocado because every time she eats it, the healthy fats keep her feeling satisfied throughout the day. Her usual lunch — avocado toast — gets a healthy dose of avocado, along with hummus, eggs, and sprouted watermelon seeds. Avocado toast is also a favorite for model Sara Sampaio (via The Cut).
Bridget Malcolm, who's known for her strict dieting to get in shape for Victoria's Secret fashion shows, says that she likes to vary her foods more when she's not preparing for a big event. Malcolm told The Sun that she makes sure to eat an avocado every afternoon, in addition to having a salad with every meal. According to Insider, Passler also insists that models eat wholesome meals, and avocado is a primary ingredient for salads and breakfasts.
Start the day with some…warm water?
Sure, water does a body good, but drinking warm water every day may not sound like your cup of tea. However, Lindsay Ellingson says that warming up a cup of water to drink is how she likes to start her day. "I had a consultation with the ayurvedic specialist who told me that I should drink warm, filtered water in the morning," Ellingson said in an interview with The Cut. "He said your body absorbs the warm water better than cold and that it's really soothing to your stomach." She also says that sticking to her warm water ritual keeps her from needing a caffeine boost from tea or coffee.
Ellingson may be onto something. According to Healthline, a cup of hot water has several benefits for the body. First, it can boost circulation by expanding arteries and veins. A cool (or warm?) side effect of that is that your body can also warm up more quickly on a chilly day. Hot water may assist with digestion and keep the bowels moving more regularly. If you feel a stuffy nose coming on, a glass of warm or hot water could be just what you need to break up the gunk.
The art of eating not-so-healthy foods
Many Victoria's Secret models say that balance is the secret to a healthy relationship with food. For every slice of avocado toast or cup of carrots dipped in hummus, a pizza slice or candy bar is awaiting some of the brand's most beloved models. Several Victoria's Secret models spoke with StyleCaster about their favorite "cheat day" foods. For Gigi Hadid, it's a burger or a bagel with cream cheese. Leomie Anderson loves pizza from her favorite pizza place in New York City. Ming Xi says she sometimes opts for a whole cheat week, noshing on carb-filled foods, like fries and chocolate.
Many models opened up to Cosmopolitan, too. Karlie Kloss says that her mom's pumpkin bread is one of her favorite treats. Joan Smalls secretly wishes for a catering delivery of fish and chips before a show. If there's one thing Josephine Skriver hates, however, it's that people refer to eating things they like as "cheat meals." Instead, she lovingly referred to days with extra goodies as "treat days" while speaking to The Cut.
Balancing healthy and indulgent foods
While many Victoria's Secret models like to indulge randomly on treats and snacks, others are more strategic in their treat meal planning. Miranda Kerr told Entertainment Tonight that she follows a strict 80%/20% rule, which means she eats healthy 80% of the time and gives into temptation the other 20%. "It's fun to have a little indulgence…and for me, I predominantly eat healthy, organic, and I know what works for my body," Kerr told the source. "I've studied nutrition, and I'm very passionate about how the body works, so I know what to do if I'm not feeling great. But at the same time, I really enjoy food, and I really enjoy having a little indulgence so I try to stick to the 80/20 rule."
It really does seem to work for Kerr, who's maintained her healthy and lean image for her entire career. In an Insider interview, Kerr credits some of her more nutritious eating habits to her dedication to lemons. Hot lemon water is her typical start-the-morning-off-right drink. She also adds lemons to her salad dressings and splashes them on salmon.
Their nutritionists encourage lifestyle tweaks
Each body is different, and the bodies of Victoria's Secret models have different needs, just like the rest of us. Of course, they usually make changes with the help of personal trainers and nutritionists, who are experts at determining exactly what their body needs to do its best.
For these supermodels, it takes some trial-and-error to get the right combination of exercise, diet, and lifestyle changes to help them fit those itty bitty bikinis. Passler tells Vogue that his goal is to focus on healthy habits that allow the models to maintain the perfect VS model body composition all year. To do that, he suggests making lifestyle changes that make them healthier overall, rather than putting them on a strict diet that isn't sustainable. "I'll put some individuals on a strict type of a, if you want to say, diet, to get faster results initially, but what it's really about is teaching them how to change their lifestyle into a lifestyle that allows them to maintain their goals that they're trying to achieve, whether it's sleeping better, or weight, exercising and hydrating," Passler explained to the magazine.