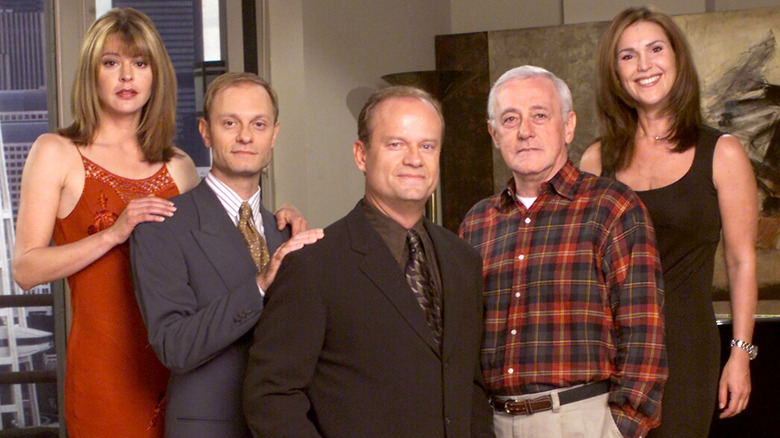 "Cheers" was a pillar of NBC's much-vaunted "Must See TV" Thursday night lineup when the beloved barroom comedy said goodbye in 1993. Yet that wasn't the end of the story; in September of that same year, new sitcom "Frasier" launched, focusing on tavern regular Dr. Frasier Crane, played by Kelsey Grammer.
The new series followed Frasier as he relocated to his hometown of Seattle, where the Harvard-educated psychiatrist took his skills to radio and offered advice to callers along with his on-air catchphrase: "I'm listening." The show became an instant hit, with Grammer joined by David Hyde-Pierce as his brother Niles; John Mahoney as Martin, the Crane boys' retired cop father; Jane Leeves as Martin's caregiver, Daphne; and Peri Gilpin as Frasier's producer, Roz. "Frasier" ran for 11 hit seasons before ending its run in 2004 — with a new revival ordered by the Paramount Plus streaming service in 2021.
In the years since "Frasier" went off the air, some of the familiar faces from the show have since left us, including one of the show's series regulars and numerous guest stars. Read on to remember the "Frasier" stars we've sadly lost.