Chocolate chip. Peanut butter. Sugar. Oatmeal. Shortbread. Whatever you crave, America is truly a cookie lover's paradise. Researchers estimate that the average American eats between 19,000 and 35,000 cookies in a lifetime. That's several hundred cookies downed each year!
Cookies have a long and storied history around the globe. But whether you call them biscuits, galletas, biscotti or keks, the origin of the first "cookie-style cakes" dates all the way back to 7th century Persia, according to What's Cooking America. Modern cookies are a more recent invention that were popularized in the 1500s.
Today, we not only buy millions of prepared cookies in stores, we also whip up untold dozens at home. And we make their dough from scratch not just because of how delicious cookies are when warm from the oven, but also to savor one of the few things in the world better than a cookie: raw cookie dough.
Sweet, savory, and buttery in every bite, there are few people who wouldn't give in to the temptation of biting into raw cookie dough. But if you're going to eat it—and we know you will—at least do it correctly and avoid these common raw cookie dough blunders:
Don't fall for the myth that you shouldn't eat raw cookie dough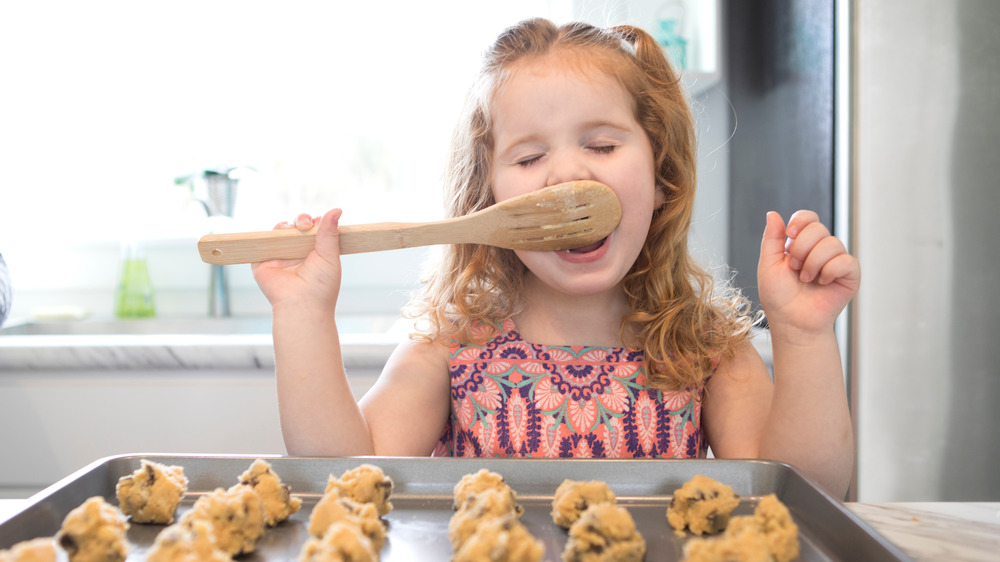 Raw cookie dough has a terrible reputation on par with uncooked meat, leftovers set out too long, and unwashed fruits and vegetables. But while all of these things could make you sick, cookie dough is one of the safest "questionable" foods out there, especially if you prepare it carefully, according to Brian Zikmund-Fisher, a professor of health education at the University of Michigan, via CNN.
Zikmund-Fisher explains that much of the rampant fear over raw cookie dough stems from a warning the Food and Drug Administration (FDA) issued in 2015. Suprisingly, the problem wasn't raw eggs — it was actually the flour being used to make cookie dough that concerned the agency. According to the FDA, there was a possible E. coli bacteria contamination in the nation's flour supply. The notice offered up numerous cautions, including "the bottom line for you and your kids is don't eat raw dough," "don't give your kids raw dough or baking mixes that contain flour to play with," and "don't make homemade cookie dough ice cream."
However, according to Zikmund-Fisher, numerous media outlets picked up the story because of its sensationalistic nature. Speaking directly to those reports, Zikmund-Fisher wrote: "Our goal is to maximize life. Sometimes maximizing life means warning people that their flour is contaminated and making sure they throw it out." He added, "Sometimes maximizing life means letting them enjoy some (carefully prepared) cookie dough without shame."
Don't choose the wrong recipe when going raw with cookie dough
Ready to make your own edible cookie dough? Begin by looking for a good, basic recipe. You want something with minimal ingredients that can be easily modified to suit different flavors and added mix-in's, like nuts or fruit. This easy 5-ingredient recipe is a great way to start.
Whatever recipe and unique add-ins you settle on, opt for top quality ingredients wherever possible, including butter or vegan butter and good quality chocolate chips, if you're using them, over the bargain bin variety that look waxy and seem to never properly melt. Let chilled ingredients come to room temperature before you use them to ensure a more tender dough and use a hand mixer or stand mixer if possible to ensure your dough is extra fluffy.
Since you won't be worrying about your cookies having to rise, you don't have to add baking soda, but if you plan on making some cookies later, here's a delicious recipe that could come from your favorite local bakery. As for vanilla, that depends on your tastes. The goal here is to make a quick and easy snack that you can enjoy safely. And on that note, let's go over what you should do to make sure your flour is safe to eat raw.
Heat treat your flour for safer raw cookie dough
All flour is not created equal. There's all-purpose flour, cake flour, pastry flour, and even self-rising flour. What you won't find on store shelves, however, is heat-treated flour. This is flour that has been heated to at least 165 degrees to kill any potential pathogens which might be lurking within (there's a reason problems with flour contamination led to raw cookie dough getting a bum rap in the first place!).
Using heat-treated flour and pasteurized eggs are the two easiest ways to make sure any cookie dough you make at home is safe to eat raw. And luckily, you don't need to buy heat-treated flour for your recipes because it's incredibly easy to make on your own in the mircrowave or oven, professional baker Kristen Tomlan explained in an interview with Today.
Heat treating flour in the oven is a simple process. Spread the flour you want to treat out on a flat baking pan and toast in a 300-degree oven for 2-minute intervals until the flour reaches the desired temp.
To heat treat flour in your microwave, you'll need a food thermometer and a bowl. Simply pour your flour into a large microwave-safe bowl and nuke for 30 seconds at a time until a food thermometer submerged in the flour reads 165 degrees. Stir the flour with a spatula between heating sessions to make sure it warms evenly throughout.
Don't use the wrong eggs in raw cookie dough
One of the primary reasons many people fear raw cookie dough is because it usually contains raw eggs. If raw eggs are pastureized, they most likely won't harm you, but the inside of some otherwise normal looking eggs can contain the germ Salmonella, which is one of the leading causes of food poisoning. Boiling, frying, or otherwise heating the eggs until they cook will kill that germ.
Typical symptoms of salmonella poisoning include vomiting, abdominal pain, diarrhea, and fever. They generally last for between 8 and 72 hours and resolve on their own, according to physician and health scientist William Li, MD (via HuffPost).
Fortunately, whether you're using raw eggs in a power smoothie, a traditional caesar salad dressing, or edible raw cookie dough, you always have the option of sticking to pastureized eggs and minimizing your chances of illness.
For those who skipped out on science class, pasteurization is a process where food is heated to a temperature of either 145 degrees for 30 minutes or to 161 degrees for 15 seconds and then rapidly cooled. According to Livestrong, the process—which was originally developed for use on fresh milk—kills dangerous microbes and enhances the safety of foods, without altering their taste or nutritional properties.
Don't buy the wrong type of pre-made cookie dough
If you're not a baker, don't despair. The easiest way to wrangle up safe and edible raw cookie dough is to buy it in your local grocery store. But be careful though: Just because you can buy prepared cookie dough in the market doesn't mean it's safe to eat raw.
Just like the dough you make at home, prepared cookie doughs need to be made using heat-treated flour and pasteurized eggs in order to be fully safe when eaten raw. Baking giant Pillsbury recently recognized consumers' love for unbaked cookie dough and revamped their entire line of products. The recipes for their doughs remained the same, but they swapped in heat-treated flour for regular flour and pasteurized eggs in place of raw ones, making their entire line of more than 50 different cookie varieties safe to eat raw. They also slapped a new "safe to eat raw" seal on the packaging for all these products, further showing they could safely be eaten without going in the oven.
Ben & Jerry's has also entered the raw cookie dough business with a line of edible cookie doughs that can safely be eaten raw. Inspired by their beloved cookie dough ice cream, their new cookie chunks are exactly that—chunks of delicious cookie dough, minus that pesky melting ice cream. Flavors include cinnamon bun and peanut butter chocolate chip. Nestle and Doughp are two other popular bakery lines with edible cookie dough options.
Don't forget to spice up your raw cookie dough
You've got what looks like the ideal recipe. Your flour is heat-treated. Your eggs are pasteurized. But now that you've made your dough and had a couple bites, the best description that comes to mind for all your hard work is "meh?"
That's okay! Bland cookie dough is like a culinary blank canvas: As long as you have a good, creamy dough with a consistency you enjoy, it's easy to spice it up in a variety of different ways.
The recipe gurus behind The Kitchn recommend a number of different easy ways to work spices into cookie dough. Cinnamon, nutmeg, and even cardamom or ginger are obvious starting points. If you're feeling adventurous, try adding a dash or two of black pepper to your cookie dough. "It lends depth to spice cookies and marries all the usual warm baking spices together," according to Kelli Foster, food editor of The Kitchn.
You can also try a pinch of fiery red cayenne pepper, which will bring a bit of Mexican flare to cookie doughs containing chocolate. For a more exotic flavor, try a dash of curry powder. According to Foster, this earthy Indian spice "pairs particularly well with all things coconut" and works well in with buttery shortbread dough as well.
If you like to blend spices, consider Martha Stewart's spice cookies, which include cinnamon, ginger, allspice, and freshly ground pepper. All of these ingredients can be mixed to taste into a standard edible raw sugar cookie dough.
Don't neglect the mix-ins in your raw cookie dough recipe
Added spices aren't the only way to bring flavor, texture, and crunch to a plain raw cookie dough recipe. You can also introduce any number of fabulous mix-ins to your favorite prepared dough. Get creative and let your imagination run wild!
The folks at A Magical Mess suggest adding pre-baked cookie crumbles to your dough. One ideal option, they say, is classic Oreos — the delicious old-school black and white sandwich cookie which has been gracing kids lunch boxes since 1912. Just crumble your cookies, filling included, over your dough and then work the mixture in with a fork or spoon.
In addition to their standard chocolate chips, Nestle recommends adding trail mix to edible cookie dough. You can go for trail mixes with added nuts or grains, but the company's flavor wizards prefer a more basic fruit-based trail mix filled with dried fruit like apricots, cranberries or blueberries. If you're really just a chocolate lover, you could add marshmallows, almonds, and chocolate chips to your dough to create the popular Epicurious Rocky Road edible cookie dough.
For kid-friendly edible dough, you can't go wrong with shapes and flavors they know for your mix-ins. M&M's and the sprinkles typically found on doughnuts or cakes are both good options, according to Tastes Better From Scratch.
Don't forget to modify your raw cookie dough recipe for food sensitivities
Whether you're trying to lose weight, have a health problem like diabetes or Celiac disease, or are vegan, it's easy to adapt most raw cookie dough recipes to your food sensitivities.
Sugar is an obvious component of raw cookie dough recipes, but it's probably one of the easiest options to swap out. Just follow the substitution guidelines on a favorite substitute sweetener like Splenda or Stevia so you're replacing the sugar with an appropriate amount of the alternative. And don't forget there are other sugar substitutes out there, like fruit or honey. You'll have to fiddle with the recipe a bit, but that's what's fun about making raw cookie dough your own. And note that the substitution likely won't be exact. One cup of sugar is equivalent to 1 teaspoon of Stevia, for example, and adding a liquid sweetener like apple sauce means you might have to add more dry ingredients for balance.
And if you don't eat butter, you can try substituting your favorite dairy free milk or dairy free margarine in place of the butter in raw cookie dough, andt his recipes a great way to start.
As for people who want to avoid the gluten in standard flour, any gluten-free substitute like almond flour or brown rice flour, along with 1 teaspoon of Xanthum Gum or Guar Gum to help give your dough structure, should work, AllRecipes advises.