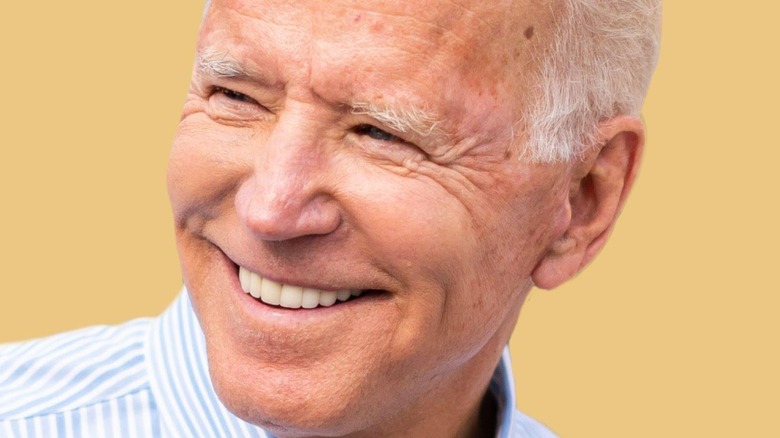 President Joe Biden is not a fussy guy. His roots are in industrial Scranton, Pennsylvania, and he's the son of a working class Irish Catholic family whose father sold used cars and cleaned furnaces (via Biography). For decades as a senator, he commuted by train every day from his home in Delaware to Washington, D.C., just like thousands of other wage earners.
Like the other things in his life, when it comes to the food he eats, Joe Biden keeps it real. "He's pretty much a basic eater," said First Lady Jill Biden about her husband's eating habits to Parade. Rather than lobster tails on gold-plated dishes, Biden likes to keep things simple. A Washington caterer who's worked for Biden put it this way: He is "a man of the people, and his taste in food reflects that proletarian approach" (via The Washington Post). So let's pull back the curtain a little more and really get to know what fuels our 46th president. Some of it may surprise you!
Pasta with red sauce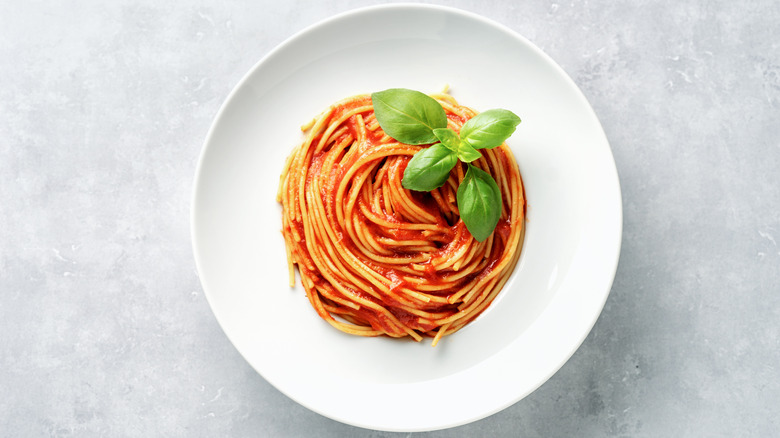 Joe really loves pasta. You could even call him a bit obsessed. Give the president a plate of pasta al pomodoro or spaghetti and meatballs, and he'll be like a kid in a candy shop. As former President Barack Obama once said, "He can go deep on that" (via Twitter). "It's pasta all the way [for Joe]. He likes angel hair pasta with red sauce," Jill Biden told Parade.
Just what is it about pasta that sends Biden swooning? Well, the culinary skills of his Italian-American wife likely have something to do with it. The first lady's recipes and skill in the kitchen likely began with her Sicilian paternal grandmother, who would whip up hearty meals for the extended family. "Her cooking was the best — the red sauce and the meatballs and the pasta," Biden recounted during the magazine interview.
Just before launching his bid for the presidency, Biden embarked on a string of speaking engagements for which he had a contract rider that even required angel hair pasta pomodoro be provided to him at every location, reported The Washington Post. So, yeah, you can definitely say the 46th president is firmly committed to pasta.
Orange Gatorade
It's not often that someone names orange Gatorade as their go-to drink, but the president is especially fond of the electrolyte-loaded beverage. In fact, he's flat-out stated to Us Weekly that it's his favorite drink!
What is it about Gatorade that Joe finds so appealing? It's likely simply a part of "well-worn routines" for "a creature of habit," according to The Washington Post, whose reporters interviewed seven insiders familiar with the president's activities to get the inside scoop on his daily patterns. Per their reporting, President Biden's typical day starts out with a workout or a visit from his personal trainer and is followed by lots of meetings. Along with that are regular sips from his favorite orange sports drink. He'll often carry a bagged lunch into meetings, too, which of course include — wait for it — a bottle of orange Gatorade.
Does Joe only drink orange Gatorade? Well, no. Documents from past speaking engagements, uncovered by The Washington Post in 2019, reveal he's also partial to "Coke Zero, regular Coca-Cola… and black coffee."