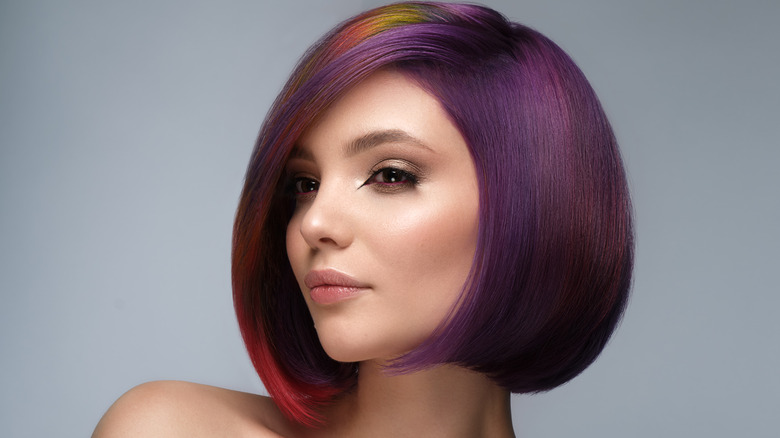 When it comes to style and expressing ourselves, our haircuts and hairstyles are an obvious way we show the world who we are and what we like. As hairstylist Alexander von Trentini tells Get to Text, hair trends are worth paying attention to if you're someone who likes to play around with new styles to achieve that "This is the real me" high. He says that, while it's important to know what type of person you are and what you're comfortable with, trying out trendy styles can be fun. He explained, "At best, trends should be used to get inspiration in the short term and to reinvent yourself over and over again."
2021 certainly was full of trends to pay attention to — and plenty of celebrities who paved the paths forward for the rest of us. For every hair trend that might have had you shaking your head and asking why, there are dozens that enjoyed enormous popularity and support across social media platforms and beyond.
Here's a look at a few of the biggest hair trends from 2021 and what made them stick.
Long layers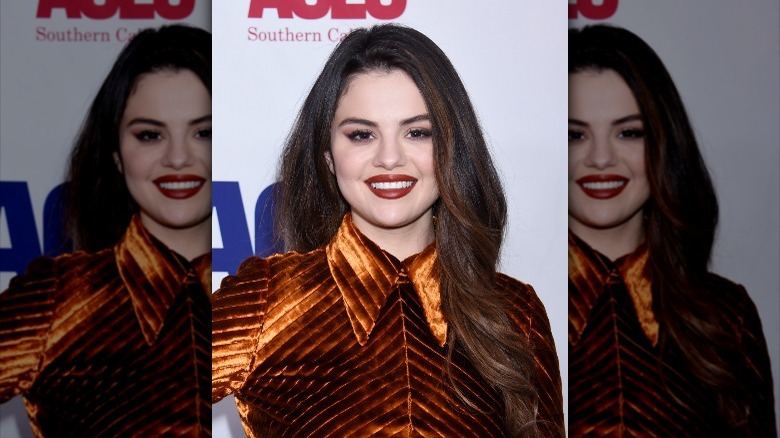 We definitely saw a lot of long layers in 2021, and it's really no surprise why. This hairstyle is simultaneously classic and modern and also pretty easy to maintain for those of us who prefer to rock longer tresses. Long layers are also a great way to add volume and dimension to your hair, especially if it tends to get dragged down the longer it gets.
As hair pro Luke Hersheson told Glamour, there are lots of benefits to having layers in your hair, no matter how obvious or subtle you decide to go with. As he explained, with long layers, the key is keeping the style tamed: "You may have layers in your hair, but you don't want them to feel like clumps or ledges."
Behind the Chair also notes that plenty of people wanted long layers in 2021 because they're easy to style and maintain. Whether you prefer to air dry your hair or blow it out, the look is always fantastic.
Face-framing layers
Singer and songwriter Lizzo is a big fan of another 2021 hair trend: face-framing layers. And she's not the only one. In fact, Southern Living declared the hairstyle as the best one for just about every face shape and hair type, adding, "No matter your face shape, length, or texture, it works. It's not the one-off haircut you'd expect, but rather something that can be added onto your length of choice to make it at least 10 times more flattering."
When it comes to hairstyles, face-framing layers add a lot, especially in a world where blunt bobs are still a huge trend. The best part about long layers might be that you can truly personalize the look, deciding exactly where each layer will hit and on what part of your face/neck/shoulders (per Southern Living). As Allure adds, the cut is also a wonderful way to try something new with your hair without completely jumping onboard.
1990s-inspired haircuts
The '90s have made a comeback in a number of ways this year, and hairstyles are certainly no exception. Lots of celebrities, such as Bella Hadid, have been rocking '90s-inspired hairstyles that have well-defined curls and pieces. The interest in all things 1990s really surged in the fall of 2021, with InStyle noting that the trend applied to wardrobe choices as well, with the season going "all-in on the alternative era's resurgence."
1990s-inspired hairstyles can cover quite a range. As Byrdie notes, this includes everything "from plush, sparkly, and all-around-whimsical hair accessories to braids, twists, and even some spikes." For many of us, the hairstyles we rocked and/or coveted in the '90s still inspire the way we do our hair to this day.
As Harper's Bazaar notes, everything from Cher Horowitz's style in "Clueless" to singer Brandy's curls and braids to Winona Ryder's bob are big — and choosing any of these hairstyles truly added a "choose your own adventure" vibe to 2021.
Blunt ends
When it comes to hairstyles that have, um, a little edge to them, blunt ends were all the rage in 2021. The style was especially big this summer, with Los Angeles-based hair expert Tauni Dawson explaining to PopSugar that the look is perfect for people who are "going for more of a blunt look to keep the hair looking full and strong over the summer."
Blunt ends can also be a great option after the summer to transition to fall, especially if your hair has been damaged by swimming or sun exposure. Sanya Keramen, the creative director at Nikita Hair, explained to Good Housekeeping that blunt ends are the way to go to get rid of damaged tresses and help your overall look without having to commit to a hairstyle that requires a ton of time and upkeep. She added, "Practicality aside, blunt haircuts bring the drama, boldness, and strength."
Modern mullets
In April 2021, people around the world were surprised to learn that former British Prime Minister Tony Blair had apparently grown a mullet over the coronavirus pandemic. The news made it all the way to outlets like CNN, which noted that Blair's "arresting" mullet had distracted viewers tremendously, and Blair soon found himself "trending on social media for all the wrong reasons."
While Blair might not have been trying to hop on one of 2021's hair bandwagons, the mullet definitely has been a look we've seen everywhere this year. Singer Miley Cyrus sported her own mullet in 2021 after having her mom cut her hair, and while appearing on "Jimmy Kimmel Live!" Cyrus explained that her mom only knows how to cut one specific style. Push came to shove, and, as she put it, "All my mom can do is a mullet, so I had one option and needed it."
Lovely lobs
A lob, or long bob, is often a great choice for someone who wants to keep their hair just right — not too long and not too short. Ana de Armas has rocked a lob for most of 2021, and she's definitely not alone. As Marie Claire puts it, lobs are universally flattering. In fact, the publication says lobs are so great "they're basically the jeans from 'Sisterhood of the Traveling Pants,' but for hair."
Glamour U.K. echoes this sentiment, noting that a lob cut gives the illusion of both long and short hair. The publication looped in stylist Jack Baxter, who explained that the haircut is also visually attractive — perhaps, one reason it stays so popular. "The blunt ends give a modern texture that is interesting and appealing to the eye," he said. The true reason the lob was so popular in 2021 likely varies from one person to the next, but one thing is for sure: This hairstyle is likely not going anywhere, and there are lots of variations.
Classic but modern Princess Diana cuts
Princess Diana was beloved by many all over the world, so it's no surprise that modern takes on her classic hairstyle were all over the internet in 2021. Celebrities, such as Kaia Gerber, have offered their own version, and plenty of us regular people have been rocking the 'do, too. That's possibly because Diana has been an especially hot topic this year, between Prince Harry and Meghan Markle's tell-all interview with Oprah Winfrey and the release of "Spencer," a psychological take on Diana's holiday experiences with the royal family.
Whatever the reason, the hairstyle is a good one! As international artistic director Suzie McGill told Glamour, the hairstyle has been big in 2021 because, much like Princess Di herself, it's a classic. "Diana has always been a style icon and the bob never goes out of fashion," she said. The look has other pros, too: For one, it's easy to grow out if you decide to move on to another style.
Subtle highlights
Highlights close to your natural hair color is another major trend of 2021. And a lot of celebrities, including Lily Aldridge, have been seen rocking the style throughout the year. It's obviously a low-maintenance look for those who want the added dimension of highlights without having to have to go for regular touch-ups.
The look is also expected to be especially trendy in December and the early months of 2022, as it's an excellent winter look for just about every hair color. Matching the highlights to your hair is also an easier way for brunettes to experiment with color without doing anything too wildly drastic. Redken artist Celene Dupuis explained that adding color only a shade or two lighter than your natural tone will help you avoid harsh contrasting lines, which is likely a goal for most people adding any color other than their own to their heads.
Bangin' bangs
Bangs have been around for quite awhile, but there's a reason for the uptick in 2021: If you've spent the last year feeling like cutting bangs is the thing you just have to do right now, you're actually not alone. As Los Angeles-based stylist Sal Salcedo explained to Refinery29, there's a psychological reason why people have been cutting bangs this year that has a lot to do with having spent the last year or two in an unusual state from the pandemic. Salcedo said, "Right now, people are starting to see a lot of changes in society. In order to see, we need our eyes, and a bang accentuates them."
Additionally, Salcedo explained that bangs are a great way to cut your hair dramatically without really cutting it all off. And bangs allow you to keep the overall length of your hair, whatever that might be, as they're easy to style with both long hair and short hair just about any of the time.
'70s inspired haircuts
As much as people have spent 2021 flocking to '90s-inspired haircuts and fashion, the 1970s are also back in a big way. Vogue France predicted a revival of the iconic Farrah Fawcett haircut in early 2021, and since then a bevy of hairstyles and cuts from the decade have emerged. As the publication notes, celebrity hairstylist Chris Appleton has even jumped on board the trend, offering up a video tutorial for anyone who wants to try it out.
When it comes to hairstyles from the 1970s, there are a few components that make the looks unique to the time. According to Glamour, these include loose layers and perfectly disheveled textures, along with other '70s staples like natural hair (just as Keke Palmer rocked at the 2021 Met Gala), curtain bangs, and shaggy styles. Shea Moisture ambassador Stefan Bertin told Glamour that the way to keep your look more modern is by texturizing your hair.
Undercuts
If you're thinking that undercuts have been around for a minute, you're not wrong — but 2021 definitely took the popular style to a new level. After a year or two of the pandemic, it's not a surprise that people are looking for fun ways to show off their inner selves.
As therapist Nikki Nachum explained to Allure, making a big change with our hair is often a way to announce other big changes in our lives, and the undercut can certainly do that. She says, "A new haircut becomes almost like an announcement to both yourself and the outer world that something is changing in your life."
Allure's Nicola Dall'asen agreed, explaining that many people have opted for undercuts in 2021 because several months of being home inspired them to try a new look. Though the style is easy to maintain, it's difficult to pull off yourself. She said that the rise in the trend indicates a "return to the hair salon [that] really opened the doors and gave people license to get a real statement haircut."