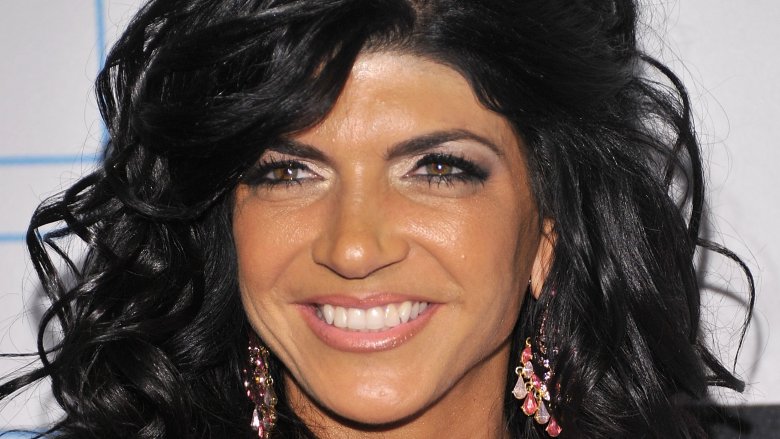 Celebrity scandals can spread faster than the common cold, and fortunately for those of us who can't help but love drama, the vast world of reality TV offers no shortage of material chock-full of sordid secrets and improper affairs. Though viewers have probably come to expect the unexpected on their favorite hit shows, there have still been major on-screen debacles that managed to catch audiences off guard, though it did nothing to boost public opinion … or one's faith in humanity.
From legal woes and nasty language to co-star kerfuffles and love gone terribly, terribly wrong, these small-screen chefs, bachelors, hunters, house flippers, and more turned regularly scheduled programming upside down. Their unthinkable actions made things just a little too real for everybody, leading to fan outrage, sour ratings, and even some trouble with the government. Read on to learn all about the reality TV scandals that no one saw coming.
Here Comes Honey Boo Boo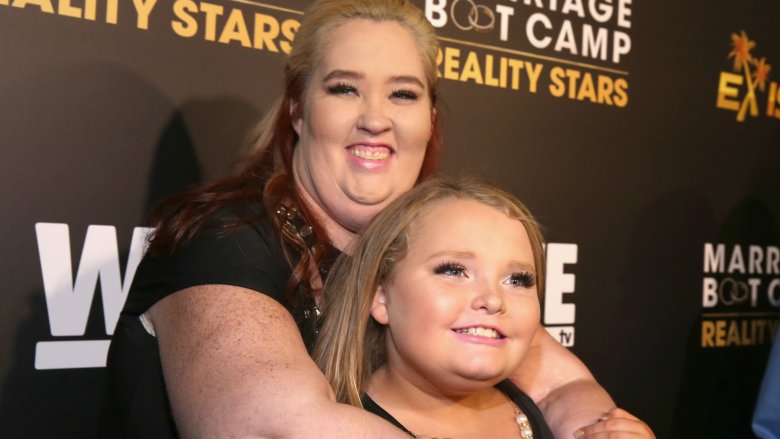 Of all of the possible controversies that could come out of a show titled Here Comes Honey Boo Boo, it was an out-of-the-blue child molestation scandal that derailed the enormously popular sketti and ketchup train.
Here Comes Honey Boo Boo spanned four seasons before a dark thread wove its way into a seemingly jovial, if not alarmingly unhealthy, family. According to TMZ, matriarch June Shannon allegedly exposed Alana Thompson (Honey Boo Boo) to ex-boyfriend Mark McDaniel, a convicted sex offender who went to jail for sex crimes involving what would later be revealed to have been another of Shannon's daughters, Anna. Shannon denied all of it — even the abuse McDaniel went to jail for, which Anna openly talks about.
TLC passed its own judgement. The day after the TMZ bombshell, TLC pulled the plug on the show via a statement that read, in part, "the health and welfare of these remarkable children is our only priority."
Oh, really? We'll just go ahead and leave this clip of a 6-year-old Alana chugging a concoction of Red Bull and Mountain Dew on TLC's Toddlers & Tiaras right here.
19 Kids and Counting
Perhaps because of its stark contrast to its carefully crafted, wholesome image, the scandal that rocked the Duggar family in May 2015 has proven to be an onion of many awful layers.
It all began when In Touch published a 2006 police report detailing allegations from 2002, when a then 14-year-old Josh Duggar allegedly molested five female minors — who were later revealed to be four of his sisters and one family friend. A deeper investigation revealed what looked like cover-up attempts by parents Jim Bob and Michelle Duggar. Within months, TLC's 19 Kids and Counting — the giant family's primary meal ticket — was cancelled. That wasn't the last of Josh's troubles. He was also exposed in the Ashley Madison hack, prompting him to publicly admit to years of lying and infidelity.
By December 2015, the eldest children of the Duggar clan had returned to TLC with a new series called Counting On. In one way or another, mostly every member of the family has returned for that series, except Josh.
Duck Dynasty
After Robertson family patriarch, Phil Robertson, gave a now infamous GQ interview during which he compared homosexuality to bestiality, a social media firestorm descended on the popular duck call makers. The ensuing debate about free speech, hate speech, and religious freedom threatened Duck Dynasty, prompting A&E to briefly suspend Phil from the show — in its off-season, when it wasn't even filming — which caused even more uproar from supporters and critics.
Duck Dynasty was hands-down A&E's most popular show to date, not to mention a merchandising juggernaut, and so it appears the network decided to white-knuckle it through the backlash rather than kill the series and sacrifice a ton of revenue.
Paula Deen
Apparently watching Paula Deen make sugar-coated, deep-fried butter balls wasn't popular enough for America to forgive the Southern chef for her testimony during a racial and sexual discrimination lawsuit. Deen admitted in a deposition that she sometimes used the n-word. Even though she won the suit, the heat from the controversy was too much for the Food Network, who kicked her out of the kitchen. The controversy didn't sit well with her business partners, either. Forbes reported that Smithfield Foods, Target, and Walmart, with whom Deen had endorsement deals that earned her $17 million at the height of her popularity, all dumped her.
But she didn't go quietly. According to Eater, Deen acquired the rights to all of her old Food Network shows and turned them into a subscription-based online network. On top of that, she launched a clothing line, competed on Dancing with the Stars, and attempted to return to cooking on TV with a new syndicated series called Positively Paula. As of this writing, Deen has created dozens of episodes, but the show has yet to find a permanent home on cable. Maybe it needs more butter?
The Real Housewives of New Jersey
While other cast members of The Real Housewives franchise have gone to jail, Joe and Teresa Giudice's conviction caught viewers off guard because of their adamant denials. Granted, anyone who's ever seen a mafia movie has probably looked at Joe and thought, "Oh yeah, that guy's connected. He's done some stuff," but the couple viciously lashed out at anyone who insinuated any criminal activity.
Turns out that was all a huge bluff, because both Teresa and Joe copped plea deals regarding a slew of fraud charges, although to hear them tell it, Teresa was an unwitting victim of Joe's deception. In the end, they both went to jail, albeit not concurrently, so at least one parent would be around to take care of their four daughters. As of this writing, Joe is in the midst of his 41-month sentence. He also faces the possibility that he will get deported to Italy at some point.
Teresa served 11 months, then returned to the show and wrote a book about the experience, but there will never be a return to the way things were. In a September 2017 interview with Us Weekly, she said, "I'm never signing anything ever again. I think we should keep things separate. So in that way, we kinda will be divorced."
The Biggest Loser
NBC's reality show weight loss competition, The Biggest Loser, weathered many scandals during its 17-season run, including the relatively obvious one that — Gasp! — there may have been some behind-the-scenes funny business going on in order to get contestants to drop weight faster. But we doubt anyone would have guessed that one of the biggest shocks — and one that prompted longtime trainer Jillian Michaels to leave the show — would be a contestant losing too much weight.
Season 15 winner Rachel Frederickson shocked the trainers and viewers when she returned for the finale having shed a startling 155 pounds. "I was immediately concerned and wondering how this happened, how no one had said something to me, and how … this had fallen through those the checks and balances that had been put into place," Michaels told HuffPost Live.
Michaels' exit signaled something of a beginning of the end for the show, which limped along for another two seasons despite a steady decline in ratings and more former contestants voicing concerns over their experiences.
Big Brother
Being held in a captive environment and broadcast live on the internet is literally the entire concept of Big Brother. As such, you would think that would put contestants on guard to not make racially insensitive comments the whole world will see, but that's exactly what happened during the 15th season of the American version of the show.
Contestant Aaryn Gries repeatedly made seemingly racist and homophobic remarks and was eventually evicted from the house. During her post-show interview, she tried to explain away her commentary as just the way people joke around in Texas, where she's from. Gries' laughable excuse aside, the broader controversy stemmed from the fact that CBS chose to include her offensive remarks during the television broadcast, which is edited from the live 24/7 video stream. CBS tried to cover its tracks by issuing a generic statement saying producers "do not condone" any commentary that may "reveal prejudices and other beliefs."
As to why the series made the decision to air these particular comments, we'll just go ahead and point to Business Insider's observation that before the controversial episodes aired, the show was in a ratings slump. Afterward? The series enjoyed its highest ratings ever.
Dance Moms
Dance Moms star Abby Lee Miller went to prison for fraud related to a bankruptcy filing. Miller's demise was bunk bookkeeping, or more specifically, "allegedly hiding about $775,000 in income to gain better terms to restructure her debt" and possibly "bringing $120,000 worth of Australian currency into the country without reporting it," according to ABC News.
"I'm going to pretend I'm in a movie and we're on set and I'm there for 10 months and that's the way it's going to be," Miller told ABC of her one year and one day sentence behind bars, which began in July 2017. She also said she'd spend her time in the clink "reading, writing and learning Spanish," which is lovely for her, but even more terrifying for future students who will likely need to use Google Translate when Miller starts screaming, "Apunta tus dedos de los pies!" at them.
Bachelor in Paradise
Next up: Let's talk about The Bachelor spin-off show, Bachelor in Paradise, and the pool sesh heard round the world before the show even aired its first episode. After production was halted in order to pursue an investigation into alleged "misconduct," explosive allegations began to fly over what occurred between the two cast members in question, Corinne Olympios and DeMario Jackson.
Normally, cast hookups on a show like Bachelor in Paradise are about as routine as an open bar, but in this case, there was a claim of a possible sexual assault, which is neither expected nor tolerable. Speculation got even crazier when Olympios and Jackson each issued statements, with Olympios calling herself "a victim," and Jackson stating that his "family name has been assassinated." When the dust settled, the investigation indicated that there was no misconduct or evidence that "the safety of any cast member was ever in jeopardy."
According to E! News, the show finally addressed the scandal in the most Bachelor way possible: weeks of promotion, two dramatic sit-downs with both Olympios and Jackson, and a full cast Q&A.
The Bachelor
The Bachelor has a rich history of controversies, most of which aren't difficult to fathom considering they almost all involve drinking shenanigans, infidelity, or hookups among cast members, but how about when a cast member is accused of hooking up with the show's staff? Didn't see that curveball coming, huh?
Host Chris Harrison went in hard on the alleged rule-breaker, Rozlyn Papa, spelling out the details of the forbidden tryst in an interview with People. "She had a physical relationship with a producer on our show. You cannot do that. There is no gray area … Other girls on the show saw it. The producer confessed more than once and to more than one person. I cannot make it any clearer."
Papa denied any such relationship, telling Us Weekly, "There was no making out! Unfortunately, I did not get any out of this big sex scandal that supposedly happened. If I had known that I was going to get accused of it, maybe I would have gone for it!" Citing her confidentiality agreement, Papa did not elaborate on what, if anything, occurred between her and the producer, but she did say, "It's a TV show and there's a lot more to that story and it has nothing to do with sex."
Actually, it's The Bachelor and that's…pretty much always the whole story.
Dog the Bounty Hunter
Another victim of his own uncensored tongue is Duane "Dog" Chapman, the mulleted, sleeveless wonder who miraculously tracks down fugitives within the United States' eighth smallest state, which also happens to be broken up into several smaller islands. (So, it's not that hard, is what we're getting at.) Anyway, Dog took some serious heat after a recorded phone call hit the internet, revealing his repeated use of the n-word, the context of which, ironically, was about never getting caught using the n-word.
After a brief suspension and a mea culpa on Larry King Live, Dog was back on A&E bagging bail jumpers. Because if there's one thing Americans hate more than racism, it's having to find a new favorite show.
Survivor
At its best, Survivor is a game of, well…survival. At its worst, it's a game of masterful deception and gameplay, pitting conniving tribe members against one another in a winner-take-all competition that sometimes brings out the worst in people. One of those people was Jon Dalton (aka Jonny Fairplay), the contestant who infamously lied about his grandmother's death in order to drum up sympathy to shield him from a possible ouster during Survivor: Pearl Islands.
The ruse worked, sort of, in the sense that most of the cast seemed to believed him. Dalton made it all the way to the final four, ultimately placing third. His move also solidified him as one of the greatest reality TV villains of all time, a title he claims he invented.
Not everyone was so impressed with his shrewd antics. Longtime Survivor host Jeff Probst told Entertainment Weekly that Dalton is "despicable," yet also "a producer's dream." So, it's a love/hate thing, as in, hate the guy, but love that sweet TV money? Got it.
Flip or Flop
The marriage of Flip or Flop stars Tarek and Christina El Moussa was already reportedly over when the bizarre incident involving an argument, a gun, and an impromptu hike hit the tabloids. Here's the synopsis: Tarek and Christina had a fight. Tarek then left in a huff and fled to a nearby trail behind the house, but not before retrieving a handgun from a safe — in full view of several witnesses — and stuffing it into a backpack. Why? He later told police, who responded with a helicopter search, that it was "for safety because of mountain lions and rattlesnakes in the area." Okay.
From there, the tabloid floodgates burst, and it was open season on the El Moussa's marriage as the stars weathered scandalous hook-up rumors, lawsuits from subcontractors, and even a kerfuffle of a child services investigation that turned out to be nothing. Amazingly, as of this writing, the show is still recording new episodes, and both Tarek and Christina are still starring together, despite the fact that they've now dealt with more stress than a shifting foundation or the need to bring in a support beam could have ever given them.
Fixer Upper
It's tough to imagine Chip and Joanna Gaines, the charmingly wholesome stars of Fixer Upper, being tangled up in anything more scandalous than, say, using a brand new sliding barn door for a master bath ensuite instead of a reclaimed one. But in 2017, Chip's former business partners, John L. Lewis and Richard L. Clark — the ones with whom he founded Magnolia Realty — sued him for fraud.
According to The Waco Tribune-Herald, Chip allegedly bought them out of the business for $2,500 each, just two days before the announcement that HGTV had picked up the show. Magnolia Realty ballooned into Magnolia everything, leaving Chip's former partners feeling left out. They sought $1 million in damages from Chip, "Magnolia Realty; Scripps Networks, the company that owns HGTV; and High Noon Productions, the company that produces Fixer Upper."
As of this writing, the legal action is still pending. Chip responded with a tweet: "Fyi: Ive had the same cell # 15 yrs.. same email for 20 yrs. No one called or emailed? 4 years later 'friends' reach out via lawsuit.. Humm." (Expert clap back.) Meanwhile, fans are mourning the Gaines' decision to end the home reno series, but we're sure they'll have the popcorn ready as the unexpected drama surrounding Magnolia Realty continues to unfold in the headlines. (Yes, the bowl will be made of shiplap.)
Sister Wives
Sister Wives is the reality show about Kody Brown and his four wives: Meri, Janelle, Christine, and Robyn. Yes, they are polygamists, and yes, their family dynamic is extremely complicated, hence the structuring of an entire television show around it. But one kink in the chain that no one expected was for OG wife, Meri, to get wrapped up in a catfishing scandal.
For those unaware of the term "catfish," it's when an online companion — generally of the romantic persuasion — turns out to be a complete con artist. In Meri's case, not only was her catfish, "Sam," willing to exploit her emotionally, but he also turned out to be a notorious "online scammer" named Jackie Overton, a woman who reportedly "seeks out vulnerable personalities to score various goodies." Other than an ebook, a blog, and some social media disruption, it's unclear what Overton ultimately achieved from her deception, other than providing an insanely juicy storyline for the show, which producers drew out for an entire season.
Married at First Sight
There have been so many failed marriages on A&E's controversial reality show Married at First Sight, that the network should probably change the name of the show to Countdown to Inevitable Divorce. The series does exactly what the title says — pairs two strangers who marry the day they meet — and while there clearly weren't high expectations for marriages that took as much thought as grabbing a candy bar in the checkout line, nobody anticipated what happened with Season 2 newlyweds Jessica Castro and Ryan De Nino.
According to the New York Post, Castro and De Nino married in December 2014 and made it all the way to February 2015 before throwing in the towel. Why? Castro says her husband threatened to kill her and her entire family. De Nino didn't outright deny the accusations. Instead, he posted the protection from abuse petition Castro filed against him to Instagram and wrote that he was "disgusted." In Touch reported that a paralegal representing De Nino in the divorce claimed he "threw a tantrum" during a meeting and "became even more violent" to the point where others came in to check on the paralegal's safety.
De Nino apologized to Castro at the reunion show (via ABC News), saying: "I am sorry. No matter what, it's unacceptable [to speak to you the way I did] and as a man I need to take ownership of that."
Gym, Tan, Tax Evasion?
Of all of the possible scandals we could have imagined coming out of Jersey Shore, tax evasion wasn't even in the top ten. Discovering they tried to get a jellyfish drunk? Sure. Financial crime? This knocked the gel right out of our hair. But that's exactly the [insert situation joke here] that Mike Sorrentino got himself into when he pleaded guilty to "one count of tax evasion in January 2018," according to People. The plea deal came after years of legal wrangling over a longer list of charges against him and his brother Marc Sorrentino that included "structuring and falsifying records" and "conspiring to defraud the United States" in relation to improperly paid taxes "on $8.9 million in income from 2010 to 2012."
Marc wound up with a two year sentence. Mike paid his restitution and fines, and was "ordered to complete 500 hours community service" following eight months in the clink, which he started in January 2019.
Naturally, Mike found a way to use the occasion for a little self-promotion. "The comeback is always greater than the setback," reads part of the caption on Mike's YouTube video that documents his self-reflective car ride to Otisville Federal Correctional Institution in upstate New York. And should you be so inclined, or have some cash laying around from your tax refund, you can sport that very phrase on your own Sitch-branded t-shirt for the low, low price of $24.99. Now, that's something to fist-pump about.
Every rose has its thorn
Scandals that emerged from The Bachelor include, but are not limited to: contestants who hid criminal backgrounds; contestants who hid acting aspirations; and a serious allegation of sexual misconduct (that was only ever dubiously cleared). But those all pale in comparison to the fatal accident caused by Chris Soules, who starred as the titular rose-presenter for season 19.
Soules was driving around his home state of Iowa in April 2017 when he "rear-ended 66-year-old Kenneth Mosher's tractor trailer," according to E! News. Mosher later died from his injuries. Initial reports stated that Soules fled the scene of the accident and was possibly driving impaired. However, his attorneys argued that while Soules did not remain at the scene until police arrived, he "contacted law enforcement immediately" and "attempted to resuscitate Mr. Mosher and remained on the scene with him until emergency medical personnel arrived."
Soules initially faced felony charges and up to five years in prison (per Us Weekly), but he struck a deal with prosecutors in November 2018, pleading down to "the lesser-included offense of Information and Aid – Leaving the Scene of a Personal Injury Accident." He could still be looking at up to two years in jail and fines as high as $6,250. As of this writing, Soules is still awaiting sentencing.
Trying to out-gossip the ladies of RHOBH didn't end well
Since its inception in 2005, the Real Housewives franchise only exploded in popularity — and alongside its success, fans came to accept the exponentially outlandish behavior of the various casts. RHONY's Sonja Morgan getting hammered and chipping her tooth? Just another boozy night for the Big Apple's bougiest. RHOBH's Taylor Armstrong dropping $60,000 on a four-year-old's birthday party? Chump change. In other words: We expect it to get crazy on Bravo's signature franchise.
But nobody saw it coming when RHOC's Brooks Ayers' (above right) made some seriously dubious claims about his cancer diagnosis. Already suspicious of Vicki Gunvalson's boyfriend, the rest of the cast went from socialites to cold case detectives faster than you can say, "Whoop it up!"
Essentially what happened was a psychic told the ladies he couldn't "see" Ayers' condition, which was apparently all the evidence they needed to doubt him. Ayers poured gas on the gossip flames by faking documents from the cancer center at which he claimed he was treated, although he always maintained that he was actually diagnosed with stage 3 non-Hodgkin lymphoma. According to People, Ayers — who once allegedly hit on Gunvalson's daughter by telling her his nickname was "Girth Brooks" — later said the forged docs were his attempt "to demonstrate to the world that I too could manufacture 'gossip/fakeness' and create a lot of unnecessary drama that simply didn't make any sense." Mission accomplished, Girth.
'The lies! The lies! The lies!'
It gets so real on The Real Housewives of Atlanta that the drama went from shade-throwing to physical smackdown, thanks to volatile cast member Porsha Williams' attack on series antagonist Kenya Moore during the season six reunion show. But even with the expectation that blows could be thrown at any time, fans of the southern-set spinoff probably didn't expect Phaedra Parks, long known as one of the least dramatic cast members, to cook up the scandalous rumor that eventually sent her packing from the show for good three years later.
During another explosive reunion showdown (via E! News), Williams finally revealed that Parks was the source of the rumor that Williams repeated earlier in the season: that castmate Kandi Burruss and her husband Todd Tucker planned to "drug and rape" Williams. In her own curiously weak defense, Parks (who is a lawyer, no less), merely said she "didn't remember" saying that. The rest of the cast wasn't having it, and they reportedly told producer Andy Cohen (via E! News) that they no longer "wanted to have anything to do with her." Bravo subsequently canned Parks.
Perhaps the most relevant commentary on the salacious scandal — aside from Burruss' now classic "The Lies!" GIF — came from castmate Cynthia Bailey, who said, "We have all said a lot of reckless stuff, but I felt like, at that point, when it was even implied … that's when s**t went way too far."
Megan did not get what she wanted … at all
It's not that shocking to discover that the contestants on a reality TV dating show about a woman seeking a relationship with a rich guy might be a bit shallow. However, nobody thought one of them would turn out to be a murderer. But that became the unintentional B-plot of VH1's Megan Wants a Millionaire, the short-lived series that cast Ryan Jenkins (above right) as one of the suitors for trophy wife hopeful Megan Hauserman (above left), who previously failed to win the heart of Poison frontman Brett Michaels on VH1's Rock of Love.
According to People, Jenkins became "a person of interest" in the murder of his wife of five months, Playboy model Jasmine Fiore, while his episodes of Megan Wants a Millionaire were still airing. Fiore and Jenkins married 48 hours after meeting and "just several days after Hauserman eliminated him as one of the final contestants on her show" (per a separate People report).
After an eight day international manhunt (Jenkins was Canadian), he was found dead in a motel room, having committed suicide. By then, VH1 already yanked Megan Wants a Millionaire off the air (after just three episodes), and Hauserman was holed up in her apartment, fearing for her life since she'd kept in contact with Jenkins throughout his brief marriage to Fiore. "I try not to think too much about all this," Hauserman later told People. "This was such close call. Jasmine and I could have been interchangeable."
Chrisley's accountant doesn't know best
USA's description of Chrisley Knows Best dubbed multimillionaire real estate developer Todd Chrisley's family as "a picture-perfect Southern clan who have everything money can buy." Hopefully, this also includes some pretty good lawyers, because he and wife Julie Chrisley found themselves in hot water in August 2019.
The U.S. Attorney's Office for the Northern District of Georgia announced at the time that the reality TV couple and their accountant, Peter Tarantino, had been indicted on "multiple counts of conspiracy, bank fraud, wire fraud, and tax evasion." According to The New York Times, these three "allegedly took steps to obstruct IRS collection efforts" by "hiding income" and "lying to third parties about tax returns," and reportedly failed to file income tax returns between 2013 and 2016. The Chrisleys were also accused of fraudulently obtaining millions of dollars worth of loans through falsified personal financial statements and bank statements. In addition to denying the allegations, the pair's lawyers claimed the indictment was a result of documents fabricated by a disgruntled former employee. The couple has pleaded not guilty.
Meanwhile, estranged daughter Lindsie has since reportedly accused both her father and brother Chase of attempted extortion, claiming that they "threatened to release [her] sex tape if she didn't lie about a certain 'incident'" (via TMZ). The incident in question is believed to be related to the Chrisleys tax evasion case.