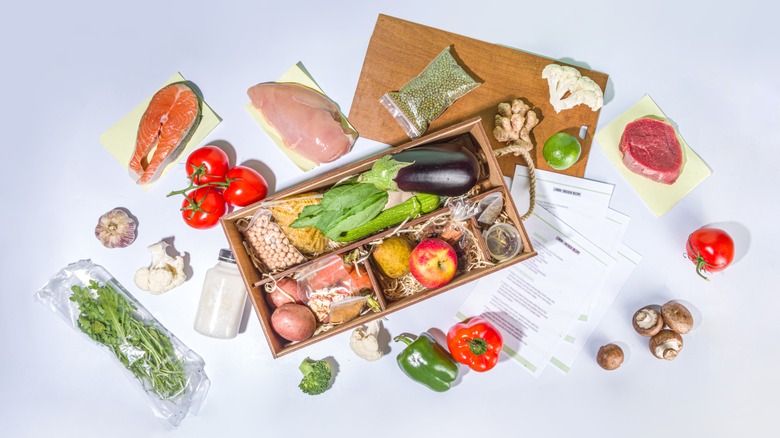 Giving the gift of a food subscription might not seem all that thoughtful or heartfelt given how easy the whole process is. The gift buyer need only click a link or two, add some shipping and payment info, confirm the order, and the work is done. Doesn't a truly great gift require visits to multiple stores, the browsing of countless shelves, and the loving wrapping and hand-delivery of that perfect present?
No. Not at all. Let's be honest here, what's a better gift, the decorative whatnot that ends up on a shelf in the home instead of the store, the item of clothing that barely gets worn, the book that's read once, or … the box full of delicious stuff your giftee can eat?
A food subscription is not only a thoughtful gift, but it's the one that will have the gift recipient thinking of you well after they have forgotten who gave them this, that, or the other thing. Whether you sign someone up for a season, six months, or a full year of food deliveries, they will appreciate your gift each and every time. And when you choose just the right type of food subscription gift for a given gourmand — be they a hot sauce fanatic, a healthy-minded chef, a sweets fan, and on it goes — your gift will feel anything like an afterthought. Yet, it will still only have taken you about five minutes to order the thing. And that? That's a win-win. Here are some of our favorite food subscriptions that make ideal gifts.
Purple Carrot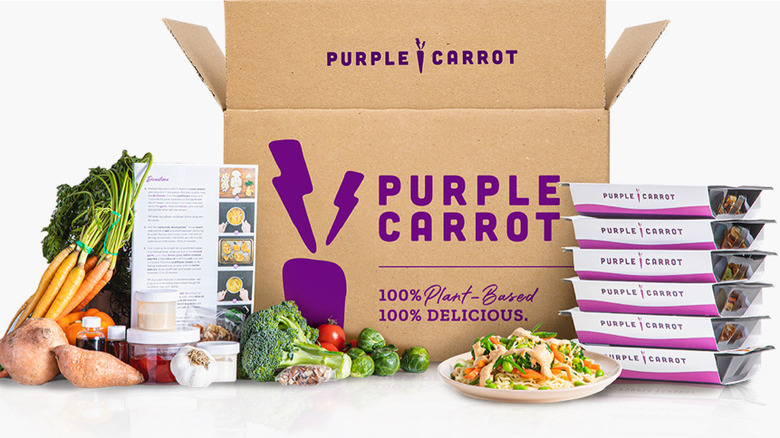 Purple Carrot provides two kinds of boxes: those loaded with prepared meals that need only be heated and eaten, and those packed with all the ingredients needed to cook great meals at home, with said ingredients carefully portioned out and with easy to follow instructions included. What both options have in common is the fact that all items are plant-based and vegan-friendly.
To give the gift of a Purple Carrot subscription, you simply select a credit amount and then the recipient can apply it however they wish, be that weekly prepared meal deliveries, ingredient boxes, how large each delivery should be (how many servings, aka mouths to feed), and, of course, which meals and/or meal kits will be included. Given the two options offered, Purple Carrot is a great gift for the busy person with no time to cook as well as for those who take a more leisurely approach and love the prep and cooking process. Also, the selection of dishes, which includes Winter Chowder, Lemon Pepper Tofu, and Charred Broccoli Tacos, is pretty great.
Jeni's
When you give the gift of the Jeni's Pint Club, you are coming about as close as you can to giving the gift of happiness. That's because this is the gift of ice cream — and not just any ice cream. This is a brand that makes rich, frozen goodness in unique flavors like Skillet Cinnamon Roll, Wildberry Lavender, Middle West Whiskey & Pecans, and Boston Cream Pie. And Jeni's adds new flavors — often on a limited-time basis — and seasonal variations all the time, so your giftee won't get bored with their delicious gift boxes even if you order them a full year-long subscription.
Granted, that's quite a gift, as a 12-month subscription to the Jeni's Pint Club costs $759. A three-month Pint Club subscription is a bit more manageable at $199, and that includes four delectable pints delivered each month. And, for the record, you only save about a dollar per pint when you choose the entire year option, so it's not a bad choice to go with the shorter one from an economic standpoint.
HelloFresh
HelloFresh is similar to other meal delivery services in that they curate and portion out all the ingredients needed to make a fine meal and deliver them along with clear, illustrated instructions on the food prep. Where they stand out is in their comprehensive and ever changing menu of dishes. On any given week, the company offers more than two dozen different meal options, and a subscriber (in this case someone subscribed via your gift, but hey, maybe try it yourself?) can pick and choose which meals they want for the coming week.
And even before those choices come into play, users can curate the types of meals they will be offered based on categories like "Meat & Veggies" or "Calorie Smart" or "Pescatarian" to name a few. HelloFresh also offers excellent flexibility when it comes to meal deliveries — subscribers can easily skip weeks, pause their deliveries for even longer, or change the volume of food delivered.
Yumble
To be clear, there is not a direct way to give a gift subscription or a gift card to Yumble, but it makes such a good gift for parents with picky eaters in the house that it's well worth you taking the few minutes to create an account. Then you can simply direct shipments to go to said house with said kids, and rest assured, the adults will appreciate it. And so will the young ones, because Yumble meals are delicious. They include a wide array of kid-friendly dishes like Classic Cheese Ravioli, Vegetarian Bean Burritos, and Pizza Bagels.
What the kids won't know is that hidden away in just about every Yumble meal is a plethora of vegetables and proteins they might otherwise reject. There are veggies pureed into marinara sauces and tucked into pizza pockets, flaxseeds and rolled oats rolled into snack balls, and baked crunchy vegetables masquerading as chips. And as Yumble meals are all quick heat-and-serve dishes, they can be a lifesaver when hungry kids get home from school, when there's only 15 minutes before the bus in the morning, or when a kid rejects the family dinner plan and you need a plan B to get them fed.
Blue Apron
Blue Apron has been around for longer than most other meal delivery kit services, so it's little wonder they have things dialed in pretty tightly at this point. From a broad selection of great meals to a streamlined gifting process, this company is a great choice whether you are considering a meal delivery company for yourself or looking for one to give as a gift. And contrary to what you might think, it's really not all that expensive of a way to eat, either: Meals work out to less than $7 per person with most plans — pricier than buying all your ingredients in normal quantities from a grocery store, to be sure, but a lot cheaper than dining out.
Gift cards for Blue Apron, which the recipient can redeem toward an existing account or can use to set up a new account, come in three dollar amounts — $65, $130, and $260 — and you can order multiple gift cards at once, so you can be quite generous here. Just note that gift cards can't be used for wine (or market) purchases, so the gift getter will need to over that themselves.
Harry & David
You surely know Harry & David for those fresh, succulent pears, the gift baskets laden with cheeses, crackers, salami, and spreads, and the wines and sweets they are also so good at delivering. But if you think of this company as only offering one-off gifts, it's time you look at Harry & David again. Because what's better than a one-time gift of hand-selected ripe fresh fruit, savory snacks, and tasty sweets? That's right, monthly deliveries.
When you sign someone up for an H&D Variety Subscription Box, they can expect to get a slightly different selection of eats each month, but the box will always have fresh seasonal fruit, snacks like popcorn or Moose Munch, cheeses, and more. The surprise of what's in each box will keep things fun, while the knowledge that a new box is shipping during the third week of every month will be a welcome comfort. (Just remember to cancel the subscription at a pre-appointed time, lest you gift the gift of monthly foodstuffs forever.)
Goldbelly
When you send someone a Goldbelly subscription, you are giving a gift great food and a bit of mystery all at once. Goldbelly is primarily known for partnering with chefs and restaurants all over the country, helping make foods usually available only on a local level an option for diners nationwide thanks to delivery; but to use the platform like that, users choose exactly what they want to receive. A Goldbelly gift subscription means an element of surprise, as the giftee won't know what's coming each month, only that it will be amazing.
The types of foods that may be nestled there in that Goldbelly box range from Maine's Hancock Lobster Company's Lobster Rolls to Memphis Smoked BBQ Ribs from the legendary Central BBQ to a famous Southern Layer Cake from Caroline's Cakes. You can also sign the recipient up for more closely curated gift subscriptions, like a BBQ subscription, a pie subscription, or a pizza subscription.
Kansas City Steak Company
It's hard to beat the gift of great steak, except if it's the gift of great steak delivered monthly. Now, let's be clear here: A subscription to the Steak of the Month Club from the Kansas City Steak Company is not a cheap gift to give. In fact, many of the subscriptions cost well over $1,000, while, at present, the least expensive option is a $300 three-month plan. But if you really want to impress someone, perhaps a boss or some prospective in-laws, for example, then it really is hard to beat this gift.
And don't think steak is the only thing delivered here. Also available are baby back ribs with sauce, hickory-smoked ham, burgers, fully-cooked herb roasted turkey, and more. The non-steak options tend to suit the time of year, whereas the club's namesake is always in season (especially the holiday season). It's the subscriber's choice (meaning the giftee) what they'll get each month, which can always vary or always be the same — whatever works for them.
Hungry Harvest
Hungry Harvest is all about the goodness, and that means food that tastes good delivered to the home, but also about doing good out there in the world beyond. They source their fresh produce from "rescued" foods that were otherwise destined to be discarded. Everything you get is perfectly edible and safe, though the foods just might not look as perfect as you would expect to see on a grocery store shelf. (But who cares, when it's all going to be chopped up, cooked, and consumed anyway?) You can gift any amount you wish to the foodie in your life who is also eco-conscious and socially-minded, and you can do so without even creating an account. Simply sign up for a one-time password that will let you into the site to create a gift card that can then be given to the intended recipient.
Every Hungry Harvest box saves about 10 pounds of food from being wasted, and beyond that the brand is committed to working to end food instability in local communities and to help reduce food waste worldwide. They estimate that halving global food waste would mean a 16% reduction in humanity's ecological footprint overall. You can do your little part and gift boxes of fine fresh produce right now.
Try the World
Got a foodie friend who loves to travel — or used to, before the pandemic screwed everything up — or who just loves to learn about other cultures? Well, what's one of the most exciting things about visiting a different land than your own? Right, of course, the food! With a subscription to Try the World, there's no need to travel, as curated boxes come directly to your door. Think a Korean-themed box complete with kimchi, noodles, sauces, and more, or an Indian-themed box with a mix of snacks, sauces, and spices.
Try the World delivers boxes loaded with foods that are by and large everyday staples for many people, but that may be brand new to American palates. You can set up a pre-paid gift subscription for 12 months, six months, or three months, or you can send a single box. But that's really not a subscription then, is it?
Daily Harvest
When you give a gift card to Daily Harvest you are giving, in simplest terms, the gift of food. This company does not offer meal prep kits like Blue Apron or Purple Carrot, they don't offer curated gift boxes like Harry & David or Try the World, and they don't send entrees like Kansas City Steak Company. What Daily Harvest delivers is almost-ready to eat meals, sides, snacks (and okay, some desserts and treats, but healthy ones), and smoothies. These items won't be an addition to your giftee's routine, but will rather become a part of it.
Daily Harvest offers things like Harvest Bowls that are ready in mere minutes and are whole meals unto themselves, smoothies filling enough to be a breakfast, soups ideal for a light lunch or to be paired with an entrée for a big dinner, and on it goes. You can gift an amount of cash the recipient can use to set up their own deliveries, or you can also gift a curated box of food, with both a nine-item option that can consist of any eats or a six-item option that's all about the sweet (but healthy) desserts.
Gusto di Roma
If you are shopping for a food loves who dreams of strolling down a beach on the Amalfi Coast, sipping a coffee in a café in Roma, or trying a Tuscan take on a sauce, then a gift subscription to Gusta di Roma via Cratejoy is a great gift indeed. Once a month, your gift recipient will get a box filled with foods directly from Italy, including artisanal salamis, carefully selected olives, pastas, sauces, and cookies. The foods are all of the highest quality and are often only available through this curation or by booking a flight (or ship, why not?) across the ocean and the seas to Italy itself.
Your recipient will appreciate getting each box, while you, the thoughtful gift giver will appreciate the fact that these gift boxes make it easy to share the treats and eats contained within. Figure out when each is slated for delivery and then think about maybe getting yourself invited over for dinner, no?
Mix Box
Baking really isn't that hard once you get into it, but it tends to be a type of cooking that scares off a lot of people. Perhaps it's the fact that, unlike with foods on the grill or in a pot or pan, once the dish goes in the oven, there's really nothing you can do to fix it if something went wrong in the prep. A carefully curated and planned out Mix Box from Homemade Bakers can allay the fears of the baking novice, though, as it prevents so many of the common mistakes people make.
Inside a Mix Box, your giftee will find pre-measured ingredients, step by step prep and baking instructions, and, quite possibly, the key that unlocks their confidence as a baker. From scones to cookies to cinnamon buns to cupcakes, all sorts of soon-to-be baked goods are featured in these boxes, and said boxes are delivered monthly. And while expensive, when you consider the cost of the raw ingredients, these are relatively affordable gift boxes. They cost $31 when you order just one, and under $30 when you sign someone up for a three, six, or 12-month subscription plan.
Fuego Box
In some homes, that same bottle of Tabasco or Tapatío hot sauce will sit sadly neglected in the fridge or pantry for months or even years, seldom if ever used to spice up this or that dish. In other homes, hardly a dish is tucked into without a slather of the spicy stuff on top. If you have anyone on your holiday shopping list who falls into the latter category, then a quarterly subscription to the Fuego Box via Food 52 will make a delightful gift. Getting a box of three hot sauces delivered once every three months is a perfect amount for many hot sauce fans — they won't end up with a glut of sauces piling up on the shelf, but they will also always have a good selection of flavors and heat levels from which to choose.
This is also a pretty economical gift when you factor in the appreciation factor, not to mention the shipping costs. As the full year's worth of deliveries means 12 sauces, each bottle costs $10 which is steep but not highway robbery, and well worth it as you are still thought of warmly a year after the gifting.
Candy Club
The question is not whether or not a gift subscription to Candy Club is a great choice for the person with a sweet tooth; the question is simply how big you want to go. Because you can opt for the Fun Box, which ships with six different 6-ounce containers of candy for $30 for the first box, or you can go huge and sign them up for the Party Box, which packs in six 13-ounce candy cups (which are really more like candy jars) for $40. Do the math, and you can pretty clearly see that the Party Box is the better deal.
And if you want, you can always send candy boxes on a one-off basis, too. Perhaps save that option for the "smaller" holidays, if you will, like Halloween, Valentine's Day, Easter, or any other occasion with which you (or they) associate sweets as part of the celebration.
Indie States of America
Remember that Try the World gift box subscription we talked about earlier? Well America, too, has its share of rich culinary diversity that's often rather well defined by state borders. So why not have your giftee explore some of the tastes of the nation? With Mouth's Indie States of America boxes, a person can take a virtual trip to the Carolinas and try BBQ sauces and sweets, "visit" Vermont and enjoy maple this or that and some apple snacks, head to California via raisins, to New York for a pasta sauce, and on it goes.
You can sign up your armchair culinary explorer for a three, six, or 12-month subscription, and you'll save when you pre-pay, or you can opt for auto billing each month and let the boxes roll in for as long (or as little) as you'd like. And as the first box will ship within three business days of your order, this is a great option if you'd rather put your gift shopping off a bit this season.