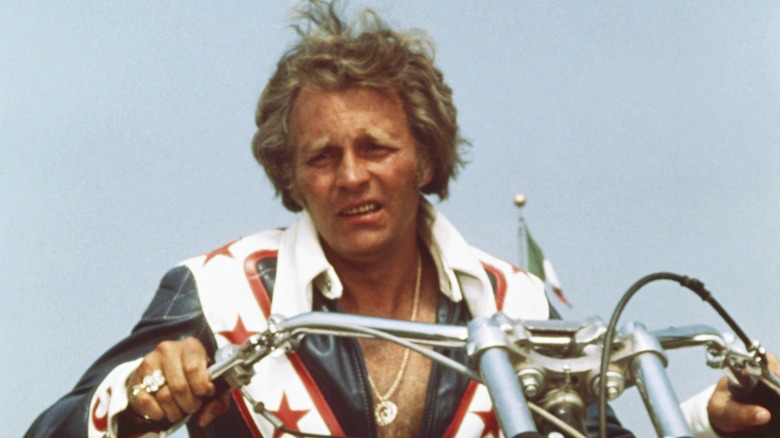 A self-described mix of "an Elvis Presely and a Liberace … on a motorcycle," Evel Knievel's death-defying stunts brought a level of fame reserved for rockstars in the 1970s. With his signature, star-spangled leather jumpsuits, devil-may-care attitude, and unmistakable swagger, Knievel thrilled millions worldwide and became the role model for a generation of kids who crashed their bikes and skinned their knees on homemade ramps and suburban streets across America.
At the peak of Knievel's popularity, his incredible motorcycle jumps over cars, buses, and even sharks earned him a lavish lifestyle replete with sports cars, jewels, and his own private jet. The "last gladiator in the new Rome," Knievel packed venues. Evel Knievel toys flew off the shelves. Still, the world-famous daredevil continued to push his skills and his body to the limit with bigger stunts and higher stakes, and he paid the price in blood and broken bones.
Yet, by the decade's close, Knievel would find himself on the pop culture scrap heap. Like the fallen hero of a modern-day Greek tragedy, Knievel, king of the stuntmen, was brought low by the same hubris that had driven him from copper mines of Butte, Montana, to the top of the world. Despite the shattered relationships, a shattered reputation, and his shattered body, Knievel soldiered on through the following decades with no regrets. For 69 years, Evel Knievel lived life on his own terms and faced the consequences head-on. From triumph to tragedy, this is his story.