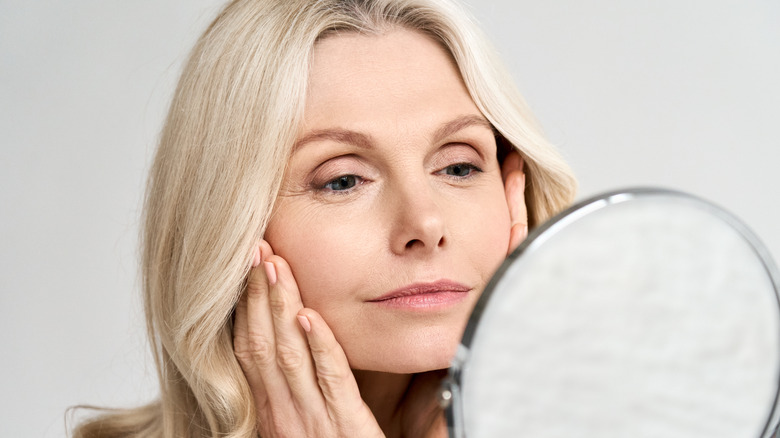 Whether you're young and want to delay the aging process as long as nature allows, or if you're already showing signs of aging and want to reverse them, there are plenty of tools and treatments to help you do just that. According to a report from Research and Markets published by Global News Wire, the global anti-aging market was set at $194.4 billion in 2020, and is expected to grow past $422.8 billion by 2030. An increase in medical tourism, as well as an increase in anti-aging cosmetic procedures, are among the factors contributing to this growth.
Some experts, however, believe that social media has played a role in the growing interest in altering our appearance and have spoken out. Elaine Ducharme, a licensed clinical psychologist in independent practice in Glastonbury, Connecticut, spoke to Healthline and said: "Social media plays a huge role in impacting self-esteem and [the] drive to alter our bodies. Everyone is so connected to the 'perfect' images of celebrities on their phones, iPads, computers, etc. Mixed in with all the friend information on websites such as Facebook, are all kinds of images and ads on how to look more beautiful." Whatever the reason, the world's interest in reversing the clock is only growing. If you're curious to experiment with the latest trends, continue reading to discover some of today's more … unconventional approaches to anti-aging.
Bee Venom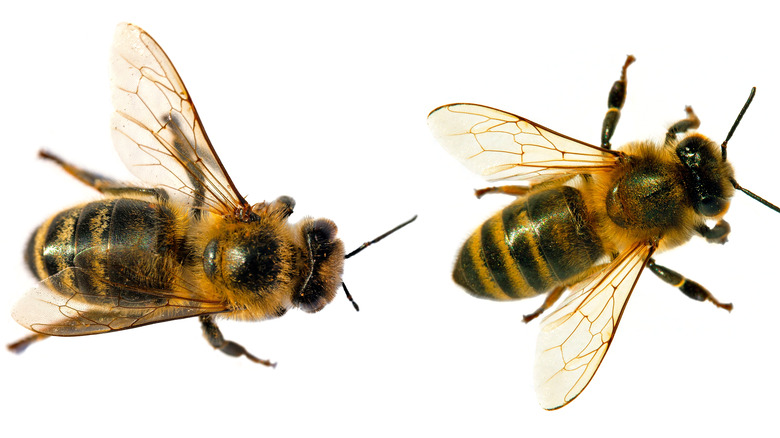 As if pollinating all of our crops and providing us with honey, beeswax, and pollen weren't enough, bees have taken on another role to help us humans in our quest for beauty. Don't worry — you don't actually have to go around stinging your face with bees to get the results. Thanks to science, bee venom has actually been infused into topical products to help plump your skin without the sting. Maria Hatzistefanis, founder of skin care line Rodial, which carries its own bee venom product, spoke to InStyle and explained exactly how it works: "The bee venom itself increases blood circulation, gently plumping out and firming the skin, filling and smoothing fine lines and wrinkles. It also adds a rush of blood to the area and stimulates the production of natural collagen and elastin," she says.
Furthermore, a study published by Clinical Interventions in Aging trialed the use of bee venom serum on aging skin and found that it significantly reduced "total wrinkle area, total wrinkle count, and average wrinkle depth," concluding it may be an effective anti-wrinkle option. The study also noted that "the irritation potential of bee venom is negligible," so those with sensitive skin can benefit too.
Vampire Facial
This one has made the rounds on social media via certain celebrities for its gory look (via Healthista). A blood-stained face is a good reason to stop scrolling, all things considered. The "vampire facial" is clinically known as platelet-rich plasma (PRP) therapy, and is increasing in popularity due to its many potential benefits (via Healthline). During this procedure, some of your blood is drawn, and then your plasma is separated from your blood and re-injected into your skin. Marina Peredo, a dermatologist and an associate clinical professor of dermatology at Mount Sinai Hospital in New York City, spoke to Allure and explained how the therapy contributes to anti-aging: "The injection of PRP releases platelets, which are growth factors, into the cells, which stimulates collagen, helping the skin to look tighter and heal within." Beverly Hills-based dermatologist Ava Shamban spoke to the publication as well, and added that the therapy also "stimulates cell turnover," which is an additional anti-aging benefit. Furthermore, a study published by JAMA Dermatology tested the effectiveness of PRP injections on the improvement of texture and color of photodamaged skin and found that "both fine and coarse texture improved significantly more with a single treatment of PRP than with normal saline."