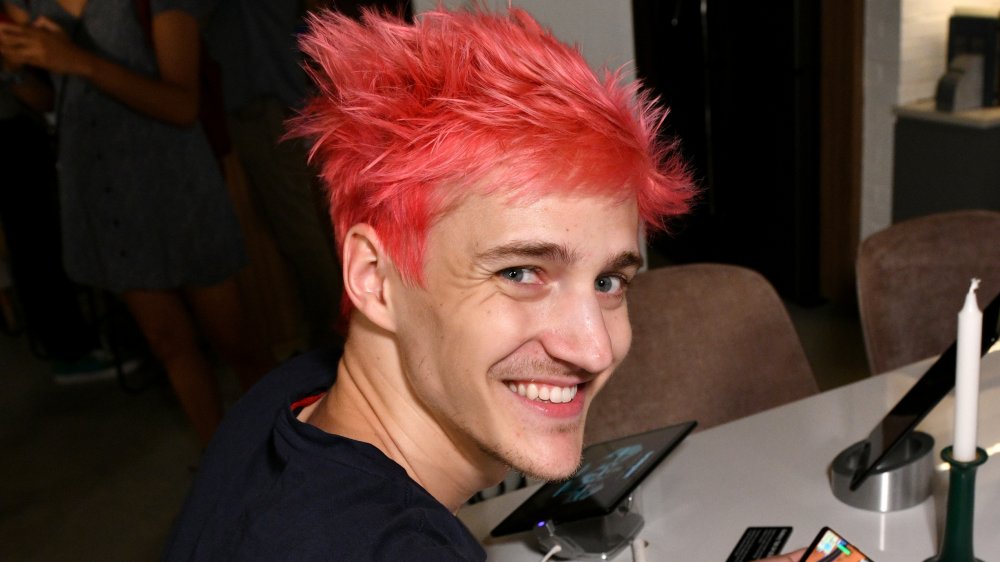 To the unassuming fan, Tyler "Ninja" Blevins appears to have skyrocketed to video game stardom overnight. While the Fortnite extraordinaire has become something of an unofficial ambassador to Epic's super popular battle royale title, the Twitch superstar actually first gained attention playing Halo 3. But the Bungie-developed sci-fi shooter wasn't just a hobby for the then-teenage gamer — in reality, he played the game professionally on huge esports teams like Cloud9 all the way back in 2009 under the alias "NinjasHyper."
Fortnite, Halo, and all things shoot-em-up might be Ninja's claim to fame, but the young superstar hasn't limited his talents to gaming. He's popped up everywhere from the pages of a graphic novel — Ninja: The Most Dangerous Game — to his very own gaming guide book, to the small screen on a number of television appearances. His next ambitious endeavor? Bringing that blue hair to the big screen. That's right: Ninja is taking aim at Hollywood, and if there's one thing that Ninja doesn't do, it's miss. This is everything that Ninja's fans need to know about his sudden love affair with the silver screen.
Ninja has a built-in audience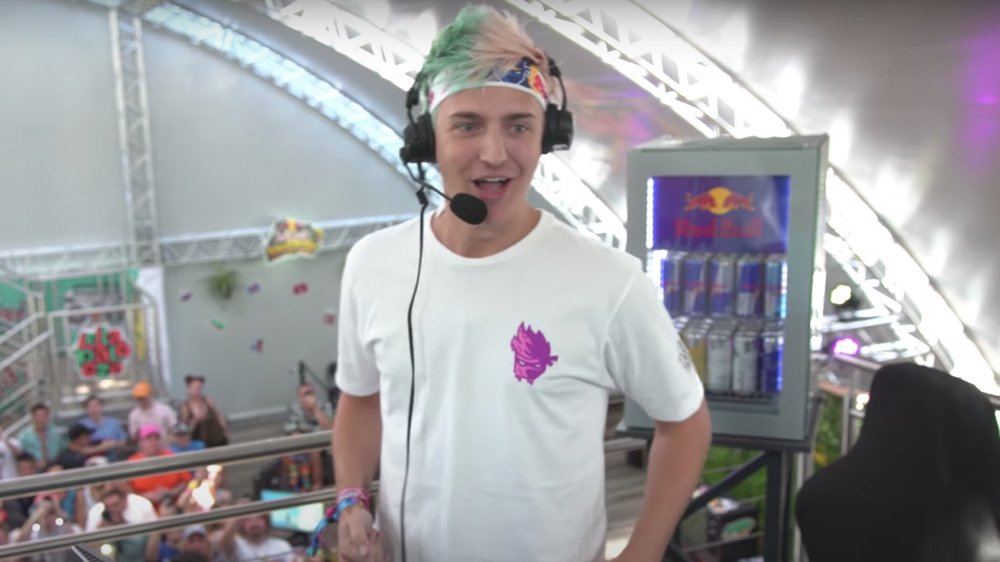 Fame is a popularity contest, and the gaming world is no exception. Whether it's his Fortnite skills or his entertainment value, Ninja knows how to draw a crowd — which is something that will come in handy. After all, a built-in audience is a sure-fire way to guarantee butts in movie theater seats across the nation.
Just take a look at Ninja's early July 2020 surprise YouTube stream. Despite giving fans little to no heads up that he'd be hopping onto the platform, his return to streaming — following Mixer's shutdown and the termination of his contract — pulled in a mind-blowing 164,000 viewers. And that's before he found a new streaming home… on his old streaming home.
In October 2020, Ninja shared a tweet showing off his immense follower base following his return to Twitch in September of the same year. Alongside a video of his team's Valorant victory score, he wrote, "16 million followers on twitch, radiant game was a 13-0 match MVP. What a night."
If that many fans are willing to watch the living legend on their favorite online streaming platform, just imagine how many of them would shell out their money to see their hero on the big screen.
Red Bull gave Ninja wings
Go ahead and ask any gamer if they've heard the name Tyler "Ninja" Blevins. If they say "no," they're either lying or they've been living under the world's biggest rock since 2017. It'd be hard to argue that Ninja isn't a celebrity in his own right — one that's primed for bigger and better things thanks not only to his built-in audience, but also to the many sponsorships and corporate collaborations plastering his face all over their ads.
The battle royale boss racks up victories like nobody's business — and some big-name companies have taken notice. While Ninja has worked with companies ranging from Adidas, with whom he put out a line of sneakers, to Uber Eats, his most well-known sponsor has got to be Red Bull.
The symbiotic relationship — which saw Ninja becoming the drink's de facto gaming figurehead — began in 2018, when Red Bull tapped Blevins to sponsor their brand and help leverage the company's initiative to begin hosting Fortnite tournaments, according to The Esports Observer.
A few years — and a hella rad studio makeover — later, and Ninja + Red Bull still equals opportunity for the blue-haired beast.
Celebrity collaborations are nothing new for Ninja
Sure, maybe video game streaming isn't exactly considered mainstream entertainment in the same way that, say, summer blockbusters are. And, sure, the kind of Hollywood presence that Ninja aspires to is a wee bit more collaborative than plopping one's tushy into their gaming chair and yelling at children into a mic for hours at a time. But that's where Ninja breaks the mold: While the majority of streamers stick to playing with their fellow upper echelon gamers, Ninja is no stranger to collaborating with some big-name celebrities including a few rappers you've probably heard of (especially if you grew up watching Degrassi).
Take, for instance, the gamer extraordinaire's 2018 Fortnite stream in which he played with NFL rookie-turned-gamer JuJu Smith-Schuster and rappers Drake and Travis Scott (y'know, the dude that turned into a giant and performed for Fortnite players that one time). Not only did Drake reveal his inner fanboy — the Toronto-born hip-hop icon gushed about how he'd been watching Ninja's Fortnite videos on YouTube while taking breaks from recording an album — but the stream managed to break the then-world record for most-viewed stream, peaking at 628,000 concurrent viewers.
Ninja vs. the small screen
While Ninja has yet to make his big-screen debut as of this writing, the Twitch-turned-Mixer-turned-Twitch again superstar has plenty of experience in front of an audience — and we're not just talking about his live streams. Tyler "Ninja" Blevins is quickly becoming a television veteran, having appeared on a variety of talk shows.
These appearances include everyone's favorite Fortnite fanatic revealing the absurd complexities of Epic's battle royale game to Ellen DeGeneres and teaching Jimmy Fallon how to do the "Pon Pon" dance. And that time he dished to The Daily Show's Trevor Noah about his parents' fear that his first paid video game tournament was a trap set by old men with bad intentions.
To be honest, the majority of Ninja's interviews are borderline hilarious, and watching adults with varying degrees of video game proficiency try their best to tap into his world is entertaining as hell. Be honest: Who doesn't want to watch the young gaming guru kick Jimmy Fallon's butt in Pong literally all freaking day?
Obviously, live TV and scripted films are two entirely different beasts. But given how comfortable Ninja appears in front of the camera, there's no doubt that he'd feel right at home on a movie set.
Ice Cream… unmasked!
Late night talk shows are one thing — but inadvertently terrifying, celebrity-centric singing competitions are something else entirely. And as surreal as they are on their own, they are approximately 1000% more bizarre when they feature video game icons that panelist Jenny McCarthy clearly is not aware of (even a little bit) despite her shrieks of excitement.
Ninja may be known to non-gamer late-night TV aficionados for his talk show appearances, but he's also appeared on reality singing competition/David Lynchian Hollywood fever dream show The Masked Singer. A refresher: The Masked Singer sees celebrities of all walks — from professional singers to professional gamers — performing songs of their choice in elaborate (and often horrifying) costumes. There's a panel of celebrity judges, there's a live audience, they all judge the guests, et cetera, et cetera. Welp, in late September 2019, Tyler "Ninja" Blevins suited up and performed Lil Nas X's "Old Town Road."
If anything, Ninja's Masked Singer performance proved that he was entirely capable of slipping into a fictional persona — sentient ice cream cone or otherwise.
Ninja was welcomed to the jungle… almost
Tyler "Ninja" Blevins might be known for his exceptional gaming abilities, but competitive shooters aren't the only games that he's found himself sucked into over the years, all vortex-like. Yes, that was a Jumanji reference — and, yes, it has everything to do with gaming's rainbow-locked golden child.
Plenty of Hollywood's biggest stars populated the set of 2019's Jumanji: The Next Level. You've got Karen Gillan of the MCU's Guardians of the Galaxy fame along with universally beloved music/comedy icon Jack Black. Then there's Dwayne "The Rock" Johnson, Kevin Hart, Awkwafina, Danny Glover, and It's Always Sunny in Philadelphia's Danny DeVito. Joining this pantheon of performers is none other than Ninja. Or, rather, it would have been if his cameo wasn't cut.
Little is known about what role he played in the film — but the obscurity of his role-that-could-have-been doesn't seem to be bothering him too much. In an interview with The Hollywood Reporter, Ninja admitted that, while he didn't end up making it into the film, his "ego wasn't bruised."
Blevins' big-screen debut
Jumanji: The Next Level may have been Ninja's first foray into film — even if it didn't make it past the "filmed" part — but it wouldn't be his last. For better or for worse, movies and video games are attached at the hip, which means there's no shortage of games inspired by films and vice-versa. The latest just happens to be Ryan Reynolds' Free Guy.
Taking place in a Grand Theft Auto-esque world, Free Guy chronicles an NPC (played by Reynolds) who comes into possession of a pair of glasses that inexplicably reveals the truth behind his reality: He's a background character populating a video game world jam-packed with chaos and destruction wrought by real, human players. He then makes it his mission to save his world by effing everything up — but, like, in a good way.
A slew of video game icons are set to make appearances in the Reynolds vehicle including Jacksepticeye, Pokimane, LazarBeam, and — wouldn't you guess it — Ninja. While the precise nature of his role in the film hasn't been revealed as of late October 2020, his appearance in Free Guy is sure to be a treat for longtime fans and casual moviegoers alike.
Ninja, Hollywood — 1v1
With his experience in front of the camera and his "losing isn't an option" attitude, it's clear that Ninja is poised for Hollywood success — but what exactly does that entail? He's sure to pop up in films like Free Guy, but will he be limiting himself to live action work? According to Tyler "Ninja" Blevins himself, the answer to that question is a big ol' nope. In late July 2020, Ninja told The Hollywood Reporter that he was interested in, "literally anything and everything Hollywood." In addition to appearing in movies, Ninja has shown interest in cartoons and voice acting.
The same THR article goes on to explain that Ninja's been keeping his nose to the grindstone by "reading scripts and shopping original ideas that he could produce or star in." In other words, he's being proactive in his hunt for a Hollywood vehicle — even if he has to create it himself. The young gamer-turned-aspiring thespian is clearly motivated, but he's also being pretty realistic about his transition into acting. He told THR that, if he feels uncomfortable acting, he could always work on his craft. He added, though, "if it's tough because I'm not good, I'm not going to cry over it."