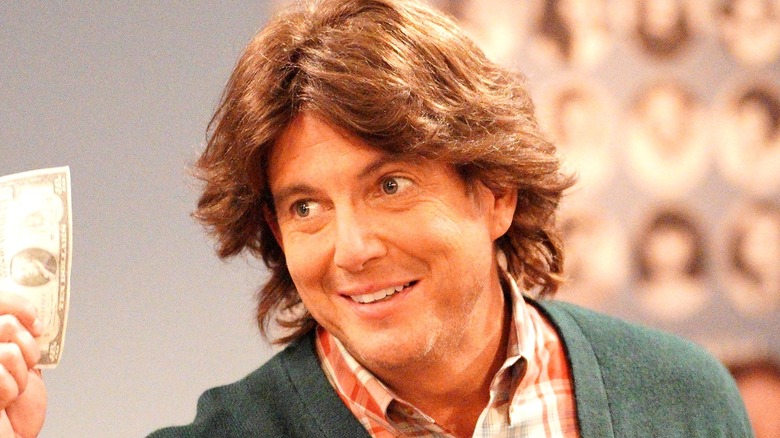 A classic piece of American television was recreated with the recent airing of ABC's "Live in Front of a Studio Audience" on Tuesday, December 7. The live TV production has taken on classic TV series such as "All in the Family" and "The Jeffersons" and this time around it took a crack at a Season 3 episode of "The Facts of Life." The production brought in numerous, well-known contemporary actors to take on the classic roles, including Jennifer Aniston as Blair and Ann Dowd as Mrs. Garrett.
Dink may have looked familiar to eagle-eyed fans and avid TV watchers during the live broadcast. That's because he was portrayed by Will Arnett, reuniting with his former "Arrested Development" co-star Jason Bateman, who stepped in to take on the role of Tim. Arnett has amassed a lengthy list of credits throughout his career, so let's dive in to take a look at some of his most notable roles to date.
He was married to FBI agent Ciccerone on The Sopranos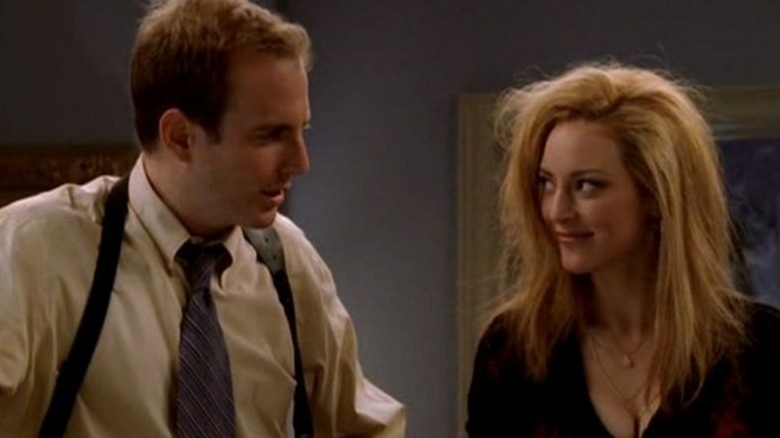 Though he is most well known for his comedic performances throughout his career, one of Will Arnett's earliest roles actually came in the realm of prestige drama. Specifically, the actor appeared on two episodes of "The Sopranos." In his small role, he portrayed FBI Agent Mike Waldrup, the husband of fellow agent Deborah Ciccerone (Lola Glaudini). Deborah is perhaps best known as the character who went undercover in one of the initial attempts to get Adriana La Cerva (Drea de Matteo) to flip against the Soprano crew. He is only briefly seen in the series and is meant to showcase the life that Ciccerone leaves behind every day in order to get information out of Adriana.
Arnett is one of many eventual stars who would briefly appear on "The Sopranos" during the run of the legendary HBO series. The series also featured a brief appearance by Tony Hale, who would go on to portray Arnett's on-screen little brother in "Arrested Development." Additional small cameos on "The Sopranos" include "Hamilton" creator Lin Manuel-Miranda, as well as "Creed" star Michael B. Jordan.
He did illusions (not tricks) on Arrested Development
Each member of the Bluth Family brought their own unique brand of weird and crazy to the infinitely rewatchable "Arrested Development," and Will Arnett's portrayal of G.O.B. Bluth helped solidify the special brand of humor the cult sitcom would become known for during its short run. The oldest of the Bluth children, G.O.B is an aspiring magician with a quick temper and one of the more self-absorbed members of the family. He is known for his grandiose personality and his penchant for riding a Segway around Newport Beach, California.
There is a strong case to be made that G.O.B. Bluth will go down as the defining performance of Arnett's career, which is saying something when we consider his lengthy filmography. The role solidified the types of brash and cocky characters that Arnett would portray for years to come, with many of his subsequent performances containing traces of G.O.B.
He was Jack Donaghy's nemesis on 30 Rock
Not content with his starring role on "Arrested Development," Will Arnett would eventually go on to appear on one of the other best sitcoms of the 2000s: "30 Rock." In the Tina Fey series, he portrayed Devon Banks, a nemesis to Jack Donaghy (Alec Baldwin) who is always gunning for his job. Over the course of the series, Banks would occasionally pop up to cause a stir at 30 Rock in an attempt to take down Jack and move his way up the corporate ladder. This culminated in an uneasy alliance in Season 7, in which Jack and Devon would briefly team up in order to take down 15-year-old Kaylie Hooper (Chloë Grace Moretz) as the head of Kabletown.
Arnett was an infrequent but powerful presence throughout the series. Over the course of the entire "30 Rock" run, he only appeared on nine episodes. That said, he made every single one of those appearances count, and Devon Banks quickly became a fan-favorite recurring character, appearing in the first season as well as the final season.
He was a villainous figure skater in Blades of Glory
In 2007, Will Arnett and his then-wife Amy Poehler teamed up with Will Ferrell and Jon Heder — at the time, two of the hottest comedy stars in the world — for "Blades of Glory." The film focused on Ferrell and Heder as a pair of disgraced figure skaters who team up when they are banned from professionally skating solo. In the film, Arnett and Poehler play the incestuous brother and sister skating team, who fight tooth and nail to sabotage Ferrell and Heder's team at every turn.
"Blades of Glory" is one of many films to deploy Arnett's comedic persona to great effect. A full-blown villain Stranz Van Waldenberg, Arnett not only tries to sabotage Chazz Michael Michaels (Ferrell) and Jimmy MacElroy (Heder), but he also tries to kill Michaels with a crossbow — only to miss and hit a mascot instead. "Blades of Glory" debuted to relatively strong reviews at the time of its release and performed well at the box office (via The Numbers).
He was the lead of Netflix's Flaked
In 2016, Will Arnett got to headline his own Netflix series with the premiere of "Flaked." Co-created by Arnett with Mark Chappell, the series followed Arnett as Chip. This ostensibly in-recovery alcoholic frames himself as a "guru" while living his life in Venice Beach, California. However, Chip's image begins to fall apart when the weight of the lies he tells himself and his friends begins to come crashing down around him — especially as far as his love life is concerned.
Though "Flaked" still definitely fits within the trappings of the comedy genre, it also allowed Arnett to showcase some of his dramatic chops as well. The series heavily focused on themes of addiction and dishonesty, creating much more tension than anything seen in "Arrested Development" or "Blades of Glory." Though "Flaked" only lasted two seasons on Netflix, it was an interesting change of pace and a rare starring vehicle for the actor. Arnett was also able to flex similar muscles while voicing the titular role on Netflix's acclaimed animated black comedy "BoJack Horseman," which aired from 2014 to 2020.
He hosts LEGO Masters on Fox
One of the most recent on-screen appearances that audiences may know Will Arnett from is not even a performance at all but a hosting gig. The actor is the host of "LEGO Masters" on Fox. As the title suggests, "LEGO Masters" is a competition show that pits teams against each other to see who can build the best LEGO models. The show premiered in 2020 and has already aired two seasons, with a third on the way in 2022.
Arnett was an obvious choice to host "LEGO Masters" given his overall affiliation with the LEGO brand. The actor took on the voice acting role of LEGO Batman in 2014's "The LEGO Movie" and quickly became a fan-favorite cast member of the overall ensemble. That popularity was parlayed into his own spinoff movie in 2017, the aptly titled "The LEGO Batman Movie." It is unclear if and when LEGO Batman will return to the big screen, but audiences can still catch Arnett in the LEGO world with his recurring hosting gig on "LEGO Masters."