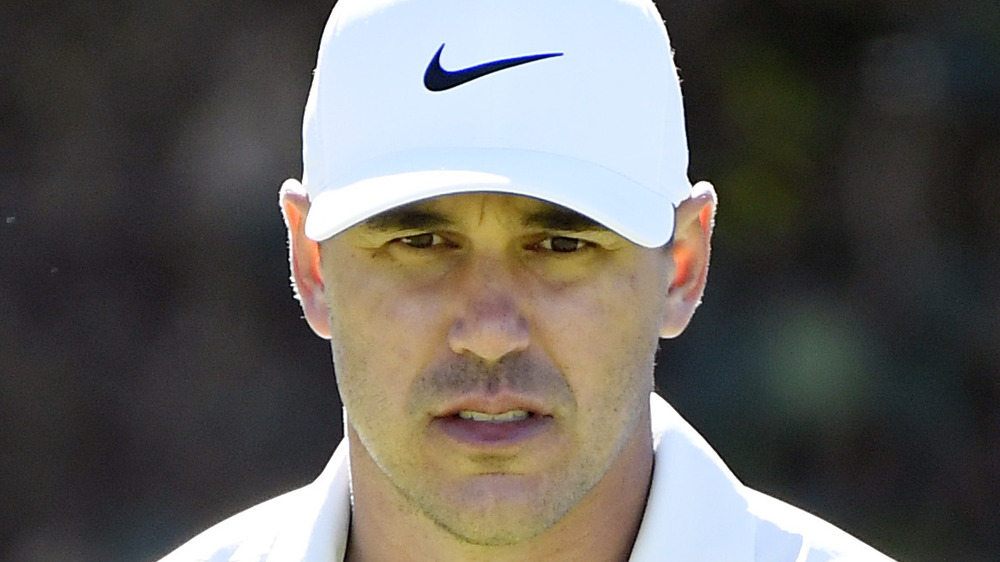 Brooks Koepka is no stranger to making headlines. In 2021 alone, he's been in the news for his reported feud with Dustin Johnson, his engagement to actress Jena Sims, and his injuries, which he just can't seem to shake.
While Koepka has experienced his share of career highs, including four wins at the Majors, and earned an impressive net worth of $18 million, he's also faced plenty of low points. His future in the game has been uncertain on more than one occasion and, most recently, his dreams of winning yet another Masters were placed in the balance when he was rushed into surgery in March 2021, just weeks before the year's tournament rolled into the Augusta National Golf Course. Just like Tiger Woods' golf career was put in jeopardy due to injuries sustained in a February 2021 car accident, Koepka's golf aspirations were put in jeopardy — and not for the first time. In fact, he's been facing unforeseen roadblocks to his life as a professional athlete since he was a kid. Here are the tragic details you may not know about Brooks Koepka.
A childhood car accident cost Brooks Koepka his hockey dreams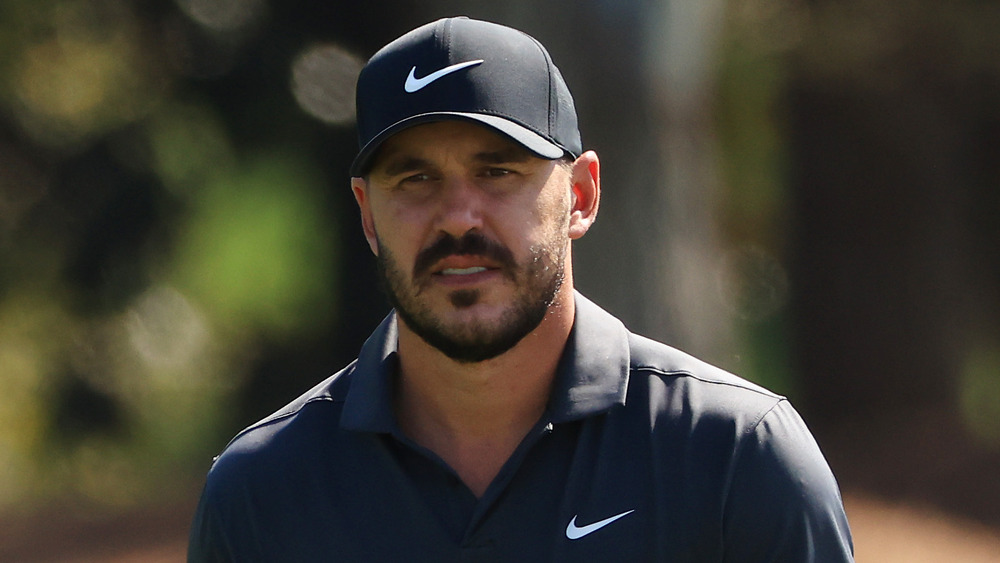 Brooks Koepka has found great success in golf, but he started out with his sights set on a completely different sport. Two, actually. As Koepka told the Pardon My Take podcast in 2019, he was serious about hockey and baseball, until a car accident at the age of 10 changed the course of his life. "The lady that was driving, the nanny [or] whatever, ran the red light just going 45, 50 [miles an hour], T-boned this lady," he recalled, revealing, "My brother was in the backseat, I was in the front, drilled my face against the dashboard [and] broke everything in my face." That put a stop to him playing contact sports "for like a whole year and I was like, 'Alright, I'm done with hockey, I'm gonna take golf seriously [and] keep playing baseball.' And then when I figured out I wasn't good at baseball, I just kept playing golf," he quipped.
It all worked out, but Koepka may have actually been predestined to play baseball. That's because, as Golf reported, his father, Bob, was a pitcher at West Virginia Wesleyan and his great-uncle, Dick Groat, was an MLB legend from the '50s and '60s who played 1,929 major league games. As Koepka told the outlet, "Our family are big baseball fans," but it turns out they also love golf. When Groat was ready to retire, he took everyone by surprise and opened Champion Lakes golf course in Bolivar, PA.
Brooks Koepka accidentally blinded a woman on the golf course
The 2018 Ryder Cup ended in tragedy when 49-year-old spectator Corine Remande lost her eyesight due to an errant golf ball hit by Brooks Koepka. Remande told Agence France-Presse (The Washington Post), that she initially downplayed her injury so that Koepka "would stay concentrated" and noted, "I didn't feel any pain when I was hit. I didn't feel like the ball had struck my eye, and then I felt the blood start to pour." According to CNN, Remande and her husband had traveled to France from Egypt to watch the game and following the incident, Koepka spoke with her and gifted her a signed glove, then told reporters, "It looked like it hurt. She was bleeding pretty good."
It wasn't until Remande went for a scan that she learned she had "a fracture of the right eye-socket and an explosion of the eyeball" and that her sight was permanently gone. Koepka tweeted that he "was deeply hurt and saddened by the tragic accident" and said he "made contact with her/family to offer my sincere and heartfelt sympathy. I am heartbroken by the incident," he added, noting, "I have asked to be kept informed on her condition." Koepka then told reporters at the Alfred Dunhill Links Championship that he was "heartbroken," per CNN. "I'm all messed up inside," he said. "It will definitely be the one shot I regret in my career. Yesterday was one of the worst days of my life," he proclaimed.
Is the golf media purposely ignoring Brooks Koepka?
Veteran sportscaster Jim Nantz is convinced Brooks Koepka hasn't gotten his due when it comes to media coverage. When the CBS commentator was asked to predict 2019's PGA Championship winner, he put his bet on then-defending champ Koepka and slammed reporters on a conference call for not praising Koepka enough. "Poor Brooks Koepka," he began, per Golf. "If I don't bring up his name right now, you guys are never gonna bring him up. It's borderline tragic in terms of how you cover a player or subject," he criticized, pointing out, "He's having the best run in golf since Tiger [Woods] in 2000 and 2001."
Nantz went on to list Koepka's impressive accomplishments, saying, "In the last 13 major championships that he's played in, he's got 11 Top 13 finishes. That means he's been in contention 11 out of 13 majors," he noted, explaining, "That breaks down to eight Top 10s, seven Top 6s, six Top 5s, four Top 4s, and three wins and a second." Trying to find a reason for the blatant omission, Nantz blamed his colleagues and himself, saying, "We may not think it's interesting enough to make the public follow along, but I've gotta do a better job of that. It starts with me. And I think for those of us who cover the sport and who are trying to tell people what the sport's about, we gotta do a better job at addressing that we have a star right here on our hands," he concluded.
A slew of injuries pushed Brooks Koepka out of the Top 10
Brooks Koepka has been plagued by injuries since he first underwent stem cell treatment on his left knee back in 2019. As PGATour.com reported, just a few months later, he re-injured that same knee when he slipped on wet concrete and tore his tendon all over again. While it wasn't serious enough to require surgery, the injury did greatly affect Koepka's performance on the golf course and resulted in additional damage.
In July 2020, while playing the final round at the Memorial Tournament, he found himself "in excruciating pain" and tore his labrum, which led to more stem cell injections into his left knee and a cortisone shot into his hip. Training and rehab followed, but "it just felt like it wasn't progressing," Koepka admitted, saying there were "a lot of tears" and that he was "in dark places mentally."
After two months off, he returned to the game in October 2020, per PGATour.com, and assured reporters, "Everything feels good. We're doing all of the strengthening in all of the right places. It's the best I've truly felt in so long," he enthused, adding, "I didn't realize last year how limited I was from swinging." Even so, as he told NBC Golf, his health issues were "the whole reason I played like crap" and, as the outlet put it, resulted in "a disappointing season" as he "tumbled from No. 1 to No. 11 in the world rankings."
Brooks Koepka wasn't sure he'd ever play like himself again
Despite having eight PGA Tour wins (including four Majors) as of March 2021, Brooks Koepka refuses to rest on his laurels. Proving that he's his own worst critic, the Florida State alum told reporters in July 2020 that his performance was lacking, big-time. "I just need to play good," he said ahead of the 3M Open, per Golf, noting, "I've played so bad lately." When reporters asked if his injuries were the problem, he was hesitant to place blame on them, saying, "I have my trainer coming in, he's helped work on it quite a bit over the past eight months and I think it will be just fine. It's not an excuse for why I've been playing bad, I can promise you that," he proclaimed, adding, "Right now, if things ended today, I'm not even in the playoffs, so I need to step it up and start playing well and get back to what I know I can do."
Koepka's wish came true in February 2021 when he scored his first victory since 2019 (via CNN) and won the Phoenix Open. As he told PGATour.com following the tournament, it was something he wasn't sure he'd ever achieve again. "There was a period maybe for about two months where I just questioned whether I was ever going to be the same; whether I was even going to be somewhat remotely the same golfer that I ever was," he revealed, adding, "It feels like it's been forever."
Brooks Koepka was forced into surgery right before the Masters
The last few years haven't been easy on Brooks Koepka as he's tried to overcome numerous injuries, but he sure appeared to be getting back into the swing of things in late 2020 and early 2021. After winning at TPC Scottsdale in January 2021, he admitted the past year and a half were "very frustrating," per NBC Golf. "I've had moments where I didn't know if I was going to be the same, if I could even come back," he shared. Saying he "went through it mentally," he added, "You go through some real dark places, and it's not a fun place to be." But he was regaining confidence on the green, right up until he was dealt another major blow.
After competing at the WGC-Workday Championship in early March 2021, Koepka didn't turn up at the Players Championship due to a "strained right knee," per NBC Golf. Keeping quiet about the cause of the strain, he told Golfweek, "An accident happened while I was with my family over the weekend." Days later, he conceded he did have to undergo surgery, telling Golfweek he suffered "a right knee cap dislocation and ligament damage" and went under the knife on March 16. He also took to Twitter to share photos of his bandaged knee and himself walking on crutches. The operation put his ability to play in the Masters just 18 days later in jeopardy, but on April 4, Koepka showed up at Augusta National, ready to compete (via ESPN).