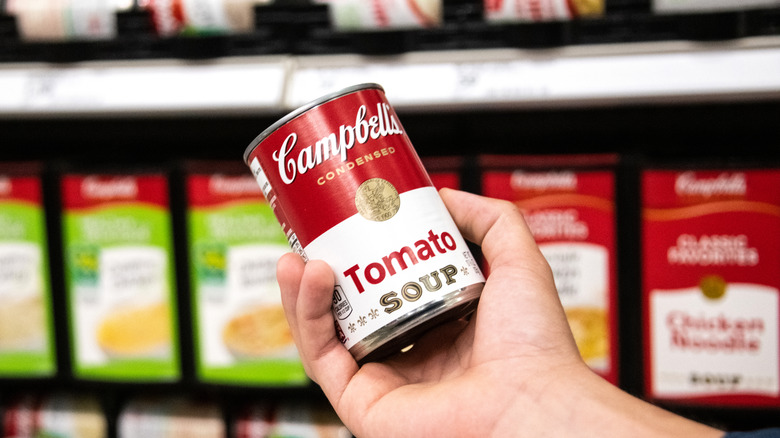 We don't know how to explain it, but sometimes tomato soup just hits the spot. While you can't beat homemade tomato soup, we totally get it — sometimes it is just so much easier to reach for a can of the premade stuff rather than making your own from scratch. The convenience and ease of shopping for only one item as opposed to around 10 ingredients, not to mention eliminating all that prep time, makes it the perfect meal for those busy weeknights. Just heat and serve.
Now, we know that many people aren't simply eating a bowl of just tomato soup for dinner. You're probably pairing it with a homemade grilled cheese for the ultimate easy comfort food experience. According to the Times Colonist, this combo became popular after World War II, when sliced white bread, processed cheese, and canned tomato soup were plentiful. The flavorful combo remains popular to this day, pleasing the younger generations as well.
Whether you're eating a bowl solo as a light lunch or pairing your tomato soup with grilled cheese or another tasty dish, you want the best of the best. That's why we ranked some of the most popular canned (and even a few boxed) tomato soups from worst to first.
13. Kettle & Fire Creamy Tomato Bone Broth Soup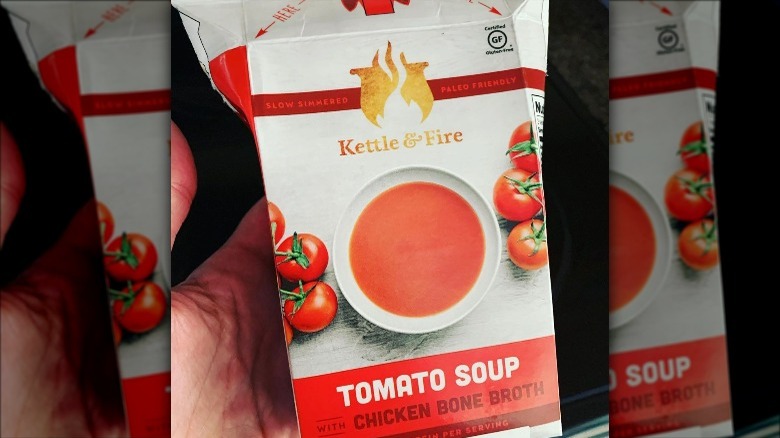 Kettle & Fire is one of the newer health food brands that arrived on the scene that is devoted to promoting bone broth for its health benefits. They sell shelf-stable grass-fed bone broths and bone broth soups. Beyond basic broths, Kettle & Fire also offers flavored options like their Creamy Tomato Bone Broth Soup. Made with chicken bone broth, it offers 6 grams of protein per serving, which is a lot more than your typical packaged tomato soups. However, it is also much higher in calories, at 240 calories per serving, due to the addition of high fat ingredients like collagen and coconut milk.
While many reviewers note that this soup is fairly creamy for a soup that contains no actual cream, they also complain of a "sour vinegar" greasy tomato taste. Eek! No thank you. We don't need bone broth in our lives that badly. We will skip this one.
12. Trader Joe's Organic Creamy Tomato Soup
While not in every city around the nation, Trader Joe's has a devout cult following which has a lot to do with their specialty products that are unavailable at other grocery stores. People travel far and wide to make a trip to this grocery store to stock up on their unique product line. You've likely heard of their Everything But the Bagel seasoning, their Unexpected Cheddar, and even their Hold the Cone mini ice cream cones. Their soups, however, are not usually on the top of everyone's grocery list.
The Trader Joe's Organic Creamy Tomato Soup, while not terrible, is just plain boring. Compared to other tomato soups on this list, it's simply bland and unremarkable. At 90 calories per serving, this is also one of the lowest calorie options. Maybe the fact that the soup is low in calories has something to do with it's lack of flavor.