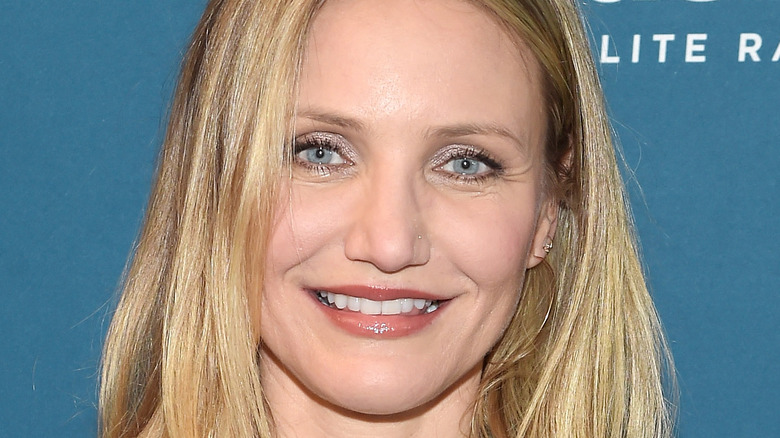 In the '90s, model-turned-actor Cameron Diaz became a mesmerizing movie icon known for playing the charismatic and comedic girl next door. But before her first starring role, Diaz was a fresh-faced teen signed to Elite Model Management who appeared in ad campaigns for big-name brands like Calvin Klein and Levi's (via The Hollywood Reporter). Of course, once Diaz gained recognition in the film industry, her appearances in mainstream movies led her to become a household name.
With a prominent career that seemed unstoppable, fans were definitely in for a shock when Diaz officially announced her retirement in 2018. Still, the decision to leave Hollywood behind wasn't a difficult choice for Diaz. During interviews, she would later state that she was more than happy to choose her personal life and other business ventures over the entertainment industry.
Nowadays, Diaz's focus lies elsewhere. Not only is she married and a mother, but she's also recently started a brand new company with one of her good friends. Even so, the former film star has plenty of fans still wondering what exactly happened to Diaz between then and now. What else is she up to these days? Read on to find out what really happened to Cameron Diaz.
Cameron Diaz shot to fame in the mid-'90s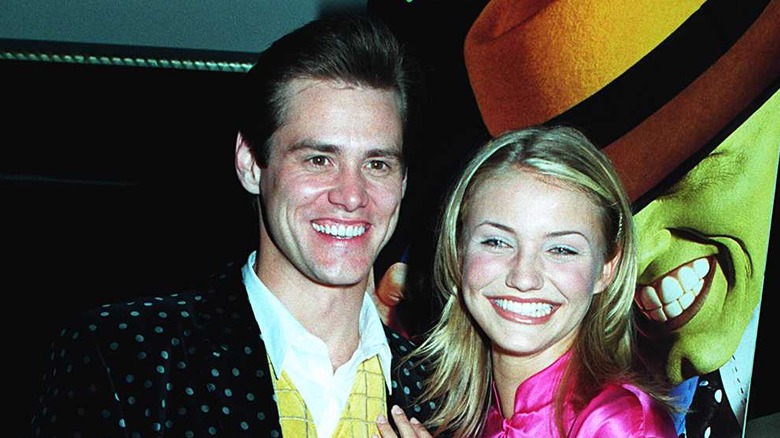 Despite having no prior film credits or acting experience, Cameron Diaz managed to produce an audition impressive enough to earn her the role of Tina Carlyle, the female lead opposite Jim Carrey in the 1994 comedy, "The Mask." After her initial break into show business, Diaz was set to appear in a live-action version of "Mortal Combat" but backed out after injuring her wrist during training for the film. She then took roles in independent movies like "The Last Supper," "Feeling Minnesota," and "Head Above Water." Eventually, Diaz returned to mainstream film, appearing in classics like "My Best's Friend's Wedding" and "Fear and Loathing in Las Vegas."
Ultimately, it was Diaz's starring role in the Farrelly brothers' blockbuster film, "There's Something About Mary," that shot her to A-list celebrity status. From there, Diaz truly began to challenge herself as an actor. She made stunning transformations for movies like "Being John Malkovich" (which earned her multiple award nominations) and "Any Given Sunday," where she played the young owner of a professional football team alongside veteran actors like Al Pacino and Dennis Quaid. By that time, it seemed like Diaz had definitely secured a place for herself amongst the top players in Hollywood entertainment.
By the late 2000s, Cameron Diaz was in high demand
Starring roles in films like "Charlie's Angels" and "Shrek" only boosted Cameron Diaz's ever-growing popularity. According to Celebrity Net Worth, Diaz's acting earnings peaked between 1998 to 2011, during which the "Vanilla Sky" star made over $160 million in base film salaries alone. She received an impressive $20 million for playing Natalie Cook in "Charlie's Angels: Full Throttle," an $8 million increase from her appearance in the first film, making it clear that her status was continuing upward. Diaz earned similar wages for movies like "Gangs of New York," and became the third-ever female actor to hit the $20 million movie salary achievement.
The world was taking note of the lovable blonde actor. In 2013, an article by The Hollywood Reporter referred to Diaz as "the highest-paid actress among the over-40 set." They praised her for having a tight hold on her status as an A-lister for over a decade, and noted that while many female leads were unable to match the fees of their male counterparts, the "Shrek 2" star was more than able to receive her fair share of earnings. A perfect example of this is her 2011 comedy film, "Bad Teacher," for which she received first-dollar gross instead of a one-time fee. The movie ultimately earned $216.2 million worldwide, and Diaz got an enviable $42 million paycheck for her work. The write-up also noted that she had a similar setup for another Sony film, "Sex Tape."
Cameron Diaz married Good Charlotte's Benji Madden
Though Cameron Diaz reportedly never thought she'd get married, she managed to surprise herself by tying the knot with Good Charlotte's Benji Madden early in 2015. The couple initially got engaged in 2014 after being together for seven months (via Us Weekly). After their marriage, Madden made another permanent alteration, tattooing Diaz's name beneath his collarbone and showing off his new ink in a since-deleted post on social media.
In 2015, Diaz reaffirmed her marital bliss, proudly praising her husband in another since-deleted post on Instagram. She stated, "One of my favorite things about being married, is how much pride I take in my husband." Diaz went on to say that Madden "makes me proud every day." On an episode of the podcast "Anna Faris Is Unqualified" in 2021, the former actor reaffirmed that she was still very much in love with her husband, and spoke about her initial attraction to Madden. "I saw him walking towards me and I was like, 'Huh, he's hot, I haven't seen him before.'" It's clear that the bond between the two celebrities only grew stronger with time.
Selma Blair was the first to mention Diaz's retirement
In a 2018 interview with Metro News UK, actor Selma Blair stated that her friend and former co-star Cameron Diaz had "retired from acting." Blair told the media outlet that during a lunch conversation between the two about their 2002 film "The Sweetest Thing," Diaz allegedly said to her that she had no plans to make any new films. Blair added that Diaz reportedly would prefer to focus on her personal life, spending time with her husband, Benji Madden. Says Blair, "We were reminiscing about the film. I would have liked to do a sequel but Cameron's retired from acting. She's like, 'I'm done.'"
Blair's words made headlines and appeared to be accurate, considering that at the time, Diaz hadn't starred in anything new since approximately four years prior. Shortly after the news broke, People reported that Blair retracted her statement on social media in a since-deleted tweet, stating, "Cameron Diaz is NOT retiring from ANYTHING." Blair claimed that the prior information was false and that she was simply "making a joke in an interview." Blair finished her recant with another humorous remark, claiming that she was "retiring" from being a spokesperson for her friend.
Cameron Diaz confirmed her retirement in 2018
Shortly after Selma Blair retracted her remark that Cameron Diaz had retired, Diaz herself made a statement that confirmed the previous report to be true. In a "Sweetest Thing" reunion interview for Entertainment Weekly, Diaz and her former co-stars Blair and Christina Applegate reminisced on making the rom-com. In response to Applegate saying that she was semi-retired, Diaz made this response: "I'm semi-retired, too, and I am actually retired." Her words reaffirmed what many had already suspected after Blair's initial statement.
It wasn't until 2020 that the former "Knight and Day" star finally revealed more about her decision to leave the entertainment industry behind. In an interview with Gwyneth Paltrow for Goop, Diaz spoke about retiring from acting, saying she stood by her choice. "I got a peace in my soul," Diaz said. "Because I was finally taking care of myself." She went on to state that she knew her decision might seem puzzling to some, but that it was incredibly "intense" to work at the level she was at, and that as an actor, her life was very "catered" in a way that made her "uncomfortable." Says Diaz, "For me, I needed to become self-sufficient again."
Cameron Diaz's final film was Annie
Unless she decides to come out of retirement, Cameron Diaz's final film is the 2014 remake of the broadway musical classic "Annie." In an interview with Marie Claire, Diaz said this about taking on the role of Miss Hannigan, "It's not very often you get to do a musical. Even though I was terrified of doing it, I kind of had to." She went on to say that it's vital for her to "address" her fears.
A separate article with UPI discussing the film remake stated that Diaz "loved the idea of reinventing" the famous character for a modern audience. Regarding the Will Gluck-directed family film, Diaz said, "We're giving performances for the generation who is going to see it for the first time. This is the only 'Annie' they're going to know." Diaz went on to say that her version of the famous character Miss Hannigan is a brand new take on the role. Though critics weren't raving in reviews (the movie only holds a 28% on Rotten Tomatoes), Diaz appears to have enjoyed her final film experience.
Cameron Diaz is a best-selling author
Even before she officially announced her retirement, Cameron Diaz had already found success in another career path. Diaz released "The Body Book: The Law of Hunger, the Science of Strength, and Other Ways to Love Your Amazing Body" in 2013, and the book ended up becoming a No. 1 New York Times bestseller. Her 288-page work is said to provide "a holistic, long-term approach" to "a long, strong, happy, healthy life." Later, in 2016, Diaz shared a follow-up guide, called "The Longevity Book: The Science of Aging, the Biology of Strength, and the Privilege of Time." That volume explores "how the female body ages — and what we can all do to age better" from a holistic perspective.
In an interview with Entertainment Weekly, Diaz discussed creating her second book. She stated that the lack of single-source information and conflicting answers on the various issues that surround women's bodies as they age was what led her to make "The Longevity Book." Diaz said, "We're told a lot of different things about one thing or the other, and of course a ton of different fads are going on, like, 'Do this!' or 'Do that!'" Though the former film star admitted that harsh beauty standards make it difficult to "embrace" aging as something natural, she still hoped that her second publication would allow readers to view their changing bodies in a positive way.
Cameron Diaz had a baby girl
Though Cameron Diaz keeps most of her personal life reasonably private, she still decided to share some exciting news with her fans on social media at the beginning of 2020. In a since-deleted Instagram post, Diaz wished her followers a Happy New Year before stating that she and her husband, Benji Madden, had recently welcomed a new addition.
She said, "We are so happy, blessed, and grateful to begin this new decade by announcing the birth of our daughter, Raddix Madden. She has instantly captured our hearts and completed our family." She continued to explain that even though the couple was "overjoyed to share this news," they still wanted privacy and would not be revealing pictures of their little one.
Later, in an interview with Naomi Campbell, Diaz reflected on motherhood, saying that she was now doing what most people do "the other way around." Regardless, Diaz has no regrets, and she called the current time in her life her "happiest" yet. She stated that even with all the incredible experiences she'd had and achievements she's made, this period has still been "the most gratifying time in my life."
Cameron Diaz co-founded a wine company
Retiring from acting hasn't stopped Cameron Diaz from pursuing other business ventures. Recently, she and friend Katherine Power launched a wine company called Avaline. According to the website, Avaline is "a range of clean wines that are full of natural goodness and free from dozens of unwanted and undisclosed extras." In an interview with Shape, Diaz and Power discussed their brand and shared why it was vital for them to create a wine that met a higher standard than the typical store-bought bottle.
The wellness outlet makes it clear that there are no specific requirements for a wine to be classified as "clean." However, most (like Diaz and Power's) are crafted with organically grown grapes and without synthetic pesticides. In regards to the vino's "clean" label, Diaz states that, "Transparency is also important. We want our consumer to know what's in there and what isn't." According to Diaz, their wine pairs nicely with cheese and pasta. The "What Happens in Vegas" star proudly declared, "I love a light garlic pasta with a white wine. I make a white wine garlic sauce with our wine."
Cameron Diaz discussed her retirement with Kevin Hart
During an August 2021 appearance on Kevin Hart's talk show, "Hart to Heart," Cameron Diaz stated that in her 40s she realized that there were "so many parts of my life … that I wasn't touching and that I wasn't managing." Diaz mentioned her distaste for being handled and "handed off to other people," saying that she wanted to be able to manage her own life and the various aspects that came along with it.
Even though she no longer appears in films, Diaz told Hart that she still "loves" acting and has more than enough energy to do the required work. Even so, leaving Hollywood behind has since made her "whole" and given her the ability to do everything she previously never could. "I met my husband, we started a family, all those things I didn't have time for before." Looking happier than ever, Diaz made it clear that being an A-list actress ultimately doesn't compare to the remarkable life she's living now.