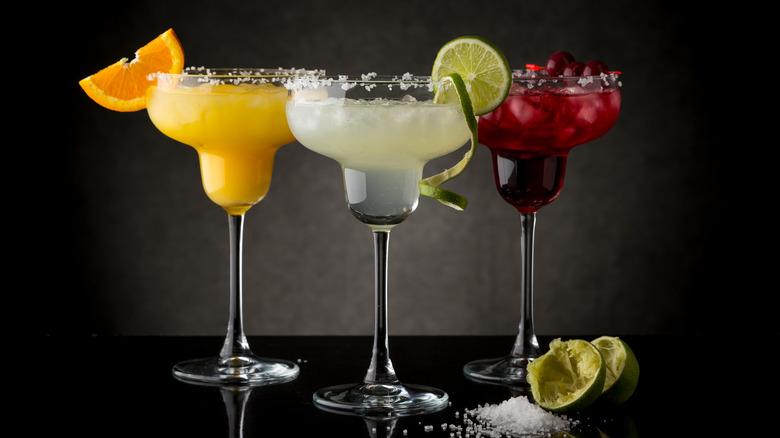 We love a well-crafted margarita. Frozen, on the rocks, fruity or with a floater — you name it, we'll drink it. But, let's face it: It can be difficult to make a margarita at home. There are so many opportunities to fail, and unless you are set up with a fully stocked bar cart (not to mention all the fixings), you may end up disappointed with your own concoction.
But, if you don't want to deal with that hassle, you can simply go out and leave the margarita making to the professionals. Is there anything better than settling into a casual bar or restaurant with a bunch of friends and a pitcher of ice cold margaritas? We don't think so. A night out drinking margaritas with your buddies is bound to be a wonderful evening that will result in many stories being told the next morning.
Margaritas are particularly popular at chains, whether these restaurants have 30 locations or 1800 locations. Options can range from your standard version, to fruity spins beyond the lime as well as some deluxe renditions. But not all are equal, which is why we've ranked popular chain restaurant margaritas from worst to best.
Applebee's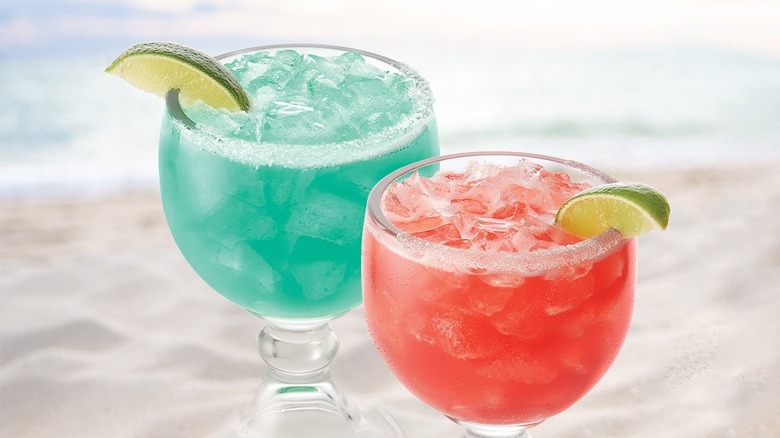 With almost 1800 Applebee's locations across the nation, this restaurant might just be in everyone's neighborhood. Should they change their tagline from "Eating good in the Neighborhood" to "Eating Good in every neighborhood?" Needless to say, there is a good chance you've been to an Applebee's in your lifetime. Maybe you are even a frequent diner.
So it's possible you already know that Applebee's carries five different types of margaritas: Perfect Patron Margarita, Perfect Margarita, Malibu Red Tropical 'Rita, Strawberry Lime Margarita, and the Blue Agave 'Rita. The Blue Agave 'Rita is considered their "classic" margarita. It contains Sauza Blue, lime juice and a coconut salted rim.
Unfortunately, Applebee's margaritas are slightly too sweet for our liking. We are here for a good time. We don't want to get a stomachache from all the sugar in these drinks. Skip this one! We'd have to recommend another margarita that is much more delicious and way less sweet.
Ruby Tuesday
Ruby Tuesday is one of the smaller chain restaurants on this list with just over 200 nationwide locations. There are plenty of cocktail choices on the menu and they carry three types of margaritas: the Traditional Ruby 'Rita, a Fruity Ruby 'Rita (flavors include strawberry, raspberry, peach, mango, and wild berry), and a Top Shelf Margarita prepared with Casamigos blanco tequila and a Grand Marnier floater. We love their creativity when it comes to the fruity margarita flavors. You can always find strawberry and mango margaritas elsewhere, but peach and wild berry flavors are far less common.
Regardless of the flavor creativity offered, the margaritas fall short in two key areas: they lack a tequila kick and a punch of acidity. Without these essential components, it's almost as if you aren't even drinking a margarita. Because of this reason, we have to put this option near the bottom of our list.
The Cheesecake Factory
The Cheesecake Factory is known for their extensive menu of food. They carry pretty much anything you can desire, making it a great restaurant to bring a big group — every guest can find something that tickles their fancy on this menu.
So, the question isn't if The Cheesecake Factory serves margaritas, but rather how many versions do they offer? Currently, there are five options to choose from: the Classic Margarita, Ultimate Margarita, Passion Fruit Margarita, El Diablo Margarita, and a Blood Orange Margarita. The classic margarita contains gold tequila, fresh sour, and triple sec with a salted rim.
Unfortunately, these margaritas aren't as flavorful as some of the other options on our list, plus they're pricier. That's not what we want when we are craving an icy cold margarita. For that reason, we'd suggest skipping the margaritas at The Cheesecake Factory. Don't worry, you'll find something else to drink off that extensive menu. If you want to stick with citrus, we highly recommend their Special Lemonade with a vodka addition.
Red Robin
Red Robin restaurants are fairly well known across the nation, even though they only have 500 locations nationwide. Famous for their extensive menu of gourmet burgers, the chain also serves up a variety of "adult beverages" and that includes a trio of margaritas. The standard House Margarita contains Jose Cuervo tequila with margarita mix, a salted rim, and a lime wedge. The other two options include a Cointreau addition and a tequila upgrade — Red's Signature Margarita features Espolòn Reposado, while the Silver Patrón Margarita stars its namesake.
Ultimately, these margaritas suffer from being way too sweet, which we suspect has something to do with the margarita mix they are using. If you're going to use high quality tequila like Silver Patrón or Espolòn Reposado, the margarita should be made from scratch. Because of this, we wouldn't recommend choosing one of their margaritas if you find yourself in a Red Robin restaurant. Stick to the beer list. You'll find plenty of tasty options there. We always do.
TGI Fridays
TGI Fridays is known for their burgers, fries, and other bar food favorites. If you want to wash that down with a margarita, they have four to choose from. The house option is the Fridays 'Rita with Jose Cuervo Especial and triple sec. The Ultimate Fridays Margarita swaps in a shot of 1800 Silver while The BFM (The Best Fridays Margarita) is made with Patrón silver and Grand Marnier. For the more adventurous, there is the Fire-Eating Fireball Margarita that includes a shot of cinnamon whiskey.
Unfortunately, the margaritas suffer from a lack of balance and end up being too strong. They do not have enough sugar, and taste too boozy. Unless you are really looking for a hangover, we'd recommend skipping these ones. You will regret it. If you want, you can buy the TGI Friday's Classic Margarita mix in grocery stores and mix a cocktail with your own booze. This way you can control how strong they are from the comfort of your own home.
BJ's Restaurant & Brewhouse
Beer may be the signature drink at BJ's Restaurant and Brewhouse, but you can also choose from their menu of nine different margaritas: Coco Breeze Margarita, Fresh Strawberry Margarita, Frozen Strawberry Margarita, Lemon Berry 'Rita, Handcrafted Margarita, Raspberry Rose Margarita, Twisted Pineapple Margarita, Ultimate Patrón Margarita, and White Peach Margarita. With plenty of fruity flavors, these make for a sweet margarita-lover's dream. Can't decide what to choose? Order a Margarita Flight which includes four different taster-sized glasses. While the fruit-addition options are certainly refreshing, the juice and margarita mix tends to overwhelm the tequila, and, as a result, they taste more like spiked punch than margaritas.
But, if sweet margaritas are your thing, BJ's is the place for you. However, if too much sweetness bothers you, we'd recommend skipping these ones and sticking with the Handcrafted Margarita. Oh, and don't forget to order a Pizookie for dessert.
Texas Roadhouse
With nearly 600 locations of Texas Roadhouse nationwide, this restaurant feels like an American staple. Texas Roadhouse is most well-known for making their servers dance to Cotton-Eyed Joe in the aisles at the top of every hour. While absolutely ridiculous, we still love to see it and can't help but smile when we dine here.
In terms of margaritas, Texas Roadhouse boasts that they are "the home of legendary margaritas" and they have several options which are available on the rocks and frozen. The Sangria Margarita is right up our alley containing a swirl of the fruity wine blend as well as tequila, margarita mix, lime juice, and triple sec. According to many rave reviews, the Hurricane Margarita may be your best at the chain. It includes your choice of tequila, plus spiced rum, orange juice, pineapple juice, and margarita mix. If you don't have a Texas Roadhouse location near you, you can buy their margarita mix from grocery stores so you can serve up their margaritas at home.
Chuy's
Chuy's Tex Mex can be found in 17 states, though the majority of the chain's locations are in Texas. Since this is a Tex Mex joint, of course margaritas are on the menu. Chuy's serves five different versions including Chuy's Famous 'Ritas, available in rocks, frozen, strawberry, and swirl & dot; Father Agave; The Perfect Margarita; Chuy's Brew; and Grand Ma's Rockin 'Rita. Are you wondering what a "dot margarita" is? Well, it is a frozen margarita topped with a "dot" of a different frozen margarita so you can get a hint of another flavor while sipping. A "swirl" margarita is a combination of two types of frozen margaritas flavors so you can get a mix of both flavors in every sip.
We cannot get enough of the swirl margarita! It truly hits the spot. If too much frozen margarita isn't your thing, we would recommend the Chuy's Brew margarita which is a frozen lime margarita topped with a small Coronita beer.
Outback Steakhouse
While it may be known for its steaks and Bloomin' Onion, Outback also serves up an impressive selection of margaritas. Options include a Blood Orange 'Rita, a Top Shelf 'Rita, a Naturally Skinny 'Rita, a Sauza Gold Coast 'Rita, and a Down Under Sauza Gold Coast 'Rita. We love their Naturally Skinny 'Rita because it contains 100% Blue Agave El Jimador Reposado tequila mixed with lime juice, lemon juice and orange juice. How refreshing! Plus, it doesn't contain any artificial sweeteners or mixes.
The Top Shelf 'Rita contains lime juice, lemon juice, orange juice, Grand Marnier, Cointreau and tequila. This one is also popular and tasty. Many reviewers love the margaritas at Outback Steakhouse for the price and the taste. Because Outback offers a selection of margaritas that are made with natural fruit juices as opposed to margarita mixes, we are ranking this restaurant towards the top. You can't beat a fresh margarita.
Chevy's
Chevys is a chain restaurant with locations across the Northeast, Midwest, Florida, and Northern California, where it was launched in 1986. "Fresh Mex" is the name of the game here and the margaritas (which are handcrafted) are taken very seriously. We love the creativity in flavors offered at Chevys, which carries 10 types of margaritas: Cadillac Margarita, Patrón Citrus Cadillac Margarita, Chevy's House Margarita, Patrón Skinny Margarita, Spicy Jalapeno Cucumber Margarita, Cilantro Cucumber Skinny Margarita, Big Daddy Caddy, Black Diamond Margarita, Mexican Bulldog, and the Famous Frozen Margarita. The Chevys House Margarita contains gold tequila, triple sec, sweet and sour, and the option to add flavors such as mango, Midori melon, strawberry, raspberry, coconut-pineapple, or pomegranate.
Chevys is known for their affordable prices and the fact that they offer party margaritas for a crowd. One reviewer on TripAdvisor proclaims, "The margaritas (by the pitcher no less) were the best I've ever had." While we wouldn't go that far, we definitely appreciate the combination of quality and variety when it comes to the margaritas at Chevys.
Olive Garden
Olive Garden is famous (or, perhaps, infamous) for their heaping portions of pasta and never ending breadsticks. A margarita probably isn't the first or even fifteenth menu item that comes to mind when you think of the chain which is understandable considering this is an Italian-American restaurant, after all. They do, however, include a sole margarita option, but it come with a "twist" that makes perfect sense. Olive Garden's Italian Margarita is made from Jose Cuervo Especial Silver tequila, triple sec, and it is topped with amaretto, which is an Italian liqueur. The drink arrives in an orange salt-rimmed glass.
Though definitely unconventional, the cocktail absolutely works. It's extremely citrus forward (with orange taking the driver's seat over the standard lime), and the sweet nuttiness of the amaretto is an ideal fit. We love how unique this margarita is while still maintaining true to the essence of what a margarita should be. Props to you Olive Garden!
Dave & Buster's
Dave & Busters is one of our favorite restaurants and sports bars because it also contains a large arcade. You can never get bored at Dave & Busters, and that holds true for the margarita selection which will please both traditionalists and those looking to try something new. They offer the Perfect Patrón Margarita, the Original Coronaita (which includes a 7-ounce bottle of Corona), a Strawberry Watermelon Margarita, and a Strawberry Mango Margarita.
Personally, we love the Perfect Patrón Margarita, because it is such a classic. This doesn't suffer from being too sweet, and the high quality tequila is able to shine along with the rest of the cocktail's ingredients. And if you want an extra kick, you can add a test tube of tequila to pour into your drink or enjoy on the side. This one is one of our favorites. Maybe it's because you can grab a drink and play games at the same time.
Hard Rock Cafe
WIth only 33 locations nationwide, this is our smallest chain restaurant to make our list. The Hard Rock Cafe menu highlights just one margarita, and that's fine by us. While we appreciate all the spins on the classic cocktail, it's hard to top a standard margarita preparation.
The Hard Rock Cafe Rockin' Fresh 'Rita is rather straightforward with Milagro Silver Tequila, lime juice, agave nectar, and a sweet and savory rim. We love this margarita! It's sweet and tart, boozy but not too strong. We also appreciate the sweet and savory rim which will satisfy those that love a sugar or salt addition to their margaritas. It's no surprise that this one is towards the top of the rankings for us. However, if you are one of those people that likes fruity or unique margaritas, you should probably imbibe elsewhere. Hard Rock Cafe is strictly for the classic margarita lovers.
Chili's
With over 1600 locations, we'd be remiss if we didn't mention Chili's. The Texas-based chain is known for their extensive menu of margaritas. Chili's carries nine different types of margaritas: the Presidente Margarita, the seasonal Merry Berry Margarita, the Patron Margarita, the Patron Blackberry Margarita, the Tropical Sunrise Margarita, the Grand Coconut Margarita, the Cuervo Blue Margarita, the El Nino Margarita, and the Dreamy Frose Margarita. You can be sure to find a margarita for everyone at Chili's. Because of their extensive margarita list and high popularity, Chili's is actually the largest purchaser of tequila in the United States (via Cheers).
The Chili's margaritas are beloved for their taste and their price point. Our personal favorites are the Dreamy Frose Margarita (it includes a swirl of rosé, Svedka vodka, and strawberry puree) and the Tropical Sunrise Margarita which benefits from the trifecta of melon schnapps, grenadine, and pineapple juice. And if you don't have time for a sit-down meal, you can order a margarita to-go.