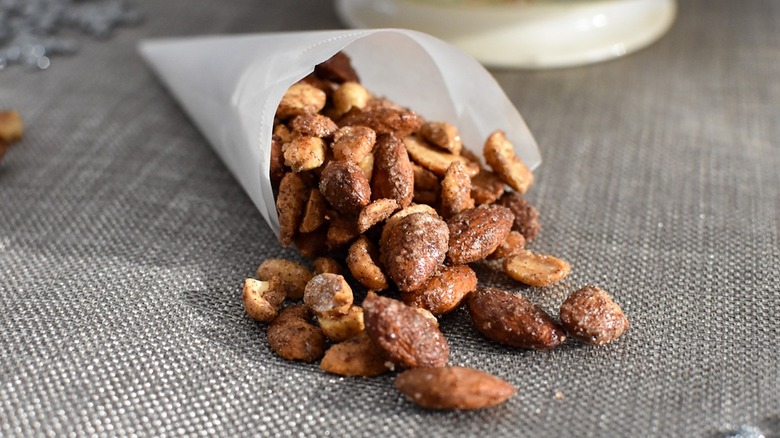 There's something about an assortment of nuts that feels quite festive. Sure, there's nothing particularly festive about almonds, peanuts, and cashews, but when you toss them all together along with some cinnamon and sugar, they instantly feel at place in a holiday spread. Recipe developer Stephanie Rapone definitely agrees with this sentiment, and her holiday roasted nuts recipe will immediately brighten your spirits.
"Your whole home will smell heavenly when you make these nuts," Rapone raves about this recipe. "It's amazing and really makes it feel like the holidays." It's definitely hard to not feel some holiday cheer when your home smells warm and sweet, and with a recipe this easy, you can spread some of that joy throughout the whole season. Not only does this recipe only require a handful of ingredients, but it comes together so easily. Plus, nearly all of the cook time in this recipe is passive, so you can pop the nuts into the oven to roast, and then kick back and relax.
Gather the ingredients to make holiday roasted nuts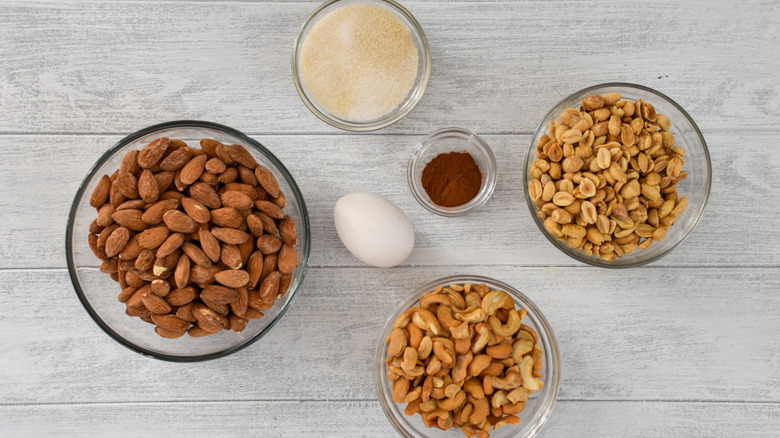 While you may be eager to jump into this recipe, you'll want to make sure that you have the right ingredients first. As you may have guessed, you'll need a variety of nuts, including almonds, cashews, and peanuts. Additionally, you'll need an egg, some water, granulated sugar, and cinnamon. Rapone notes that you can also mix and match the types of nuts that you use, just be sure to maintain the proportion of 4 cups of nuts to egg, cinnamon, and sugar mix.
Coat the nuts in an egg wash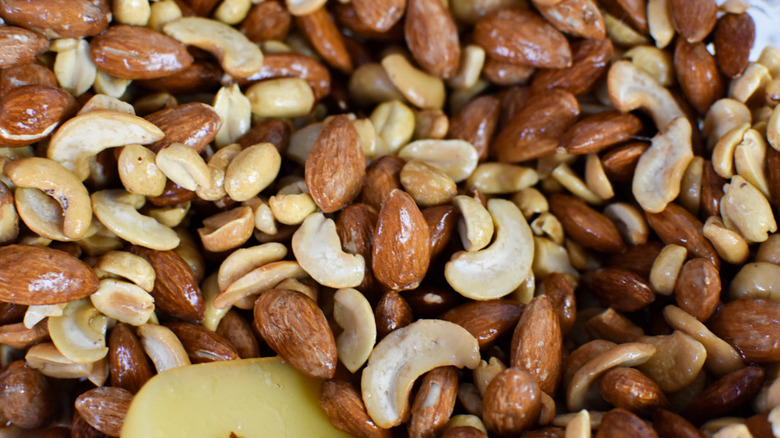 First things first: Go ahead and preheat your oven to 250 F. Now, pour all of the nuts into a large bowl. Grab the egg and separate it, discarding the yolk or saving it to use in a different dish. Mix the egg white with a teaspoon of water, allowing the mixture to get nice and frothy. Then, pour this mixture over the nuts, and toss everything together.
"The egg white and water mixture helps the cinnamon and sugar stick to the nuts better," Rapone explains of this step. "And it helps create crunchy layer on the outside."
Toss the nuts in a cinnamon and sugar mixture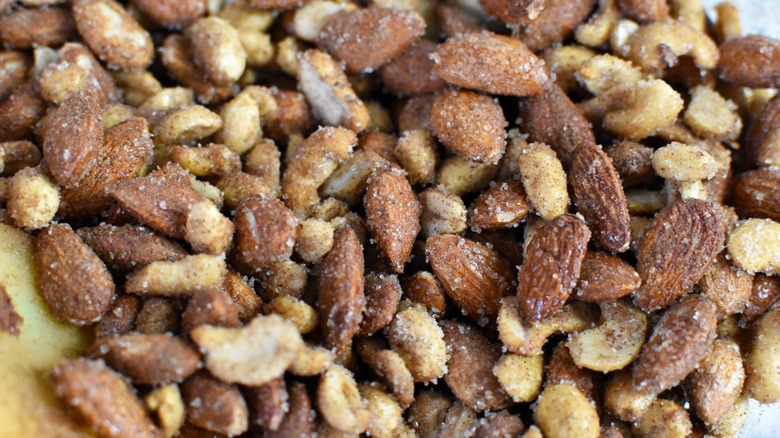 Now, we're getting to the part of the recipe that transforms these nuts from ordinary to sweet and festive. First, mix the cinnamon and sugar together in a small bowl. Pour this mixture onto the nuts, and toss them to ensure that each nut has an even layer of cinnamon and sugar.
Next, line a rimmed baking sheet with parchment paper or a silicone baking mat, which will ensure that the nuts don't stick to the pan while they're roasting. Spread the nuts out evenly across the baking sheet, ensuring that they're in a single layer.
Roast the nuts in the oven, and serve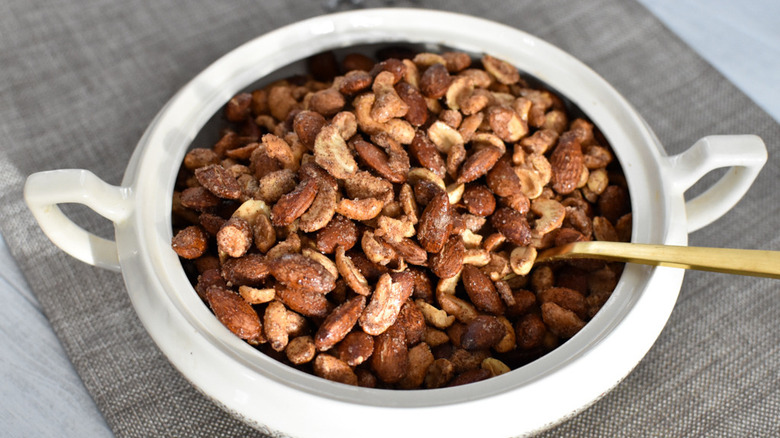 After you've spread the nuts out onto the baking sheet, pop them into the oven, and allow them to roast for an hour. Be sure to toss them every 20 minutes to avoid potential burning and to ensure that each nut roasts evenly. Once they're done baking, allow the nuts to cool for at least an hour. Then, you're ready to serve these holiday roasted nuts, and enjoy.
Rapone notes that these roasted nuts are primarily a snack, though they would be "a great topping for salads or even ice cream." She also says that it's easy to double or even triple this recipe — simply double or triple all of the ingredients. And, finally, you can store these nuts in an airtight container for up to a month. However, since they're so tasty and perfect for the holidays, they probably won't last that long!
2 cups roasted almonds
1 cup roasted cashews
1 cup roasted peanuts
1 egg white
1 teaspoon water
⅓ cup granulated sugar
1 teaspoon cinnamon
Preheat the oven to 250 F.
Pour the nuts into a large bowl.
Separate the egg, discarding the yolk.
Whisk the egg white and water until it starts to get slightly frothy. Pour over the nuts, and toss with a spatula to coat evenly.
Stir the sugar and cinnamon together in a small bowl. Pour over the nuts, and toss to cover evenly.
Line a rimmed baking sheet with parchment paper or a silicone baking mat. Pour the nuts onto the baking sheet, and spread evenly.
Roast for 1 hour, tossing or stirring every 20 minutes.
Let cool for at least 1 hour before serving or packing.