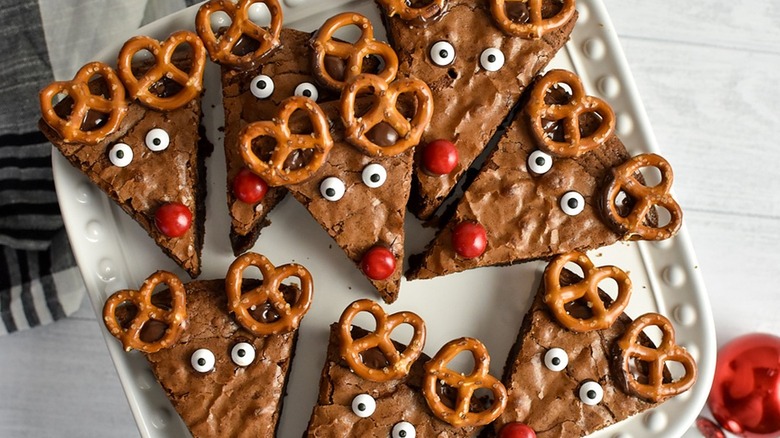 Decorating Christmas cookies can be fun, but it can also be a huge holiday hassle, particularly if you bite off more than you can chew with some elaborate project. That's why the ultimate win is when you come across a recipe for something that is super easy to make but has that seasonally-appropriate look. And, as a bonus, it's is also something that everyone is actually going to want to eat.
Recipe developer Stephanie Rapone has come up with just such a recipe: reindeer brownies! For starters, brownies are the base of the dessert, and hardly anyone cares to resist the chocolatey delight of such a treat. While Rapone used a boxed brownie mix, she says you can also use a homemade brownies recipe, adding that "this would work with any sort of brownie, or even blondie, recipe" (though the latter would give you freckled reindeer). "I love this recipe because it's really festive for the holidays, but requires no decorating skills or candy-making talent," she explains. Combine low-stakes decorating with box mix brownies, and you've got one winning holiday treat.
Gather up the ingredients to make reindeer brownies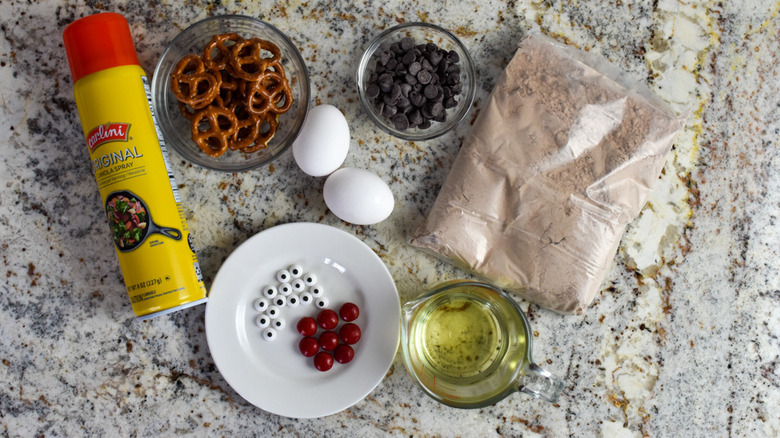 To make these brownies, Rapone uses Betty Crocker milk chocolate brownie mix, along with eggs and oil. She says you can use any other kind of boxed brownie mix, but in that case, the amount of eggs and oil might differ from the ones she gives here. You can also, as previously mentioned, make brownies from scratch. Just make sure you follow the directions for baking your brownies in a 9×9-inch pan, as the round pan Rapone uses has a similar volume.
To decorate the reindeer, you'll be using chocolate chips (any type, since these won't be visible) as "glue." For noses, you'll use red candies — Rapone uses M&Ms, but says "any red candy that's round about the size of an M&M would work," so the large kind of Red Hots would be good, too. She also uses candy eyes that she says are available "in the baking section at the grocery store or Target/Walmart." If you can't find them, she says you can slice a mini marshmallow in half to make each reindeer eye. In that case, you could use a tiny dot of chocolate or a mini chip for a pupil. And finally, for the antlers, you'll use mini pretzels.
Prepare the pan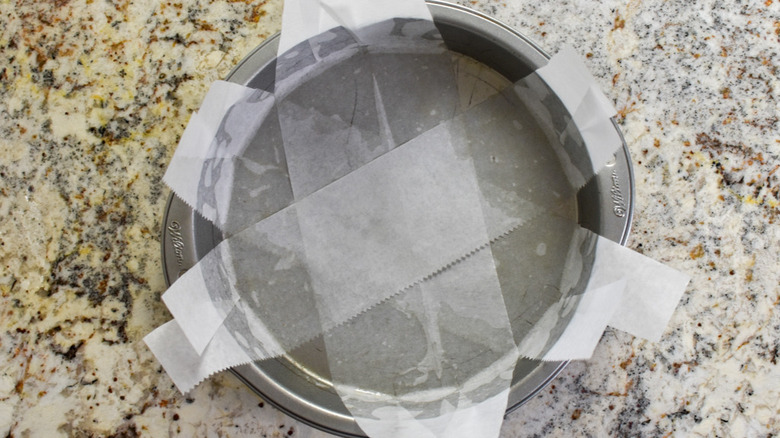 Preheat the oven to 350 F and spray a 9-inch round baking pan with nonstick spray. You'll then need to line your pan so you can get the entire round brownie out intact. Rapone favors parchment paper, calling it "the best no-stick insurance possible." She lines her pan by cutting 3 strips of paper and laying them across the bottom and up the sides of the pan, crossing them in the middle and cutting slits down the sides so they overlap and stay smooth. However you choose to line your pan, though, be sure to leave enough liner material sticking outside the pan to make "handles" that will allow you to lift the brownie.
Mix the brownie batter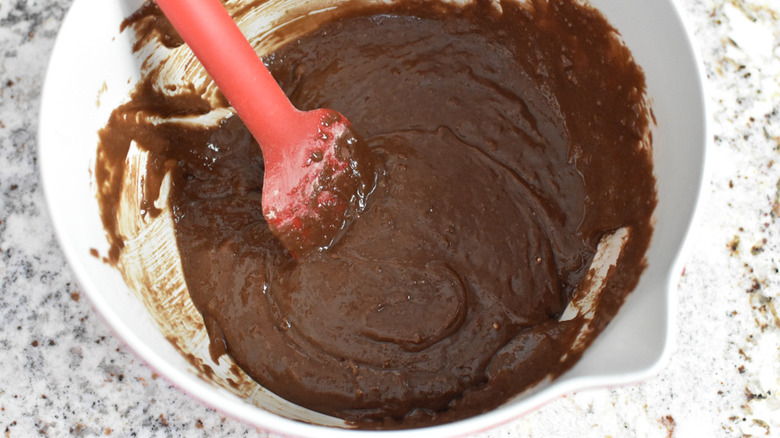 Prepare the brownie batter as directed on whatever package you are using, or else follow a from-scratch recipe that makes a 9×9-inch pan of brownies. If you are using the Betty Crocker mix as Rapone does, or if your brand of mix is fairly similar, your preparations will involve combining the brownie mix with three tablespoons of water as well as the vegetable oil and eggs. You should then stir the ingredients together with a spatula or hand mixer until there are no more clumps of dry mix.
Bake and cool the brownies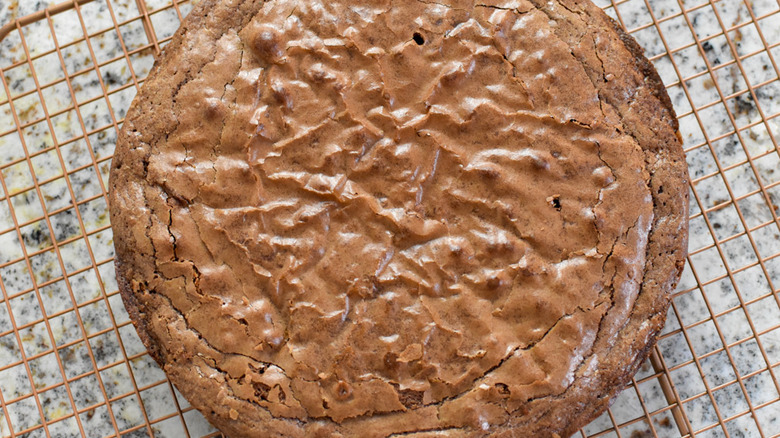 Pour the brownie batter into the lined pan and bake for 40 to 45 minutes. Rapone advises to test to see if the brownies are done by sticking a toothpick into them, two inches from the edge. If the toothpick comes out mostly clean, the brownies should be done. Rapone does say, though, that "it's okay if some brownie sticks, as long as it isn't wet batter."
Let the brownies cool in the pan for 10 minutes, then take a plastic knife and carefully loosen the edges. Lift the brownies out of the pan using the parchment handles, then let them cool for 20 minutes.
Cut out brownie wedges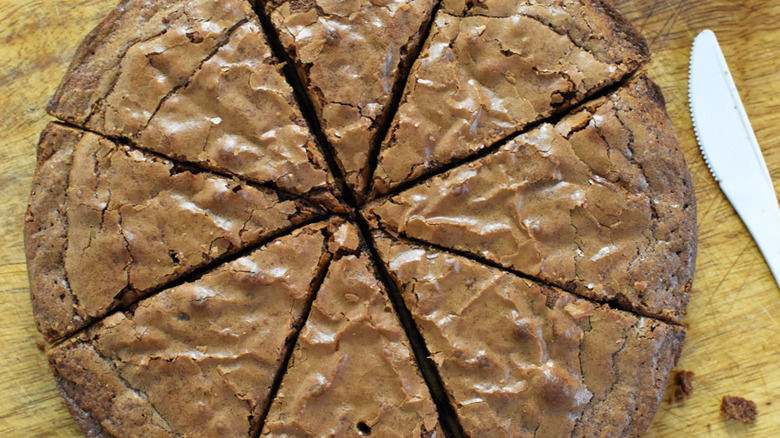 The big round brownie now needs to be cut into 8 even wedges like slices of a pie. Rapone recommends using a plastic knife for the cutting if you happen to have one on hand. She says "a plastic knife yields smoother, cleaner cuts in brownies than metal knives." She also says to handle a plastic knife like a cookie cutter. Press down to cut, then lift it up and move it to where you want to make the next cut. As Rapone warns, "Don't try to drag it through or saw like a regular knife."
Decorate the brownies to look like reindeer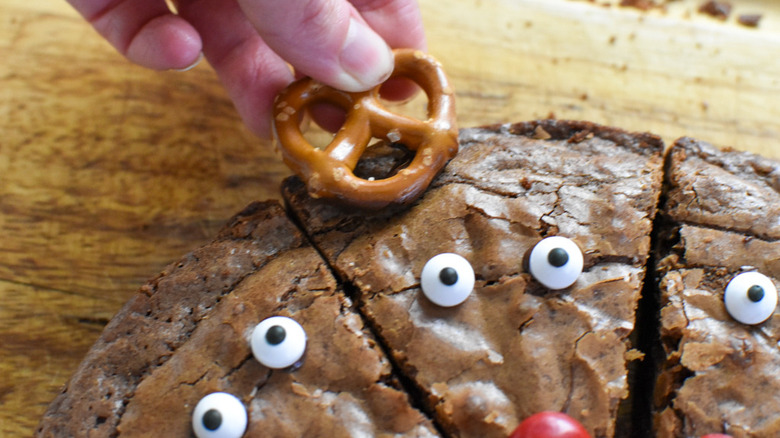 Zap the chocolate chips in a microwave for 10 to 20 seconds, stir them, then give them another 10-to-20-second zap (and another stir) if they need it. Use the melted chocolate as "glue" to stick the red candy noses, candy eyes, and pretzel antlers in place on the reindeer. Rapone says you can apply the "glue" with a toothpick, or just dip the backs of the candies and pretzels in the melted chocolate.
Once the reindeer brownies are done, let them sit for 30 minutes before you move, wrap, or serve them. This will let the chocolate harden so all the bits and pieces stay in place.. The brownies should be good for up to a week in an airtight container. Rapone admits they will start to go a bit stale after day 6, but considering how cute and delicious these reindeer brownies are, they probably won't last that long anyway!
1 box brownie mix
½ cup vegetable oil
2 eggs
¼ cup chocolate chips
8 red M&Ms
16 candy eyes
16 mini pretzels
Preheat the oven to 350 F.
Spray a 9-inch round baking pan with non-stick spray and line it with parchment paper or foil.
Combine the brownie mix with 3 tablespoons of water, vegetable oil, and eggs in a medium bowl, and stir with a spatula or hand mixer until there are no more clumps of dry mix.
Pour the brownie batter into the prepared pan.
Bake the brownies for 40 to 45 minutes, until a toothpick inserted 2 inches from the edge comes out almost clean.
Allow the brownies to cool for 20 minutes.
Carefully loosen the edges of the brownies with a plastic knife and lift them out of the pan using the paper or foil "handles."
Let the brownies cool for another 20 minutes.
Cut the brownies into 8 even triangles.
Melt the chocolate chips in the microwave in 10- to 20-second increments, stirring in between, until smooth.
Use the melted chocolate as "glue" to stick the red candies onto the lower part of each brownie triangle to make a nose.
Use the chocolate "glue" to stick on the eyes and the pretzel antlers.
Let the decorated brownies sit for 30 minutes before you attempt to move them, wrap, them, or serve them.
Store the brownies in an airtight container for up to 7 days.