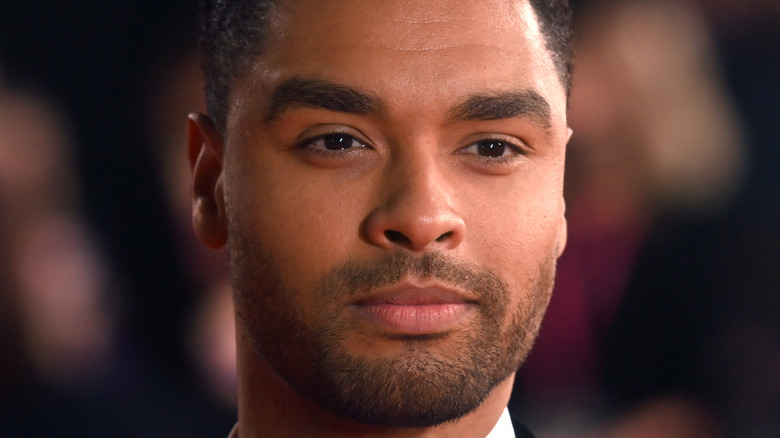 Between the candy-colored sitting rooms, opulent parties, and vintage ballgowns, Netflix's "Bridgerton" is a sight for sore eyes. The visually stunning series takes place in London during the Regency era in 1813, and follows the lives of the noble Bridgerton family as they weather the highs and lows of the social season (via Shondaland). Daphne Bridgerton, the family's eldest daughter, is making her society debut in search of her perfect match in the marriage market. Along the way, there are plenty of steamy romances, scandals, and gossip, all reported in the pages of gossip writer Lady Whistledown's newsletter.
If you binge-watched "Bridgerton" with the rest of us, you've probably noticed the amazing interior design style. Whether it's the Bridgerton mansion, the Featherington estate, or the queen's palace, the show's living spaces offer a fun twist on decadent Regency style — and fans are taking note. According to Aspire, the show has inspired a love of all things Regency. Want to bring "Bridgerton" style into your home? We're going over some of the show's key design elements and exploring how to recreate the lavish looks at home. Keep reading for some royal inspiration!
Incorporate dreamy pastels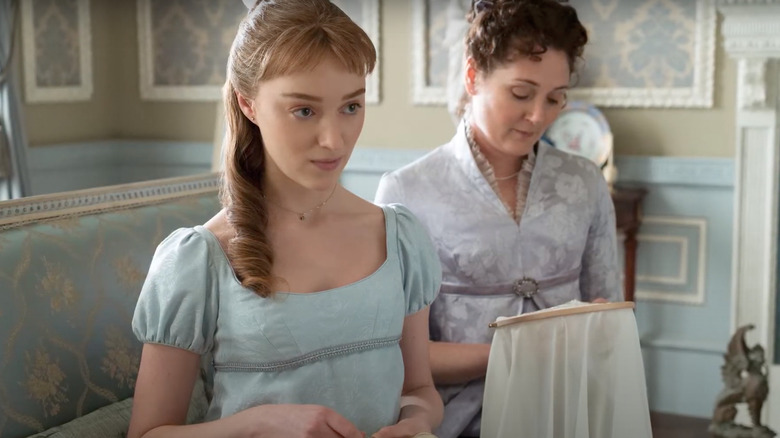 The Bridgerton family has a reputation for being cool, calm, and collected in the face of any crisis, and their home has the design sensibility to match. The entire residence is dressed in dreamy shades of a pale blue known as Wedgwood, per The Zoe Report. The use of Wedgwood blue and subdued pastel hues within the Bridgerton home lends each room a calm and elegant feel, which contrasts with the loud and bold colors used in the Featherington house and elsewhere.
Named after the iconic British ceramics brand started by Josiah Wedgwood in 1759, Wedgwood is a light pastel blue color synonymous with the ceramic pieces. According to The Spruce Crafts, Wedgwood china was unique because it was both high-quality and affordable. For the first time, people outside of the upper-classes could afford to have their own china. And, the accessibility of Wedgwood did not stop royalty like Queen Charlotte and the Empress Catherine of Russia from being loyal fans of the beautiful ceramics.
Dress up rooms with small, decorative accessories
From dainty side tables to tasseled throw pillows, the Bridgerton living room is the perfect example of how small, decorative accessories add eye candy to any living space. According to Town & Country, the Netflix show has made Regency-style furnishings and accessories all the rage, and more people than ever are dressing their homes with elegant tea trays, jewelry boxes, and mantel clocks.
To get the look for yourself, bring classic stools, chairs, pillows, candlesticks, and other similar items into your home. Splurge on antique French furnishings or dress up interiors with budget-friendly pieces that will make you feel like royalty. 19th-century, Regency style is all about pieces that look extravagant with ornate details like carvings, patterns, rich wood materials, and scrolled edges, per Amity Kett. By the time you're done decorating, your home will be fit for the social season and ready to host eligible suitors, gossipy neighbors, and maybe even a grand ball or two.
Choose sumptuous fabrics like velvet and silk
The richly textured world of "Bridgerton" is woven together by luxurious fabrics like velvet and silk. From the costumes to the interior design, there are a beautiful array of textiles on display throughout the show. Almost as sumptuous as the love story between Daphne and the Duke, these fabrics bring an instant boost of luxury to any living space. In particular, Daphne's bedroom features a velvet bench and various textile textures for her bedding and curtains, via Apartment Therapy. The result is a sophisticated feel that mirrors Daphne's personal style.
To recreate the opulence of the Bridgerton home, stock up on velvet, silk, or linen fabrics for your furnishings, curtains, pillows, and bedding. These materials are not only nice to look at, but also lovely to the touch. If you don't want to splurge on new furniture, you can always reupholster your current pieces in the fabric of your choice, as noted by House Beautiful. Remember, the Regency period was all about layering different textiles, so don't be afraid to mix it up.
Pick out damask or floral patterned wallpaper
If you find yourself falling in love with wallpaper after watching an episode of "Bridgerton," you're not alone. Whether its damask, floral or another delicate pattern, the show featured a wide variety of wallpaper. In particular, the Bridgerton family living room pops with damask wallpaper panels, while the Duke's birth scene memorably features hand-painted wallpaper with a bird and floral pattern from de Gournay Chinoiserie, per the Financial Times.
There are plenty of ways you can evoke the Regency era with your choice of wall covering. You can choose to use vintage design wallpaper on one statement wall, instead of covering an entire room. Or, you can go for wallpaper panels like the Bridgertons. Putting a frame around wallpaper or fabric makes it feel like a work of art and gives Regency patterns a fresh, contemporary update. And since you only need a few meters for each panel, this decorating option is also budget-friendly.
Cozy up to leather seating
The dark interiors of the gentlemen's club where the Bridgerton brothers hang out are a world away from the dreamy décor found in the Bridgerton home. These patriarchal establishments are a staple of Regency London and every respectable, upper-class gentleman belonged to an exclusive club, according to Gentlemen's Journal. Each club typically contained a series of different rooms for socializing, drinking, business meetings, gambling, and dining, away from prying eyes. Within these private interiors, the smell of cigar smoke mingles with leather seating and dark wood furnishings.
When it comes to capturing the look of the club in your home, you will want to go for darker colors, dim lighting, and a variety of ornate accessories. A classic leather lounge chair will give you the feel of the "Bridgerton" club, as noted by Realtor, as well as adding an animal print rug or antique books. Items like a wooden cigar box and glass goblets will create a Gothic-style atmosphere perfect for reading or having deep conversations with your best mates.
Set the mood with dramatic drapes
Ostentatious, colorful, and more than a bit-over-the-top, the Featherington home in "Bridgerton" is Regency style taken to the maximum. With a vibrant green color palette, gilded mirrors, and damask wallpaper, the family's residence features plenty of staples from the time period. While the Bridgerton and Featherington homes are designed to be different, dramatic drapes are a constant in both residences, per House Beautiful. Perhaps this is not surprising, given that curtains and window treatments were a significant part of interior design during the Regency period, according to EK Duncan. As per the fashion, drapes were hung in layers from decorative poles and typically pulled back using pins or ropes.
To make any living space feel more luxurious, hang long and flowing drapes. Ideally, they should be made of a heavy fabric and stretch from the ceiling to the floor, via Apartment Therapy. Tie them back from the window with tassels or a DIY floral garland to complete the romantic look.
Arrange furniture symmetrically
A key feature of "Bridgerton" interior design is symmetry, according to Fine and Country. During the Regency and Georgian era, seating areas were designed with entertaining and hosting social calls in mind. Per the Burbeck Group, the symmetry makes living spaces look larger and grander, as well as harmonious and in balance. Symmetrical seating arrangements with sofas and chairs facing each other help encourage the flow of conversation and set the scene for lively gatherings with friends and acquaintances.
To create a balanced room, place similar-sized furniture and accessories on either side of the space around a focal point, such as a coffee table or fireplace. Keep in mind that when arranging your furniture in a symmetrical fashion, it's best to avoid going too matchy-matchy. If both sides of a room are completely identical, it can look boring and uninteresting. Add in some visual interest by placing different types of pillows, floral arrangements, and small side tables on either side of the room.
Hit up the thrift store for vintage finds
One of the best ways to transform your home into the Bridgerton's drawing room is to explore your local antique and thrift stores. "Bridgerton" features a wide array of antique items from the Regency era, per Veranda. Not only is the shopping part fun, but it just takes a few small pieces to make your living space more regal. Embrace the Regency period with decorative pieces like antique dishes, tapestries, and ornate mirrors on your next trip. You never know what you might find!
Garage and estate sales are also great places for finding romantic and creative furnishings on a budget, as noted by Lighter Side of Real Estate. With just a little sprucing up, you can easily make antique pieces look fresh and fit for a king or queen. For example, if you find an ornate picture frame at a garage sale, you can take it to the next level by spray painting it gold. Your living room will be the diamond of the season in no time.
Create your own fresh floral arrangements
Swoon-worthy, fresh flower arrangements play a leading role in the interior design in "Bridgerton." Almost every room and scene features brightly colored florals, along with sumptuous flower-themed costumes designed by Ellen Mirojnick (via Flower Power Daily). Some of the most marvelous floral arrangements appear during party scenes, acting as a backdrop to the Duke and Daphne's love affair. Even the outside of the family's home is clad in wisteria, a lovely, trailing purple plant.
Bring the flower power to your home by creating your own floral arrangements. Simply find some blooms at your local supermarket, farmer's market, or even in your own backyard or neighborhood. You'll want to have a combination of greenery, foundation blooms, and larger statement blooms, which you'll layer in a beautiful vase or decorative vessel, per Magnolia. Fresh flowers are a great way to liven up your home's interiors with vibrant colors and dreamy scents. According to Interflora, keeping flowers in living spaces can lift your spirits, improve creativity and concentration, and add the finishing touch to party decorations.
Find the perfect statement bed
When it comes to home décor, the "Bridgerton" effect is real. The series featured a number of majestic statement beds, complete with curved arches, wooden details, and canopies, per Homes & Gardens. In response, sales of four-poster beds increased after the show's first season premiered. According to Ideal Home, retailer Argos experienced a 112% boost in sales for their four-poster beds in the months between November 2020 and January 2021.
From sleigh beds to four-posters, plenty of beds fit for sweet dreams appeared on "Bridgerton." Sleigh beds are often made of wood and have matching curving head and footboards. They are inspired by the actual sleighs used in the 19th century and are designed to take centerstage in any room. The four-poster bed has been popular for centuries and is often referred to as the bed of kings due to its regal shape, according to Vogue. If you're ready to give your bedroom an upgrade, both of these statement beds are sure to lend an air of refinement and sophistication.
Style your bathroom with a clawfoot bathtub
First rising to fame in the 19th century amongst members of the British nobility, clawfoot tubs are synonymous with luxury. Few things are as decadent as taking a long soak in one of these tubs with some flickering candles, scented bubbles, and a chilled glass of champagne by your side. While early versions of these luxurious tubs were made of cast iron and porcelain enamel, present-day tubs are commonly made of fiberglass or acrylic materials, per Reviewed.
Installing a freestanding tub in your bathroom is an ideal way to keep the spirit of the Regency-era alive and get the "Bridgerton" look, according to Good Homes. The tubs still manage to retain their old-school charm and the four gleaming feet have a timelessly elegant look. Just keep in mind that freestanding tubs take up more space than normal bathtubs and require a bit more cleaning time (you'll have to clean underneath). If you love the look and are passionate about bathing than a clawfoot tub might just be worth your while.
Hang up a regal mirror or two
Mirrors were somewhat of a status symbol during the Regency era in London, as only the wealthiest of families were able to display them in their homes. Opulent and visually stunning, these mirrors often featured elaborate frame designs with bows, feathers, and candle arms. Hanging a grand gilded mirror of your own literally screamed luxury, whether used for personal grooming, decoration, making rooms appear larger, or improving lighting, per Bianca White Writes. There are plenty of gorgeous mirrors in the Bridgerton and Featherington homes in "Bridgerton," as well as Queen Charlotte's palace, too.
If you want to live like the aristocrat you are, you will certainly require a Regency-inspired mirror for your home. Not only do they look great, but applying lipstick or checking out your outfit has never been more fun. The good news is that you can get this look without breaking the bank since there are plenty of affordable options available at places like Amazon.
Go heavy on the metal
The lavish and colorful "Bridgerton" sets are filled with stunning metallic details, from brass railings and light fixtures to door handles and candlesticks. One of the first peeks we see of the Bridgerton home in the first episode is the grand staircase, which features a black and gold iron railing, and the queen's palace also reaches regal heights with ornate banisters. According to The Farm Antiques, Regency period furnishings are characterized by metals like brass and ormolu, which were often used to decorate wooden furniture.
While you might not be able to remodel the entire front entrance of your home and build a grand staircase, you can easily incorporate metallic details around the house to make it feel more luxurious. Start by bringing metal accents into your kitchen and bathroom with updated door knobs, lamps, and picture frames. Look for mirrors and other furnishings that go heavy on the metal. You can even switch out old lighting fixtures for elegant metal chandeliers.