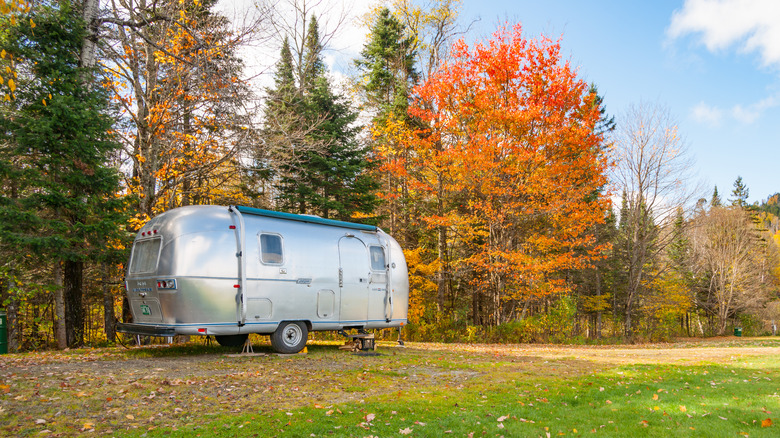 While the idea of camping might not be appealing to everyone, there is nothing like immersing yourself in nature and getting the opportunity to unplug and escape. That's why Airstreams are the perfect middle-ground for those looking for a more upscale camping experience with the modern comforts of traditional lodging. Per the company's website, Airstreams have been on the road since the 1930s, providing travelers a stylish and comfortable way to experience the open road. Thanks to Airbnb, Airstream owners worldwide can deck out their trailers and create an inviting space for people to relax and unwind in seclusion.
From a beachside Airstream that boasts ocean views to a camper in the middle of the desert with a hot tub on the deck, Airbnb is abundant in its options for curating the perfect glamping atmosphere. Best of all, while Airstreams still provide all of the beloved amenities needed to rest comfortably and easily, they are much more affordable than your typical hotel or house rental. To give you some inspiration, we've rounded up the most stunning Airstreams on Airbnb based on value, location, and style.
Take in ocean views at this Airstream in Half Moon Bay, California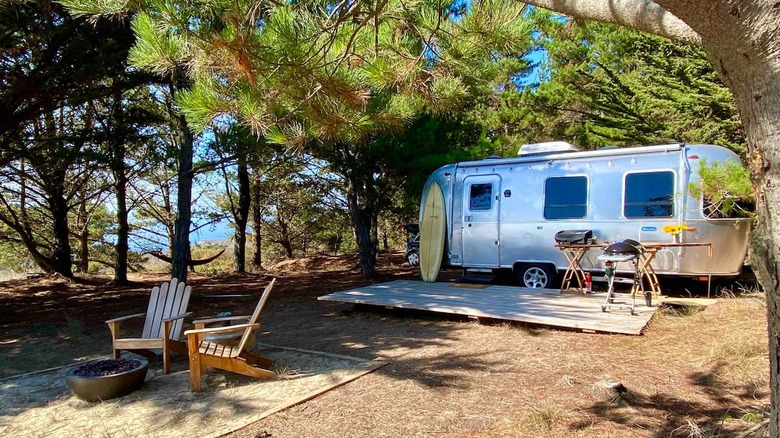 Half Moon Bay is a quaint town located on the coast of California. Though it is only about 45 minutes away from San Francisco, this charming beach town transports guests to a serene setting along a cliffside just above the Pacific ocean. According to the Airbnb listing, this Airstream in Half Moon Bay sits on nine acres of private land and offers panoramic sea views. Enjoy the sunset from the comfort of a lounge chair near the fire pit, or look up at the night sky for an uninterrupted view of the stars.
When it comes to the camper's interior, guests can expect to find a spacious queen-sized bed that can fit up to two people, along with a private bathroom, refrigerator, and stove. It also has a kitchen table that can convert into a small bed if necessary. Though there is one other Airstream available for rent on the property, it is located far enough away from where you will still be able to enjoy the privacy and isolation that comes with this unique glamping experience.
Spread out at this secluded Airstream on the Pedernales River
Perched right above a scenic lake in Spicewood, Texas, this remodeled Airstream has everything from trendy decor to a cozy fire pit, per the Airbnb listing. Standing at 31 feet long, this camper is pretty sizable and can fit three guests at a time, with one large king-sized bed and one sofa bed in the living area. Since it is situated on a 70-foot cliff, guests can take in stunning views of the surrounding area and Pedernal River. In fact, guests have direct access to the lake during their time at this rental, meaning you can enjoy everything from kayaking to swimming without having to leave the area.
Some other fun highlights of this Airstream include a cowboy pool, an outdoor seating area, and a full kitchen so that you can cook and lay low during your visit. Watch the sunset from the covered patio as you sip some wine or blast music from the vintage record player to set the vibe for a fun evening in. In regards to the decor, everything from the tiled backsplash to the decorative pillows fit perfectly into place.
Enjoy the peace and quiet of the desert in this Joshua Tree Airstream
Located in the magical desert town of Joshua Tree, this Airstream has a minimalist style that design-lovers will obsess over. According to the listing on Airbnb, while you will have total privacy within the Airstream itself, all of the outdoor amenities are communal. Though it is possible that you could wind up having the entire property to yourself, there can be up to eight guests on the property at a time. However, while some may prefer a more secluded setting, this is a great spot for those who are open to meeting new people and making some new friends along the way.
The shared amenities include pretty much everything except the bedrooms, meaning you might be sharing the kitchens, bathrooms, pool, hot tub, outdoor dining area, and clawfoot tubs with others. Being that the property itself is pretty isolated, you might even enjoy the extra company while sitting out under the night sky and keeping an eye out for shooting stars.
Take a dip in this Airstream's accompanying pool on a relaxing vacay
Boasting a private pool and ocean views, this Airstream in Aruba is one of the most luxurious options on our list. In addition to being completely breathtaking, this rental is also very eco-friendly and strives to encourage conservation through an on-site garden and sustainable practices, per Airbnb. From maintaining natural watering holes to growing rare, indigenous trees that need care, this property transports guests to a magical oasis in the heart of the Caribbean.
While the Airstream itself is complete with everything from a private pool to an outdoor Balinese-style shower, there is so much to do and explore in the surrounding area. Guests can enjoy everything from bird watching to scenic hiking trails that lead you straight to the ocean during their stay. Surrounded by an endless sea of cacti and distant ocean views, this is truly a picturesque accommodation that is closer to a high-end vacation than it is a glamping experience.
Explore this stylish vintage Airstream from 1971
Located in Bradenton, Florida, this vintage Airstream provides a unique experience for those looking to stay in a retro-style accommodation that is both charming and affordable. Starting at $153 per night, this restored Airstream allows you to stay super close to the beach and even has some great on-site amenities such as a heated pool, hot tub, and a legit waterslide, per the Airbnb listing. Though the Airstream can only fit up to three people at a time, you can take advantage of plenty of outdoor space during your stay. This means you won't feel cramped despite the smaller sleeping arrangements.
Inside the camper's interior, guests will find a quaint living room with bright colors and cozy furniture. There is also a small kitchenette area and a large king-sized bed. The space is filled with tons of plants and twinkling lights, curating a warm and inviting space that encourages you to sit back and relax during your stay. If you choose to dine in one evening, you can make a simple dinner in the kitchen before eating outside on the adorable blue bistro table.
Watch the sunset over the ocean from this Airstream in Mexico
Are you looking to experience a unique escape in Mexico? According to the Airbnb listing, this beachside Airstream is located in easygoing Ensenada and offers a chill vacation in the heart of this beloved community. In addition to giving you prime access to the beach, staying at this Airbnb means that you can immerse yourself in all of the wonderful activities that Ensenada is known for. From wine tasting to craft breweries, Ensenada is full of wonderful tasting rooms and restaurants that make for a mouthwatering culinary experience.
Though the beach surrounding the Airstream is full of pebbles, you can still walk along the coastline and explore for shells and other treasures to take home. If you'd like to enjoy breakfast in bed, sign up for the feature when booking your stay, and the hosts of the Airstream will provide you with an experience that you surely won't forget. Take advantage of the panoramic ocean views and simply sit in bliss while escaping life's stresses at this magical camper.
Lounge in a hammock while soaking up the sun in this 1968 Airstream
Located in a small town in Northern California, this vintage Airstream sits on private property just minutes from Arcata's serene beaches, per Airbnb. Though the interior is simple in regards to design and style, there are some nice southwestern touches throughout that make you feel right at home as you settle in. Between the main queen-sized bed and the additional twin-sized bed, this space can fit up to three guests at a time for a mere $92 a night.
Being that the beach is so close to the property, you will most likely want to spend most of your time exploring the coastline and strolling around town, meaning you won't need to spend too much time in the small outdoor area around the Airstream. However, if you find yourself having some downtime, be sure to take a moment to soak in the cool and crispy breeze from the comfort of the hammock that sits right outside the entrance of the Airstream.
Escape from the city in this unique Tennessee Airstream
Per the Airbnb listing, this renovated Tennessee Airstream sits on 40-acres of land, boasting one of the most private and isolated experiences possible when traveling. From the outdoor solar shower to the charming fire pit and sitting area, this camper has everything that you need to reflect and restore while surrounded by endless views of rolling hills and dense forest. Being that the only other occupied space on the entire property is 500 yards away, you will truly feel a sense of peace and calm during your idyllic stay.
Guests can even get some views of the Piney River from various spots on the property, adding to the overall wonder of this slice of Tennessee heaven. Though you'll probably want to spend the majority of your time outside, the interior of the Airstream is absolutely lovely. It even includes an updated washer and dryer for those seeking a more extended stay.
Take advantage of this relaxing oasis in the middle of L.A.
Due to the lush greenery and vibrant bougainvillea, this Airstream manages to transport guests to a tropical oasis despite being in the middle of Los Angeles. Located in Culver City, the Airbnb listing notes that this rental is central to pretty much everything, including the beach and some of the city's best eateries. With a bright and airy interior, this beautiful Airstream has a distinguished style that is warm and inviting the second you step foot in the space.
That being said, the real gem of this Airbnb is definitely the surrounding yard. The garden and greenery create a peaceful environment in a bustling city, giving you the best of both worlds when planning a fun yet refreshing vacation in Los Angeles. Once you are ready to kick back and relax, pour a glass of wine before heading outside for a dip in the large hot tub surrounded by flowers and hanging lights.
Soak in the magic of Joshua Tree while renting this enchanting Airstream
Between the secluded setting and the romantic desert views, this Joshua Tree Airstream is one of the most stunning places to enjoy an intimate weekend away. According to the Airbnb listing, the Flying Cloud Airstream sits on more than an acre of property, giving you an ample amount of privacy and space to immerse yourself in nature fully. From the breathtaking mountains along the horizon to the lack of light pollution, a stay at the Flying Cloud Airstream will surely act like a total reset for those looking to rest and restore among the Joshua Trees.
While there is no denying that the outside area of this rental is the best part, the interior is very comfortable as well. With two HDTVs and a Bluetooth speaker system, you can easily have a cozy night in with your favorite movie or music before heading out to do some stargazing. Best of all, while most Airstreams fit a maximum of two people, the Flying Cloud can fit up to four people across three different sleeping arrangements, making this an affordable and fun option for a small group.
Head down to Austin, Texas for a fun-filled getaway at this remodeled Airstream
For only $126 a night, two guests can call this amazing Airstream in the heart of Austin, Texas home during their visit. From the outdoor deck area that features a cowboy pool and hot tub to the sizable workspace within the Airstream, this rental is perfect for those seeking an intimate yet comfortable weekend in the city. With several unique touches, such as a map-covered door and vintage trinkets throughout the space, this remodeled Airstream boasts a quirky yet cohesive aesthetic.
According to the Airbnb listing, this hip rental is located near downtown Austin, making it easy to explore some of the best coffee shops, bars, and restaurants in the area. Though there is no bathroom in the Airstream itself, guests have access to the property's main house, where you will find a private bathroom and shower. Once you get home from a night out, throw on a swimsuit and head to the back for a nice soak in the hot tub with a nightcap.
Lay low at this cozy Airstream near Santa Barbara
This renovated Airstream is the perfect place to escape to in sunny Carpinteria, California, featuring country accents such as cow print pillows and leather chairs. Though there is only one bed, the Airstream has a more spacious feel than most due to the large bathroom connected to the trailer. From the peaceful cactus garden that surrounds the property to the open deck that guests can relax on in the mornings or evenings, the entire style and vibe of this rental sets the tone for a mellow vacation.
Per the Airbnb listing, between the full kitchen, adorable seating area, and on-site washer and dryer, this Airstream truly has everything that you need to feel comfortable and taken care of during your stay. After enjoying a quiet morning on the outdoor deck, head down to Santa Clause Beach and take a nice stroll along the sand or catch some surf.
Located in Phoenix, Arizona, this Airstream has a more industrial style that makes for a unique stay
If you're looking for a more modern experience in a camper, this restored vintage 1967 Airstream in Phoenix, Arizona, might be a perfect fit. Having been renovated by renowned designer Joel Conteras, the Airstream possesses a contemporary style, unlike anything you would expect to find in a standard RV. The Airbnb listing shares that every design component within this Airstream works together to create a cohesive and stylish atmosphere, from the matte black exterior to the warm wooden interior. Though it is located in downtown Phoenix, this Airstream sits in a charming backyard that creates a private oasis for guests to unwind in.
Upon entering a private gate, guests are greeted by a sleek fire pit, matching deck, and magical string lights that set the tone for a relaxing stay. Other amazing amenities include a queen-size Tuft & Needle bed, a dining area with cushioned booths, and high-speed internet covering the entire property. While you could easily cook and enjoy a simple meal by using the Airstreams induction hot plate, guests are also able to take full advantage of the fact that this rental is just minutes away from some of the best restaurants in downtown Phoenix.