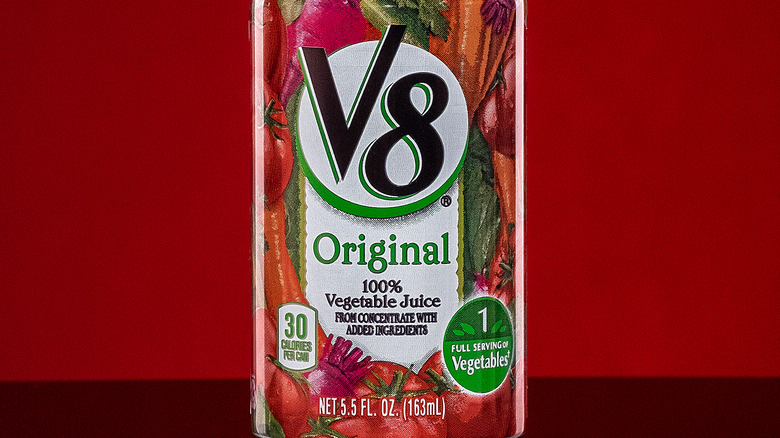 V8 Vegetable Juice — otherwise simply known as V8 — is known for its inclusion of tomato plus seven healthy veggies in drinkable form. However, this seemingly healthy beverage is one that people seem to love or hate; there's simply no in-between. And if tomato juice isn't your thing, there's a good chance that V8 won't be either.
Unless you opt for one of the other several varieties that Campbell's, V8's parent company, has added to its repertoire throughout its existence. V8 now offers everything from fruit juice blends to energy shots mixed with juice, extending its reach to just about every demographic.
And whether you love V8 or not, one thing is for sure: this brand has a pretty interesting history and evolution that you probably never knew about (like a future president once promoting it — say what?). Today, the recognizable drink graces the shelves of almost every grocery store, but here's the story of how it became somewhat of a cult classic brand in the grocery world.
It has a long (and interesting) history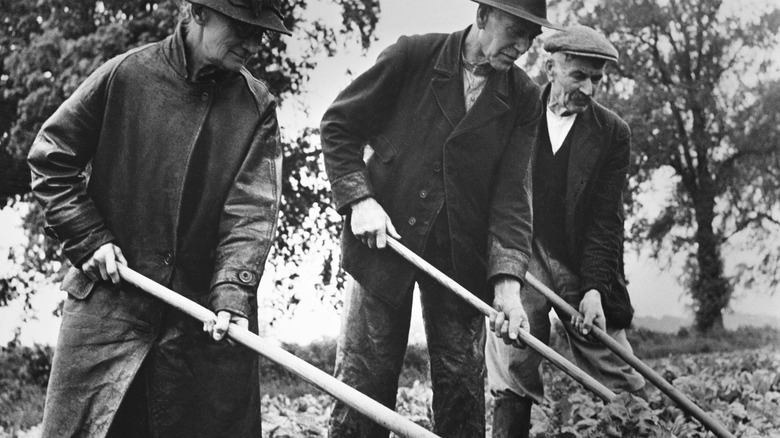 V8 Vegetable Juice dates back all the way to 1933, when William Gilbert Peacock and his son wanted a sustainable way to make sure they and others could get essential foods and nutrients during the Great Depression. The pair began hand-blending an assortment of vegetables together in their basement to see what they could create, and a veggie-based drink was born. Peacock enlisted the help of Frank Constable to manufacture the drink for Peacock's company, New England Products Company.
The war-driven era led to poverty for many, and Peacock's vegetable juice became a hit with families who had little to spend on food. Eventually, World War II rations began affecting families even more, and the government encouraged Americans to start gardens of their own to feed their households. Peacock's veggie juice quickly became a staple in pantries across the country because it included ingredients families relied on for daily nutrition. In 1947, as the drink grew in popularity, Constable reconfigured its recipe to include the vegetables it uses today and remarketed it to give it a chance at a successful future (via V8).
Its name has a unique history, too
V8 Vegetable Juice — although a seemingly perfect name for the veggie-based drink — hasn't always been called by the name. In fact, when William G. Peacock and Frank Constable first began manufacturing and marketing the product, they called it Vege-min. At the time, tomato made up the overwhelming majority of the drink, so V8 wouldn't have made much sense. It wasn't until 1948 when the Campbell Soup Company took over the drink brand that its name officially became V8 Vegetable Juice, or V8 for short.
Prior to the name change and Campbell's takeover, Frank Constable cycled through a few other names that he thought were a good fit for V8. First was Vege-min 8 after he came up with the new recipe including tomato and seven other vegetables. Later, Constable decided to go with V8 Vegetable Cocktail Juice, a more similar moniker to today's brand name. Constable thought the name V8 made sense because the drink was popular and powerful, like a vehicle's V8 engine (per V8).