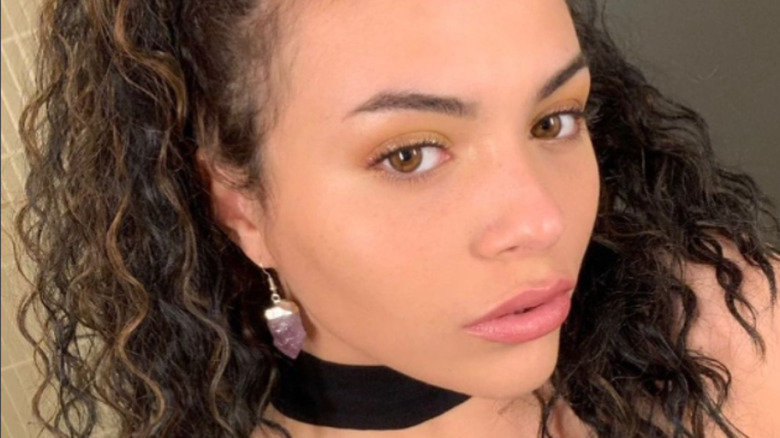 Alexandria "Lexi" Jones is the daughter of David Bowie and supermodel Iman. Throughout the majority of her life, Lexi's parents sought to keep Lexi out of the public eye. In 2000, when Lexi was born, her parents granted a rare interview to Hello! Magazine, in which Bowie assured reporters that it would be Lexi's "first and last interview."
The couple told reporters in 2000 that Lexi's arrival had brought them closer than ever. "There's a joy or a contentment that's almost palpable to both of us. Overnight, our lives have been enriched beyond belief," Bowie told Hello! Magazine. The legendary musician passed away in 2016, when Lexi was just 15 years old. Now in her early 20s, Lexi has begun developing an online presence through her Instagram account.
Today, the multi-talented artist maintains close connections to her family as she navigates life as the child of one of the world's greatest musicians.
Many agencies wanted Alexandria to model for them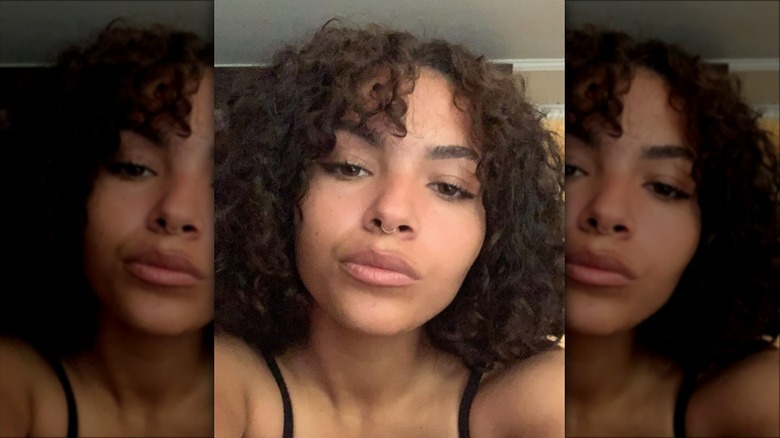 Iman had an illustrious modeling career, working with brands such as Versace, Calvin Klein, and Donna Karan throughout her 13 years in the industry (via Porter). Both Iman and her husband, David Bowie, were adamant about maintaining their daughter's privacy, while simultaneously carrying on high-profile careers in the music and fashion world.
For Alexandria's 18th birthday, Iman posted a rare picture of her on her Instagram account. Iman told Porter that after doing so, she received several calls and messages from designers and modeling agencies that wanted to recruit Lexi. Iman said the representatives had "called me to say: 'If she wants to, we'd love for her to model for us.'" Iman response was a simple but firm, "No, she doesn't."
The sudden swarm of modeling agencies and designer brand inquiries led to Iman urging Lexi to embrace her privacy from the public eye. "I know why they wanted her to model – it's because she is David Bowie's daughter," Iman said. Iman implied that Lexi may have had some interest in participating in the fashion industry, but eventually decided against it. "Have a life that is private while you can, because one day soon it is going to be public, so enjoy this," she told her daughter.
Alexandria has a tattoo dedicated to her father
David Bowie passed away in January of 2016, just two days after releasing his final album, "Blackstar." The musician had been working on the album and an off-Broadway play called "Lazarus" throughout his fight with liver cancer (via Rolling Stone). After his passing was announced on his Facebook page, many musicians and celebrities took to social media to express their condolences and reminisce on his impact in their own work.
In 2017, Alexandria Jones and Iman got tattoos to commemorate the anniversary of Bowie's passing. Lexi got a crescent moon tattoo with the script "Daddy xx" inside the moon and "1947-2016" underneath the writing. Her mother, Iman, got a tattoo of a Bowie knife with "David" written on the handle. Iman captioned her Instagram post of the tattoos: "You will always be a part of us."
Since getting the tattoo dedicated to her father, Lexi has also gotten a tattoo of a lion on her shoulder. The tattoo contains Arabic writing, which commenters on the original Instagram post have identified as Arabic spellings of Lexi's and Iman's names.
She is a talented artist
Alexandria Jones comes from an extremely creative family. Her father, David Bowie, was a world-class musician with a penchant for fashion, and her mother, Iman, modeled for top brands during her career before starting her own cosmetics line. Lexi is a talented illustrator and painter, and shares her gifts on her public Instagram.
Her passion for art inspired her mother to take up painting during lockdown in 2020. "David was a painter; my daughter is a painter. I never painted in my life, so I've taken it up," Iman told Harper's Bazaar.
Lexi's original art can be purchased through her Depop account, where she sells original paintings and upcycled clothing. Her unique style of painting involves distorted faces and abstract proportions of figures. She credited Tim Burton's unique art style as an inspiration for the development of her own artistry in an Instagram post where she gave followers more insight into her process and philosophy. "My meditation is painting, illustrating, and sketching," she wrote. "During these times I feel freed from my mind and am able to convert the pent up negative energy into something positive, something I end up feeling proud of."
Alexandria is also a poet
Alexandria Jones is not just an incredibly talented visual artist, but a poet and musician as well! Jones began sharing her poetry on her public Instagram in December 2020. Her freeform poetry examines feminist themes of autonomy, love, and intimacy. Soon after, in February 2021, Lexi shared her first song with the world, revealing her stunning singing voice at the same time.
Lexi posted the song she had written on her Instagram feed with the caption: "I'm absolutely terrified to post this. I keep going back and forth between hating it and liking it but f*** it." Her video received over 150,000 views, and began picking up popularity when her older half-brother, Duncan Jones, took to Twitter to give his sister a shout out: "Just found out that my sister can SIIIING! So THAT'S where those genes went." With some more encouragement from fans and Lexi's family, we might be seeing more of the young artist's work in the near future.
She is a fierce feminist
Like her mother Iman, Alexandria isn't afraid to stand up for her beliefs. After posting a picture of her in a bathing suit to her Instagram, she received a vulgar DM from a follower. Lexi posted a screenshot of the message to her feed with the caption, "Feels good to love my body after years of hating and disrespecting it. No shame in liking how I look in my cowboy swimsuit, but a shame that you're able to twist it into something so perverted and vulgar." (via People).
Lexi has also demonstrated an adherence to feminist values and intentions in both her poetry and visual artwork. Many of Lexi's illustrations and paintings center on semi-nude women with bodies of all shapes and sizes, promoting a vision of body positivity through her inclusion of all types of women in her work. Her mother, Iman, demonstrated values of inclusion throughout young Lexi's life as the founder of a color-inclusive cosmetics line, IMAN Cosmetics. Before even starting her makeup brand, Iman also used her platform as a supermodel to join forces with Naomi Campbell and Bethann Hardison to put pressure on the fashion industry to include more women of color in runways and advertising. Iman's hard work paid off, demonstrating the value of activism and its potential results (via Porter).
Iman and Alexandria were separated during the COVID-19 lockdowns
Alexandria Jones is extremely close with her mother, Iman. Lexi regularly posts pictures of her and her mother together on Instagram, in addition to posting appreciation posts for special occasions. During the first wave of COVID-19 lockdowns in Spring 2020, Lexi was just 19 years old and taking time off in between high school and college, and was separated from her mom.
Lexi was living in New York when the first wave of COVID-19 cases hit the U.S. On Mother's Day in 2020, Alexandria captioned an Instagram picture of her and her mother with a plea for people to follow guidelines and stay safe during the pandemic. "Everyone pls stay inside I haven't seen my mom for 6 months because we live on opposite coasts and it is very difficult to leave ny right now but I'm a child and i miss her dearly."
Alexandria is close with her half-brother Duncan
Alexandria Jones posted a cute throwback picture on her Instagram with her half-brother Duncan Jones in August 2021. Duncan is David Bowie's first son from his previous marriage to Angie Bowie, from whom Duncan has been estranged since he was 13 years old (via The Sun). Duncan had elected to break ties with his mother at that point, and he reaffirmed in an interview that he had not had contact with her since. "She was a corrosive person," he said. Duncan began building a stronger relationship with his stepmother, Iman, and half-sister, Lexi. Because of the 30-year age difference between Duncan and Lexi, he said in an interview, "My relationship with her is more like a fun uncle" (via The Sun).
Duncan took to Twitter in 2020 to share that his "favorite thing about having a half-sister is that I get to embarrass her by introducing myself to her cool friends as her 'brother from another mother.'" Porter also reported that Lexi was considering moving to LA, where she could be closer to her brother.