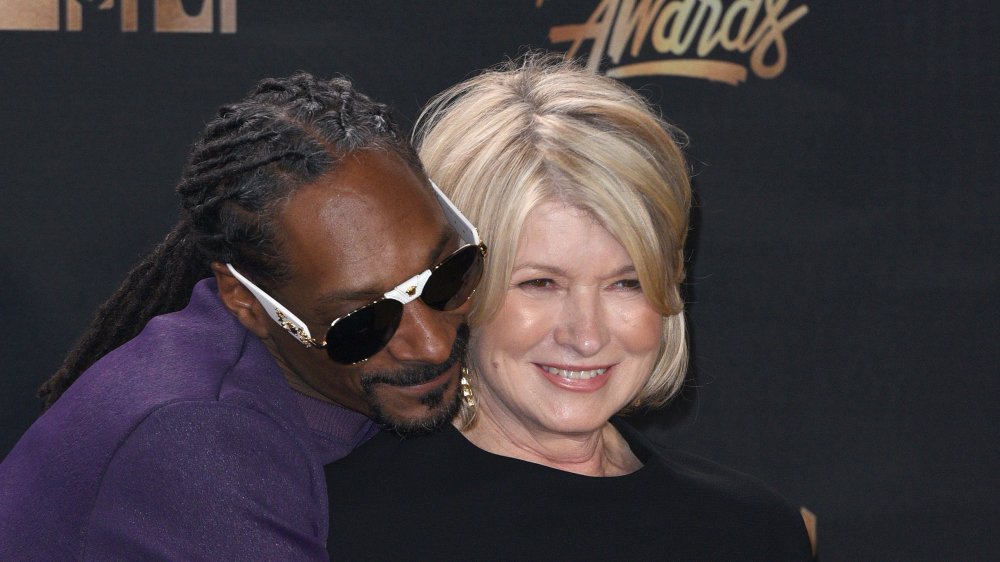 Martha Stewart and Snoop Dogg formed an unexpected on-screen friendship bridging different corners of the entertainment world. Sure, they're both wealthy personalities, but that's about where similarities — only appear — to end. At first glance, the odd pair feels like a media farce. The authentic admiration between the 79-year-old lifestyle mogul and the 48-year-old West Coast rapper perhaps best known for "Gin and Juice" and his affinity for weed reveals something deeper.
Snoop first built this career with producer-rapper Dr. Dre on the iconic album, The Chronic, in 1992. Snoop launched into stardom with his breakout album, Tha Doggfather. He continued to adapt from gangsta rap to hip hop and made reggae and gospel albums. Snoop's personality carved out a long-lasting impact thanks to his humor, vocabulary, and advocacy of marijuana well before legalization.
Martha is also no stranger to reinvention. One of the celebrity chefs who started her culinary career late, Martha is self-taught from reading Julia Child's Mastering the Art of French Cooking. She turned a successful catering business into multiple bestselling books, a media company, a television show, and namesake products. She turned full gangster when accusations of insider trading turned into a five-month prison sentence in 2004. She was soon released and returned to her career.
So, how did these two powerhouses become peak zeitgeist? Turns out the pair might have met in the kitchen — where else? But like their careers, it took time and some elbow grease for their friendship to blossom.
Martha and Snoop Dogg's friendship started while making a bowl of mashed potatoes in 2008
The two first united on daytime television over a creamy bowl of mashed potatoes. According to the Martha Stewart Living website, Martha first invited Snoop onto The Martha Stewart Show back in 2008. In true cooking show fashion, Martha and Snoop went through the motions of making one of Stewart's signature recipes. Snoop flavored in a few vocabulary words that Martha had yet to learn. Martha kept the duo on task while playing the straight man to Snoop's sly humor.
At face value, it still isn't clear why the duo's chemistry worked, but the seeds were sown for a shrewd businesswoman who is no stranger to the camera. "What an odd couple we were," Martha said as a guest on NBC's Today Show. Snoop explained that the lifestyle tycoon's choice to bring on rappers broke ground with new faces on daytime television. "Martha kind of, like, pioneered this," Snoop told NBC. "As far as letting rappers become a part of daytime television because we weren't accepted." Martha joked members of the hip-hop community were too "odd" to be an obvious choice. Instead, Martha's brand of being the welcoming domestic denizen turned out to be more than just an on-screen act.